All Articles
Antibiotics
The Biodiversity Crisis
California Foodways Podcast
Climate Change
Farms and Labor
FERN Talks & Eats
Infographics
International Reporting
Hot Farm Podcast
Livestock and Rural Communities
A Map of FERN Articles
Nutrition and Food Access
Oceans and Freshwater
Toxins and Pollution
Media Partners
Become a Supporter
Report for Us
Tracking Our Impact
Awards & Honors
Our Reporters
Code of Ethics
In the Media
Report: Arizona must deploy a diverse range of strategies to solve water crisis
By Teresa Cotsirilos , May 17, 2023
Arizona's water crisis is getting worse, and on Wednesday, environmental groups warned that there's no "silver-bullet" solution that can fix it.
In a new report by the Water for Arizona Coalition, analysts urge the state to embrace a diverse range of water conservation and management strategies — and to start investing in them fast.
"It is imperative that the state make conscientious water investments to ensure long-term prosperity for Arizonans," writes Rachel O'Connor, a climate resilient water systems manager with the Environmental Defense Fund, who partnered with the coalition on the report.
The state's current water supply is dangerously tenuous. Forty percent of Arizonans' water comes from the Colorado River, which is in the throes of an environmental catastrophe. Drought-stricken and critically over-allocated, the river could reach a "complete doomsday scenario" as soon as this summer , according to federal agencies and local water managers. This crisis is particularly bad in Arizona, whose Colorado River water rights are less senior than those of other states, including California. As a result, Arizona is often among the first states subjected to cuts when there isn't enough water to go around.
Arizona, Nevada, and California may be nearing a deal to voluntarily cut their use of water from the river, but negotiations are ongoing.
In its report, the Water for Arizona Coalition notes that the state has received an influx of both state and federal funding to address its water crisis, and that it now has a "once-in-a-generation opportunity" to make its water management more resilient and sustainable.
The report provides a cost-benefit analysis of seven water strategies, including the widespread adoption of drip irrigation for agriculture. Nearly three-quarters of Arizona's fresh water supply is used for agriculture, and 88 percent of its farmers still rely on flood irrigation, which is notoriously wasteful. In a recent pilot program conducted by the Colorado River Indian Tribes and other partner organizations, farmers were able to cut their water usage by 30 to 50 percent when they shifted to drip irrigation.
However, the report's authors warn that some farmers who adopt drip irrigation systems use the gallons of water they conserve to expand their operations — growing more alfalfa and other crops than they did before. "To achieve an actual reduction in water use, water savings cannot be used to increase irrigated acreage or support new municipal or industrial uses," they write.
Among the other conservation strategies in the report is incentivizing urban residents to replace their lawns with native desert plants. Currently, 70 percent of residential water in Arizona is used for lawns and landscaping.
The coalition also analyzes three water "augmentation" projects, which would increase the state's supply through engineering efforts. The authors note that aquifer recharge can also create and restore riparian habitats, and that several Arizona municipalities have already achieved great success with this strategy.
The report saves its analysis of two particularly radical policies for last: a binational seawater desalination system, which Arizona would build in cooperation with Mexico, and a pipeline that would siphon water from the Mississippi or Missouri rivers. The report notes that both proposals would be costly, and that the Mississippi/Missouri pipeline has already been "discarded as politically complicated, too expensive, and too time-intensive."
Careers in Healthcare
Win VIP Tickets
Palm Springs Air Museum Tickets
You Ask. We Investigate.®
Entertainment
News First Mornings
Manny The Movie Guy
Desert Living
Hey Starkie
Our Desert Past
Essential Employee
Facebook NBC Palm Spring
Twitter NBC Palm Spring
Instagram NBC Palm Spring
NBC Palm Springs
Supervisors Join Statewide Effort to Push for Solutions to Water Shortages
Board of Supervisors
conservation
Desert Water Agency
Diamond Valley Lake
Drought Monitor
Kevin Jeffries
Riverside County
water shortages
water supplies
Western Municipal Water District
City News Service
Share with Facebook
Share with Twitter
(CNS) – The Board of Supervisors Tuesday officially added Riverside County to a statewide coalition of interests promulgating steps by the state to expand water infrastructure and take other actions to prevent water shortages during cyclical droughts, including the current one.
"Different (local) water companies are getting together on the same page," board Chairman Jeff Hewitt said. "It gives me hope they'll find solutions sooner than later."
The board unanimously approved a resolution declaring that California's "current water system requires extraordinary investment and operational changes to provide sufficient water supplies for today and the future generations of Californians."
The resolution establishes the county's membership in the Solve the Water Crisis Education coalition, based in Sacramento and focused on using water agencies statewide to raise awareness regarding the threats from inaction to contend with droughts, which have left counties vulnerable to resource depletion.
Nearly the entire state's land mass currently falls under the U.S. Drought Monitor's designation of "severe," while some locations are characterized as in "extreme drought."
The board resolution states that droughts from 2007-09, 2012-17 and the current one, which began in 2020, have had cumulative impacts that pose a future threat to water security.
The resolution captures the sentiments of representatives from multiple area water agencies who addressed the board last month. The thrust of their presentation was that the state has been in foot-dragging mode, paying lip service to the need for renewed investment to secure water deliveries from the State Water Project and ensure appropriate storage capacity, while committing little revenue to the cause.
"It's been decades since the state has been willing to make investments in (water infrastructure) in any meaningful way," Supervisor Kevin Jeffries complained at the time. "We have to be more self-sufficient."
Riverside-based Western Municipal Water District Manager Craig Miller said that a "modern conveyance system" of transferring water in the region could solve many shortages.
"We could have moved 236,000 acre-feet of water during the December rains," Miller said. "The water is there; we're just not managing or engineering it appropriately. It takes a big investment."
He called it disingenuous to believe that rainfall deficits are going to be a constant and worsening conundrum.
"The science isn't indicating that. It's the lack of investment in infrastructure that's impacting the economy of our state," Miller said.
According to the board resolution supporting the education coalition, the state's current system is "designed to meet the needs of a population of 19 million residents," not 40 million.
"Although the state has outlined a variety of concepts to transform the water supply system, it is critical for the state to provide the funding and approvals that are necessary to address the water supply crisis," the resolution states.
The last reservoir built in Southern California was Diamond Valley Lake south of Hemet, completed in the mid-1990s.
Despite the challenges of re-occurring dry seasons, most water agencies in the county have succeeded in netting savings from conservation efforts over the last decade. In May, some of the largest water providers said they were in a better position to withstand further "dry years" than they were during the 2012-17 drought emergency.
The Palm Springs-based Desert Water Agency told City News Service that, even at current service levels, the agency has supplies available to meet customers' needs for "decades."
Riverside Public Utilities estimated that, based on current demand, the city has "sufficient water supply for the next five dry years and likely beyond, but continues to encourage customers to use water efficiently and adhere to the city's prohibitions on wasteful water practices."
Similarly, the Coachella Valley Water District said the agency is "managed for long-term sustainability" thanks to "local water efficiency practices (that) are always a priority."
Copyright 2022, City News Service, Inc.
Trending Now
Follow us on Facebook
Get a head start on the morning's top stories.
Privacy Policy
CONTACT US!
Submit your suggestions and questions
Download our App
How Jackson residents banded together to survive the water crisis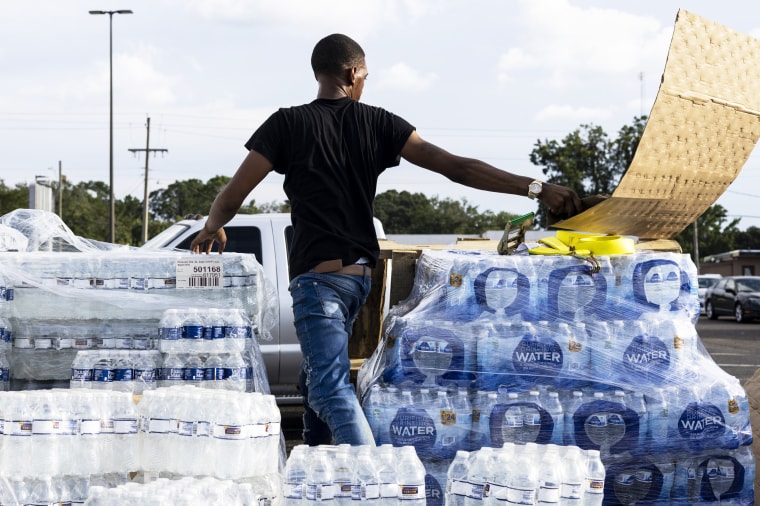 Jackson native Gino Womack said he can't recall a time when there was clean, consistently reliable water in the Mississippi capital city.
The predominantly Black city has dealt with ongoing water troubles with Republican Gov. Tate Reeves declaring a state of emergency late last month. And weeks before that, the city was placed under a boil-water notice. 
"Over time, we just learned not to drink the water from the faucet. We had to use a filter or something. But you can understand the desperation when you can't take a shower with the water, you can't brush your teeth with the water, you can't cook with the water," said Womack, 49, the program director of Operation Good, a community organization.
"We were using no-rinse wipes at the start of this crisis. It was horrible."
Reeves has called in the state's National Guard to help mitigate the crisis, noting that the loss of water pressure has "created a condition of disaster and extreme peril." President Joe Biden approved the state's emergency declaration request and promised federal aid, sending in the Federal Emergency Management Agency to aid the disaster relief efforts. 
The water system emergency in Jackson is a result of complications from the Pearl River flooding, which caused the O.B. Curtis water plant to fail, resulting in low or no water pressure for many residents.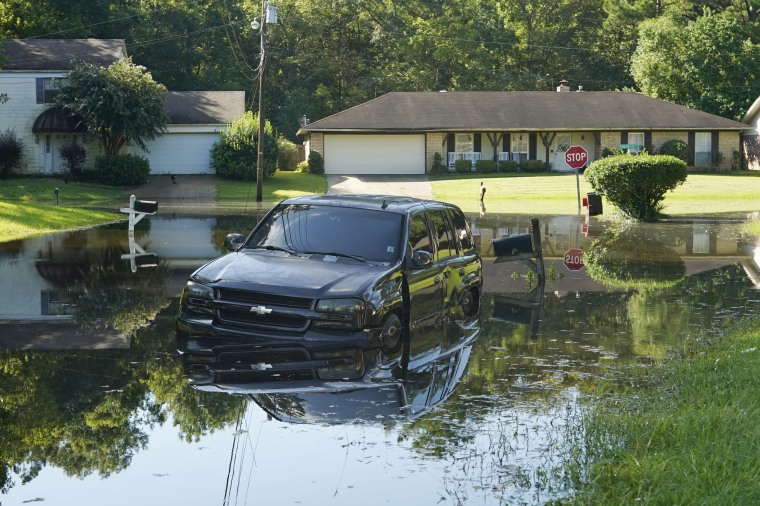 But years of infrastructure issues have made clean, reliable water largely inaccessible, with service disruptions, boil-water advisories, and possible exposure to lead and E. coli. 
In 2021, a cold snap left parts of the city without power, further exacerbating the existing issues. Residents long familiar with these challenges have made do as best they can, boiling water, storing it in bathtubs , rationing bottles of water, and sometimes relying on public facilities for water needs. 
A 2020 report from the Environmental Protection Agency highlighted the major issue s in Jackson's water system, including failure to replace lead pipes, inadequate staffing and faulty monitoring equipment.  
In this latest water crisis, grassroots groups, largely made up of Jackson residents, have stepped up to meet the community's needs by distributing hundreds of cases of bottled water and other supplies. Groups such as Operation Good , Cooperation Jackson , the Immigrant Alliance for Justice & Equity of Mississippi , and many others have worked tirelessly in recent weeks to provide clean water to residents.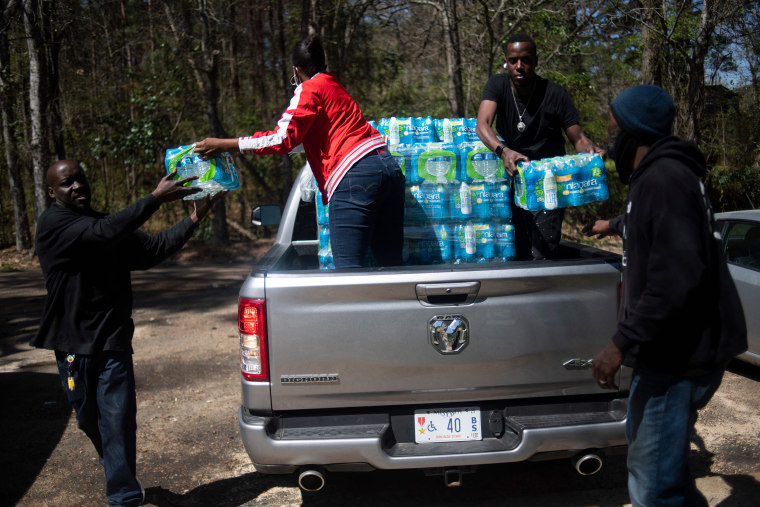 "This started around the beginning of August, and we persevered through that and delivered water to schools," Womack said of Operation Good. "Now, it's been more hectic, and a lot of citizens need water, not just the schools. The urgency of needing drinking water is there, panic has kicked in slightly. We've been able to buy water and keep citizens in our area supplied. We've been unified in this time of need." 
Womack estimates Operation Good has given out more than 700 cases of water to Jackson residents in a single day. He said the work of the organizations has helped to somewhat ease the crisis, but there is still an atmosphere of "panic" in the city of 150,000 residents, nearly 83% of them Black . 
Maddie Coates, an organizer with Cooperation Jackson, is familiar with this desperation. The 19-year-old is originally from Jackson but returned to the city three years ago after living in North Carolina. She said she, her four siblings and her parents live together and struggle to cope with the water crisis. While they bathe in the tap water and use it to brush their teeth, they rely on bottled water for cooking and drinking.  She said her family can't even rely on the boiled water to drink. "We have young children in our family," she said. "And you can't boil the lead out of the water." 
She and her family, like many of Jackson's residents, have been living off bottled water for years. With Cooperation Jackson, Coates has helped set up water distribution around the city, providing hundreds of cases of water to residents in a single day.
"It's kind of like a tornado," she said of the drive. "The water goes really fast. None of our giveaways have lasted more than two hours. A lot of people are in a state of survival, especially people who have children or other people to take care of. So people have been going all around the city and collecting water everywhere that's giving it out for free." 
The Mississippi Rapid Response Coalition , comprised of more than 30 organizations in the state, is accepting donations to purchase and distribute water, reusable water containers, filters and other items. The MS Student Water Crisis Advocacy Team , which is composed largely of Jackson State University students, is working to deliver water to people who aren't physically able to get to distribution sites. Meanwhile, the Mississippi Reproductive Freedom Fund has set up distribution sites to give out water and supplies.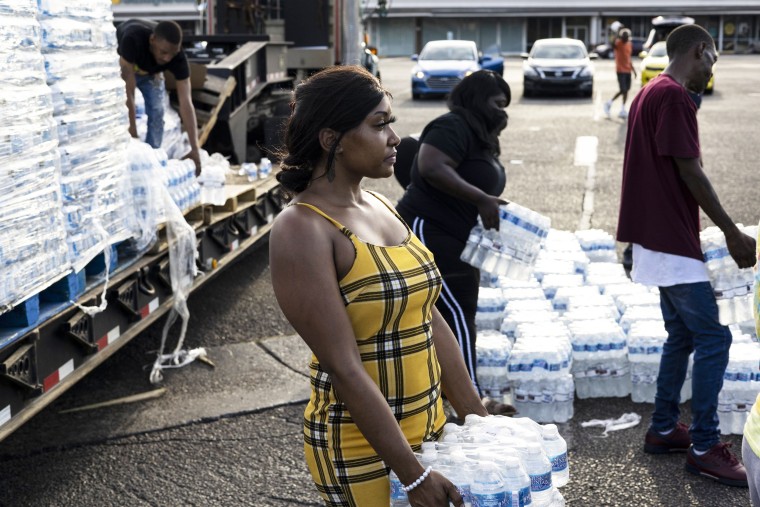 "What is really sad is that we have the resources and the technology to prevent this kind of disaster," Danyelle Holmes, a Jackson resident and organizer with the Poor People's Campaign, previously told NBC News . "The neglect to prevent this kind of disaster is a direct failure of state leadership."
Jackson Mayor Chokwe Antar Lumumba declared a water system emergency in the city late last month. Water pressure in Jackson  increased this week, but stored water is lower than ideal. The mayor and the governor have said it would cost a billion dollars or more to fix the water problems in Jackson and, with a diminished tax base, the city simply can't afford it. The challenges stem from years of failure to adequately invest in the city's vast water system. 
The state is set to receive more than $400 million from the Infrastructure Investment and Jobs Act, mostly through loans and grants through the Environmental Protection Agency. But it's unclear when the state will receive the funds and how much will be allocated to fixing Jackson's water issues. And amid all the political talk, residents are working to survive and support one another through the crisis. 
Organizers say they've long focused on helping one another as they urge leaders to fix the long-standing water system issues. And it's this sense of community that has helped residents cope with the crisis.
"We're not going to lose hope," Coates said. "We choose to come together during times like this instead of being individualistic. We've seen beautiful solidarity from everyone." 

Char Adams is a reporter for NBC BLK who writes about race.

Frequently Asked Questions
About the Water Resilience Coalition
What is the water resilience coalition.
The Water Resilience Coalition is an industry-driven, CEO-led initiative of the United Nations Global Compact CEO Water Mandate that aims to elevate the long-term mounting crisis of global water stress to the top of the corporate agenda and to preserve the world's freshwater resources through collective action in water-stressed basins and ambitious, quantifiable commitments.
What is the Water Resilience Coalition aiming to do?
The Coalition's ultimate goal is to elevate global water resilience to the top of the corporate agenda and preserve the world's freshwater resources through collective action in water-stressed basins and ambitious, quantifiable commitments. By coming together, the Coalition will work toward a resilient world that can adapt to the impacts of climate change and that has enough clean water for all.
Who's involved?
The Water Resilience Coalition is an industry-driven, CEO-led initiative of the CEO Water Mandate, spearheaded by seven co-founding companies, AB InBev, Diageo, Dow, Ecolab, Gap Inc., Microsoft and PVH, which have pledged their commitment to net positive water impact through collective action by 2050. The Coalition is also supported by key partners such as the Global Center on Adaptation, Global Water Partnership, International Water Management Institute, Pacific Institute, The Nature Conservancy, Valuing Water Initiative, World Resources Institute, and Water.org.
How is the Water Resilience Coalition run?
The Coalition will function under the umbrella of the UN Global Compact CEO Water Mandate and will have a dedicated leadership committee and governance structure consisting of Coalition members.
Why is the Mandate creating another campaign with a unique set of commitments?
The CEO Water Mandate is an initiative committed to doing more – enabling CEOs to turn their ambition into action through collaboration. Through various conversations with corporate members of the CEO Water Mandate and other private sector leaders, it's apparent that there is a growing sense of urgency to take even bolder action on the water and climate crises through leadership at the CEO level, coordinated on-the-ground efforts, and quantifiable, time-bound goals.
What's unique about the Water Resilience Coalition when compared to the many other water NGOs, IGOs and other organizations?
Compared to other organizations, the Coalition differentiates itself through:
Chief executive involvement to elevate water-related issues in the international climate conversation
Collective ambitious goals to deliver greater impact and build alignment with public sector momentum
Coordinated collaboration with NGOs and other local actors bringing scale to watershed projects
Magnified industry influence, changing the game for suppliers, business partners, competitors, policy and regulation
What are companies committing to when they join?
Companies that join the Water Resilience Coalition will be expected to sign the water resilience pledge and make the needed investments in their own operations, as well as work together through collective action, to accomplish the pledge's three overarching goals by 2050:
Net Positive Water Impact : Deliver measurable net positive impact in water-stressed basins, focusing on the availability, quality, and accessibility of freshwater resources through industry-leading water operations and basin initiatives.
Water Resilient Value Chain: Develop, implement, and enable strategies to support leading impact-based water resilience practices across the global value chain.
Global Leadership: Raise the ambition of water resilience through public and corporate outreach, as well as inspire other industry leaders to join the Coalition and sign the water resilience pledge.
What are the benefits of joining as a member company?
Investing in water reduction and smart water management will reduce operational dependence on water, improve operational performance and reduce costs, and ultimately decrease risk. Meeting their pledge obligations will also help companies to safeguard water resources for the future and mitigate climate risk. The Coalition involves moving from unilateral action to collective action and enables companies joining to be able to join forces and scale impact in water stressed basins. Furthermore, taking action on such a pressing issue demonstrates leadership and builds engagement with key stakeholders, such as investors, employees, supply chain partners, and consumers.
What if a company's operations are located in areas where water is abundant – should it take any action?
Water stress is increasing around the globe and has multiple dimensions, including namely availability, quality, and accessibility. Even if a business' operations today aren't directly impacted by the water crisis, it's likely they will be impacted in the future. By 2050, 45 per cent of global GDP will be at risk due to water stress . Large enterprises have global supply chains, which means that they may be sourcing raw materials or having product made or assembled in water-stressed regions. For many companies, a significant amount of their water footprint is in their value chain. So even if their own operations aren't directly affected by water stress, their business may still be at significant risk and they can make a positive contribution to this global effort.
For companies that are already members of the CEO Water Mandate and/or another water-related initiative, what's different about the Water Resilience Coalition ?
By engaging the leaders of some of the world's leading companies and by utilizing a campaign approach, the Coalition will create a sense of urgency around the water crisis and the need for immediate action. It will also inspire and catalyze specific actions on-the-ground in highly stressed basins around the world and work toward specific, quantifiable goals.
For companies that already donate money to a water access nonprofit, what's different about the Water Resilience Coalition ?
Global action on drinking water access, sanitation, and hygiene (WASH) is critical to achieving the Sustainable Development Goals. However, while they are inextricably intertwined and interdependent, WASH challenges and those related to water scarcity and quality, are separate and distinct. We need action on both. The Coalition promotes a holistic approach to action, and in coordinating and catalyzing the efforts of so many leading companies, more can be achieved.
Why is working together so important?
Since many freshwater resources are shared among dozens if not hundreds of actors, often individual action is insufficient to achieve lasting change in a particular region. Collective action is needed to ensure shared freshwater resources are managed equitably and sustainably. Further, working together, members can share knowledge and best practices; collaborate on larger, more significant projects; better shape and lead the industry; and set ambitious collective goals that together, deliver greater impact.
What value does the private sector bring to taking action on water issues?
Action on water resilience is not at the scale and extent needed to address the magnitude of the water challenge. Business is in a unique position to help lead on this issue by using its reach and resources to accelerate progress. For example, the business community can be an intermediary between multiple parties, advocate for policy change, and/or invest in high-value initiatives. And through its scale, it can become a powerful force for good.
Can industry really take on and solve this problem? Don't we need changes in regulations or help from NGOs?
No sector or institution can solve the water crisis on their own. Collective ambitious goals by industry will amplify impact and build alignment with public sector momentum, but it will also be imperative to coordinate collaboration with NGOs to bring scale to water basin projects, and to work directly with governments to support effective water governance, and local water policies. Bringing in industry influence will change the game for suppliers, business partners, competitors, policy and regulation.
About the Coalition Pledge Commitments
What is the pledge.
The pledge is the set of commitments that companies make when joining the Water Resilience Coalition . It is the engine through which the Coalition will catalyze action to achieve global water resilience.
Do companies have to make the pledge to join the Water Resilience Coalition ?
Yes. Companies are required to commit to the pledge in order to become a member of the Coalition.
Why is the pledge centered around water basins?
Placing water basins at the center of our efforts, as outlined through the pledge, offers the opportunity for the most impact, as this is the geographic scale that best aligns with how local water-related challenges manifest, as well as with how management responses can be tailored to reflect regional context. Further, most stressed water basins present high risk to industry if not managed correctly but have a manageable gap to achieve resiliency. 90 per cent of identified high and extremely high stress basins have a gap of less than 3,000M cubic KM to becoming resilient.
What do you mean by "water basins"?
There are a wide variety of terms referring to the areas of land where water drains to a common outlet, such as river or aquifer. Some say "watershed." Others says "catchment" or "river basin." For the purposes of the Coalition, we will use the term "water basin."
How does the pledge help address the issue of water-stressed basins?
The three pillars of the pledge – achieving net positive water impact, building a water resilient value chain, and demonstrating global leadership – are the main mechanisms through which companies can improve basin resilience. As member companies work in concert to meet their pledge commitments, the Coalition has the potential to significantly impact freshwater use and management in regions of shared interest, while also contributing to broader efforts to address the global water crisis.
Does the pledge have specific guidelines for different industries or sectors?
In order to achieve pledge commitments, the Coalition Secretariat will be working with members across various sectors to define and promote specific industry operating standards.
In committing to the pledge, how will companies know which water-stressed basins to focus on?
Measuring basin health is still an evolving science. As a starting point, the Coalition has leveraged water availability and use data from the World Resources Institute (WRI) to identify priority basins. Reviewing the total 410 basins, we selected 90 high or extremely high stressed basins that met the following criteria:
Water availability-to-withdrawal ratios were 40 per cent or higher based on present day or 2030 projections.
Industry withdrawals in the basin were above 50 per cent of total withdrawals.
Basins support populations of 5 million or more people by 2030.
A substantial improvement in basin resilience is feasible with Coalition involvement.
There are no ongoing wars or UN sanctions on the country where the basin is located.
These 90 high or extremely high stressed basins – representing 13 per cent of total basin area – will serve as a starting point to help Coalition members select priority regions for investment. Member companies can choose to broaden how they define the pledge's scope (e.g., considering other dimensions of water stress or important regions that are less populated) to additional basins where they have operations, if they choose to do so.
The Coalition will continue to adjust the geographic scope of the pledge and the corollary collective action facilitation efforts as data on basin stress are updated and expanded.
What is meant by "net positive water impact?"
The foundational intention of net positive water impact is the promotion of a healthy water basin—one that can meet current human, economic and ecological needs and medium-term projected demands, even with the anticipated constraints of climate change, population growth, and other freshwater supply, demand, quality and accessibility factors.
Much work still needs to be done to define net positive water impact more precisely to ensure we live up to this intent. But as we complete this work, we know we must start scaling up action now. We believe corporations must both invest in world-class water efficiency practices and invest in measurable improvement of watersheds in proportion to their local water use and economic impact. Therefore, the comprehensive impact that a company's entire operations in a basin has on the availability, quality, and accessibility of water will contribute more to basin health than the stress it puts on the basin. We commit to thoughtful approaches based on both the impact of corporate water use and the degree of local water stress in a given water basin—we want communities and water basins to truly be better off because we're a part of them.
Because of the many intricacies of different industries, operations, water sources, technologies, and other contextual considerations, it will take time for the Coalition to define the precise metrics that will accurately reflect this and to develop mechanisms for measurement. From Day 1 we commit to making this our objective, and this work is already in progress. We also commit to heavily involving the NGO community and public sector and bringing our combined scale and resources to efforts already underway. Current partners committed to working with the Coalition to help develop the measurement and tracking system include the World Resources Institute, the Nature Conservancy, the Global Center for Adaptation, and the International Water Management Institute. Along the way, we will be transparent around our efforts and the metrics and tracking we put in place.
Will the pledge specifics ever change?
The first draft of the pledge was created in early 2020. It will be re-assessed at least every two years based on lessons learned and the best available science.
Why are there interim targets as part of the pledge?
The effects of water stress are ongoing and escalating. It's important to demonstrate significant progress within the next ten years and achieve some of the benefits of the pledge before 2050 to help mitigate the worst effects of the global water crisis.
What specifically is expected from Coalition members with respect to their value chain?
Coalition members believe that all companies should aim to have a net positive water impact in water-stressed basins by 2050, and they commit individually and collectively to use our influence over our value chains to ignite a movement toward this goal.
Coalition members recognize the challenges of driving outcomes beyond their direct control, but they also understand the importance of their role in addressing the water-related risks and impacts throughout their respective value chains. As such, Coalition members will implement strategies that address water-related impacts across their global value chain in water stressed regions, and promote technological innovation and circular economy design to reduce water-related impacts from the use of their products and services.
Upon joining the Coalition, members are expected to assess water use and impacts throughout their value chains, in order to inform implementation priorities and key water-stressed regions from the start. By "halfway there by 2030", the expectation is that members will enable water resilience actions and outcomes in the parts of their value chain with the largest water dependencies and impacts. By 2050 coalition members will be working with all value chain partners with significant water use/impacts to encourage net positive water impact.
As Coalition members work together in coming years, they will lay out more tangible supply chain actions and commitments, likely by industry, that they believe will be most effective and impactful.
How does the concept of "net positive water impact" relate to Coalition members' value chains?
Some Coalition members will seek to engage key value chain partners when looking to fulfill the Coalition's recruitment requirement (i.e., two companies per year). In those cases, such value chain partners joining the Coalition will be expected to achieve the same net positive water impact and supply chain commitments as all other members, thereby helping to catalyze a movement throughout the value chain.
Why are companies expected to engage in public and corporate outreach?
C-Suite level involvement in both advocacy/outreach and Coalition recruitment activities is required in order to move water to the top of the business agenda. Our aim is to build awareness and catalyze further participation in the Coalition and action on the issue. All of which will help improve our ability to withstand the impacts of the water and the climate crises.
Will the pledge help companies achieve their climate commitments?
Water use within company operations requires energy. As companies take action to implement climate positive sustainable water management, they are in effect reducing energy and the carbon emissions associated with that energy use. This will have a cascading effect as Coalition members engage their supply chain partners in efforts to reduce overall water use. Further, Coalition member investments in basin health initiatives, such as nature-based solutions can also offer opportunities for water quantity/quality and greenhouse gas reduction co-benefits.
How the Water Resilience Coalition Works
Who can join.
The Coalition is open to any company wanting to make a greater impact on the water crisis. We're also interested in collaborating with public sector and non-profit partners wanting to support the effort. To learn more about engaging with the Coalition, contact [email protected] .
Can you join even if your company doesn't use large quantities of water?
The Coalition welcomes those from companies that don't use large sums of water. You can still influence suppliers (if applicable) and help raise awareness of this issue.
What is expected of members?
Companies that join the Water Resilience Coalition are expected to sign the water resilience pledge and make the needed investments in their own operations, as well as work together collectively, to accomplish the pledge's three overarching commitments by 2050:
Net Positive Water Impact: Deliver measurable net positive impact in water-stressed basins, focusing on the availability, quality, and accessibility of freshwater resources through industry leading water operations and basin initiatives.
In addition, Coalition members are expected to work together, share their knowledge, and participate in collective action projects in water-stressed basins to achieve their pledge commitments. They are required to report annually on their progress against pledge commitments, chief executives are expected to speak publicly at least once annually about the importance of taking action on water, and members must actively recruit at least two new members to the Coalition each year.
Who leads Water Resilience Coalition ?
The Coalition Leadership Committee is the governance body that sets the overall strategic agenda of the Coalition, represented by up to 15 Coalition member companies reflecting geographic and industry diversity, in addition to other key advisors from civil society and multilateral agencies. Day-to-day managerial responsibilities are handled by the Coalition Secretariat. In addition, there is a CEO Circle – comprising of interested C-Suite executives from the Leadership Committee and other Coalition members – responsible for leading outreach/advocacy efforts on behalf of the Coalition and serving as its public face.
Are member companies part of the UN Global Compact and the CEO Water Mandate?
Yes. As the Coalition is part of the UN Global Compact CEO Water Mandate, Water Resilience Coalition membership requires participation in both the UN Global Compact and the CEO Water Mandate.
What financial commitments have companies made to become members?
Yes. As an initiative of the UN Global Compact CEO Water Mandate, membership in the Water Resilience Coalition requires membership in both the UN Global Compact and the CEO Water Mandate.
What financial commitments do companies make to become members?
As part of their commitment to supporting the work of the Coalition, companies contribute anywhere from $10,000 – $100,000 annually depending on their revenue and level of engagement (i.e., Leadership Committee or regular Coalition member). This contribution is separate from membership dues for participation in the UN Global Compact or to participate in the Mandate's Action Platform.
How long do companies commit to being members of the Water Resilience Coalition ?
Founding companies have committed to a minimum of three years in a leadership role to ensure there is a strong group of companies to help establish the Coalition during the initial years. After three years, the time commitment requirement by leadership committee members may be re-evaluated. Member companies joining the Coalition in 2020 are also asked to make an initial three-year commitment as the initiative is getting established.
Impact of the Water Resilience Coalition
How will the water resilience coalition know when its efforts are successful.
Our aim is to convert water-stressed basins to healthy, resilient basins, and so we will measure the change in basin health as an indicator of our success. The exact measurements for understanding resilient basins are being developed. As a starting point, we will define a healthy basin as one that can meet current human, economic, and ecological needs and medium-term projected demands, even with the anticipated constraints of climate change, population growth, and other freshwater supply, demand, quality and accessibility factors.  
Are companies required to report on their progress against the pledge?
Yes, they are required to report annually.
About the Water Crisis
Why is the world experiencing a water crisis.
Fresh water is abundant on Earth. However, the world's accessible fresh water is not evenly distributed and not feasible to transport over long distances. Therefore, some regions have abundant water resources, but many regions with more arid climates have more limited supplies of fresh water. At the same time, the demand for water is growing and the climate crisis is drastically altering the dynamics of hydrological cycles around the world, resulting both in increased droughts and increased flooding. The result is uncertainty, increased variability, and therefore increased water scarcity. While some regions have plentiful supplies, others are struggling to meet the needs of their communities, ecosystems, and economies.
What is water scarcity?
Water scarcity refers to the volume of human water consumption relative to the volume of freshwater resources in a given area. Issues of water scarcity are human-driven and can be measured consistently across regions and over time.
Is the water crisis just temporary or will it be lasting?
The water crisis will not disappear any time soon and in fact, it is expected to get worse in the coming years and decades. By 2050, more than half the world's population will be at risk due to water scarcity if no action is taken and climate risks persist at the current rate. [1] The planet is facing increasing droughts, flooding and changing precipitation patterns from climate change, as well as a strain on water resources due to increasing population, industrialization, and urbanization. As a result, governments around the globe will have more difficulty ensuring sufficient water supplies for their local populations and for industry, agriculture, and energy production.
How does water quality impact the water crisis?
Good water quality is essential for life on our planet to thrive. Polluted water can spread disease, limit economic growth, and degrade ecosystems. Wastewater systems – which allow for used water to be properly treated and released back into the environment, and/or cleaned for reuse – are struggling to keep pace with population growth, increased development and industrialization, and urbanization. As a result, 80 per cent of wastewater flows back into the environment without being treated or reused, which further limits supply by rendering previously clean water sources unusable.
How does access to safe drinking water impact the water crisis?
Access to safe water is another critical component of the global water crisis. In some parts of the world, running water is nonexistent in households and fresh water sources may be located far away, requiring a trek on foot to collect enough water for the daily needs of a family. The water supply can also be contaminated, not always available or prohibitively expensive. In fact, one in nine people worldwide lack access to safe drinking water in their household or have limited access in their surrounding community.
What is meant by the term "water stress?"
Water stress refers to the ability, or lack thereof, to meet human and ecological demand for freshwater. Compared to scarcity, water stress is a more inclusive and broader, taking into account several physical aspects related to water resources, including water availability, water quality, and the accessibility of water.
What is "water risk"?
Water risk refers to the possibility of an entity experiencing a water-related challenge (e.g., water scarcity, water stress, flooding, infrastructure decay, drought). The extent of risk is a function of the likelihood of a specific challenge occurring and the severity of the challenge's impact. The severity of impact itself depends on the intensity of the challenge, as well as the vulnerability of the actor.
What causes a water basin to become stressed?
There are many factors that can contribute to water stress. Increased demand for water stemming from industrial, agricultural, and domestic use can cause more water to be withdrawn than is available, depleting the supply and causing some basins to become water stressed. Climate change can cause once-abundant basins to have significantly less supply. For instance, research by the US Geological Survey indicates the Colorado River is so sensitive to global warming that annual flows are forecast to diminish by roughly 25 per cent by 2050 as temperatures continue to climb. Pollution can make abundant supplies unusable. Ineffective water governance and/or inadequate water infrastructure can mean that physically abundant supplies are not consistently delivered to the communities and industries that need them.
What is the relationship between climate change and the water crisis?
Water stress and climate change are intrinsically connected – water is perhaps the most visible and direct way climate change impacts our planet. For example, higher temperature can make snowpack melt earlier, more quickly and more drastically, thus leading to immediate floods followed by drought. Less water means pollution is more heavily concentrated (and therefore potentially more dangerous) and that drinking water sources are compromised. As the impacts of climate change worsen and water becomes scarcer in arid and semi-arid places, millions of people will be displaced.
The Impact of the Water Crisis
What's the impact of water stress on people.
Today, more than 25 per cent of the world's population live in water-stressed regions and are negatively affected in some way by water-related issues. Because of this, communities may no longer be able to rely on drinking water sources, agricultural growers may not have access to sufficient irrigation, and jobs may be lost due to business' inability to operate without water. One in 9 people around the globe lack access to safe drinking water. More than 2 million children die annually from water-related diseases.
How does water stress impact business?
According to UNESCO, industry uses 20% of all water globally . In high-income countries, industry is the largest consumer, using 40% of all water and as much as 60% in some places. As more developing countries industrialize, their water use patterns are following the same trajectory.
As a significant water user, business faces two distinct risks. First, are risks to company operations, products and services, such as impacts to its suppliers or how its products and services affect communities and ecosystems. Second, are risks due to basin conditions that cannot be addressed through changes in operations or its suppliers and requires engagement outside the fence.
With the impact of the water crisis, business is already experiencing the reality of water stress. CDP's 2018 Global Water Report revealed that, among companies responding to its survey, their collective losses due to water-related issues were $38.5 billion, a 50% increase in one year. Furthermore, according to the World Bank, some regions could see their growth rates decline by as much as 6% of GDP by 2050 as a result of water-related losses.
What is business doing about the impacts of water stress?
While there are many businesses that have committed to conserving water and/or adopted a smart water management approach, not enough is being done. Despite a large number of businesses (88 per cent) that are aware of water scarcity risks, only half of them have a plan to manage these risks. Most telling is that the amount of water used by the private sector has continued to increase – 50 per cent of companies used more water in 2018 than they did in 2015.
How to Address the Water Crisis
What can be done about the water crisis.
Many solutions to conserve water and improve water quality already exist. This includes using smart water management in business operations; building more resilient water basins with improved stewardship practices; aligning with local stakeholders to determine equitable water resource allocation; increasing water accessibility to employees and nearby communities; working to advance effective and equitable public policy and regulation; and building awareness of the issue to ultimately change how water is valued and managed.
What is meant by resilience?
Resilience is the ability to anticipate, prepare for, and respond to hazardous events, trends or disturbances related to climate change.
What will happen if nothing is done to avert the crisis?
If no action is taken, it's expected that the world will face a 40 per cent shortfall in fresh water by 2030 – meaning the demand for fresh water will be 40 per cent greater than the supply. That means more and more places around the world will face their Day Zero when the taps run dry.
Privacy Overview
IMPACT STORY
Impact story: collective action brings clean fresh water to millions in brazil.
Dercilio Aristeu Pupin, an organic farmer in Piracaia, Brazil, knows firsthand just how devastating drought can be — and how collective action can respond with effective, promising results.
Pupin saw his once-fertile soil grow parched and his productive pastures dry up from the worsening effects of climate change. His livelihood, that of his community and that of millions of residents of the Piracicaba, Capivari and Jundiai (PCJ) river basin were at grave risk.
The PCJ river basin supplies more than 70 per cent of the region's water, most notably supporting Brazil's largest city of São Paulo. The region has gone through seven droughts in the last decade.
In response, Pupin and others, particularly student volunteers, collaborated on watershed restoration projects in the PCJ basin with the help of the São Paulo Water Fund. An initiative of The Nature Conservancy, the Water Fund helps with watershed protection and reforestation to provide fresh, clean water for millions of people.
The Water Resilience Coalition (WRC) of the United Nations Global Compact has mobilized its members to contribute to the Water Fund of São Paulo, recognizing that acting together creates greater and more sustainable impact. The WRC has brought together local producers, community leaders, Governments and businesses to build water resilience since its founding in 2020.
"The goal of generating positive impact for water – a central goal of the Coalition – depends on collective action," said Renata Van der Weken, Supply Environment & Energy Director at Ambev, Brazil. In 2017, her company, a subsidiary of WRC member ABInBev, partnered with The Nature Conservancy to support the São Paulo Water Fund.
"Taking care of water is taking care of the next generations. Everyone dealing with sustainability deals with water," Van der Weken said. "It is essential for human beings and for life on earth."
Joining ABInbev in supporting the water fund have been four other WRC members -- The Coca-Cola Co., Cummins Inc., Ecolab and Starbucks -- helping to multiply the economic, biodiversity and health benefits far beyond the reach of a single company or partnership.
The Water Fund works with members of the Piracaia community like Pupin to incentivize nature-based solutions. A typical watershed restoration project might entail planting and safeguarding forests that naturally filter water and protect streamflow.
"I have the social responsibility to produce healthy food for people. But at the same time, I have to take care of the water sources," said Pupin, who has farmed the region for the past decade.
"If there are other people who help me with this, it will be easier to provide healthy food faster for school meals, for supermarkets, for partners, and people who buy our products," he said. "We're aware that the water falling right there, to our side, benefits millions of companies, millions of people and inhabitants."
Some 1,500 people are directly involved in on-the-ground projects of the São Paulo Water Fund, and 11,000 more are potential beneficiaries who live and work upstream in the watershed supported by its projects. Downstream are 12 million people living in and near São Paulo enjoying the benefits of a healthy watershed and a fresh, clean water supply.
Building on the progress of flagship projects such as that in Brazil, the WRC is rapidly expanding the collective action model around the world. The WRC now facilitates 21 projects in 15 basins across six countries - the U.S., Mexico, South Africa, India, Indonesia and Brazil.
In 2022, the WRC and Global Compact Network Brazil established the Brazil Chapter of the WRC, the first local chapter of the WRC. The Chapter brings together the Local Network, NGOs, multinational WRC members and local Brazilian companies to collaborate on multiple collective action water projects, such as the São Paulo Water Fund in prioritized basins.
"The Water Fund in São Paulo is a strategy that helps create ideal conditions to support conservation actions and implement nature-based solutions on the ground," said Henrique Bracale, Coordinator of the São Paulo Water Fund at The Nature Conservancy, Brazil.
"We work with everyone from the federal government, the state government, the municipal governments up to the rural producers and key partners from the private sector," he said. "The solution for ensuring water security for an entire society is through collaboration. Nobody does anything alone. We need to work together."
Around the world, more than two billion people live in water-stressed regions due to environmental pressures that have intensified over time. According to UN-Water, the world must quadruple its efforts to reach global targets for water and sanitation by 2030.
To continue scaling up, in 2022, the WRC curated a list of 100 priority water-stressed basins. It mapped the basins' needs related to water quantity, quality and access, and it built an initial list of collective action opportunities to address those needs directly. The WRC will leverage this work to catalyze action on water worldwide.
Along with plans to publish the full 100 basins list in 2023, the WRC will expand its new Basin Champions programme in which member CEOs and their companies serve as ambassadors for watersheds and local WRC activities. It also plans to recruit new members and launch additional Local Chapters.
All of that is welcome news to farmers like Pupin, who care deeply about sustainability and protecting our endangered resources.
"When someone decides to support a socio-environmental project, they are unleashing a process that their grandchildren will feel," the farmer said. "The impacts are very big."
Global Africa Business Initiative announces world-class lineup for 'Unstoppable Africa' 2023 event
Media advisory: gary white and matt damon to join ceos and global leaders at un global compact leaders summit 2023, new guidance on blue bonds to help unlock finance for a sustainable ocean economy, the africa business leaders coalition showcases accelerated private sector climate action at the africa climate summit, global africa business initiative aims to accelerate and promote business, trade and investment across africa, un global compact launches business guidance for a just transition in supply chains, global leaders and business executives commit to accelerate business action to achieve the sustainable development goals by 2030, sdg global business forum - media advisory, 6 tips to improve your supply chain social sustainability, understanding the business of gender-responsive procurement, un global compact at un general assembly, private sector forum, un global compact leaders summit, unstoppable africa - the global africa business initiative, office hours: communication on progress, ciclo weps américa latina y el caribe, weps 101 webinar.
Activist groups call for national leaders to help solve Jackson water crisis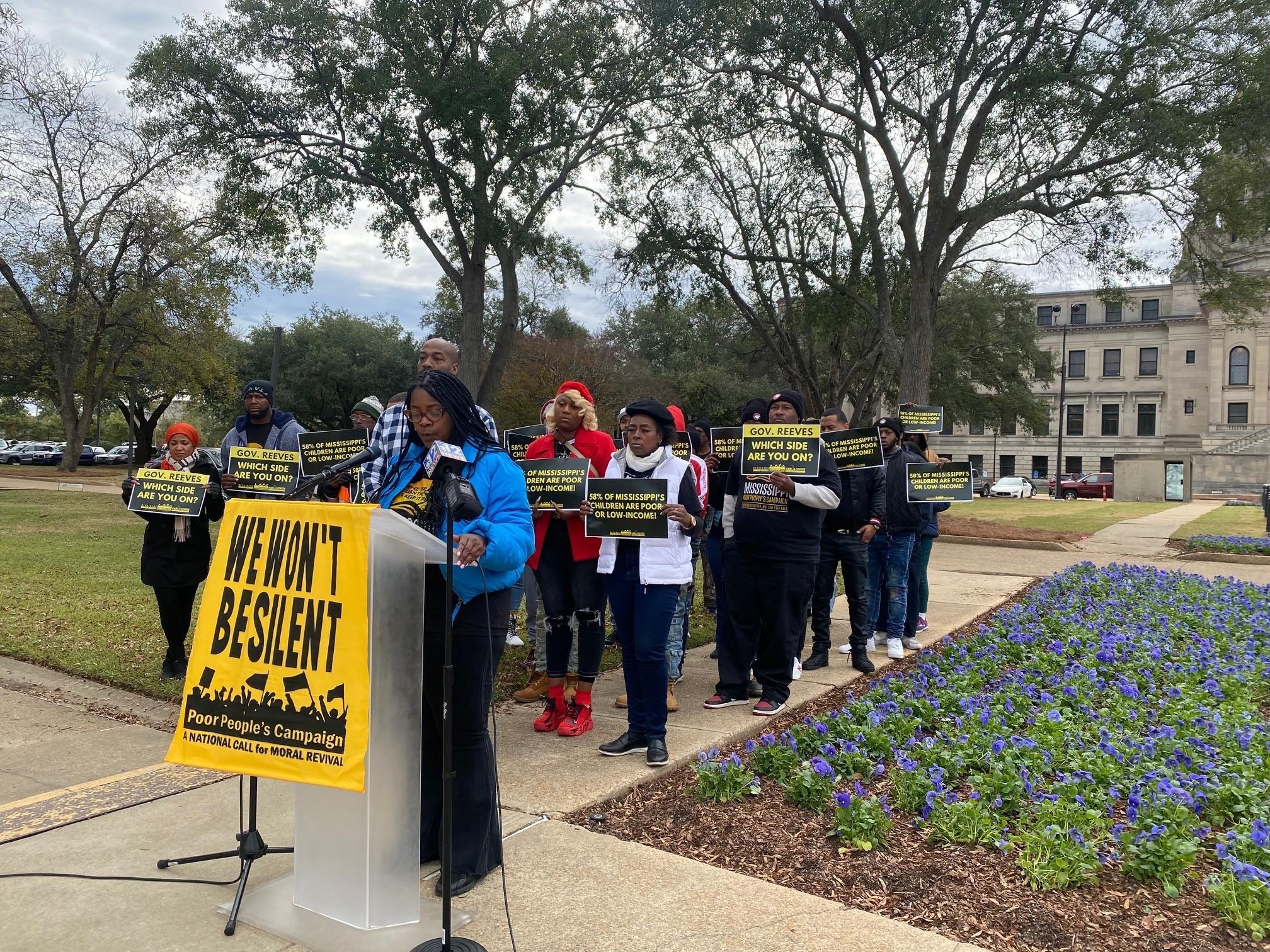 Activists are calling on federal and state leaders to intervene in the ongoing Jackson water crisis. A coalition of organizations in Mississippi stood on the steps of the state capital Monday calling on leaders for help.
Lacey Alexander
Many of the speakers specifically asked for assistance from Governor Tate Reeves, whom they believe has not done enough to help Jackson citizens. Reeves said in a September tweet that quote "we have restored clean drinking water to Jackson," but daily boil water notices to different parts of the city show the issue is not fully resolved.
Tariq Abdul-Tawwab spoke at the press conference, representing the Mississippi Rapid Response Coalition. He says the people of Jackson, specifically people of color, have been fighting for basic rights like clean water for decades.
"It's unfortunate that we have to come to the people of the Unite States once again as if it's 1957," he said. "We're forced to once again beg the world to look at Jackson, Mississippi and see what they're doing to us."
Jackson residents and members of the Poor People's Campaign were at the press conference holding signs urging people to fight for the Jackson community. Terun Moore with the People's Advocacy Institute is a lifelong Jackson resident. He considers leaving citizens without clean water an "act of violence."
"We're tired of standing up here... making these press conferences, doing these rallies, and nothing happening." he said. "You don't ever know what the people know or need, [because] you ain't ever around us."
The group called upon lawmakers to take further action when the legislative session begins next year on January 3rd.