German Cover Letter Guide [With English Sample]
Updated June 5, 2023
A cover letter ( Anschreiben ) might be the least important thing of the application in some countries; however, not so in Germany. Depending on the company and recruiter receiving your application, a German cover letter might be the most essential part after your CV.
A survey of HR Recruiters in Germany states that 42% ignore an application without an individual cover letter. The same survey also shows that for 71% of HR, a cover letter is an essential document in a job application. A job application letter conveys your level of professionalism, research capabilities, and ability to sell yourself without much fluff.
Table of Contents
Simple German Cover Letter Sample In English
A cover letter in Germany ( Anschreiben ) needs to complement your CV , but not repeat it. You can regard a cover letter as a letter of motivation filled with examples and facts. A cover letter in Germany is a very formal document that should follow a particular layout.
Related Guide: German CV Template in English
Our German-Style CV Template In English helps you to craft a killer CV. We have also created a German cover letter sample in English for you to understand what your finished document should look like.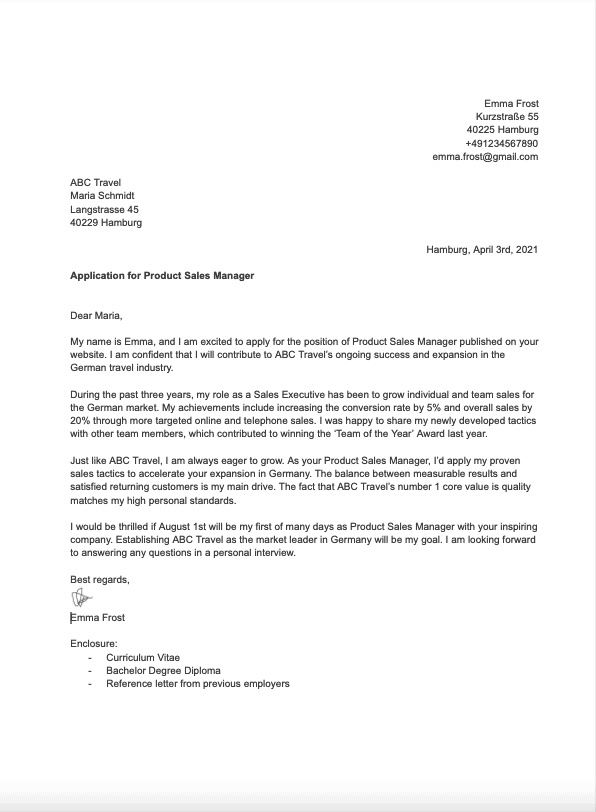 To save you loads of time, you can download our German cover letter template . Simply go to 'file' and select ' make a copy '. You can then edit it to your needs.
How To Write A Cover Letter In Germany?
We will walk you step-by-step through the areas you should include in a German cover letter. You will also learn about what the content of the cover letter should convey.
German Cover Letter Formal Format
As mentioned before, the German cover letter is a very formal letter that should follow the following format for it to look familiar to the German eye:
Maximum one page and don't fill it up completely. Leave enough white space when glancing over it.
Put your full address, including email (ideally including your name) and phone number, in the top right corner.
Put the company's full address on the left with one paragraph below your address. Include the name of the contact person in the second line.
Place the date of your application right-aligned underneath the addresses.
As you might know already, Germany has tons of rules, regulations, and guidelines. Naturally, there is also a guideline for professional letter writing and correspondence, the so-called DIN 5008 norm . It states the following margins on a DIN A4 (standard German letter paper format):
Left margin: 2,5 cm Right margin: 2,0 cm Top margin: 4,5 cm Bottom margin: 2,5 cm
Please take this information with a grain of salt. Not following this layout does not mean that any German manager or recruiter will ignore your cover letter; however, the German eye is trained and used to reading this format. Anything appearing too much out of the ordinary might get noticed negatively. Again, you can shine with your cover letter's content, but don't try to stand out with the format unintentionally.
1. Subject Line
The subject line in a German cover letter needs to stand out. It needs to convey with one look what position you are applying for, and you should bold it.
2. Salutation
The salutation is extremely important – the more personalized, the better. Reflect your understanding of the company's culture by using the first name or last name; however it is appropriate. If you can't find enough information or are unsure, always refer to the last name. If you can't find the relevant person's name, don't be shy and pick up the phone to find out more. This shows initiative and determination.
When it comes to the cover letter's main body, you should try to stick to four paragraphs. Remember to point out what value you will bring to the company, not what you can get from the company. Your cover letter's content needs to reflect the expectations and requirements mentioned in the job ad. So make sure to connect the dots and position yourself ahead of other candidates.
Introduction (3 – 4 lines)
The introduction should answer why you are applying for the position and how you became aware of it (through a friend, an employee at the company, a job portal, etc.). Be confident in your word choice. Don't use insecure words such as 'I think I would be a good fit' but rather 'I am confident that I will contribute to …'.
Second paragraph (5 – 6 lines)
Now it is time to shine with your skills, experience, and qualifications. Never just list things, but choose the relevant achievements and prove them with results. Don't only refer to achievements in your work life, but if relevant, also mention efforts with private projects. This will show your personality, drive, and willingness to learn and grow beyond what you get paid for. It is absolutely ok to also write in bullet list style in this part, as long as you don't just list things.
Third paragraph (5 – 6 lines)
After you have showcased yourself, it is time to translate how these experiences and skills will contribute to the role and company. Convey that you have taken the time to research the company by referring to the company culture, possible awards the company has won, or projects that inspire and motivate you. Be authentic and confident.
Closure (3 – 4 lines)
To close your cover letter:
Reemphasize your eagerness to join the company in the relevant position.
Describe your future goals and the value you can bring to the company.
State when you will be available to start work.
Emphasize that you'd be happy to answer any questions via phone or in a personal interview .
Only mention salary expectations if they are asked for in the job ad.
Be sure to sign the cover letter with your name.
4. Attachments
Add the word 'Enclosure' ( Anlage ) underneath your signature. List all the additional documents you will hand in with your application, like your CV, certificates and diplomas, reference letter, etc.
Further Cover Letter and Job Applications Tips
Don't use the same CV and cover letter for different applications. As mentioned above, you must individualize your application to each company's needs and requirements.
If you send your application directly by email, you have two options. You can either make the email body your cover letter. In this case, remove the address and date part from the email and place the subject line in the email's actual subject. The body of the email remains a formal letter, though.
Or you can attach the cover letter to the email and briefly point out your application to the specific position in the body of the email, referring to the attachments.
Ensure that any attachment always has the pdf format, regardless of whether you send it by email or upload it to an online application system. Also, pay attention to the naming of the attachments and keep it clear and professional.
Your job application, namely your resume and cover letter, should answer the recruiter's main three questions:
Can you do the job? (Skills)
Will you do the job? (Motivation)
Will you fit in with the company culture? (Personality)
Be sure to evaluate your documents based on these questions before you hand them in. The goal of your CV and cover letter is to get an invitation for a job interview .
Related Guide: Job Interview In Germany [How-To + Tips In English]
We hope that you now have a better understanding of how a German cover letter looks and feels like. But never forget to adapt your cover letter and application to the style of the company you are applying for. There is a big difference in culture between a young international StartUp and a big traditional German enterprise.
If this guide was helpful to you, and saved you time of research, please consider supporting this website by  buying us a coffee  as a small donation. It allows us to keep Simple Germany alive and striving.
7 Hacks To Save Money In Germany
Get our FREE guide with 7 actionable hacks to save money while living in Germany. 7 days, 7 emails!
About the Author
👉🏼 More To Explore
5 best banks for freelancers in germany [ultimate 2023 guide], church tax in germany explained [2023 english guide], maternity leave in germany [mutterschutz] – 2023 english guide, parental leave in germany [elternzeit] 2023 english guide, can i work in germany without speaking german [2023 guide], german cv template in english [ultimate english guide].

Empowering internationals to settle into life in Germany more smoothly.
Buy Us A Coffee
Cookie Policy
Privacy Policy
Refund Policy

in Düsseldorf
© All Rights Reserved. Simple Germany is a trademark registered in the European Union.
Employment guides & Tools
Cover letter in germany (anschreiben).
Together with your CV ( Lebenslauf ) , the cover letter is a key component of any job application in Germany. Far more than a mere formality, a cover letter is an important means of presenting yourself to a prospective employer. It would be difficult to land a job in Germany without one. This page walks you through the process of crafting a job-winning cover letter, with a few hints and tips about what is expected in the federal republic.
Cover letter in German ( Anschreiben )
First things first: what is a cover letter? Although it may be tempting to send in your job application without one, a cover letter is an important part of job applications in Germany, and most hiring managers will expect to receive one, even if the vacancy listing does not explicitly specify this.
A cover letter is a short (usually no more than one page) document that you submit together with your resume as part of your job application. Rather than simply repeating the information contained in your CV, its purpose is to expand upon it, summarising your skills and experience, explaining what makes you a good fit for the role, and (hopefully!) piquing the hiring manager's interest. While a CV lays out the facts, your cover letter conveys more personality. You can expect to be asked about both if you make it to a job interview .
In Germany, a cover letter ( Anschreiben ) generally follows a prescribed format, which makes it easier to structure your own.
Cover letter templates
Using a template can be a good way to get started, and will also ensure your cover letter is well-formatted. If you used a template for your CV, it's a good idea to use the same design for your cover letter, to make your application look professional and consistent.
The following websites offer cover letter templates:
How to write a cover letter in Germany
German cover letters are not fundamentally different to those in other countries, with the only possible difference being they are rather formal and matter-of-fact, with no credit given to pomp, exaggerations or overly flowery language.
As with elsewhere in the world, your cover letter in Germany should be succinct - no more than one side of A4 in size 12 font. You also do not want to present the hiring manager with a dense wall of text, so make sure to break it up into sizeable paragraphs.
It may be time-consuming, but you should also write a unique(ish) cover letter for each job you apply for. Recruiters don't like to receive form letters - and sending off a generic letter is a sure-fire way to ensure your application ends up in the bin. You need to explain why you want this specific position , and what makes you particularly suited for it - so tailor your cover letter based on the responsibilities and requirements outlined in the job description, and what you know about the company.
Cover letter format
If you're not sure where to start, it can help to break the letter down into a few sections. Almost all cover letters are structured around the same tried-and-tested format:
A header with your contact information
A greeting to the hiring manager
An opening paragraph that will grab the reader's attention
A second paragraph that explains why you're the perfect fit for the job
A third paragraph that outlines why you're a good match for the company
A formal closing
How to start a cover letter: With a header
Writing your contact header is a good way to ease yourself in, and ensure you're not staring at a blank page. As with a CV, it's important to include some basic contact information on your cover letter. You should include:
Phone number
Email address
Name of the hiring manager
Name of the company you're applying to
You might also consider adding your social media profiles or the address of your personal website, if these are relevant in your field and to the job you're applying for.
Address the hiring manager
This is where you can score some easy marks. You'd be surprised how many people open their cover letters with, "Dear Sir or Madam." That's one way to turn off a hiring manager. It's much better to address your letter to them personally. That means you need to do some research.
If you're lucky, this information is included in the job description. You should also check the "Team" or "About us" page on the company's website. Alternatively, you could turn to LinkedIn to find out who's head of the relevant department. If in doubt, call up the company and ask who you should address your application to. It might make your name stick out when it comes to sifting through CVs.
As a last resort, if you really can't get hold of a name, address your cover letter using one of these greetings:
Dear [Department] Hiring Manager
Dear Hiring Manager
Dear [Department or Company Name] Team
Write your introduction
This is worth taking your time over. Companies typically receive hundreds of applications for single positions, and so they're not going to be reading every cover letter from top to bottom. You need to grab their attention from the first paragraph.
The key here is to not be too generic - most applicants will probably have similar work experience and interests. Instead, you need to explain what makes you unique. What is your bottom-line USP? That's what the recruiter wants to know.
Explain why you're a good fit for the job
Next, it's time to get into the meat of your letter, by outlining your professional skills, and explaining why this experience makes you better-qualified than the other applicants. It's a good idea to have the job description to hand when you write this section. Match the requirements listed by the company to elements from your own skill set and work history, and elaborate on them.
But there's no way you'll have space to cover every single detail. Instead, pick two or three of the most important requirements and use them to spin a couple of compelling stories from your own experience.
Explain why you want to work for the company
The final section of your cover letter is just as important: explaining why you want to work for this specific company. Hiring managers want to know that you'd be a good fit for the company culture - that you want this job, not just any job - otherwise you'd be a risky hire.
This might require you to do some extra research - what do you know about the company and its products or services? What's the work culture like? What about that enthuses you? It pays to be super specific.
Wrap things up
That's it - you're almost there! Now you need to finish with a conclusion that wraps up your letter. If you have anything else you want to say, now's your chance. Finally, thank the hiring manager for their time (it's only polite).
Then, it's time to sign off with a formal closing. You could use:
Best regards
Kind regards
Yours sincerely
Once your cover letter is finished and proofread, you're ready to send off your application. Put your feet up and wait for a response.
Should I write my cover letter in German?
Whether or not you should write your cover letter in German depends on a few factors, namely:
The language requirements of the job
What is specified on the job description
Your own language ability
If a job description specifies that applications should be made in German, it's best to follow this advice. If your language ability isn't up to the task of writing a CV and cover letter in German, it may be that the job itself is also beyond your language capabilities.
However, an increasing number of companies in Germany, specifically international companies , are now offering English-speaking roles, although some still require you to apply in German. In this instance, it's worth submitting your documents in German (you can ask a German-speaking friend to help, at least by checking your finished CV and cover letter over). To really show off your language skills, you could submit both English and German versions of your application.
Cover letter examples
Not sure where to start? It can be a good idea to read some example cover letters to give you an idea of what is expected. But don't be tempted to copy them word for word - you want to convey your own, unique personality, not someone else's.
English cover letter sample
The internet is full of examples of cover letters written in English. Check out popular websites like Novorésumé, Monster.com, Reed, Indeed, and LiveCareer.
German cover letter example
Checking out a German cover letter example can also be a good way of getting started, especially if German is not your native language. Look at websites like Karrierebibel, Bewerbung.net and Staufenbiel, or simply search " Anschreiben Beispiel ", to get a good idea of how German cover letters are structured.
Cover letter tips
Make sure your cover letter is correctly formatted and free of spelling and grammatical errors - ideally, have a friend check it over for you before sending it.
Include your personal details at the top of your letter.
Do your research to address the hiring manager by name.
Always tailor your cover letter to match the job description.
Use specific, concrete examples from your work history to back up your points.
End with a formal signing-off.
Make sure your letter is no longer than one side of A4.
Follow us on Facebook
German CV guide (Lebenslauf)
English speaking jobs in Germany | IamExpat Jobs
Job interview questions & Answers in Germany
Recruitment agencies in Germany
Career coaches in Germany
Working in Germany
My Life in Germany
All you need to know about studying, working, and living in Germany
How To Write Your Cover Letter in Germany (+ English Example!)
This post contains affiliate links. It means that if you click on the links and make a purchase, we will receive a small commission at no additional cost to you. This allows our blog to continue providing you with free information. We only include links and products that we truly believe in. You can read the full disclosure here .
Moving to Germany or new in Germany? Check out our Resources Page for all the help you need!
Looking for a job in Germany and wondering how to write your cover letter? You are at the right place. In this article, you will learn how to write your cover letter in Germany, including the format, style, and structure. We also include some tips here on writing your cover letter in Germany. You can also download a free German cover letter example (in English).
Table of Contents
Introduction
7 seconds . This is how long it takes to form a  first impression . So, giving an excellent first impression in the interview is essential. But do you know that your first impression is not formed in the interview? It is formed in the first contact you make. You are right. The first contact is your job application.
That is why sending a good CV and cover letter in your job application is very important. This determines whether you have a chance to come to an interview, where you can make your first impression (physically).
What is a cover letter (Anschreiben)?
Your cover letter is the very first impression you give your potential employer. It is one of the deciding factors whether you get a job interview or not. If it catches the recruiter's attention, he will want to learn more about you by inviting you to an interview.
So, your cover letter should highlight your skills and experience that fit a job's specific requirements. You should use many examples and facts to convince the recruiter why you are uniquely qualified for the role. Tell the recruiter why you want to work for that company. 
The cover letter should be professional. The goal is to supplement your CV but not duplicate it. While your CV focuses on your skills and experiences, your cover letter should focus on your motivation and how you can apply those skills to the job.
Do you really need to write a cover letter in Germany?
You may not need a cover letter for your job application in many countries. How about in Germany? How important is it to have a cover letter?
In Germany, a cover letter was one of the most essential elements in a job application. However, its importance seems to reduce in recent years.
According to a survey,  59% of the recruiters in Germany accept job applications without cover letters. Many think that having a CV is already sufficient.
However, if you want to increase your chance of landing your dream job, it is still better to write a cover letter. Imagine if 59% of the recruiters in Germany do not require a cover letter. It means that the other 41% will.
Not having a cover letter reduces your chance of getting an interview invitation. You may even get an immediate rejection because of not submitting a cover letter.
Should you write your cover letter in English or German?
This is a tricky question. Unless specified in the job advertisement, it is better to submit your cover letter in German. However, if you do not speak any German, it may be better to submit your cover letter in English. 
Why? It is because you won't want to give false hope to the recruiter that you speak German while you cannot.
I once went to an interview in Germany after submitting my CV and cover letter in English. Back then, I did not speak any German. When the interviewer saw me, he was shocked that I couldn't speak German. The interview ended immediately after that, and I didn't get the job.
So now, imagine you send all your application documents to the recruiter in perfect German. It is logical for the recruiter to assume that you speak some German. You will probably not get the job when you are not meeting his expectation, especially if he is looking for someone who can speak German.
If you do speak some German (even not perfect), you may want to submit your cover letter in German. In that case, make sure your cover letter has no spelling or grammatical mistakes. To be perfect, you can also use a   translation service  or a  cover letter writing service . 
On the other hand, if the job advertisement is written in English and you do not speak any German, try sending your cover letter in English. 
Even though insufficient German skills limit your opportunities, many international companies in Germany do have their hiring process in English. Here is how I  got my permanent full-time job in Germany without speaking German.
Sending your cover letter in Germany
Many big companies require you to submit your cover letter and other application documents via their online portal. In that case, send your application documents such as cover letter and CV in PDF format. 
Give a relevant name to each document. For example, use names such as "Your Full Name_CV" or "Your Full Name_Cover Letter". This will make your documents look more professional. It will also be easier for the recruiters to identify your documents.
Some companies may require you to send your application via email. In that case, attach in the email all your application documents such as your CV, cover letter, and other certificates in PDF format. In the email content, write a short introduction about your application to the particular role and mention the attached documents.
Alternatively, you can copy and paste your cover letter into your email. Remove the address and the date in that case. Use your subject line in the cover letter as the subject of your email. The content of your email basically becomes your cover letter.
The format of a cover letter in Germany
A cover letter in Germany is a very formal letter. It follows the basic format of a typical business letter. Recruiters in Germany are used to this specific format. So, you should try to follow this format. Your cover letter may be viewed negatively if you use a format that is too different than the norm.
Keep it short and straightforward. Your cover letter should not be longer than one page. Also, leave plenty of space and don't fill the page completely.  
The standard font size is 12. Your font should be readable. Do not use an unusual font that is too big or too small. Use a professional font such as Times New Roman. 
Besides, use the same fonts and font size throughout your cover letter. Your cover letter should be easy to read. 
You should also use the same formatting in all your other application documents. For example, you should use the same style for both your CV and cover letter.
Your cover letter needs to be readable. Don't write a large block of text in your cover letter. Separate your text with clear paragraph breaks. There should be enough spacing between the different paragraphs as well.
Your cover letter should follow the layout rule called the  DIN 5008 Norm . It means that on an A4 size letter, the margin should follow the below standard:
Left margin: 2.5 cm
Right margin: 2 cm
Upper margin: 4.5 cm
Lower margin: 1.5 – 2.5 cm
The structure of a cover letter in Germany
Your personal info.
You should include your personal info in the top right-hand corner. This includes your full name, address, phone number, and email. Your email address should look professional, ideally with your name on it.
The company's info
You should write this on the left-hand side below your personal info. Put the company name, contact person, and company address there. You should put the contact person's name on the second line, under the company name.
Usually, you can find the contact person's name in the job advertisement. If not, don't be afraid to call the company to find out who handles the job applications.
Write the date in European format and place it below the company's info on the right-hand side.
The subject line should state what position you are applying for. You should bold it so that the recruiter can easily spot which position this cover letter is for.
Use the name of the contact person you stated in the company's info. Research the company culture to see if using the first or last name is more appropriate. If you are not sure, always go for the last name.
This should include:
The first paragraph (introduction)
The second paragraph
The third paragraph
The last paragraph (short closure)
Sign here and write your name below your signature.
Enclosure (Anlage)
Under your signature, you should name which attachments you are sending in the job application, e.g., CV, reference letters, etc.
The content of a cover letter in Germany
The content of a cover letter in Germany should consist of four paragraphs. Do not repeat what you have stated in your CV. Your cover letter should sound unique. The goal is not to tell your whole story. Instead, give a preview and make it interesting enough so that the recruiter wants to know more.
Position yourself ahead of other candidates by focusing on the value you can bring to the company, but not what you can get from the company.
The first paragraph (introduction) – 3 to 4 lines
This is an important paragraph. The recruiter reads this to determine if he wants to continue reading your cover letter. So, the goal of this paragraph is to arouse interest and make the recruiter continue to read.
Why are you applying for the position?
For example, you want to have a career change, or you have just relocated to the city. And explain why. You should promote yourself even if you are unemployed by mentioning something positive.
Also, mention something company-specific. For example, you can convince the company that you want to work there because of their company mission. Maybe the company operates in a way that minimizes damage to the environment? Or perhaps the company sponsors social projects?
Where did you learn about this position?
State where exactly you learn about the position, e.g., from a job portal. If you talk with someone from the company at a job fair, mention the person's name. 
Similarly, if you learn about the position via a friend or an employee from the company, mention this person's name as soon as possible. This can arouse interest and encourage the recruiter to keep reading your cover letter. 
What is your current position?
If you want, you may also describe your current position here. If you have not graduated yet, you can mention your course of studies.
The second paragraph – 5 to 6 lines
This paragraph should show your skills, abilities, qualifications, and experience. Mention any achievement that makes you unique and show your strength. Make sure to mention only those that are related to the position. 
Tell the recruiter where you learn these skills, for example, from your past job experiences. Don't be afraid to mention your private projects if they are relevant. It can show your personality and your initiative beyond your profession.
Remember, you should not be just telling. You should prove your skills with evidence. For example, instead of just saying that you have good leadership skills, mention that you have successfully led a specific project as an example. Do not write too many details, though. The recruiter can read the related information in the CV.
The third paragraph (5 to 6 Lines)
Here is where you link your skills to the position you are applying for. Show how your unique skills and experiences listed in the last paragraph are relevant to the job and the company. Tell the company exactly what you have to offer and how you can help the company to be successful.
Use some personal examples to show how you can use your experience to help to achieve the company's goals. Tell them what you can do for the company that no one else can do.
Pay attention to which skills are listed in the job description. Make sure you demonstrate how you own these skills by providing examples.
Besides, explain why you want to work in this particular company and this role. Look at the company's missions and vision. Check the company's website or social media channels to state any exciting facts. 
Maybe you are interested in the company because it supports social projects? Or perhaps because it has an informal corporate culture? Be genuine and tell the company why working there aligns with your values. Make sure to mention the company's name.
The last paragraph (short closure) – 3 to 4 lines
This is where you highlight your interest again. Describe what you wish for the future and explain how you can contribute to the company. Tell the company when you can start working, and only mention your salary expectation if required. 
Close politely by saying that the company can contact you in case of any questions and you look forward to talking with them in a  job interview .
Free Cover letter example to use in Germany
Do you want to feel what a cover letter looks like in Germany? Here you go.
You can also download this German cover letter example for your own use here .
10 Tips to write your cover letter in Germany
1. do not use the same cover letter for different job applications.
Different jobs have different requirements and descriptions. Every company is different. You should tailor-make your cover letter for each job application. This is important because recruiters want to see that you have made an effort when applying for the job. 
You should research the company and tell them why you want to work for them specifically. Mention what attracts you to work there based on your research. Check the company's website, review, and social media channels to get some ideas. Pay attention to the job requirements and relate to them when writing your cover letter. You should also write with the same wording and tone used by the company.
Recruiters can feel it if you just use a general cover letter without mentioning some facts about the specific company. So, show your research capability and customize your cover letter.
2. Include keywords in your cover letter
Many recruiters use software that scans application documents and searches for specific keywords. This software helps to filter out irrelevant applicants and thus saves time for the recruiters.
What does it mean for you? Well, suppose your application documents do not include the keywords the recruiters want to see. In that case, your documents will be filtered out and never be seen by the recruiters. So, including keywords helps you to pass the first stage and get your application documents in front of the recruiters.
Want to understand if your application documents include the right keywords? Use this  free tool to get your CV analyzed! You can see how the software presents you in front of the recruiters regarding top keywords and skills.
3.      Proofread your cover letter
Your cover letter in Germany should not have any grammatical or spelling mistakes. Make sure you contain the correct details, the right company name, and the proper job position. Otherwise, it will show that you are careless and not professional.
The best would be to have someone else proofread your cover letter. You can ask your friend or hire a professional to do it. This is especially important if you decide to submit your cover letter in German and you are still learning German. In that case, you may want to use the proofreading (and/or translation) service from Lingoking .
Writing your cover letter in German may have the advantage that your letter includes the right keywords scanned by the software. As mentioned before, only write your cover letter in German if you have sufficient German language skills. You won't want to give false hope to the recruiters that you speak perfect German while you cannot. You can also indicate your German language level in your cover letter and CV. This is so that the recruiters have a realistic expectation of your language skills.
Suppose you want your whole application to be taken care of. In that case, TopCV offers packages including both the CV and cover letter. The service ensures that your application documents are professionally written, well-formatted, and keyword optimized. 
4. Be honest and confident
Your cover letter should reflect the truth. For example, do not write that you can communicate in German while you cannot. Instead, indicate that you are working hard on improving your German. The recruiters will appreciate your effort if you are sincere and can prove it with examples. 
Besides, you need to be confident and state clearly why the company should hire you instead of other candidates.  Show confidence by writing "I am sure I will…" instead of "I think I would…". Mention the interview like it is going to happen. For example, you can write, "I am looking forward to discussing more with you in a personal interview."
5. Keep it short and relevant
You should keep your cover letter on one page. Use a simple layout so that your letter is easily readable. Only write relevant information on why the company should hire you. Avoid flowery language and long wordy sentences. Your cover letter shows your ability to sell yourself without much fluff. It should be concise and full of sound arguments why the company should hire you specifically.  
6. Make sure your social media is clean
Nobody wants to see drunk pictures of you at a party. Before applying for jobs, search the internet with your name and see what comes up. You should remove any unprofessional content on your social media, such as Facebook or Instagram.
Besides, create a professional LinkedIn page. Nowadays, many recruiters rely on LinkedIn when searching for talents. Make sure your LinkedIn page looks professional and up to date.
7. Avoid passive voice
Your cover letter should sound positive. You should use only active verbs because they make your writing more exciting and dynamic. You can show the "who" and "how" in a sentence.
On the other hand, passive voice is generally weak. It describes simply a state of existence without action. In your cover letter, you should sound active and be responsible for your achievements.
8. Think from the perspective of the recruiters
My friend once asked me to proofread her cover letter. I was shocked to see that everything was written from her perspective and why she wanted to work for the company in her cover letter.
When writing your cover letter in Germany, make sure it is not all about you. It is about what value you can bring to the company. Think from the perspective of the recruiters. What are they looking for? What do they want to see from a candidate? Rephrase your skills and experiences and make them relevant to the requirements stated in the job advertisement.
It is not just about what you can get from the company but also what the company receives from you.
9. Use examples
Do not just mention you have good communication skills or leadership skills. Instead, you should prove your skills by giving examples. Use numbers and data whenever possible. For example, leading a team of 10 people or leading a project that resulted in a 10% increase in revenue. Focus on the result and not simply your participation in the project.
10. Formatting and style are important
Your cover letter should be formal. Use complete sentences instead of bullet points. You should also use the same formatting and style in your CV so that your application d ocuments look consistent. Avoid unusual font and size. The best is to follow  the German format  de scribed in this article.
The cover letter is an essential part of your job application in Germany. Its goal is to get an invitation to the job interview. Your cover letter allows you to show your personality based on your tone and how you write. Take it seriously. Be concise, professional, and also friendly. Remember to adapt your cover letter to the style of different companies. Good luck and happy job hunting in Germany!
Pin it for later:
How is your job hunting progress in Germany? Did the recruiters in Germany ask you questions based on your cover letter? Leave a comment below and share your experience!
If you found this article helpful, consider supporting this website by buying me a coffee. Every small donation helps to keep this blog alive . You can also ask me any questions here. Buy me a coffee
Leave a Reply Cancel reply
Your email address will not be published. Required fields are marked *
Notify me via e-mail if anyone answers my comment.
I consent to My Life in Germany collecting and storing the data I submit in this form. (Privacy Policy) *
Yes, subscribe me and send me my MONEY SAVING GUIDE IN GERMANY for free!
This website uses cookies to improve your experience. We'll assume you're ok with this, but you can opt-out if you wish.
Cookie Settings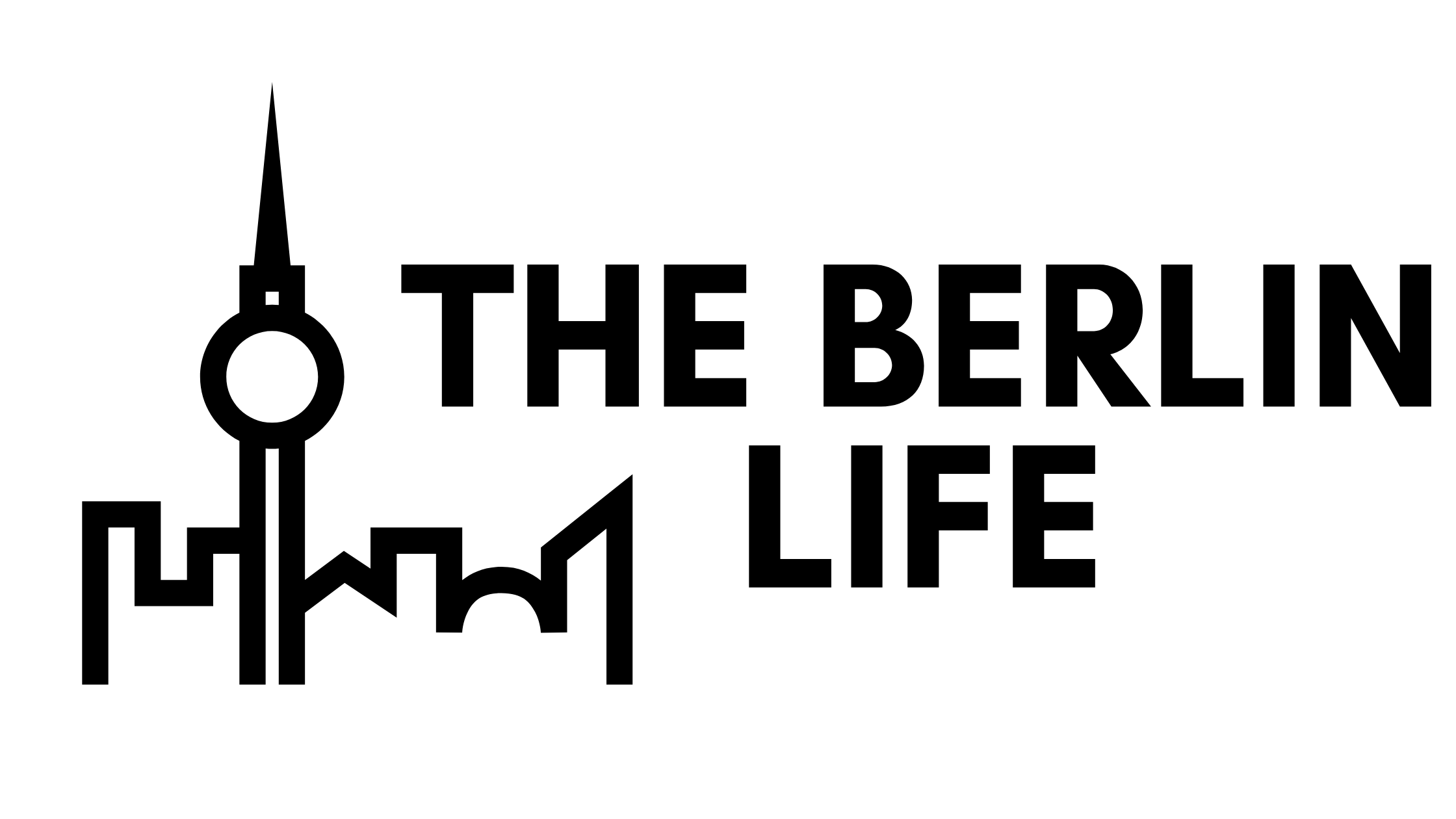 How To Write A German Cover Letter – A Step By Step Guide
by Cheryl Howard | Sep 5, 2023 | Berlin Guides , Job Applications , Working In Berlin | 0 comments
HOW TO WRITE A GERMAN COVER LETTER – A STEP BY STEP GUIDE
Have you been l ooking for a job in Germany, applying for several positions, and finding that you're not getting any responses? It happens to the best of us, even to those who work in   highly demanded professions   like software developers, marketing professionals, economists, and more.
Searching for a job , especially one right for you, is a daunting task that takes   a lot   of work, patience, and perseverance. When you add looking for a job in a foreign country like Germany into the mix, it's even more challenging. You're probably unfamiliar with the country's norms when creating job applications and could unknowingly be making mistakes. What's more, a lot of the information about how to write a German cover letter is often outdated and/or created by people with zero experience in recruiting.
The most significant part of getting noticed by German employers is your ability to put together a solid job application, which usually includes a well-written and designed cover letter and CV that tells a story about you and why you're uniquely qualified for that position.
 WRITE A GERMAN COVER LETTER LIKE A SEASONED PRO
📖 📖 📖 Bookmark THIS extensive guide on how to write a German cover letter and use it as a frame of reference when applying for jobs in Germany.

1) Are Cover Letters Really Needed?
As you're searching for a job in Berlin, or anywhere in Germany for that matter, have you asked yourself these questions:
1) Do I need to write a German cover letter when I'm applying for jobs?
2) Are cover letters relevant when my CV already tells my story?
3) Does anyone even bother to read cover letters?
Let me tell you a story:
I worked for one company when a member of senior management asked, "Why do people write cover letters? I   never   read them. I only want to see their CV, and I'll get in touch if it's interesting. I'm way too busy to read both cover letters and CVs."
A very fair point and I agree with him 100%. His pain was also my pain, as I was reviewing several job applications each day and looking at people we could potentially add to our team. It was time-consuming and tedious, especially when we wanted to ensure whoever applied was given a fair shot.
It's true that not every recruiter or hiring manager will read it (like that manager), and some companies (like where I currently work) even ask candidates   not   to submit cover letters. However, many companies still expect to see one.
So do you need a German cover letter? Yes, most definitely. Even though they feel like a waste of time (and sometimes really are), cover letters are essential when applying for jobs in Berlin or elsewhere in Deutschland.
2) Why Should I Write A German Cover Letter?
There are a number of good arguments about why you should take the time to write up a cover letter for your job applications:
1) There's a slight chance that not submitting a cover letter will result in immediate rejection. A recruiter or hiring manager may think that if you didn't put in the effort to make a cover letter, why should they even consider you for the job? While this is silly, don't take a chance and make it a habit always to include a cover letter.
​2) Some (not all) HR software scans submitted documents looking for specific keywords. A cover letter that mentions certain keywords from the job description could help you bubble to the top of the candidate pool, where you're more likely to get noticed before other candidates.
3) Called a motivation letter in Germany ( Motivationsschreiben ), a cover letter is your chance to shine. It's when you can tell the company why you want to work for them, explain how uniquely qualified you are for that role, and really make your personality come through.
​Think of it like this – when you go to the theatre to watch a movie, you'll see trailers for upcoming flicks. They only last one or two minutes, but if the trailer is really good, they've hooked you, and eventually, you're going to go out and watch that movie.
Your cover letter is exactly like that movie trailer. It's a preview of your CV and you as a person. A cover letter's main call to action is to make the person reading it want to know more. They'll spend time reviewing your CV and, hopefully, contact you for that first interview.
4) A cover letter shows diligence and interest from your side. Employers are keen to know why you want to work for them, learn why you're the person they should hire, and if you're passionate about your chosen field.
If a cover letter is done well, in the sense that it's framed as a well-written and compelling narrative, it'll motivate the employer to contact you for an interview. Most people do really read them, so it's worth spending time writing one that makes you stand out from other applicants.
3) How Do I Structure A German Cover Letter?
Following a fixed structure and method that you can repeat for each new job application makes writing a cover letter way easier.
Always include these vital elements in a cover letter: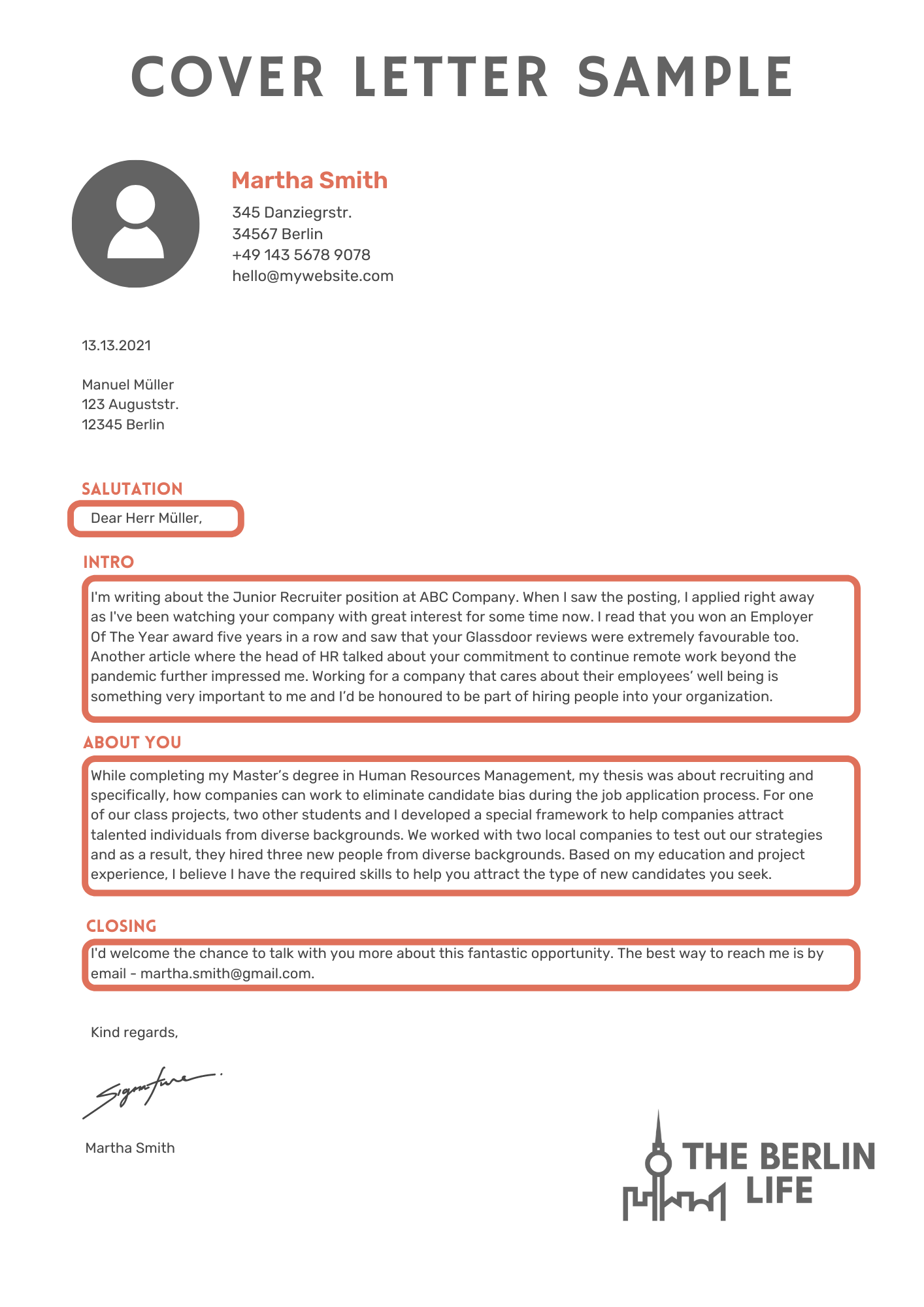 1)   Salutation   – Address your cover letter to that person using formal German greetings such as "Dear Herr Müller" or "Dear Frau Schmidt." If no contact is listed or you're unsure about which greeting to use (you don't ever want to address someone as Herr when they're a Frau, for example), use a generic greeting such as "Dear hiring manager" or "To whom it may concern." If you read other online texts saying that you  always  have to specify a specific contact name, this is very untrue. More and more German companies are refraining from adding contact names to job descriptions to avoid being spammed by applicants. So don't stress out on this point at all, as using a generic greeting is not only expected but completely acceptable.
2) Intro   – This section should be one paragraph maximum. Personalize your cover letter by telling the company  why you want to work there.  Be specific and use supporting examples gleaned from company research. Doing so will impress the company and show you did your homework before applying. Remember that this section is not about you but about them as an organization. Avoid self-serving statements when telling them why you want to work there. For example, don't say you want to work there because the office is down the street from your flat or you heard they pay exceptionally high salaries. Instead, say you're impressed with the company culture, that you identify with their sustainability mission, and that you want to be part of building out the next stage of their growth.
​ 3) About You   – This section can be one or two paragraphs long and is the "meat" of the cover letter and where you need to sell yourself. Pull points from the job description to tell your potential employer   why you're uniquely qualified for the position . Build on those points by using personal examples that draw from your experience, education, and more. Ensure your examples are specific, build on one another in a complementing fashion, and tell an exciting story. Say that the role calls for someone with leadership experience. You can tell them that you have 10 years of experience managing distributed teams of varying sizes. You can further say that you excel at creating and maintaining high-performing teams with a track record of meeting deadlines. And finish by telling them how you launched a project that helped the company make millions of euros. Whatever you do, don't just list a bunch of keywords, repeat the job description itself, or write a novel.
4) Closin g   – Reiterate your excitement about the company and the open position. Let them know you want to learn more and would welcome a chance for an interview. Be sure to tell them about your availability and how to best get in touch.
A few more tips about how to structure a German cover letter:
1) If you're sending the cover letter by email or uploading it to an applicant tracking system, you don't need to include the address information of yourself or the company. For that matter, a signature isn't required either. These things are entirely unnecessary and irrelevant as we no longer live in the Stone Age.
2) If anyone prints or references your cover letter for an interview, you can leave the date on it so they know when you applied for the role.
Strive to ensure the narrative in the letter flows well and tells a unique story about you and why they should hire you over anyone else out there.
4) Should I Customize My Cover Letter For Job Applications ?
Yes, we know. It's   a lot   of work to create a new cover letter every time you apply for a job, but sending the same cover letter out won't do anymore. You need to show employers you took time to research their company, tell them why you want to work there, and why they should hire you.
This is why personalizing the cover letter is really important. They need to see the real you and that you were thoughtful in your job application. Anything less makes it look like you're not really interested in the role and could see your job application land in the recruiter's NO pile.
Suppose a cover letter is simply a regurgitation of the job description or a generic copy-and-paste text you've used for every job application. The recruiter or hiring manager will easily be able to spot this and may make the company less likely to contact you. Again, don't take a chance.
Read about how to customize cover letters when you're submitting unsolicited job applications . 
5) How Do I Use Company Research In My Cover Letter?
Before writing a cover letter, we recommend that you complete in-depth research on the company to which you're applying. The research will help you a lot, especially as it'll give you the information you can embed in your cover letter and use later to ask questions during an interview.
You need to tell the employer why you like their company and show you did your research, by looking at   Glassdoor reviews , browsing through their website, reading their press releases, etc.
Read our detailed guide about how to   research a German company .
6) How Long Should A German Cover Letter Be?
Keep the cover letter to a single page and not more than 3 – 4 paragraphs. Be succinct (i.e., avoid long wordy sentences or overuse of adjectives) and   summarize, summarize, summarize .
Pick key points from your CV and/or job description but don't repeat things verbatim.
7) Should I Use An Automatic Text Generator or AI?
I've played around with ChatGPT and boy, is it good. Like really really good!
Call me old school, but in general, I'd still suggest writing your own cover letter without the help of predictive text generators or AI.
I say this for two reasons:
1) Many of these generators like Speedwrite yield text that doesn't make much sense at all. It often reads as if it were written by a robot and spits out alternative text that says exactly the same thing but in a slightly different way.
2) Even worse, it won't sound like you. A cover letter should be an honest and accurate reflection of who you are and how you communicate. I cannot stress that enough, especially if you're being hired into a role where communication skills are key.
What you could do is use AI to write that very first draft cover letter. Then you could use that text as a baseline and improve it using your own words. Try out this beta AI from Imagine to get started! 
Alternatively, you can write a draft first and then use a tool like Grammarly to better what you've written.
We know this can be tough if you're not writing in your native language. In these cases, make sure you get other people to proofread your cover letter or even hire a professional to help you out.
8) Should I Write My Cover Letter In German ?
Writing your cover letter in German may help you get noticed by HR software or LinkedIn search engine algorithms.
Be careful and use your best judgment here, though. It could backfire when they discover that your level of German doesn't match the level of what's in your cover letter.
Let me tell you another story:
A recruiter I used to work with told me that she'd found a dream candidate for a position that had been open for a long time. This person was applying from abroad and had submitted   both   their CV and cover letter in German.
The first interview was scheduled, and during the call, the recruiter was surprised to find that the candidate didn't know any German at all. Turns out they'd paid someone to translate their documents.
Sadly, the candidate was rejected for their false claims of being fluent in German and wasting the recruiter's time. And contrary to what many say, German fluency is absolutely essential for most available positions in the country. 
Of course, it could go the other way and the company may still hire you anyway because you're such a good fit. But please, be honest upfront and if you decide to write your cover letter in German, indicate your language level (like B1 or C1) very prominently on your CV and in your cover letter. Then the decision will be left to the employer to contact you.
9) Can I Stretch The Truth Because Everyone Fibs A Bit?
Above all, be humble and honest about things, like your education, work experience, level of German, etc.
It's easy to lie or exaggerate when you want a job, and we've all been told to "fake it until we make it," and in many cases, it can work in your favor. But let's be real here, this behavior is unprofessional, not to mention unethical.
Not long ago, I was shocked to read the LinkedIn profile of a former colleague who claimed to have led a high-profile project for our company. That project wasn't even started until after that person left. This person was blatantly lying and taking credit for other people's work that she didn't do.
Don't be that person. 
False claims could come back to haunt you. For example, the Berlin community is small and people know each other. A potential employer may know someone at one of your former companies and informally reach out to them for information about you.
If they uncover any lies, it will likely cost you the job, even your reputation.
Of course, be confident in your accomplishments, and don't undersell yourself. Just make sure you're telling the truth.
10) How Do I Create A Well Designed Cover Letter? 
You could just type of bunch of text into a Google document and send it off. But how about making your cover letter look nice using websites like   Canva   or   Edit.org , where you can find beautiful and professional templates for free?
Other things to keep in mind:
1) Use a large and readable font that considers general accessibility guidelines. Sometimes people try to jam as much information as possible onto a cover letter and to make it fit a single page using ridiculously small font sizes. Trust me – no one wants to use a magnifying glass to read your cover letter.
Use this   guide from Indeed   which speaks to the right font and font size to use on CVs, which also applies to cover letters.
2) Don't make your paragraphs too long and use sensible spacing to make your cover letter easier to read.
3) Your   German CV   should have a similar look and feel. This way, the cover letter, and CV will appear as one fluid job application package.
11) Do I   Really   Have To Follow These Rules?
No, of course not! Our guidelines are simply here to help you write a good cover letter that's more likely to get you noticed by German employers.
There's no reason not to get creative and have fun with your cover letter. This may also mean breaking some of the "rules" outlined here.
Be bold and dare to take unique approaches that challenge the status quo. Perhaps give them a link to a video you made telling them why you want to work there. Share a sample of what you can do for them by sharing some insight on how you'd approach your job. Invite them to check out your blog or social media.
The sky's the limit. A unique cover letter will help you stand apart from other candidates.
12) How Can I Ensure My German Cover Letter Is Of High Quality?
Make sure there are no spelling or grammatical errors, get the company name and other details right, and if you can, have a second or third pair of eyes review your cover letter. This can be a friend, partner, or even, a paid professional. Proofreading is essential, as if you've been staring at the same documents for hours, it can be super easy to miss out on small mistakes you might've made.
This advice might sound really obvious and basic, but trust me, I've seen tons of job applications with errors on them. I must also confess that I once put the wrong company name in a cover letter and somehow still got several interviews with them. Miracles happen, folks! 🤣
Anyway, avoid sloppy mistakes if you can, and make sure your German cover letter is top-notch.
What do I recommend?   Join my   Facebook community   of more than 8,000 people and ask someone there for a   cover letter exchange . Another person can review your cover letter and give you feedback and you can do the same for them.
That's a wrap! Follow these tips to write a really good German cover letter that's going to land you a job in Germany.
RELATED CONTENT
What Are The Best Berlin Job Search Websites?
by Cheryl Howard | Sep 27, 2023 | Berlin Guides , Job Search , Working In Berlin | 12 Comments
Many people feel overwhelmed knowing where to search for jobs in Berlin. Bookmark our best Berlin job search websites list to get started.
How Because Berlin Helps People Move To Berlin And Find Work
by Cheryl Howard | Sep 26, 2023 | Berlin Guides , Job Search , Working In Berlin | 0 Comments
Because Berlin is an official free public service offering advice in English for anyone looking to move to Berlin and find work.
Are There English Speaking Jobs In Germany?
by Cheryl Howard | Sep 12, 2023 | Berlin Guides , Job Search , Working In Berlin | 2 Comments
Can you find English speaking jobs in Germany? Is being fluent in German essential to building a career? We answer your questions.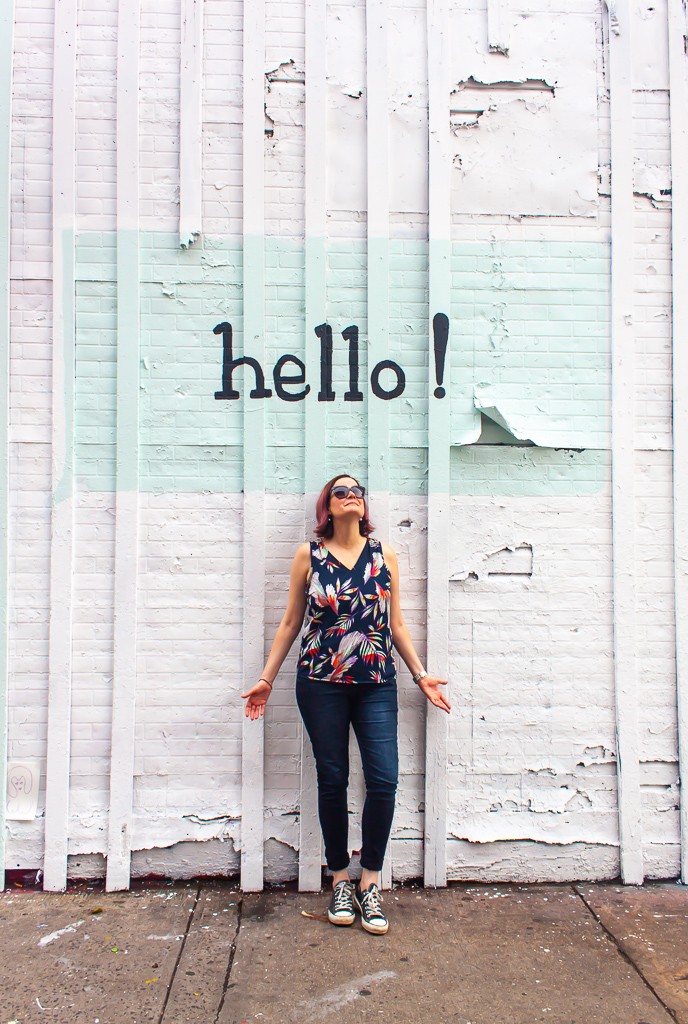 Cheryl Howard, Founder @ The Berlin Life
Hi, I'm Cheryl. My mission is to help you move to Berlin and find work.
A Canadian in Berlin for 10+ years, I have the unique experience of moving to Berlin – not once, but twice. During my time in Berlin, I've had five different visas and worked as both a freelancer and a permanent employee for   numerous   Berlin companies. I even managed to find a new job during the pandemic  and again in 2023, during Germany's  recession and massive layoffs in tech. 
My day job has involved work as a hiring manager, overseeing the recruitment of countless people, as well as a team coach helping teams and individuals work better and find happiness in their careers. Through my side projects, I've also shared my personal experiences by publishing a series of helpful blog posts, creating a thriving community of job seekers, and hosting events to help people find work in Berlin. In 2021, I decided to put my coaching and recruiting talents to use by creating The Berlin Life, bringing my existing content and community together in one spot.
The combination of my personal and professional experience means I know  exactly  what it takes to move to Berlin and find work.
Submit a Comment
Your email address will not be published. Required fields are marked *
Email me when someone replies to my comment