Should You Combine Your Cover Letter and Resume into One Document?
The internet has impacted virtually every area of life, including the job search process. Gone are the days when a job seeker would simply hand an employer a cover letter and resume in paper form. Today, more companies than ever accept digital copies of those job search documents.
In fact, many companies and employers now only accept emailed digital cover letters and resumes so they can make use of applicant tracking systems (ATS). Unfortunately, there's been little effort to standardize submission processes, and that can make it a little confusing for the average job seeker.
For example, how should you submit your emailed resume and cover letter? Should you send them separately or combine them into one document? In this post, we'll examine both options and offer the advice you need to make the best decision.
What's the difference between a cover letter and resume?
Before you decide whether to combine your cover letter and resume into one document, it is helpful to make sure that you fully understand each of these important tools. The fact is that each of these documents has its own role to play in the job search process, and they have some major differences:
Each of these documents serves a distinct purpose in the job search process. Resumes are designed to provide an employer with an easy way to quickly assess your qualifications. The main purpose of a cover letter is to help the employer understand your motivations, goals, and personality. Both are important documents, but they are not interchangeable.
Your cover letter should be a targeted document that focuses on your qualifications for a specific job role. It should contain information about why you are the best candidate for the position and what you hope to achieve for the employer if you are hired. Your resume is more of a marketing tool that highlights your skills, relevant work experience , and educational qualifications in an easily digested summarized format.
Structure and format
These two documents also have dramatically different structures and formats . Your resume will be divided into specific sections for easier consumption and will include bullet point lists of relevant skills and achievements. Cover letters look more like any other written communication, conveying your message in full sentences and paragraphs.
Cover letter and resume: to combine or not to combine?
Let's get right to the main question here: should you combine your cover letter and resume into one document? As a general rule, you should try to avoid it wherever possible. Since resumes and cover letters serve two very different roles in the job search process, they should be treated as separate documents. The only time you should even consider combining these two documents is when the company has instructed you to do so.
Review the instructions
Whenever possible, it's a good idea to get the submission guidelines for the position straight from the source. That means asking the company's hiring manager how your resume and cover letter should be sent. If there are clear instructions, it's important to follow them to the letter to maximize your chances of receiving the right type of attention. On those rare occasions when a company wants a combined document, the job posting will usually include that instruction.
Why you should not combine these two documents
In most instances, however, you will discover that the instructions are vague. Perhaps the only instruction is that your resume must be emailed. If that's the case, then you should always choose to leave these two documents as separate files. There are several very good reasons to do so:
If you include these two tools in one document, applicant tracking systems may reject it. That can happen if the ATS mistakes your cover letter for a resume and assesses it based on its rules for resume approval.
Hiring managers often want to go directly to your resume to review your qualifications. If your cover letter is part of that document, it could be a distraction that frustrates your reader.
Your cover letter and resume serve different purposes. Keeping them separate helps to ensure that each document receives the attention it deserves.
What if employers request that your cover letter and resume be combined?
As we noted above, there may be times when a specific employer requests that a resume and cover letter be sent as one document. Obviously, that request should be honored if you want to be considered for an interview. The important thing then is to ensure that you combine them properly. The following tips can help:
Decide which document you want the employer to see first
Since the cover letter serves as your introduction, there is a case to be made for putting it in the front of the resume. If you want to make sure that the ATS scores your resume properly, however, you may want to put the resume at the beginning of the document. That can also help hiring managers quickly access your qualifications.
Create a new document
Make sure that you create an entirely new document for your combined file. That will enable you to keep them separate for other companies and submissions. Then copy and paste your resume and cover letter into this new document. Be sure to save the file with an appropriate file name. For example: JohnSmithResumeCoverLetter.docx or JohnSmithResumeCoverLetter.pdf.
Use proper formatting
When you paste each document into your combined file, make sure that you retain the original formatting. Also, be sure to include a page break at the end of the first document so that the next document begins on a fresh page.
Submit the combined file
Once you have your new combined file, submit it to the company. If the online job posting includes submission instructions, follow them to the letter. Otherwise, simply send it to the appropriate email address.
How to email your cover letter and resume
When emailing your cover letter and resume, either include the cover letter as an attachment or copy and paste its text into the email message. Don't do both. 
It is generally recommended that you submit both the resume and cover letter as file attachments rather than having any part of them in the body of your email message. What you can include in the email text is confirmation that you have attached the resume and cover letter files.
Of course, you also need to decide whether you want to submit a Word document or a PDF file. Once again, review the job board instructions to see what the company is requesting. If there is no specific option listed, then the best thing to do is to submit each document in a Word file. 
Sample cover letter and resume template
Below, you will find a resume and cover letter template that you can use to ensure that your job search documents contain the information that employers want to see. You can use these templates to guide you as you create your own cover letter and resume:
Resume template
[Your first and last name]
[Your Phone number]
[Your Email address]
Professional Summary
[No more than three sentences highlighting your qualifications, experience, and achievements.]
Core Competencies
[Bullet point list of your relevant skills. Use multiple columns to list 12-15 top skills]
Employment History
[Company name], [city], [state] | [Employment dates]
[Job title]
Job responsibility and achievement
[Repeat employment history for additional jobs, in reverse chronological order]
[Name of school], [city], [state]
[Degree], [major]
[Date you graduated] It should be noted that you don't have to include education dates if you graduated more than one year ago. 
Certifications/Licenses
[Name of certification or license, organization providing it, and relevant dates]
Awards and Achievements
[Award, honor, achievement]
Cover letter template
[Your city and state]
[Recipient's first and last name]
[Company name]
[Company address]
Dear [Recipient's name],
My name is [your name] and I am interested in discussing the open [position name] position at your company. I have [length of experience] experience as a [your profession] and am confident that I can provide a great deal of value for your company if hired.
I have recently been employed at [relevant employer name], where I was responsible for [cite job duties using keywords that match the skills needed in the open position]. Prior to that, I [provide examples of job duties that show your qualifications to fill the company's open job]. I would love to have the opportunity to use these skills as part of your team.
I have included my resume with this letter so that you can evaluate my qualifications and experience at your leisure. I appreciate your consideration and look forward to having the opportunity to discuss the position with you in greater detail.
Respectfully,
[Your name]
You should choose to send your cover letter and resume as separate documents, unless the company has instructed you to combine them into a single file. More importantly, make sure that you get those critical job search tools into the right hands so that you can increase your chances of landing an interview!
Want to know whether your resume has what it takes to capture a hiring manager's interest? Get a free resume review from our team of experts today!
Recommended Reading:
How to Tailor Your Resume to Different Positions (Examples)
How long should a resume be in 2023?
How to Get Your Resume Past the ATS Scans
Ken Chase, Freelance Writer
During Ken's two decades as a freelance writer, he has covered everything from banking and fintech to business management and the entertainment industry. His true passion, however, has always been focused on helping others achieve their career goals with timely job search and interview advice or the occasional resume consultation. When he's not working, Ken can usually be found adventuring with family and friends or playing fetch with his demanding German Shepherd. Read more resume advice from Ken on  ZipJob's blog .
Send us your resume now
Our experts will evaluate your resume's design, grammar, keywords, and ability to pass recruiting software.
Is your resume working?
Find out with a free review from ZipJob.
Get a free resume review today
Our experts will review your resume's grammar, layout, and ability to pass ATS — all free and delivered straight to your inbox.
Is your resume getting ignored?
Earn twice as many interviews with a professional resume rewrite..
What you need for a quick career boost.
A professional resume
ATS optimization
Direct writer messaging
Most Popular
The documents you need to apply to jobs faster.
Everything included in the Launch package
A cover letter
60-day interview guarantee
Advanced features to secure your next interview.
Professionally written resume and cover letter plus
A LinkedIn profile update
Expedited delivery

Do You Send a Cover Letter with Your Resume?
Depending on who you ask, the cover letter is either useless and not writing or essential to getting the job . We decided to put the debate to rest by asking you: Do you still use a cover letter, or is the email you attach your resume to essentially your cover letter?
Some of the debate comes down to format. Many recruiters and hiring managers have no desire to open a bunch of attachments from an aspiring employee, so if your email isn't your cover letter, it's not getting read. They'll read your email, open your resume, and that's it unless they've asked for more. Other people say email cover letters are prone to mistakes , and the well-regarded format for the formal cover letter is best served as a separate document. What do you think? Let us know in the discussions below.
Photo by bearstache .
Search Search Please fill out this field.
Career Planning
Finding a Job
Cover Letters
How To Email a Resume and Cover Letter Attachment
Alison Doyle is one of the nation's foremost career experts.
Ashley Nicole DeLeon / The Balance
Depending on the job for which you're applying, you may need to email your resume and cover letter to the hiring manager. That's often the case with smaller employers. For other employers, you'll apply online or via a job board.
What's the easiest way to attach your resume and cover letter to an email message? When you're asked to send a resume or cover letter via email, follow these steps to ensure you have correctly attached your documents, written an email explaining what you are sending and why, added your signature to the email, and included a subject line that will get your message opened and read by the recipient.
Key Takeaways
Most employers request a Microsoft Word document or a PDF file of your resume. 
It's easy to save your documents in the file format requested by an employer.
When saving your documents, use your name as the file name.
Include a subject line that states who you are and what job you are applying for in the email message.
Check the Employer's Instructions
When you apply for jobs via email , the employer may require you to send your resume and cover letter as an attachment to an email message. It's important to send your attachments correctly, to include all the information you need so your email message is opened and read, and to let the receiver know how they can contact you to schedule an interview.
What's most important is to follow the employer's instructions and send exactly what they have asked for in the format it's requested. If you don't, your message may end up in a spam or trash folder.
Save Your Cover Letter and Resume
When sending your cover letter and resume attachments, the first step is to save your resume as a PDF or a Word document . The job posting should specify how to send the attachment. This way, the receiver will get a copy of the resume in the original format.
If there aren't instructions on how to send your documents, submit your resume as either a Microsoft Word document (.doc or .docx) or as a PDF file. These are the formats most commonly preferred by employers, and it's easy to save the documents and add them as attachments to your email message.
You can either save your cover letter in document format or write it directly in the email message.
Save as a Word Document
If you have word processing software other than Microsoft Word, save your resume as a Word (.doc or .docx) document. File > Save As , should be an option in your program.
Save a Google Doc as a Word Document
If you don't have Microsoft Word, you can save a Word (.docx) version of a Google Doc. Select File > Download and choose Word Document (.docx).
How to Save as a PDF
Whether the employer requests a PDF file or you opt to send a PDF, here's how to convert a document file.
To save a Word document as a PDF:
Select  File > Save As  in Microsoft Word.
Select  PDF  from the  Format  drop-down menu.
To save a Google Doc as a PDF:
Select  File > Download and choose  PDF Document .
Choose a Unique File Name
When saving your document, use your name as the file name , so the employer knows whose resume and cover letter it is, i.e., janedoeresume.doc and janedoecoverletter.doc.
Don't use "resume" as a file name, because it will be hard to differentiate your resume from those of the other applicants.
Include a Subject in the Email Message
The subject line is one of the most important parts of the email messages you send to apply for jobs. If you don't include one, your message may not even get opened.
Your email message must include a subject line, and it should explain to the reader who you are and what job you are applying for. Be specific, so the recipient knows what he or she is receiving. Employers often hire for many positions at the same time, so include both your name and the job title.
Add a subject to the email message before you start writing it. That way, you won't forget to include it afterward.
Here's what to write:
Subject: Your Name - Job Title
If the employer requests additional information, like a job ID number, be sure to include that too.
Write an Email Message to Send With Your Resume
Once you have saved your resume and cover letter and they are ready to send, the next step is to write an email message to send with your documents.
First, open your email account. Then click on Message at the top left of the screen or click on File > New > Message .
You can either write your cover letter as part of the email message or send it as an attachment. Here's how:
Write Directly in the Email
You can either type your cover letter directly into the email message , copy and paste it from a word processing document, or if the company requests an attachment, send your cover letter and resume with the email message. So, your choices are to send a cover letter attachment or to use the email message as your cover letter.
If you are attaching a cover letter, your email message can be brief. Simply state that your resume and cover letter are attached. Offer to provide additional information and let the reader know how you can be contacted.
Be sure to follow the directions in the job posting for how to apply when sending your cover letter and resume or your application may not be considered.
Adding Your Signature To the Email
It is important to include an email signature with your contact information, so it's easy for hiring managers and recruiters to get in touch with you.
Include your full name, your email address, and your phone number in your email signature, so the hiring manager can see, at a glance, how to contact you. If you have a LinkedIn profile , include it in your signature. Do the same with any other social media accounts you use for career and business purposes.
Sample Email Signature
Jared Harshbarner jared.harshbarner@email.com 617-123-3790 linkedin.com/in/jared.harshbarner
How To Add Your Signature
To add your signature to your email message, click on File > Insert > Signature , if you have a signature saved that you use for job searching. If you haven't created an email signature, type your contact information (name, email address, phone, LinkedIn) at the bottom of your message.
Attach Your Resume and Cover Letter to an Email Message
Once your email message is ready to send, you need to attach your resume and cover letter to your message:
Click on Insert > Attach File. Your email client will display a list of files in the default file folder of your computer. If your resume and cover letter are stored in a different folder, click on the appropriate folder.
Click to select the file you want to add to your email message , and then click on Insert to attach the document to your email message. Take the time to carefully proofread the message before you send it.
Before you click Send , send the message to yourself to be sure all the attachments come through, and your email message is perfect.
Send a copy of the message to yourself, as well as to the company, so you have a copy for your records. Add yourself as a Bcc (blind carbon copy) by clicking Bcc and adding your email address.
Then click Send , and your cover letter and your resume will be on their way to the employer.
Review a Sample Email Message
Here's a sample email message sent with resume and cover letter attachments to apply for a job.
Subject: Sarah Smith – Museum Docent
Dear Ms. Cooper,
I'm writing to apply for the summer docent program at the Museum of Local History.
I have extensive docent experience, having volunteered at both the Harbor Museum and ABC Art, and have led tours both as a student leader and a member of the town historical society. In addition, I'm a lifelong town resident and an enthusiastic amateur historian.
I've attached my cover letter and resume for your review. I hope you'll contact me at your convenience to discuss the program and arrange an interview. Thank you for your time.
Sarah Smith sarah.smith@email.com 555-555-1234 linkedin.com/in/sarahsmith
Frequently Asked Questions (FAQs)
Is it better to send a word document or a pdf to apply for a job.
A PDF file retains the format of your resume and letter, so the recipient will see them as you wrote them when they open the file(s) you send. A Word document is easily read by the Applicant Tracking Systems (ATS) that employers use to manage job applications. What's most important is to follow the company's application guidelines.
How can I be sure my documents are formatted correctly?
Send a test message, and email your resume and cover letter to yourself before you send it to the employer. That way, you'll know your documents are formatted and attached correctly.
ZipJob. " Resume PDF or Word: The Best File Format in 2022 ."
Google. " Create, View, or Download a File ."
Microsoft. " Save or Convert to PDF or XPS in Office Desktop Apps ."
Adobe. " How to Convert a Google Doc to a PDF ."
By clicking "Accept All Cookies", you agree to the storing of cookies on your device to enhance site navigation, analyze site usage, and assist in our marketing efforts.
Do I Need a Cover Letter in 2023? Are Cover Letters Mandatory?
During the job-hunting process, you might find yourself asking "do I really need a cover letter?"
And honestly, that's a very good question.
You might've heard a lot of recruiters say that cover letters aren't nearly as important as the resume. Some recruiters even openly admit that they don't read cover letters at all.
So, no wonder that you're confused about whether or not you really need a cover letter.
In this article, we're going to deep dive into the topic and teach you when you really need a cover letter (and when you don't).
Whether you need to include a cover letter in your application (and why)
When to not include a cover letter with your resume 
When to really put effort into your cover letter   
Do I Need a Cover Letter For My Resume
Short answer: yes , you should submit a cover letter alongside your resume.
Here's why:
Most job openings require you to submit a cover letter. Recruiters might not have the time to read ALL the cover letters they receive, but they will definitely read cover letters if they're on the fence for a candidate. Besides, even if they never get to your cover letter, failing to submit one when it's required will be a red flag.
A cover letter shows that you've put in the extra effort. So, even if the recruiters don't read them, they will know that you really want the job and that you are committed to taking all necessary steps to show you're worth it.
A cover letter can set you apart from other candidates. Imagine this scenario: a recruiter is looking at two candidates with the same exact professional background and resume. The difference? One submitted an A++ cover letter that showed exactly why they're the perfect fit for the job, while the other just copied and pasted an internet template. Which one would you pick? Our point exactly!
The above being said, there do exist a few cases where a cover letter isn't necessary and a few others where you shouldn't just submit a cover letter, but you should really put in the extra effort to make it memorable!
Ready to go through them?
When Not to Include a Cover Letter
The 3 cases where you don't need to include a cover letter with your application are:
#1. The job opening doesn't require one. 
Yeap, in some cases, the job description will specifically instruct you not to submit a cover letter when you're applying for the position. Needless to say, submitting one regardless of the instructions will not make you a poster child for dedication; it will just show you can't follow instructions. 
#2. You don't have the time to customize your cover letters. 
If there's one thing that's worse than not submitting a cover letter, is submitting a bad cover letter. What do we mean by bad? An uncustomized cover letter, or a cover letter based on a one-fits-all kind of template that you plan on mass-sending to all the jobs you're applying for.  
So, if you're applying to many jobs and you just don't have the time (or creativity) to write a separate cover letter tailored to each job, then just don't write one instead of making that cover letter mistake. 
#3. There is no place to upload one on the application platform.
When you're filling out an online job application, you might notice there is no place to upload a cover letter.
Consider that a clear sign that a cover letter is not required for that particular role.  
When Should You Put Extra Effort to Submit a Cover Letter
Now, as we said, the best practice is to submit a cover letter with your resume for any job, internship, or even internal position that you apply for (unless they explicitly ask you not to). 
That being said, there are a few cases in which you should REALLY submit a cover letter—and put in extra effort to make it significant: 
You have important information to add. It might be a career gap, the need for a relocation, or a career change - anything, basically, that you can't go into detail about in your resume. Your cover letter is your chance to explain it (especially if it adds significant value to your application).
There's a personal connection/referral. If someone has personally referred you to the company, make sure to acknowledge that in your cover letter. A personal referral means bonus points for your application, so don't miss out on a chance to mention it.
You have a link to the company. Did you complete an internship at the company? Or maybe you know the hiring manager or someone higher up the ranks outside of work. No matter the case, be upfront about any link you may have to the company in your cover letter. It will probably do your application good or at least show those reading it that you're transparent.
It's your dream job. Without making it a love letter to the company, use your cover letter to express what this job means to you professionally and how it'll help you thrive. Passion goes a long way!
6 Tips For a Perfect Cover Letter 
The bottom line? 
Overwhelmingly, a cover letter is an essential part of your job application and you should include one with your resume.
So, as you can imagine, your cover letter should be on par with your resume. Before you start writing your cover letter, here are a few tips to make the process easier for you:
Keep it short. One page is more than enough when it comes to cover letters. Actually, the optimal length for a cover letter is between 250-400 words long.
Follow submission instructions. In the job description, look out for specifics on the cover letter format (Word or PDF), fonts and margins, and content (such as which sections or information to include).
Proofread your cover letter. Once you're done writing, make sure your cover letter doesn't have any grammar or spelling mistakes. Use spell check software such as Grammarly to be on the safe side.
Avoid cliches. Saying you're a "great team player" or "effective communicator" will get you nowhere. Instead, aim to show it by backing it up with your experience. Think, "I'm a great communicator" versus "I'm a great communicator, having closed 50+ sales per month at my last job."
Enhance your personal brand. Opt to use the same fonts, margins, colors, and style in both your resume and cover letter. In this way, you can highlight your personal brand and make more of an impression on the hiring manager.
Use action verbs . To make your achievements stand out, use action verbs. So, instead of repeating "I was responsible for" or "I was in charge of," you can use action verbs such as "managed" or "coordinated."
Do you still have some unanswered questions? Here are the most frequently asked questions on whether cover letters are mandatory.
Do I need a cover letter for a part-time job?
You should follow the same practice with your part-time job application as you would with a full-time one. That means you should definitely submit a strong cover letter with your resume (unless otherwise indicated in the job description).
Do I need a cover letter for an internal position? 
When you apply for an internal position within the company, you should create a cover letter to highlight your experience and professional interest in the position. 
Do I need a cover letter for an internship?
Yes, you should include a cover letter with your resume when you're applying for an internship. The cover letter should focus on your skills and strengths, your education, and your dedication to the internship program. 
Not sure how to write a cover letter for an internship from scratch? This article will tell you all you need to know!
Do I need a cover letter for an entry-level job?
Yes, an entry-level cover letter is a must.
You might not have many professional or relevant experiences to list on your resume (e.g. you're a recent college graduate or you're changing career paths), so the cover letter is where you can convey your enthusiasm and commitment. Plus, you can also (in words) explain how your skills from your university or past career translate into the job you're applying for. 
Do employers read the cover letter or resume first?
Generally, employers will first read your resume to see if you have the relevant experience or skills for the position. From there, they decide whether your cover letter is worth reading or not.  If you send your cover letter in the body of the email where you have attached your resume, though, the recruiter will probably skim through it before opening your resume.
Keep in mind that in such a case your cover letter should be perfect, especially in terms of spelling and business etiquette. If the recruiter spots a "u r" instead of "you are," or a smiley face, they might not even get to your resume.    
Want your cover letter to match your resume? We are confident that the hiring manager will appreciate the effort. Do it effortlessly by using Novorésumé's matching cover letter and resume templates !  
Key Takeaways
Well, that was all on whether cover letters are mandatory in 2023. We hope that we answered all your questions on the topic. 
Here's a quick review of the main things we covered:
In 98% of cases, you should include a cover letter in your job application. Although recruiters might not always read it, they expect candidates to submit one. A cover letter will considerably boost your chances and set you apart from other candidates with similar backgrounds and resumes.
Don't include a cover letter if the job opening specifies it's not necessary, if you don't have time to customize it to the position, or if there is no place to upload one in the application platform.
Put extra effort in your cover letter if you have extra information to add to your resume if you have been personally referred for the job, if you have a link to the company, or if you're applying to your dream job.
Related Readings: 
How to Start a Cover Letter
How to End a Cover Letter
How to Address a Cover Letter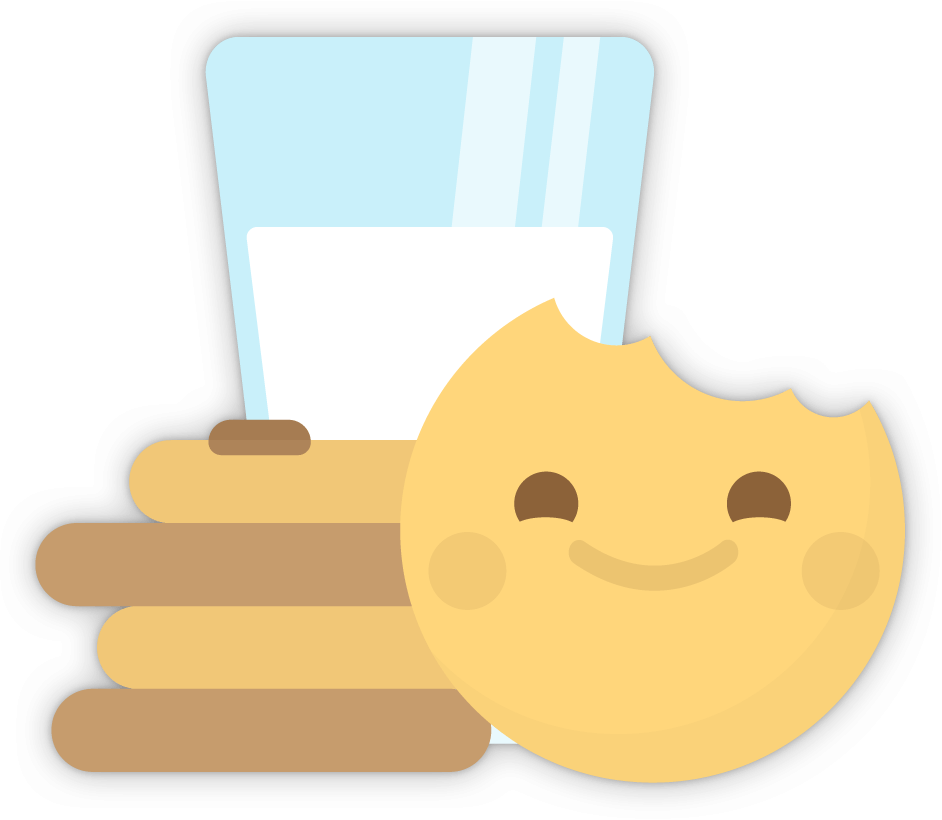 To provide a safer experience, the best content and great communication, we use cookies. Learn how we use them for non-authenticated users.
Skip to main content
Keyboard shortcuts for audio player
What you need to know about the debt ceiling as the deadline looms
Kelsey Snell
People pass the front of the New York Stock Exchange in New York, on March 22. Brinkmanship in Washington over raising the U.S. debt ceiling has begun to raise worries in parts of the financial markets. Peter Morgan/AP hide caption
People pass the front of the New York Stock Exchange in New York, on March 22. Brinkmanship in Washington over raising the U.S. debt ceiling has begun to raise worries in parts of the financial markets.
The federal government is perilously close to being unable to make payments on the country's debt. It is up to Congress to vote to increase the nation's borrowing cap, known as the debt limit. But House Speaker Kevin McCarthy, R-Calif., is in a standoff with President Biden over Republican demands to tie the debt limit to spending caps and other policy demands.
Treasury Secretary Janet Yellen has warned that the country could run out of borrowing authority by June 1, leaving negotiators little time to reach an agreement.
Biden recently met with McCarthy, House Democratic Leader Hakeem Jeffries, D-N.Y., Senate Majority Leader Chuck Schumer, D-N.Y., and Senate Minority Leader Mitch McConnell, R-Ky., to discuss a path forward. The group failed to reach a deal, but staff level talks are ongoing in an effort to avoid default.
Here are nine questions you may be asking about the debt ceiling and the fight over it.
What is the debt ceiling?
The "debt ceiling" or "debt limit" is a cap on how much debt the federal government is allowed to accumulate. Congress is constitutionally required to authorize the issuance of debt. Doing so then allows the government borrow to meet its existing legal obligations like Social Security and Medicare benefits, military salaries, interest on the national debt, tax refunds and other payments.
"It used to be that every time you did a Treasury auction where you borrowed, Congress would pass a new law just for that one auction," said Jason Furman, a top economic adviser to former President Barack Obama and an economics professor at Harvard.
The NPR Politics Podcast
Politics podcast: a debt limit explainer, the us is flirting with financial calamity: what you need to know.
LISTEN & FOLLOW
Apple Podcasts
Google Podcasts
Amazon Music
Your support helps make our show possible and unlocks access to our sponsor-free feed.
"In 1917, the United States needed to borrow a lot of money for World War I," he said. "So in order to simplify that process and make it easier, Congress shifted to a new system where they said, you can borrow up to this amount of money and then come back to us and we'll raise it."
Congress has increased or suspended the debt limit 78 times since 1960 , according to the Treasury Department.
How do experts know when the government has really run out of funds?
Economists look at how much the government is expected to bring in through tax payments, when those payments are expected to arrive in Treasury accounts and scheduled debt payments to determine a timeframe, known as an X-Date for when the debt authority might run out.
However, the Treasury Department has access to a few tools, known as extraordinary measures , to avoid default. Those measures include moving investments and deploying accounting tools to shift funds around.
The federal government technically hit the debt limit in January and extraordinary measures have kept payments flowing since then. Experts cannot pinpoint the exact date when funds will run out but they can identify a general range which is expected to fall sometime in early June or possibly as late as July or August.
What the debt ceiling standoff could mean for your retirement plans
Why is there a fight over it.
Debt has generally been an unpopular concept in American politics.
Every vote a lawmaker casts is part of that person's political record and many lawmakers do not want to be seen as signing off on more federal borrowing or spending.
Lawmakers also like to tack extraneous priorities onto bills that are seen as must-pass legislation. That makes the debt limit a prime target for political fights.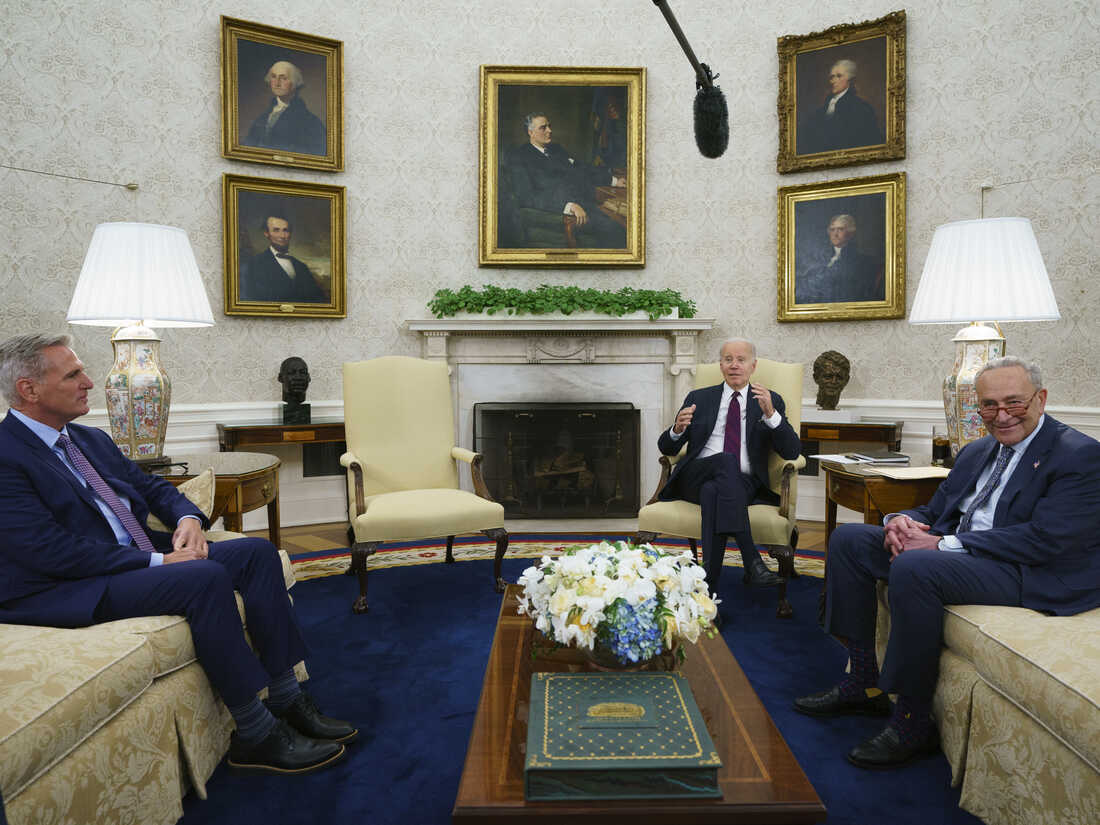 Speaker of the House Kevin McCarthy of Calif., left, and Senate Majority Leader Chuck Schumer of N.Y., right, listen as President Biden before an Oval Office meeting on the debt limit on May 9. Senate Minority Leader Mitch McConnell of Kentucky and House Minority Leader Hakeem Jeffries of New York also attended. Evan Vucci/AP hide caption
Speaker of the House Kevin McCarthy of Calif., left, and Senate Majority Leader Chuck Schumer of N.Y., right, listen as President Biden before an Oval Office meeting on the debt limit on May 9. Senate Minority Leader Mitch McConnell of Kentucky and House Minority Leader Hakeem Jeffries of New York also attended.
"Everybody uses [bills to increase] the debt ceiling for their favorite policies," said Maya MacGuineas, the president of the Committee for a Responsible Federal Budget. "The real problem here is that you now have people actually talking about defaulting."
In the past, votes to increase the debt limit were relatively quiet, non-controversial affairs. That changed in 2011 when the country came dangerously close to default.
Mark Zandi, an analyst at Moody's Analytics, said there have been political battles over the debt before but none were as dangerous or consequential as the 2011 fight.
"It wasn't clear up until the very end that lawmakers were going to figure out a way to sign on the dotted line and increase the limit," Zandi said. "The stock market at one point I think was down intraday almost 20%. That's a pretty large market swoon."
At the time, Republican House Speaker John Boehner, R-Ohio, was in a standoff with Obama over spending. Republicans wanted deep spending cuts and caps on how much federal spending could grow after the cuts were enacted.
Obama insisted Congress raise the debt limit without any extraneous policies --known as a clean increase.
Congress eventually reached a deal to increase the debt limit along with caps on future spending but not before the credit rating agency Standard & Poor's downgraded the nation's debt for the first time ever.
Many economists say the situation today is strikingly similar to the political fight in 2011 and there are serious concerns that the country could default.
What could happen if it's not raised?
The Treasury Department would be unable to make payments when they are due. Missing a payment of any kind or size would be considered a default.

The fight over the debt ceiling could sink the economy. This is how we got here
Some Republicans have suggested choosing which debts to pay, a system called payment prioritization . Congress would have to pass a law to make that possible, which is politically very unlikely. Most experts say it might also be impossible to execute from a practical standpoint and the idea is not being seriously considered as a solution at this time.
Has the U.S. ever failed to make these debt payments?
And that is part of why the federal government is able to easily sell share Treasury bonds to investors across the globe and why the U.S. dollar is one of the most trusted currencies.
"Treasuries are the debt vehicle that are most trusted in the entire world to the point where even if there is an economic crisis that originated in the U.S., people come and buy treasuries because they trust them," MacGuineas said. "They trust the U.S. they trust the fact that they will get paid if that is called into question, because we actually do start to default and we don't pay the interest that is due. We will never be able to regain that most trusted role in the same capacity we had before"
Would capping or cutting spending now resolve the problem?
No, the debt limit is related to money that has been spent as a result of laws Congress already passed.
"As a mathematical consequence of the laws Congress already passed, you have to borrow a certain amount," Furman said. "This borrowing isn't some unilateral thing that President Biden wants to do in order to do his favorite projects. It is in order to accomplish what Congress told him to accomplish."
In fact, some of the debt being accumulated is the result of laws passed under former presidents, including Donald Trump.
Spending caps and other changes included in a bill passed by House Republicans are separate policies intended to address future debt accumulation, not the current need to increase the debt limit.
What else could be affected by a default?
A U.S. default could cause a huge ripple of negative consequences throughout the global financial system. Any hit to the country's credit rating could do long-term harm to the value of U.S. treasuries and make the country a less appealing investment.
"I am truly concerned there is an actual chance of default and that is so dangerous and such a sign that the U.S. is not able to govern itself in a way that is functioning," MacGuineas said. "We should all be worried both about the debt ceiling itself, but also about what it says about our politics."
Zandi warned that the consequences could go beyond just investment and lending rates.
"Don't worry about your stock portfolio, worry about your job," he said. "Because a lot of jobs are going to be lost. Unemployment is going to be a lot higher. Is the economy struggling already trying to avoid recession because of high inflation, high interest rates? This will certainly push us and, you know, it's going to be about layoffs. Stock portfolios will be the least of people's worries."
Furman said it could be worse than the 2008 financial crisis when the fall of Lehman Brothers Bank triggered a global financial crisis.
"It could be worse than Lehman Brothers, where everyone basically demands their money back because they don't believe the collateral anymore," Furman said. "And you have the equivalent of a run on the global financial system."
Is default the same thing as a shutdown?
No. A government shutdown occurs when Congress fails to authorize annual spending bills before the end of the fiscal year on Sept. 30.
The U.S. could run out of cash to pay its bills by June 1, Yellen warns Congress
The two issues sometimes become linked because lawmakers have occasionally extended the debt limit to intentionally align with the end of the fiscal year in order to force broader spending discussions alongside the debt authorization.
Are there other ways this problem could be fixed, aside from just increasing the debt limit?
Most experts agree the current debt limit process isn't working. MacGuineas of the Committee for a Responsible Federal Budget said Congress should be reassessing debt and spending priorities but the debt limit mechanism does not actually force them to make choices.
"The debt ceiling is a terrible way to try to impose fiscal responsibility," she said. "It doesn't make sense. It says after you vote to borrow a lot of money then you will then vote whether to actually make good on those bills. That's a dumb approach."
Instead, she suggested a system where Congress agrees to increase the debt limit when they pass legislation.
Others economists have suggested abolishing the debt limit entirely.
Other less popular proposals include minting a $1 trillion platinum coin to cover the debt or raising it so high that the next debate will be stalled for years or decades.