What Are Business Reports & Why They Are Important: Examples & Templates
Table of Contents
1) What Is A Business Report?
2) Types Of Business Reports
3) Business Reports Examples & Samples
4) Why Do You Need Business Reports?
5) How To Setup A Business Report?
6) Challenges Of Business Reports
In your daily operations, you likely notice your processes and 'activities' constantly changing – sales trends and volume, marketing performance metrics, warehouse operational shifts, or inventory management changes, among many others.
All these little alterations in your organizational activities are impacting the global well-being of your company, your warehouse, your restaurant, or even your healthcare facility. Whether you manage a big or small company, business reports must be incorporated to establish goals, track operations, and strategy to get an in-depth view of the overall company state.
But with so much information being collected daily from every department, static business reports created manually will not give your company the fresh insights it needs to stay competitive. Businesses that want to succeed in today's crowded market need to leverage the power of their insights in an accessible and efficient way. This is where modern business reports created with interactive data visualizations come to the rescue.
Traditional means of reporting are tedious and time-consuming. Due to how the human brain processes information, presenting insights in charts or graphs to visualize significant amounts of complex information is more accessible and intuitive. Thanks to modern, user-friendly online data analysis tools armed with powerful visualizations, companies can benefit from interactive reports that are accessible and understandable for everyone without needing prior technical skills.
Here, we take the time to define a business report, explore visual report examples, and look at how to create them for various needs, goals, and objectives. In the process, we will use online data visualization software to interact with and drill deeper into bits and pieces of relevant data. Let's get started.
What Is A Business Report?
A business report is a tool that helps collect and analyze historical and current data from a company's operations, production, and more. Through various types of business reports, organizations make critical decisions to ensure growth and operational efficiency.
To understand the best uses for these reports, it's essential to properly define them. According to authors Lesikar and Pettit, "A corporate-style report is an orderly, objective communication of factual information that serves some organizational purpose". It organizes information for a specific business purpose. While some reports will go into a more detailed approach to analyzing the functionality and strategies of a department, other examples of business reports will be more concentrated on the bigger picture of organizational management, for example, investor relations. That's where the magic of these kinds of reports truly shines: no matter for which company goal you need, their usage can be various and, at the same time, practical.
Traditional business reports are often static and text reach (bullet points, headings, subheadings, etc.). Classically formatted in sections such as the summary, table of contents, introduction, body, and conclusion, this report format is no longer the most efficient when it comes to extracting the needed insights to succeed in this fast-paced world. On one hand, by the time these reports have been finished, the insights included within them might not be useful anymore. On the other hand, the fact that it is mostly text and numbers makes them hard to understand, making the analysis strategy segregated and inefficient.
The visual nature of modern business dashboards leaves all the aforementioned issues in the past. Thanks to interactive data visualizations and modern business intelligence solutions , the analysis sequence can be done fast and efficiently while empowering non-technical users to rely on digital insights for their decision-making process.
Your Chance: Want to test professional business reporting software? Explore our 14-day free trial. Benefit from great business reports today!
Types Of Business Reports?
Before creating your business outcome reports, it is important to consider your core goals and objectives. This way, you can pick the correct type of report for each situation. Here, we present you with five common types of visual reports that you can use for different analytical purposes.
1. Analytical reports
Analytical reports are reporting tools that use qualitative and quantitative data to analyze the performance of a business strategy or as support when a company needs to make important decisions. A modern analytical dashboard created with top reporting software can include statistics, historical data, as well as forecasts, and real-time information. Let's look into it with a sales example.
**click to enlarge**
This visually appealing business analysis report contains relevant sales KPIs to measure performance, such as the average revenue per unit, the customer lifetime value, acquisition costs, and some sales targets to be met. The value of this analytical report lies in the fact that you get a lot of relevant metrics in a single dashboard. The data can be filtered and explored on different time frames such as daily, weekly, monthly, or quarterly, depending on the discussion that it needs to support.
With this kind of sample in hand, managers can quickly understand if they are meeting their targets, find improvement opportunities, get a bigger picture of their sales, and find efficient ways to proceed with new strategies.
2. Research reports
Next in our types of business reports that we will discuss is a research report. Companies often use these kinds of reports to test the viability of a new product, study a new geographical area to sell, or understand their customer's perception of their brand image. To generate this type of report, managers often contact market research agencies to gather all the relevant information related to the studied topic. This brand analysis dashboard is a great example.
The image above is a business report template of a brand analysis. Here, we can see the results of a survey that was conducted to understand the brand's public perception on different topics. The value of this market research dashboard lies in its interactivity. Often, research reports are depicted in long and static PowerPoint presentations. With a modern market research dashboard like this one, all the info can be filtered upon need, and the whole presentation of results can be done on one screen. For example, if you want to know the brand awareness of a particular region or age group, you just have to click on the graphs, and the entire dashboard will be filtered based on this information. Like this, the analysis sequence is fast, interactive, and efficient.
3. Industry reports
Following on from the research topic, our next type is an industry report. Benchmarks and targets are excellent ways to measure a company's performance and success. But, these targets need to be based on realistic values, especially considering how crowded and competitive today's markets are. For this purpose, companies perform industry reports. By getting a clear picture of the average industry numbers, such as the competitive landscape, industry size, economic indicators, and trends, they can plan smart strategies and create realistic targets for performance.
Let's take this industry report by Technavio about the Global Ice Cream Market as an example. Here, we can see relevant numbers concerning the ice cream market, how COVID-19 impacted it, and what is expected to happen between the years 2020-2024. For example, the business report sample shows that the pandemic has positively impacted the ice cream market and that it grew 4.33% during 2020. The report also shows that there is increasing popularity of plant-based ice cream and that this trend is driving market growth. This is invaluable information for an ice cream company as they can invest in new products with almost certain success.
4. Progress reports
Next, we have progress reports. Unlike our other examples, this type of business report is not necessarily based on deep research or advanced analytics but rather on delivering a clear picture of the performance of a particular area or business goal. Their visual nature makes them the perfect tool to support meetings or business discussions as they provide a glance into the status of different metrics. A common use of progress reports is with KPI scorecards . Let's look at an example.
The image above is a business report example of a balanced scorecard. The goal here is to quickly understand the development of metrics related to 4 key business areas: financial, customers, learning and growth, and internal objectives. Each of these metrics is displayed in a current value and compared to a set target. Paired with this, the template has five colors for the performance status. This allows anyone who uses this report to quickly understand just by looking at the colors if the target is being met.
5. By business function
Getting a bigger picture of a company's performance is a great benefit of the best business reports. But, apart from helping the company as a whole, the real value of these reports lies in the fact that they empower departments to leverage the power of data analysis for their decision-making process. Instead of the sales department, human resources, or logistics, your entire organization will be data-driven. Let's look at it with a business report example by function on marketing.
Created with modern marketing dashboard software , this example entirely focuses on the development of marketing campaigns. With metrics such as the total number of impressions, clicks, acquisitions, and cost per acquisition being depicted on intuitive gauge charts, you quickly get a clear understanding of the performance of your campaigns. Through this, you can spot any inefficiencies before they become bigger issues and find improvement opportunities to ensure your marketing efforts are paying off. If you want to dig even deeper, this interactive business report can be filtered for specific campaigns so you only see related insights, making this dashboard the perfect tool to support team meetings.
Business Report Examples And Templates
We've answered the question, 'What is a business report?' and now, it's time to look at some real-world examples.
The examples of business reports that we included in this article can be utilized in many different industries; the data can be customized based on the factual information of the specific department, organization, company, or enterprise. Interdepartmental communication can then effectively utilize findings, and the content can be shared with key stakeholders.
Now that we know what they are, let's go over some concrete, real-world instances of visuals you will need to include in your reports.
1. Visual financial business report example
This first example focuses on one of the most vital and data-driven departments of any company: finance. It gathers the most essential financial KPIs a manager needs to have at his fingertips to make an informed decision: gross profit margin, operational expenses ratio (OPEX), both earning before interests (EBIT) and net profit margins, and the income statement. Next to these are the revenue evolution over a year compared to its target predefined, the annual evolution of operational expenses for various internal departments as well as the evolution of the EBIT compared to its target.
The different sets of visual representations of data can clearly point out particular trends or actions that need to be taken to stay on the financial track of a company. All your financial analysis can be integrated into a single visual. When the presentation becomes interactive, clicks will provide even deeper insights into your financial KPIs and the desired outcomes to make a company healthy in its financial operations. The importance of this finance dashboard lies in the fact that every finance manager can easily track and measure the whole financial overview of a specific company while gaining insights into the most valuable KPIs and metrics. Empowering a steadfast and operation-sensitive plan is among the most important goals a company can have, and finance is right in the middle of this process.
Thanks to all this information displayed on a single dashboard, your report is greatly enhanced and backed with accurate information for you to make sound decisions. It becomes easier to implement a solid and operation-sensitive management plan.
2. Visual investor's business report layout
As mentioned earlier, holding an account of your activity, performance, and organization's assets is important for people outside of the company to understand how it works. When these people are investors, it is all the more critical to have a clean and up-to-date report for them to know how successful is the company they invest in and for you to increase your chances of having more funds. This example provides just that: an exact overview of the most important insights and specific values in a particular time frame.
Calculating and communicating KPIs about the overall company situation is what this investors' relationship dashboard tries to focus on. You learn about the return on equity and return on asset, the debt-equity ratio, and the working capital ratio, but also see the evolution of a share price over time. Each of these metrics is crucial for a potential shareholder, and if they are not monitored regularly and kept under control, it is easy to lose investors' interest. Tracking them and visualizing them through a modern dashboard is a competitive advantage for your investors' reports. You can even see on this visual a clear set of data, so you don't have to dig through numerous amounts of spreadsheets, but clearly see the specific development over time, the percentage gained or lost, ratios, and returns on investments. Not to be limited just to these data, you can always customize and make sample business reports for your specific needs.
3. Visual management report example
The management KPIs presented below focus on the revenue and customer overview seen through a specified quarter of a year. With just a click, you can easily change your specific date range and make an overview of different months or years.
When analyzing insights on a more specific level, you can easily spot if the revenue is approaching your target value, compare it to the previous year, and see how much of the target you still need to work on. The average number of your revenue per customer compared to your targets can also identify on a more specific level how much you need to adjust your strategy based on your customers' value. If you see your values have exceeded your goals, you can concentrate on KPIs that haven't yet reached your target achievement. In this specific example, we have gained insights into how to present your management data, compare them, and evaluate your findings to make better decisions.
This clear overview of data can set apart the success of your management strategy since it is impossible to omit vital information. By gathering all your findings into a single CEO dashboard , the information presented is clear and specific to the management's needs. The best part of this example report is seen through its interactivity: the more you click, the more data you can present, and the more specific conclusions you can look for.
These report templates that we have analyzed and presented in this article can be a roadmap to effectively create your own report or customize your data to tailor your needs and findings.
4. SaaS management dashboard
The next in our rundown of dynamic business report examples comes from our specialized SaaS metrics dashboard .
A SaaS company report example that packs a real informational punch, this particular report format offers a panoramic snapshot of the insights and information every ambitious software-as-a-service business needs to succeed.
With visual KPIs that include customer acquisition costs, customer lifetime value, MMR, and APRU, here, you will find everything you need to streamline your company's initiatives at a glance. This is an essential tool for both short- and long-term evolution.
5. Sales KPI dashboard
Niche or sector aside, this most powerful of online business reports samples will empower your sales team to improve productivity while increasing revenue on a sustainable basis.
A powerful daily business activity report as well as a tool for long-term growth, our sales dashboard boasts a cohesive mix of visualizations built to boost your business's bottom line.
With centralized access to sales graphs and charts based on churn rates, revenue per sales rep, upselling & cross-selling, and more, this is a company report format that will help you push yourself ahead of the pack (and stay there). It's a must-have tool for any modern sales team.
6. Retail store dashboard company report example
Retail is another sector that pays to utilize your data to its full advantage. Whatever branch of retail you work in, knowing how to generate a report is crucial, as is knowing which types of reports to work with.
Our interactive retail dashboard is one of our finest visual report examples, as it offers a digestible window of insight into the retail-centric unit as well as transaction-based information that can help you reduce costs while boosting your sales figures over time.
Ideal for target setting and benchmarking as well as strategy formulation, this is an unrivaled tool for any retailer navigating their activities in our fast-paced digital age. If you're a retailer looking for steady, positive growth, squeezing every last drop of value from your retail metrics is essential—and this dashboard will get you there.
7. Customer service team dashboard
As a key aspect of any successful organizational strategy, optimizing your customer service communications across channels is essential. That's where our customer service analytics report comes into play.
Making your customer service efforts more efficient, effective, and responsive will not only drastically improve your consumer loyalty rates but also set you apart from your competitors.
One of the best ways to achieve a mean, lean, well-oiled consumer-facing machine is by giving your customer service representatives the tools to perform to the best of their abilities at all times. Armed with a balanced mix of KPIs to track and enhance service performance, this most powerful of business report samples will help you drive down response times while improving your first call resolution rates. It's a combination that will result in ongoing growth and success.
8. Employee performance dashboard
In addition to your customers, your employees are the beating heart of your organization. Our employee dashboard will give you the power to track the ongoing value and productivity of your internal talent.
An ideal formal business report example for any modern HR department, this telling dashboard will give you deep insight into how your employees perform and behave over specific timeframes.
Here, you can examine trends in absenteeism rates, track overtime hours by age group, monitor your training costs, and explore peaks and troughs in productivity across the entire workforce. This melting pot of at-a-glance information will empower you to provide training exactly where it's needed and get to the heart of any issue that's affecting productivity or engagement levels.
Working with this business report format example consistently will ultimately ensure you get the very best return on investment (ROI) from your internal talent.
9. Marketing KPI dashboard
Without a solid multichannel marketing strategy, it's unlikely that you'll ever see a consistently healthy ROI from your promotional efforts. Shooting in the dark regarding marketing will also see you fall behind the competition. Enter our marketing dashboard .
This business report format template brimming with insight, lets you set accurate performance benchmarks while uncovering a wealth of insight from one intuitive dashboard.
To optimize your promotional campaigns and activities, talking to specific audience segments and using the right touchpoints at precisely the right time is essential. Without a targeted approach, all you're doing is throwing your time and money away.
This effective company report example offers a balanced overview of your campaigns' performance by offering the tools to dig deep into vital metrics like cost per acquisition (CPA), customer lifetime value (CLTV), and ROI.
This perfect storm of metrics will show you where your communications or campaigns are failing to drive engagement and where they're yielding positive results. Armed with this critical information, you can optimize all of your efforts to make the biggest possible impact across channels. An essential report design for any modern organization looking to scale swiftly and consistently.
10. Warehouse KPI dashboard
Being a warehouse manager or decision-maker is a high-pressure job where every decision counts. To keep your fulfillment activities and initiatives fluid, functional, and primed for organizational growth, sweating your data correctly is a must.
Our warehouse KPI dashboard is a business report sample that aids both real-time decision-making and longer-term strategic planning.
With a powerful selection of logistics-based KPIs, this highly visual business report structure features metrics based on on-time shipment rates, a breakdown of warehouse costs, the number of shipments made over a specified timeframe, and a perfect order rate.
By making this kind of business reports formats a core part of your daily operations, you can eliminate unnecessary costs or activities while boosting overall productivity and significantly improving the success, as well as accuracy, of your warehouse operations. It is an invaluable tool that will help consistently deliver on your fulfillment promises, improving your brand reputation in the process.
11. Cybersecurity dashboard
In our hyper-connected digital age, failing to invest in adequate cybersecurity solutions is the same as leaving your front door wide open when you're on holiday.
To avoid the devastating impact of organizational cyber attacks or informational breaches, our cyber security IT dashboard will ensure your company is fortified from every angle. This most vital of business report examples will help you fend off any prospective acts of cybercrime while monitoring for any attacks or abnormalities in real-time.
Here, you can keep on top of your cybersecurity rating, track your phishing test success rates, understand how long it takes you to identify an attack (and improve your responsivity), look at how often you backup your company's sensitive information, and discover the most common intrusion rates related to your company from a cohesive space. It's an essential analysis tool designed to keep your company safe, secure, and happy.
12. CEO dashboard
The CEO is the highest leadership position in an organization. As such, they need to get a complete overview of the entire operations and performance to ensure everything is running smoothly and on track to meet expected goals. Our next example is a scorecard report tracking relevant metrics related to finances, marketing, customer service, and human resources.
What makes this template so valuable for the CEO is the fact that it offers a long-term view with benchmarks for quarterly and annual performance. This way, leadership can evaluate the development of the different strategies and spot any inefficiencies at a glance by looking at the green or red colors depicted on each KPI. Plus, each section of the scorecard offers a detailed breakdown of additional information to help dive deeper into the reasons behind a specific result.
For instance, we can see that there is an increase in the total expenses in the current quarter. However, when taking a deeper look at the yearly breakdown, we can see that the operating expenses ratio has been decreasing for the past three months. Therefore, the quarterly increase is nothing to worry about.
13. Manufacturing production dashboard
As a production company, you must ensure every aspect of the process is efficiently carried out at its maximum capacity. This means, ensuring machines are working properly, the right amounts of products are being produced, and the least amount are being returned by customers. Our next template aims to help with that task by offering a 360-degree view into a company's production processes.
With insights into production volume vs. quantity ordered, top 5 machines by production volume, and return items by reason, the manufacturing manager can spot inefficiencies and identify trends to optimize production and ensure the highest possible ROI.
For example, looking at the top machines by production can help you spot the ones that might need some maintenance and plan that maintenance time without affecting production. On the other hand, analyzing the returned items by reason can also help improve customer experience and satisfaction. If you see a large amount of returns due to a broken product, it means you need to improve the quality of your materials or the packaging when they are sent to the customer to keep it safer.
14. IT project management dashboard
Completing a project successfully relies heavily on the team being connected to keep tasks moving at the expected speed. The issue is that it often involves multiple meetings that end up taking a lot of time that could be implemented actually completing the tasks. Our next sample aims to tackle that issue by providing a real-time overview of project development metrics.
At the top of the report, we see a breakdown of the different stages of the project with a development percentage and a projected launch date. This is great information to have as it can inform the team about the status of the entire project and any external stakeholders as well.
We then get insights into the project budget, overdue tasks, upcoming deadlines, and employee workload. This is invaluable information that can help optimize any bottlenecks and increase overall efficiency. For instance, we can see that Georg and Nancy are 10+ days overdue with their tasks which is not good for the project. However, a deeper look shows us that these two employees are the ones with the biggest workload, which means they might need some help from other team members to speed up their tasks.
15. HR diversity dashboard
Diversity in the workplace has become a big priority for organizations and prospective talents. Each year, more and more businesses realize the value of having employees from different backgrounds and cultures as a way to boost their strategies and overall growth. That being said, to be considered a diverse company, you need to ensure your workforce feels comfortable and that the same opportunities are being given to all. Enters our last business report template.
The template above offers a view into different diversity management metrics from recruitment to talent management. Through this insightful report, HR managers can test the success of their diversity strategies and spot any areas of improvement to ensure the highest level of employee satisfaction. The template is highly interactive and offers insights into diversity by gender, ethnicity, and disabilities.
Analyzing the content of the report, we can see that black employees are the ones with the highest voluntary turnover rate. This is something that needs to be looked into to find the reasons why these employees are not feeling comfortable at the company. On the other hand, we can see that the organization is 1% above the 2% industry standard for hiring employees with disabilities. This is a great indicator, and it can translate into a low 7% of voluntary leaves by these workers.
Now that we've looked at report samples, let's consider the clear-cut business-boosting benefits of these essential analytical tools. These perks will make your company stronger, more fluent, and more efficient on a sustainable basis.
Why Do You Need Business Reports?
These reports also enable data collection by documenting the progress you make. Through them, you have the means to compare different periods and activity, growth, etc. You can better see which products or services are more successful than others, which marketing campaign outperforms which other, and which markets or segments require more attention. Collecting all this data is indispensable – and by doing so, you build a paper trail of your past (or, namely, a data trail). They let people outside the company (like banks or investors) know about your activity and performance and enable stakeholders to understand your organization's tangible and intangible assets.
Risk assessment & opportunity: With a business report, you can increase the understanding of risks and opportunities within your company . Sample reports accentuate the link between financial and non-financial performance: they streamline processes, reduce costs, and improve overall cohesion in an informed, commercially 'safe' way.
Trends & connections: Business report samples can help you compare your performance to other internal units or companies in the same sector. On a more specific level, a report template can help you dig thoroughly into operational metrics and details and discover correlations that would be otherwise overlooked. In today's hyper-connected digital age, gaining a deeper insight into your data will empower you to formulate strategies that will accelerate key areas of your business growth through trend identification. This fact alone highlights the importance of a business analysis report.
Business intelligence (BI): If used correctly, the best BI tools will answer a vital question: 'Will I survive on the market?' By creating a business report of a company built to improve your BI activities and answer essential organizational questions, you will gain the ability to tackle deeper specific insights that can bring operational value and control the overall expenditures. By knowing how to set up such a report with specific samples and templates, you can provide building blocks to establish a successful business intelligence strategy.
Buy-in: While there are many different types of business reports for a company, they all have one common trait: gathering data and tracking the business activities related to something specific. By working with the right reports, users can perform in-depth visual analyses of many key areas or functions and provide informed recommendations that will ultimately improve efficiency and encourage innovation. Regardless of how good or beneficial an idea might be , getting buy-in from senior executives or external partners is often a major roadblock to progress. However, a good report template presents a level of depth and presentation that is both factual and convincing and will encourage buy-in from the people with the power to sign off on new strategies, initiatives, or ideas.
Operational efficiency: The more factual the report is, the clearer the data. When your data is well organized and crystal clear, it's possible to interpret your business activities cost-effectively, reducing the time required to analyze findings while saving countless working hours sifting through metrics for actionable insights. A good template presents an in-depth analysis where the writers show how they have interpreted their findings. For example, a marketing report can reduce the time needed to analyze a specific campaign, while an HR report can provide insights into the recruiting process and evaluate, for example, why the cost per hire increased?
Specificity: When you create a business information report, you are giving yourself a key opportunity to address specific issues that are often used when decisions need to be made. As author Alan Thomson says, "A company report conveys information to assist in business decision-making. [It] is the medium in which to present this information." They have several purposes: some record information to plan for the future, some record past information to understand a situation, and others present a solution to a pressing problem. Some executive dashboards are for daily usage, while a monthly business report template will help you pinpoint your activities on a more gradual, incremental basis. They are all essential to commercial success, as they bring clarity to complex analysis. As mentioned earlier, the clearer the data, the more cost-effective results will be, so keeping in mind the exact data to incorporate into this kind of report should be essential in deciding what kind of report to generate. You can find multiple key performance indicator examples in different industries, which should be considered when creating that kind of report. You can also generate an interdepartmental report or between businesses to compare industry values and see how your company stands in the market.
Accuracy & consistency: In The Age of Information, data is a vast landscape, and if you want to use it to your advantage, aiming for consistency and accuracy is key. If your data is off or presents hit-and-miss findings, it could cost your company in the long run. Working with an online dashboard tool to produce your reports is an incredible advantage for the ease of use, the time saved, and, most importantly, the accuracy of the information you will use. As you work with real-time data, everything on your report will be up-to-date, and the decisions you will take will be backed with the latest info. Business report examples are significantly helpful when you need to explore your data and perform data analyses to extract actionable insights. They will deliver an important added value to your report thanks to the visualization of your findings, bringing more clarity and comprehension to the analyses, which is their primary purpose.
Engagement: As intuitive, digestible, and visual tools, business-centric reporting tools are easier to understand and tell a story that is far more likely to resonate with your audience. While exploring your data, with deeper insights generated with just a few clicks, the report doesn't have to be dull, boring, and lost in hundreds of pages or spreadsheets of data. If you create a report that is clean and customized, you will bring more value than by printing or searching through a spreadsheet. Achieving a design like this is simple with the right KPI dashboard software . Imagine yourself in a meeting with 200 pages of analysis from the last 5 years of business management. One participant asks you a specific question regarding your operational costs dating 3 years back. And you're sitting there, trying to find that specific piece of information that can make or break your business meeting. With business dashboards , you cannot go wrong. All the information you need is generated with a click, within a click.
Benchmarking: If you know how to set up a business-centric report with efficiency, you will gain the ability to set defined, accurate benchmarks. By frequently setting targets based on your most important organizational goals and working with visual reporting tools, you will keep your organization flowing while catalyzing your overall growth and productivity levels.
Communication: One of the best uses of these tools is improving internal collaboration and communication. By gaining 24/7 access to your most essential business data while enhancing the way you analyze and present it, you will empower everyone in the business with better access to information, which, in turn, will enhance internal communication and collaboration.
Innovation: The intuitive nature of these reports makes them the most efficient way to steer a progressive analytical strategy. As such, it's easier (and quicker) to uncover hidden insights, spot trends, and hone in on critical information. It's this speed, ease, and accuracy that frees creativity and improves innovation across the organization, accelerating growth as a result.
These reports can also be of many different types, but they all have one common trait: gathering data and tracking the organizational activities related to something specific. From there, their author(s) will often perform an analysis and provide recommendations to the organizations.
How To Generate A Business Report
The primary importance of a corporate-centric report lies in gaining confidence and clarity. Before starting to create it, it's vital to establish the goals and the audience. Knowing who you want to direct it to is key in its elaboration, from the tone, vocabulary/jargon you choose to the data you will focus on. A report to external stakeholders, to the CEOs, or to the technical engineers' team will be drastically different from one another.
Likewise, the scope varies according to the objective of the report. State beforehand the needs and goals to direct you on the right path. It should be impartial and objective, with a planned presentation or dashboard reporting tool , which enables an interactive flow of data and immediate access to every piece of information needed to generate clear findings.
To help you write your daily, weekly, or monthly business-centric report template with confidence, let's go over some essential steps and tips you should focus on:
1. Consider your audience
First of all, if you want to understand how to do a business report the right way, you have to think of your audience from the outset. Your reporting efforts must make sense and offer direct value to the end viewer or user - otherwise, they'll be meaningless. That said, it's critical that you take the time to consider who will use the reporting tool most and which information or features will add the most value, helping improve the organization in the process. Take the time to understand your audience, and your reporting tools will not only meet expectations but exceed them - one well-placed visualization at a time.
2. Determine and state the purpose
As we stated in the previous paragraph, defining the needs of your audience is vital to reporting success. As we said, a report usually assists in decision-making and addresses certain issues. You can state them at the beginning of the report. The more clear and specific the goal, the better the content will be. You won't lose time adjusting information when you present your purpose in a clear and well-defined manner.
3. Use a mix of real-time and historical data
Another key component of this report is making sure you're free of any informational blind spots. So many companies work with one form of metric, stunting their organizational progress in the process. To drill down deep into detailed pockets of information and gain a panoramic view of specific trends or patterns, working with a balanced mix of historical and real-time data is key. Doing so will empower you to capitalize on potential strengths while learning from historical weaknesses. This balanced approach will also give you the tools to develop strategies that return the best possible ROI while making powerful decisions under pressure.
4. Set actionable targets and goals
Once you've curated your informational sources and defined your audience, you should set actionable goals. Setting the right benchmarks will help you track your ongoing success with pinpoint accuracy while defining goals or targets will give you the insight you need to work with the right KPIs while ensuring your company is moving in the right direction. Taking the time to set actionable goals and targets that align with your organizational strategy will ensure your reports offer a consistently healthy ROI.
5. Define your reporting frequency
Another key component of successful organizational reporting is deciding how often you will analyze your metrics and information. Depending on the function or the goals you're looking to achieve, you should decide whether your dashboard will serve as a daily, weekly, monthly, or quarterly reporting tool. Setting the right frequency will ensure your analytical strategy is fully streamlined while connecting you with the insights that count most at exactly the right time. The best modern reporting tools also offer automated functionality, helping to monitor insights and offer alerts without human intervention - the best way to save time while ensuring you never miss a critical piece of information again.
6. Gather and organize the information
Now that the purpose and scope are clearly defined, you can start gathering the data in any form that can address the issue. Thanks to that information, you will carry out data analysis to understand what lies beneath and to extract valuable insights. These findings need to be balanced and justifiable – what significance they have to the report's purpose. Identifying key performance indicators for a specific company, organizing, comparing, and evaluating them on the needed level, can be one of the most important parts of creating this kind of report. An example of a business report that shows how to extract and define your analysis can be found above in the article, where we presented our visuals.
7. Present your findings
Explain how you uncovered them and how you interpreted them that way. Answer the original issue by detailing the action to take to overcome it and provide recommendations leading to a better decision-making process. A best practice to present the insights you have drawn out is using dashboards that communicate data visually in a very efficient way. A dashboard software like datapine can precisely answer that need while helping you with data exploration at the same time, which is a crucial part. When you click on a specific part of the dashboard, you can easily access your data in a more in-depth approach.
Comparing your findings is also one of the features you can use if you are asking yourself what has changed in relation to a specific period. When you assess these datasets in just a few clicks on your monitor, the whole reporting process and measurement of your strategy can be done in minutes, not days. Evaluating findings in today's digital world has become one of the main focuses of businesses wanting to stay competitive in the market. The faster you can do that, the more information you gain, and the more successful your actions will become.
8. Align your visualizations
Expanding on presenting your findings, it's also important to get your design elements right when considering how to write a business report. As a rule of thumb, your most essential at-a-glance insights should be at the top of your dashboard, and you should aim to be as clean, concise, and minimal as possible with your presentation to avoid cluttering or confusion. To improve your visual storytelling and bring every key element of your report together cohesively, getting your dashboard design just right is vital. Our essential guide to data visualization methods will help to steer your efforts in the right direction.
9. Proofread your reports
When you're looking at a polished example of a business report, you'll notice that every element of design and content is immaculate and makes complete logical sense. That said, to get the best returns for your analytical efforts, proofreading your reports is vital. Work through your report with a fine-toothed comb and ask trusted colleagues in your organization to do the same. Once you've carefully proofread your entire report, you can collectively tighten up any sloppy design elements, typos, misleading copy, and bad visual placements. Doing so is vital because it will make your examples of business reports slick, actionable, accurate, and built for success.
10. Be responsive
While modern reporting dashboards are dynamic and interactive in equal measure, it's important that you also remain robust and responsive when writing a business-based report. What does this mean, exactly? It means that in the digital age, the landscape is always changing. As such, if you want to get the most from your reports or dashboards, you must commit to editing and updating them according to the changes around you. In an informational context, what is relevant today may be redundant tomorrow, so to remain powerful and relevant, your reports must always be optimized for success. When you write a business-style report, you should understand that, to some extent, you will need to rewrite it repeatedly. Remember, commit to regularly assessing your reports, and success will be yours for the taking.
You can easily find a sample of a business report on the Internet, but not all of them fit your needs. Make sure, at any moment, that the report you want to create is accurate, objective, and complete. It should be well-written, in a way that holds the reader's attention and meets their expectations, with a clear structure.
Common Challenges Of Business Reports
As we just learned from the previous section, generating a successful report requires carefully following some steps and considerations. This often comes with challenges and limitations that users face during the generation and analysis process. To help you be aware of those challenges and how to overcome them efficiently, we will list some of the most common ones below.
All the time and effort dedicated to the reporting process will be for nothing if you are not working with high-quality information. Believe it or not, according to recent reports , 41% of companies cite inconsistent data across technologies as their biggest challenge. With only 16% labeling the data they are using as "very good".
This presents a huge challenge as the consequences of poor data quality can be quite expensive since organizations are basing their most important strategic decisions on unreliable insights.
To prevent this issue from affecting you, it is essential to invest time and money in implementing a thoughtful data quality management plan to ensure your information is constantly checked under specified guidelines. Putting extra attention to the cleaning and constant manipulation of the information is also a huge aspect of the process.
Another big challenge that businesses face when implementing reporting practices is the level of literacy of their employees. As mentioned earlier in the post, the success of the entire process relies heavily on the entire workforce being involved in it and collaborating with each other. The issue is that generating a report and analyzing the data can be very intimidating for non-technical employees who often don't have the necessary skills or confidence to integrate data-driven activities into their daily work.
That is why carrying out a careful analysis of the literacy level across your workforce can help you understand the actual situation and offer training instances to anyone who needs it. Paired with that, investing in self-service BI tools that allow any user, regardless of their technical knowledge, to generate a business report with just a few clicks is a great way to approach this challenge.
Long generation processes
It is not a secret that manually generating a business report can take a lot of time and effort. In fact, in some cases, when a report is finally completed, the information in it might not be entirely valuable anymore. Luckily, this challenge has been tackled a long time ago thanks to the power of automation.
Modern online reporting tools offer users the possibility to automatically generate a report in a matter of seconds, eliminating any form of manual work. All they need to do is connect their data sources, select the KPIs they want to display, and enjoy a visually appealing and fully functional report in just a few clicks. This enables organizations to focus on the important part, which is extracting powerful insights to inform their strategies.
Static vs. interactive business reports
Traditionally, these reports generated with tools such as Excel or PowerPoint have been static and full of text and complex numbers. Making it impossible to extract deeper conclusions from them or act on fresh insights. This is not to say that they are completely unuseful, but their historical and static perspective makes them less effective, especially considering how agile decision-making can represent a huge competitive advantage for organizations today.
To help you make the most out of your data-driven efforts and tackle this common limitation, we recommend you invest in tools that offer dynamic reports. BI reporting tools , such as datapine, give you the ability to generate interactive real-time reports, like the ones we saw earlier, which can be easily filtered to explore different periods or lower levels of data. This will give you the power to extract deeper and fresh insights to boost your strategies and growth.
Ensuring data security and privacy
In the digital age we live in, we need to be fully aware of the risks of using online tools to manage our business's operations. Studies have shown an increasing trend in cyberattacks and data breaches that has left decision-makers concerned about how they manage their sensitive data. One of these attacks can significantly impact an organization's reputation but also incur considerable costs that can be hard to come back from. According to recent research, these types of breaches cost businesses an average of $4.35 million in 2022.
All of this makes security and privacy a big challenge for businesses of all sizes. Especially regarding their report-related activities, as they contain sensitive information about the company and its clients. Luckily, modern SaaS BI tools offer high levels of security to help you keep your data secure at all times, from the moment it is generated to the time it is shared with different stakeholders. Therefore, it is important to consider this topic before investing in such a tool.
Key Takeaways Professional Business Reports
"Once we know something, we find it hard to imagine what it was like not to know it." - Chip & Dan Heath , Authors of Made to Stick, Switch.
We live in a data-driven world, and as a business, it's up to you to move with the times. If you ignore the power of smart data analytics, you are only stunting your own commercial progress.
We've explored many shining business reports examples, and one thing is abundantly clear: if you embrace the power of digital reporting, your company will be bigger, better, and exponentially more informed. The more confident and informed you are as a business, the better you will be able to respond to constant change. In today's digital world, it doesn't matter what sector you work in. If you're rigid in your approach to data, you will get left behind. Digital reporting dashboards are the only way forward.
So, you now know what business reports are, how to structure and write them , and how they can benefit your business. Committing to the right reporting and information delivery can have a significant impact on your organization and orientate its strategy better. For more ideas about business reporting in a more specific, function-related way, you can dig deeper into some of our popular articles on sales reports and marketing reports !
Don't miss out on that opportunity and start now with datapine's online reporting software , and benefit from a free 14-day trial ! You won't regret it.
⚡️ Turn your idea into a custom infographic in seconds with our AI-powered infographic maker, Piktochart AI ✨ Start creating
Piktochart Visual
Video Editor
Infographic Maker
Banner Maker
Brochure Maker
Diagram Maker
Flowchart Maker
Flyer Maker
Generative AI
Graph Maker
Invitation Maker
Pitch Deck Creator
Poster Maker
Presentation Maker
Report Maker
Resume Maker
Social Media Graphic Maker
Timeline Maker
Venn Diagram Maker
Screen Recorder
Social Media Video Maker
Video Cropper
Video to Text Converter
Video Views Calculator
For Communications
For Education
For eLearning
For Financial Services
For Healthcare
For Human Resources
For Marketing
For Nonprofits
Brochure Templates
Flyer Templates
Infographic Templates
Newsletter Templates
Presentation Templates
Resume Templates
Business Infographics
Business Proposals
Education Templates
Health Posters
HR Templates
Sales Presentations
Explore all free templates on Piktochart
The Business Storyteller Podcast
User Stories
Video Tutorials
Visual Academy
Need help? Check out our Help Center
Earn money as a Piktochart Affiliate Partner
Compare prices and features across Free, Pro, and Enterprise plans.
For professionals and small teams looking for better brand management.
For organizations seeking enterprise-grade onboarding, support, and SSO.
Discounted plan for students, teachers, and education staff.
Great causes deserve great pricing. Registered nonprofits pay less.
What is a Business Report? (Examples, Tips and How to Make One)
According to a recent survey by Zapier , 76% of respondents said they spend 1-3 hours a day simply moving data from one place to another. Additionally, 73% of workers spend 1-3 hours just trying to find relevant data or a particular document. Another survey by TrackVia found that 44% of workers spend more than one day per week on manual, administrative tasks such as generating reports.
Fortunately, there are tools available to automate the report creation process and produce high-quality reports efficiently. However, it's essential to understand the key factors that make a report effective and distinguish your report from the rest, without relying on plain Excel/PowerPoint tools.
Are you ready to take your report writing skills to the next level?
A business report is a document that presents information in a structured format, typically written for a specific audience or purpose. Business reports are used to convey data, research findings, recommendations, and other types of information in a clear, concise, and organized manner.
Business reports may be written for a variety of contexts. They may vary in length and complexity, depending on the type of information being presented and the intended audience.
You can also jump right into creating business reports by selecting a template and following along this guide.
Table of Contents
General business reporting templates, specialized business reporting examples, other reports, what makes a great business report format, what are the five main parts of a business report, how to present the report in a more visual way, and now, over to you.
Progress reports : These are reports used to easily track progress on a particular project or activity, and can be divided into daily, weekly, monthly, or quarterly progress reports.

Feasibility reports: These are reports that assess the feasibility of a particular project or initiative, such as a new product or service.

Executive Summary Reports: These reports provide a brief summary of a larger report in business management. They are typically used to provide key decision-makers with a quick overview of the report topic.
Financial reports : These are reports that present financial information, such as balance sheets, income statements, and cash flow statements, which measure performance of the company.
Annual reports : These are reports that provide an overview of an organization's performance over the course of a year, including company goals, new insights, and average revenue.
Sales and Marketing Reports : These reports provide relevant information on sales and marketing activities, such as sales forecasts, customer overview demographics, marketing report and market research, typically created by sales rep.
Human Resources Reports : These reports provide information on employee-related matters, such as recruitment, training, and performance management.
Incident Reports: These reports document workplace incidents, such as accidents, injuries, or security breaches. They may be used for legal or insurance purposes.
Environmental Reports: These reports assess the environmental impact of a company's operations. They may include information on energy consumption, waste management, and carbon emissions.
Investigative reports : These are reports that investigate a particular issue, such as a workplace incident or accident.
Academic reports: This is an analytical report used in academic settings to convey research findings, such as lab reports, research reports, and case studies.
Technical reports: These are reports that communicate technical information, such as engineering reports, scientific reports, and project reports. It may contain all the relevant explanatory reports and research methods.

There are several elements that make a great formal business report, including:
Clear purpose and scope
A report can contain a lot of information, it is important not to lose the bigger picture. It should be easy to access the report's main points through a table of contents at the introduction.
Define the purpose and scope of the entire report : Determine the objectives of the report and the information that needs to be collected to achieve those objectives.
Accurate and relevant metrics/data
Identify the sources of information : Determine where the critical information can be found. Sources can include primary sources such as surveys, interviews, and experiments, or secondary sources such as books, articles, and online databases.
Collect the historical data: Gather the necessary data by conducting interviews, surveys, experiments, analytical reports, or other means. Be sure to record and organize the data in a systematic and organized manner.
The gathering of relevant data is often time consuming. It would be good to collaborate on this process and assign multiple stakeholders different portions of the report so that the information gathering isn't spent on analytical reports by one individual only. Piktochart has the ability to help you collaborate in teams specifically for this purpose.
Comprehensive analysis
Analyze the data : Once the data has been collected, conduct an in depth analysis to identify patterns, trends, and relationships. Use statistical tools, software, or other analysis methods to make sense of the data.
Go from big picture to small details. It is good practice to create an outline of the report and what should be communicated in official document before going into the actuals of putting the report together.
Break the analysis down into multiple pages. Use a page to convey one main point instead of cramming in multiple charts and figures.
Clear and concise writing
Interpret and present the findings : Draw conclusions based on the data and present the findings in a clear and organized manner. Use charts, tables, graphs, and other visual aids to help convey the factual information.
For example, one may opt for the use of bullet points sparingly and opt to make the sentences shorter and without jargon. A visual layout of two columns may also help in some cases.
Effective communication in research report
A report can be consumed digitally or via print. If it's consumed digitally e.g. in a single dashboard , you can provide a TLDR summary or explanatory report for the readers via email so that they would know what to expect.
Visual aids
The best option here is to go with diagrams, images, tables and charts that help to convey the main point of a particular page.
If the report is hosted online, it is also possible to include other videos or audio content to get the viewers interested.
Recommendations and conclusions
Revise and finalize the report: Review and revise the report to ensure that it is accurate, complete, and well-organized. Be sure to proofread for spelling errors, grammar mistakes, and punctuation.
It is important to address the concerns that the key decision maker has about the progress report and aid decision making process. The language and tone of the report should always be future-looking and positive. You can do this by balancing potential risks and key opportunity areas.
Professional formatting and presentation
Aim to use brand colors and fonts throughout the whole presentation. These "tiny" signals give the impression that the report has been professionally designed.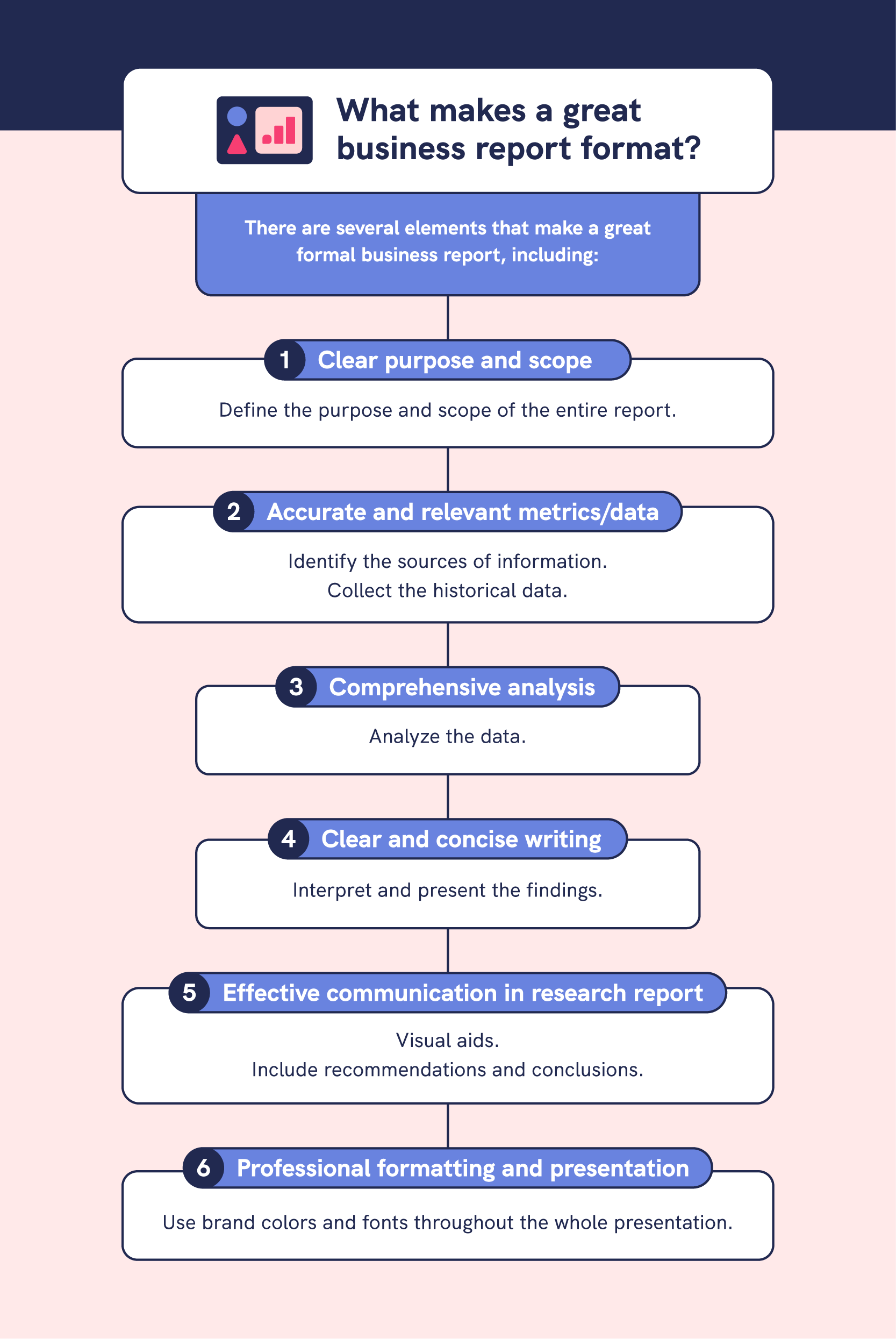 Business reporting typically includes:
Introduction that provides background information. The title and table of contents can go here. Occasionally, it also includes some brief opening remarks from the leadership team.
Main body that presents the data or findings. This can be broken down into several pages and it is best to present one salient piece of information per page. The aim is not to reduce the number of pages, but to go for concise writing so that there is a strong message per page.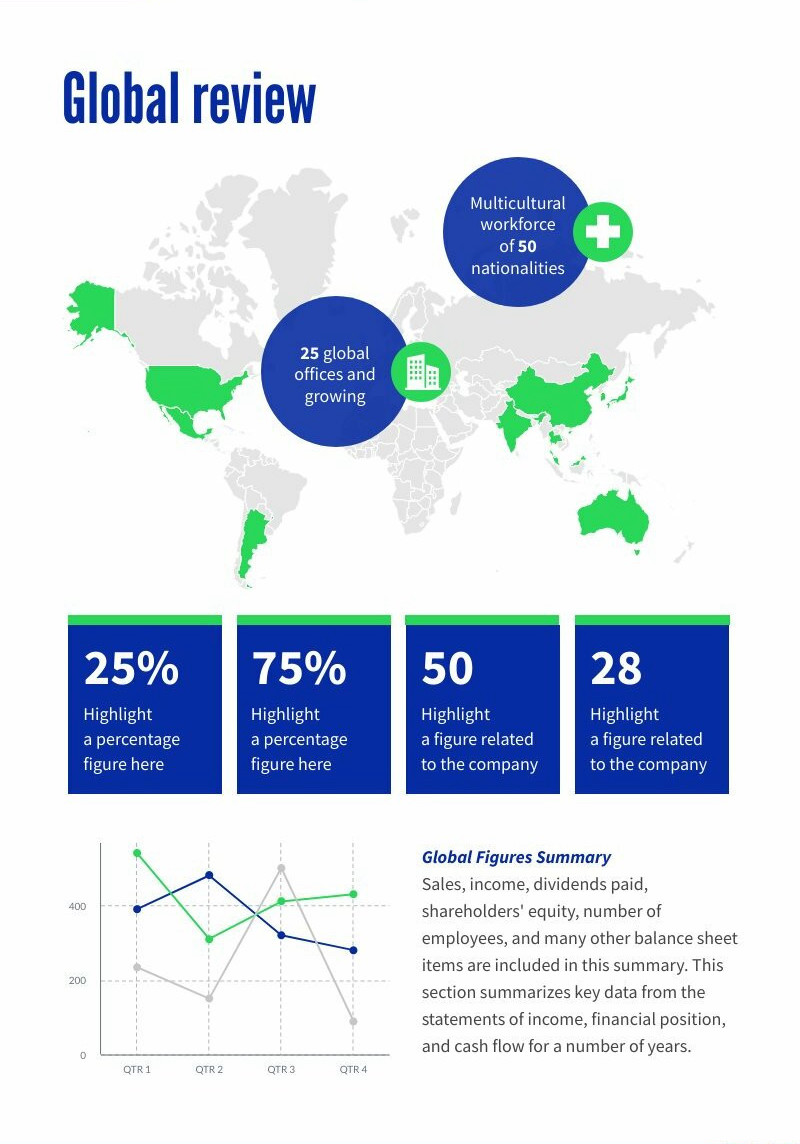 Conclusion that summarizes the key points.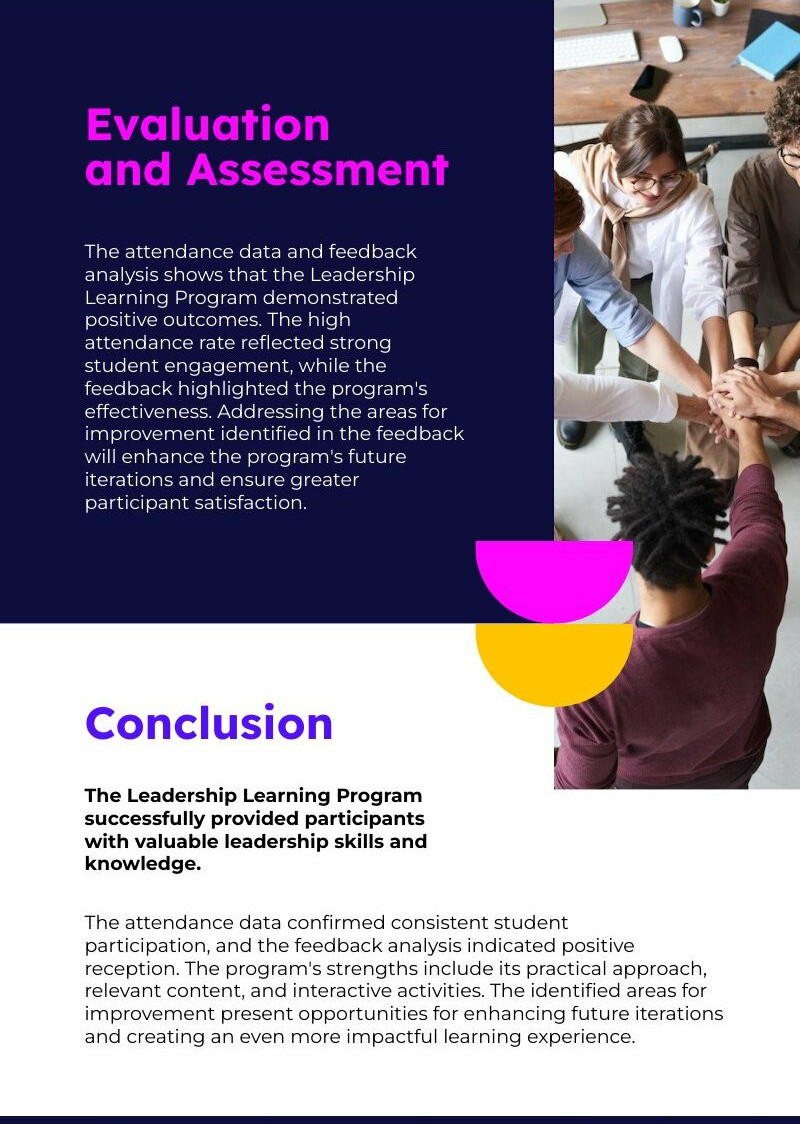 An important part of conclusion is recommendations for further action. A report would be incomplete if it does not bear any future-forward messages for the business/activity.
While there is no specific format that has to be followed, Piktochart has some great business report examples for you to get started. Sign up to access more professionally designed templates of presentations , infographics , social media graphics and more.
Use charts and diagrams
Visual aids such as pie charts, bar graphs, and line graphs can help to convey complex information in a clear and concise manner.
Choose the right type of chart or diagram
There are many different types of charts and diagrams available, including bar charts, pie charts, line graphs, scatter plots, flowcharts, and more. Choose the type of chart or diagram that best represents the data you are presenting and is most appropriate for your audience.
Keep it simple
While charts and diagrams can be useful for presenting complex information, it's important to keep them simple and easy to understand. Avoid cluttering your chart or diagram with too much information, and use clear and concise labels and titles.
Use appropriate scaling
When creating a chart or diagram, it's important to use appropriate scaling to ensure that the data is accurately represented. Make sure that the scale of the chart or diagram is appropriate for real value of the data you are presenting, and avoid distorting the data by using uneven scales.
Provide context
Charts and diagrams can be difficult to interpret without proper context. Make sure to provide context for your data by including clear and concise explanations of what the chart or diagram represents and how it relates to the rest of the report.
Use color strategically
Color can be a powerful tool for highlighting key data points or drawing attention to important information. However, it's important to use color strategically and sparingly to avoid overwhelming your audience.
Use color sparingly
Color can help to highlight important information and make the report more visually appealing.
While color can be a powerful tool for emphasizing important information, using too much color can be overwhelming and distracting. Use color strategically to draw attention to key data points, headings, or other elements that you want to emphasize.
Choose colors carefully
When selecting colors, consider the target audience and purpose of the report.
Stick to a color scheme that is appropriate for the subject matter and aligns with the company's branding. Avoid using too many bright or bold colors, which can be jarring to the reader.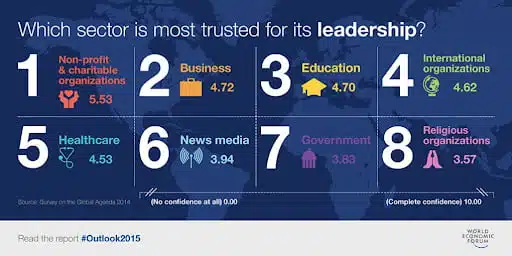 Use contrast
One of the most effective ways to use color in a business report is to create contrast between different elements. For example, use a bold color for headings or subheadings to make them stand out from the surrounding text.
Use color to organize information
Color can be a useful tool for organizing information and making it easier to scan. Consider using color to create sections or categories within the report, or to distinguish between different types of data.
Be consistent
To avoid confusion, it's important to be consistent in your use of color throughout the report. Use the same colors for the same types of information, and make sure that the colors you use are consistent with the company's in house format or branding guidelines.
Use a consistent layout
Using a consistent layout throughout the report broken down by headings and subheadings can help to make it more visually appealing and easier to follow.
A single-column format is often used because it is easier to read and allows for a more logical flow of information. It also allows for the use of larger fonts and more white space, which can help improve readability.
In some exceptions, some reports may use a multi-column layout, typically with two columns, if they contain a large amount of data or if the report is intended to be read on a digital device, such as a tablet or computer screen. A multi-column format can help improve the organization of the data and make it easier to compare information across different sections.
Choose an appropriate and concise length
Do not cram too much information within a single page. Here are some more helpful tips on the language that you can use for business reports.
Use active voice
Active voice makes your writing clearer and more concise, and it can help you communicate your ideas more effectively.
For example, instead of writing "The report was analyzed," write "We analyzed such a report."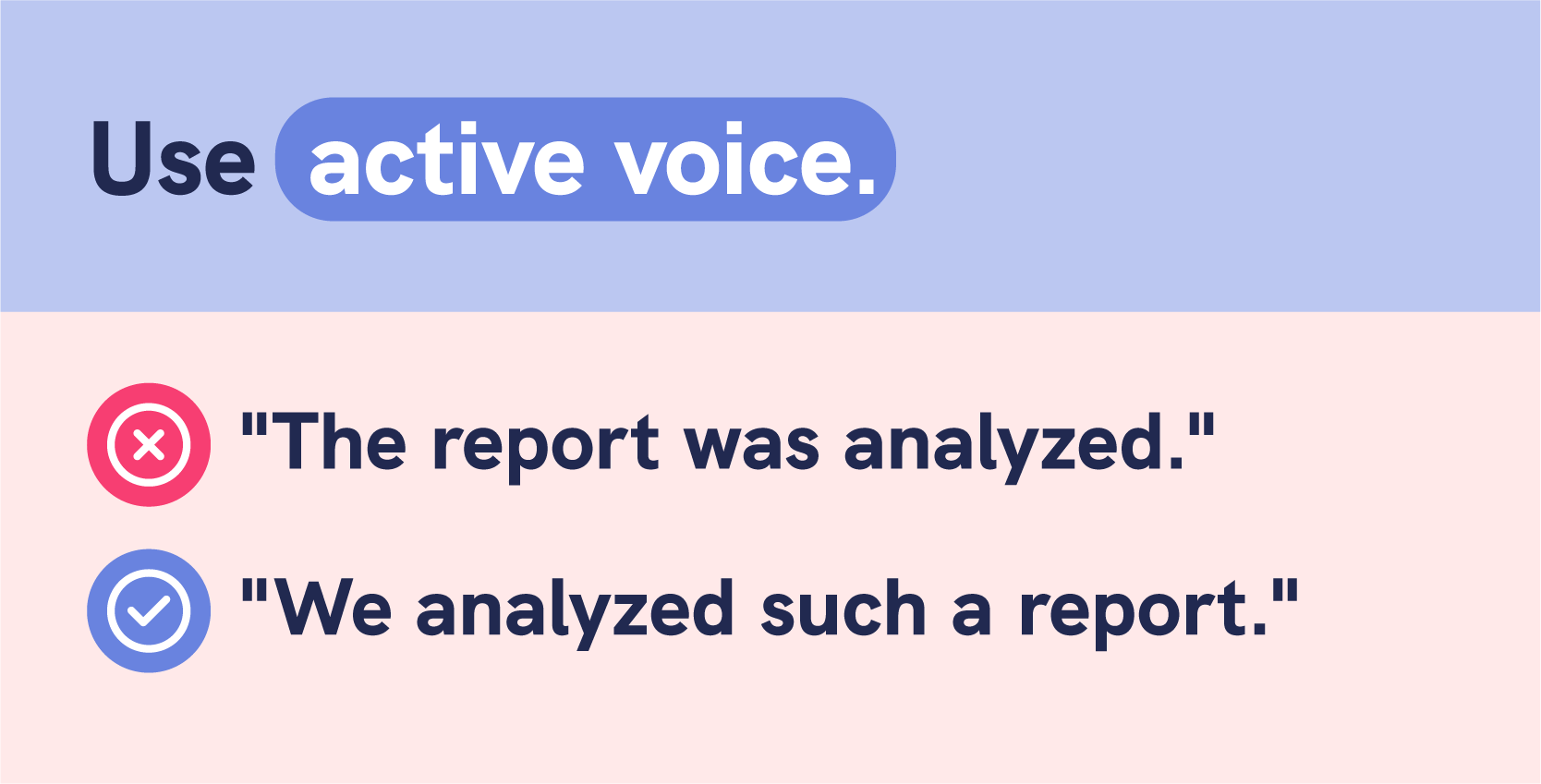 Avoid overly technical language
While some technical language may be necessary, avoid using jargon or technical terms that your readers may not be familiar with. If you must use technical terms, provide clear definitions or explanations.
Use simple, clear sentences
Avoid long, convoluted sentences that are difficult to understand. Instead, use simple, straightforward sentences that clearly communicate your ideas.
Don't use more words than necessary to convey your message. A sentence should not contain more than 20-30 words (unless you're writing a technical or academic report).
The average length of an annual report is 10,000 words (50 pages) for a smaller company and 50,000 (150 pages+) words for an enterprise. Typically, not every page contains text, as some may have more charts/tables.
Use bullet points, tables, and graphs to help convey your ideas concisely.
Use appropriate tone
The tone of your report should be professional and objective. Avoid using emotional language or language that is overly informal.
For example, "I'm totally excited to announce that our new product is going to blow the competition out of the water! It's absolutely amazing and customers are going to love it."
This sentence uses informal language ("totally excited") and emotionally charged language ("blow the competition out of the water," "absolutely amazing," "customers are going to love it") that may not be appropriate for a business report.
Ultimately, the language you use in your business reports should be tailored to your audience and the purpose of the most professional business report itself. Consider who will be reading the formal business report and what information they need to know, and adjust your language accordingly.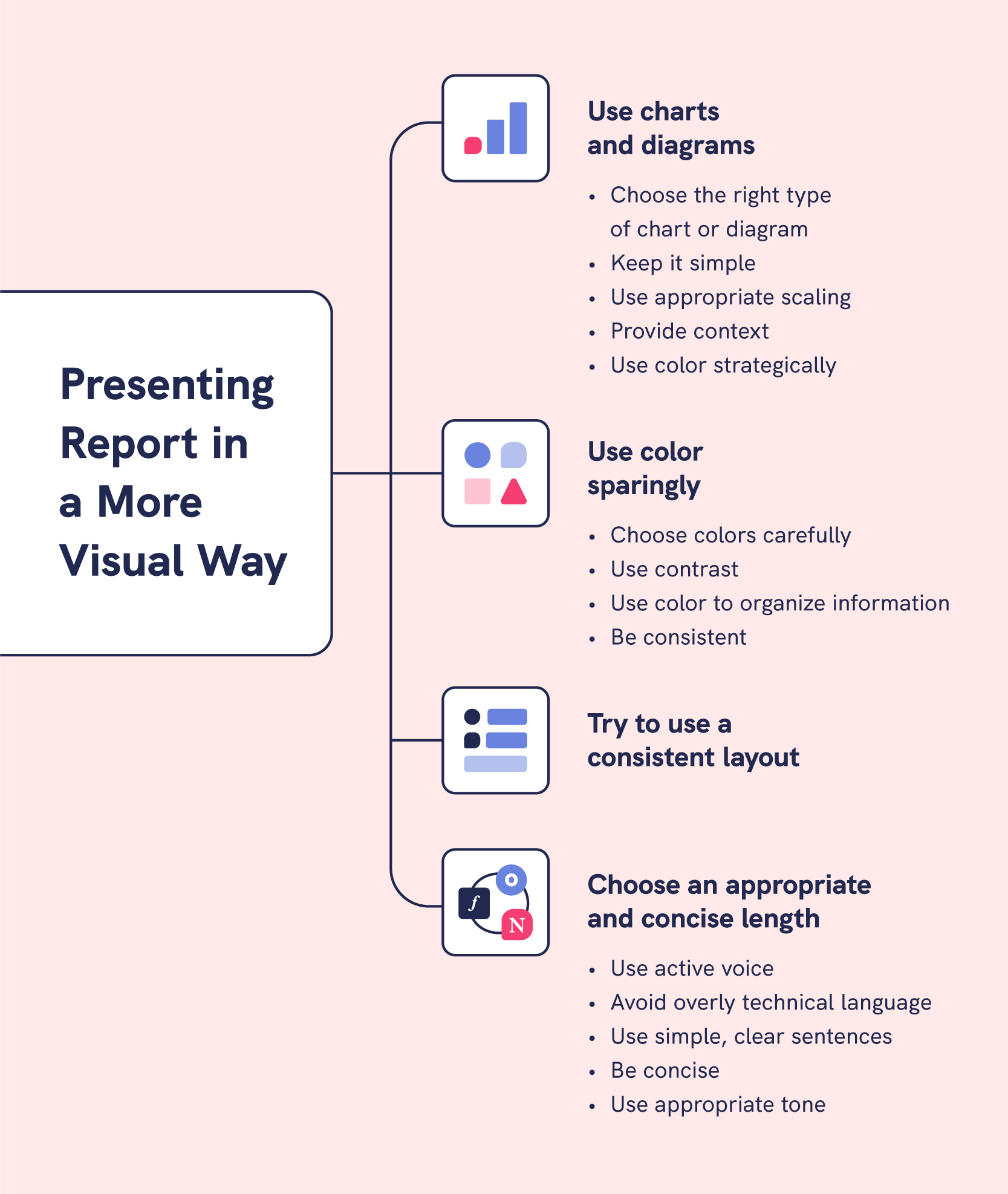 For more information, you can check out a step by step guide to create your business report sample. You can also browse our template gallery and select a template to get started.
Visualize Your Business Reports
Check out Piktochart's business report template gallery to get you started!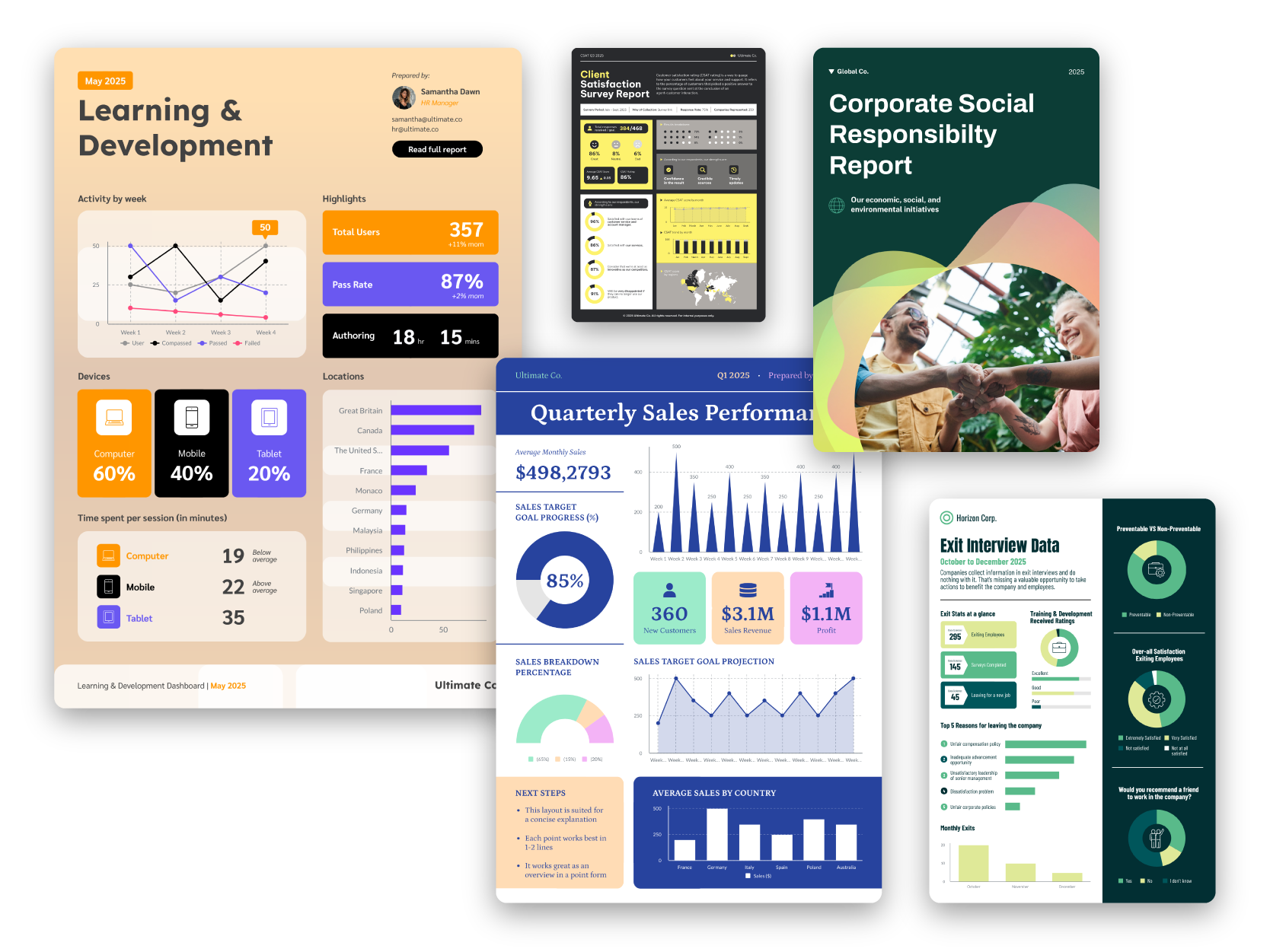 CTA: Check out Piktochart's business report template gallery to get you started! https://piktochart.com/templates/reports/
Natasya is the Head of Communication Designer at Piktochart and a Design Mentor at ADPList. With a passion for design and leadership, she shares insightful one-page sketches on LinkedIn. Follow Natasya on LinkedIn .
Other Posts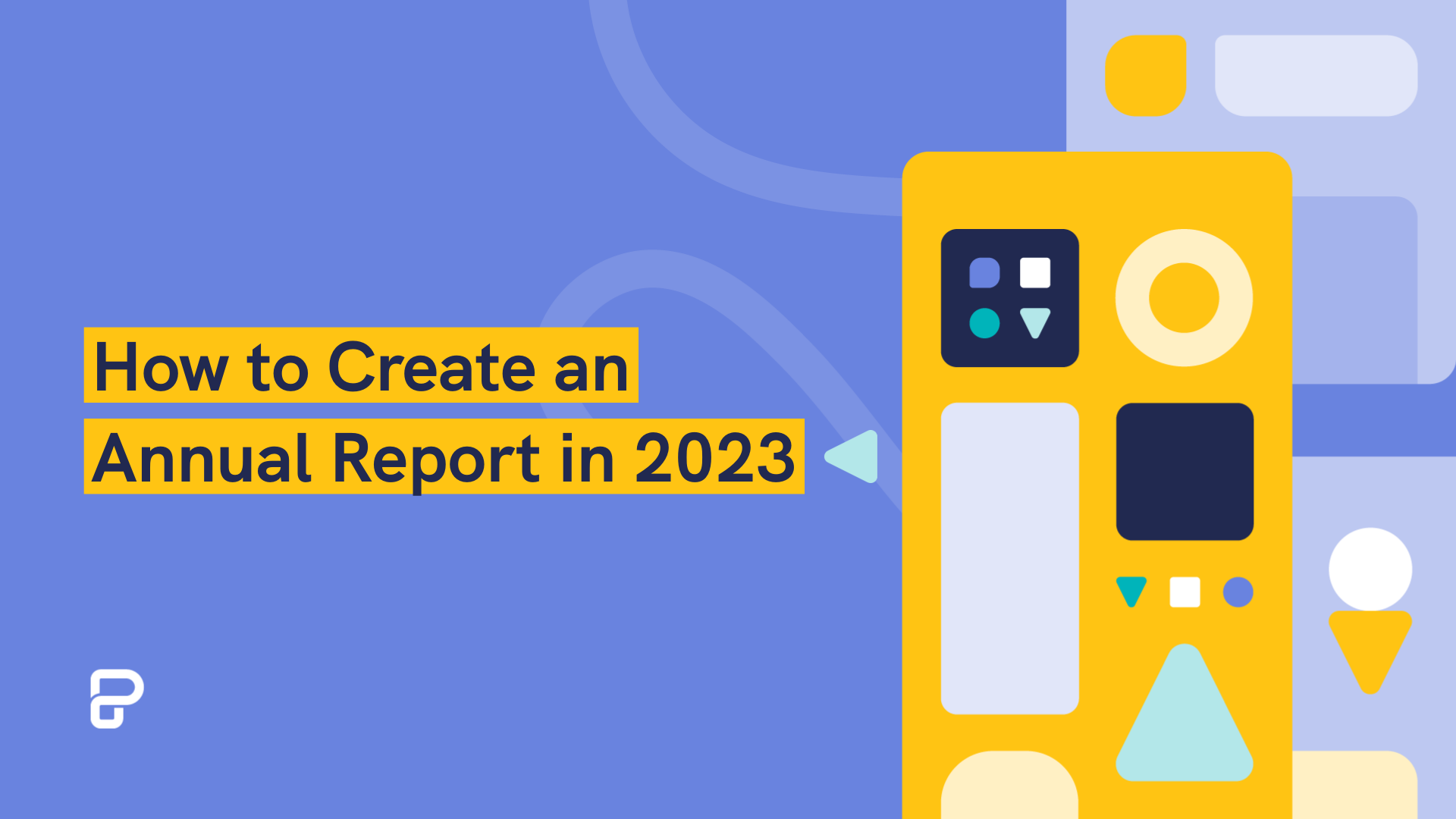 Communications
How to Create an Annual Report in 2023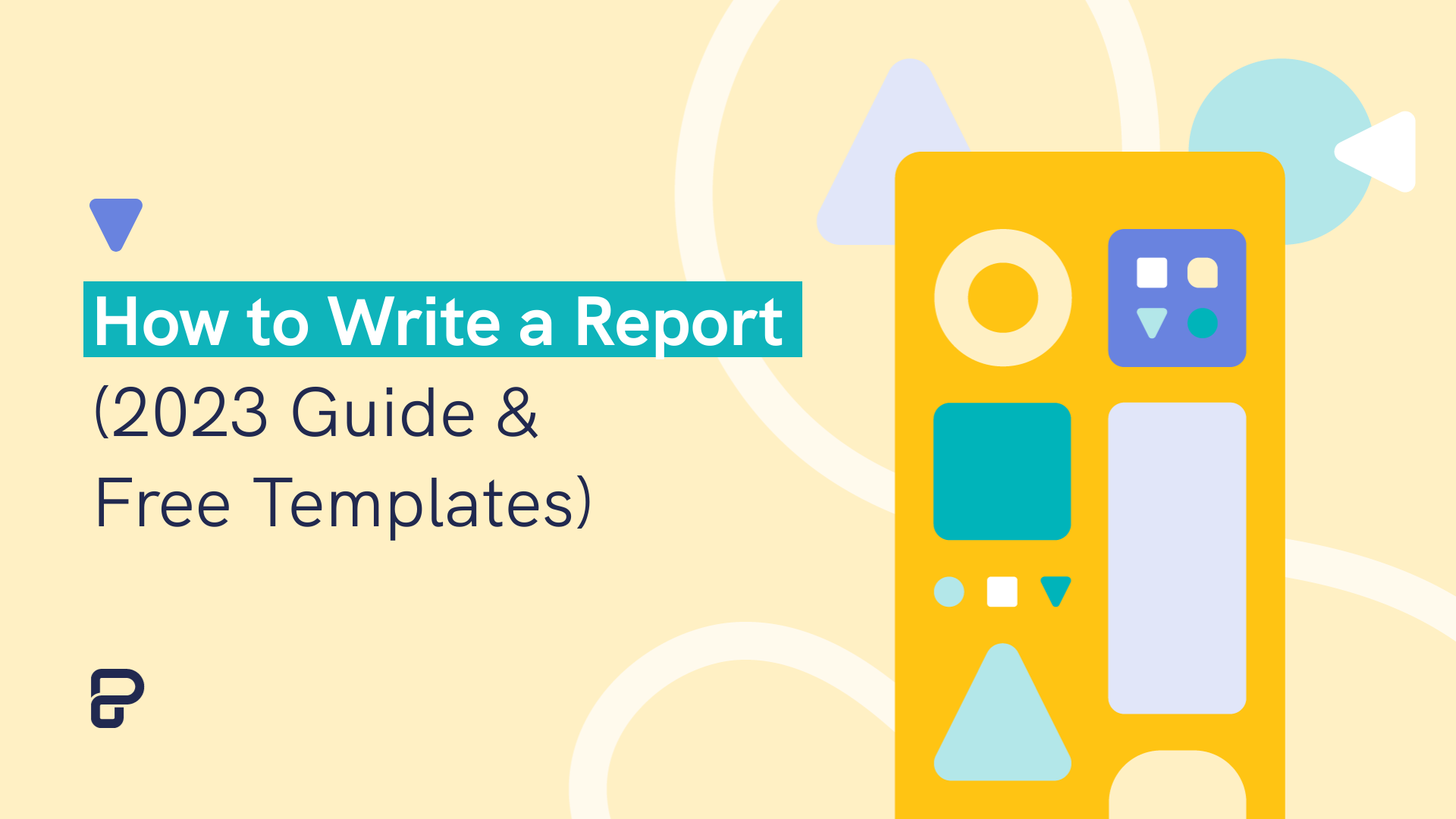 How to Write a Report (2023 Guide & Free Templates)
20 Types of Reports and When to Use Them (Plus Templates)
Do you want to be part of these success stories, join more than 11 million who already use piktochart to craft visual stories that stick..
How to Write a Business Report: A Step By Step Guide with Examples
Table of contents
With so much experience under your belt, you already know a lot about business reporting.
So, we don't want to waste your time pointing out the obvious because we know what you need.
Secrets. Tricks. Best practices.
The answer to how to write a mind-blowing business report that you don't need to spend hours and days writing.
A business report that will immediately allow you to identify your strengths and weaknesses.
A report that'll help you learn more about your business and do more accurate forecasting and planning for the future.
We believe we have just that right here.
With this comprehensive guide, you'll create effective sales, analytical, and informative business reports (and business dashboards ) that will help you improve your strategies, achieve your goals, and grow your business.
So, let's dive in.
What Is a Business Report?
Importance of creating business reports, types of business reports, what should be included in a business report, how to write a business report: an 11-step guide.
Although there's a variety of business reports that differ in many aspects, in short, a business report definition would be the following:
A business report is an informative document that contains important data such as facts, analyses, research findings, and statistics about a business with the goal to make this information accessible to people within a company.
Their main purpose is to facilitate the decision-making process related to the future of the business, as well as to maintain effective communication between people who create the reports and those they report to.
A good business report is concise and well-organized, looks professional, and displays the relevant data you can act on. The point is to reflect upon what you've achieved so far (typically, over the past month, quarter or year) and to use the data to create a new strategy or adjust the current one to reach even more business goals.
Business reports should be objective and based on the data. When stating the facts, people rely on numbers rather than giving descriptions. For instance, instead of saying "our conversion rate skyrocketed", you would display the exact percentages that back up that claim.
Business reporting matters for several reasons, among which the most important ones are:
Recognizing Opportunities to Grow
Detecting issues and solving them quickly, evaluating a potential partner, having a paper trail, keeping things transparent for the stakeholders, setting new company goals.
In fact, over half of the companies that contributed to Databox's state of business reporting research confirmed that regular monitoring and reporting brought them significant concrete benefits.
If you never look back at what you've achieved, you can't figure out what you've done well and what you can leverage in the future for even better results.
When you analyze a specific aspect of your business over a specific time period and present the data you gathered in a report, you can detect an opportunity to grow more easily because you have all the information in one place and organized neatly.
Is it time to introduce new products or services? Is there a way to enhance your marketing strategy? Prepare a report. Can you optimize your finances? Write a financial business report . Whatever decision you need to make, it's easier when you base it on a report.
Reports are essential for crisis management because they can introduce a sense of calmness into your team. Putting everything on paper makes it easier to encompass all the relevant information and when you know all the facts, you can make a more accurate and effective decision about what to do next.
Writing business reports regularly will also help you identify potential issues or risks and act timely to prevent damage and stop it from escalating. That's why monthly reporting is better than doing it only once a year.
Having an insight into your finances , operations and other business aspects more regularly allows you to have better control over them and mitigate potential risks more effectively.
Different types of business reports may be accessible to the general public. And if they're not, specific situations may require a company to send them over to the person requesting them. That may happen if you're considering a partnership with another company. Before making the final decision, you should learn about their financial health as every partnership poses a certain risk for your finances and/or reputation. Will this decision be profitable?
Having an insight into a company's business report helps you establish vital business relationships. And it goes the other way around – any potential partner can request that you pull a business report for them to see, so writing business reports can help you prove you're a suitable business partner.
In business, and especially in large companies, it's easy to misplace information when it's communicated verbally. Having a written report about any aspect of your business doesn't only prevent you from losing important data, but it also helps you keep records so you can return to them at any given moment and use them in the future.
That's why it's always good to have a paper trail of anything important you want to share with colleagues, managers, clients, or investors. Nowadays, of course, it doesn't have to literally be a paper trail, since we keep the data in electronic form.
Writing business reports helps you keep things transparent for the stakeholders, which is the foundation of efficient communication between these two sides.
You typically need to report to different people – sometimes they're your managers, sometimes they're a client. But your company's stakeholders will also require an insight into the performance of your business, and relying on reports will help you maintain favorable business relationships. A business report shows you clearly how your company is performing and there isn't room for manipulation.
Once you set business goals and the KPIs that help you track your progress towards them, you should remember they're not set in stone. From time to time, you'll need to revisit your goals and critical metrics and determine whether they're still relevant.
When you write a business report and go through it with your team members or managers, you have a chance to do just that and determine if you're efficient in reaching your goals. Sometimes, new insights will come up while writing these reports and help you identify new objectives that may have emerged.
Depending on your goals and needs, you'll be writing different types of business reports. Here are five basic types of business reports .
Informational Report
Analytical report, research report, explanatory report, progress report.
Informational reports provide you with strictly objective data without getting into the details, such as explaining why something happened or what the result may be – just pure facts.
An example of this type of business report is a statement where you describe a department within your company: the report contains the list of people working in this department, what their titles are, and what they're responsible for.
Another example related to a company's website could look like this Google Analytics website traffic engagement report . As we explained above, this report shows objective data without getting too much into the details, so in this case, just the most important website engagement metrics such as average session duration, bounce rate, sessions, sessions by channel, and so on. Overall, you can use this report to monitor your website traffic, see which keywords are most successful, or how many returning users you have, but without further, in-depth analysis.
Analytical reports help you understand the data you've collected and plan for the future based on these insights. You can't make business decisions based on facts only, so analytical reports are crucial for the decision-making process.
This type of business report is commonly used for sales forecasting. For instance, if you write a report where you identify a drop or an increase in sales, you'll want to find out why it happened. This HubSpot's sales analytics report is a good example of what metrics should be included in such a report, like average revenue per new client or average time to close the deal. You can find more web analytics dashboard examples here.
From these business reports, you can find out if you will reach your goals by implementing your current strategy or if you need to make adjustments.
Research is critical when you're about to introduce a change to your business. Whether it's a new strategy or a new partner, you need an extensive report to have an overview of all important details. These reports usually analyze new target markets and competition, and contain a lot of statistical data.
While not the same, here is an example of an ecommerce dashboard that could help track each part of a campaign in detail, no matter whether you are launching a new product, testing a new strategy, and similar. Similar to a research report, it contains key data on your audience (target market), shows your top-selling products, conversion rate and more. If you are an online store owner who is using paid ads, you can rely on this report to monitor key online sales stats in line with Facebook Ads and Google Analytics. See more ecommerce dashboards here.
As you might guess from its name, you write the explanatory report when it's necessary for you to explain a specific situation or a project you've done to your team members. It's important to write this report in a way that everyone will be able to understand.
Explanatory reports include elements like research results, reasons and goals of the research, facts, methodology, and more. While not exactly an explanatory report, this example of a HubSpot marketing drilldown report is the closest thing to it, as it helps marketers drill into an individual landing page performance, and identify how good their best landing pages are at converting, or which ones have the best performance.
A progress report is actually an update for your manager or client – it informs them about where you stand at the moment and how things are going. It's like a checkpoint on your way towards your goal.
These reports may be the least demanding to write since you don't need to do comprehensive research before submitting them. You just need to sum up your progress up to the point when the report was requested. This business report may include your current results, the strategy you're implementing, the obstacles you've come across, etc. If this is a marketing progress report you can use marketing report templates to provide a more comprehensive overview.
In many companies, progress reports are done on a weekly or even daily basis. Here is an example of a daily sales report from Databox. HubSpot users can rely on this sales rep drilldown business report to see how individual each sales rep is performing and measure performance against goals. Browse through all our KPI dashboards here.
What does a great business report look like? If you're not sure what sections your report should have, you'll learn what to include in the following lines.
Business Report Formatting
Different types of reports require different lengths and structures, so your business report format may depend on what elements your report needs to have. For example, progress reports are typically pretty simple, while analytical or explanatory reports are a different story.
However, most reports will start with a title and a table of contents, so the person reading the report knows what to expect. Then, add a summary and move on to the introduction. After you've written the body and the conclusion, don't forget to include suggestions based on your findings that will help your team create an actionable plan as you move forward.
After that, list the references you used while creating the report, and attach any additional documents or images that can help the person reading the report understand it better.
This outline may vary depending on what kind of report you're writing. Short business reports may not need a table of contents, and informative reports won't contain any analyses. Also, less formal reports don't need to follow a strict structure in every situation.
Business Report Contents
When it comes to the contents of your report, keep in mind the person who's going to read it and try to balance between including all the relevant information, but not overwhelming the reader with too many details.
The introduction to the report should state the reason why you're writing it, and what its main goal is. Also, mention what methodology and reporting software you've used, if applicable.
The body of the report is where you'll expose all your key findings, explain your methodology, share the important data and statistics, and present your results and conclusion.
The conclusion , similarly to the summary you'll add at the beginning of the report, briefly singles out the most important points and findings of the report.
If you decide to include more sections like recommendations, this is where you'll suggest the next steps your team or the company may want to take to improve the results or take advantage of them if they're favorable.
PRO TIP: Are You Tracking the Right Metrics for Your SaaS Company?
As a SaaS business leader, there's no shortage of metrics you could be monitoring, but the real question is, which metrics should you be paying most attention to? To monitor the health of your SaaS business, you want to identify any obstacles to growth and determine which elements of your growth strategy require improvements. To do that, you can track the following key metrics in a convenient dashboard with data from Profitwell:
Recurring Revenue. See the portion of your company's revenue that is expected to grow month-over-month.
MRR overview. View the different contributions to and losses from MRR from different kinds of customer engagements.
Customer overview . View the total number of clients your company has at any given point in time and the gains and losses from different customer transactions.
Growth Overview . Summarize all of the different kinds of customer transactions and their impact on revenue growth.
Churn overview. Measure the number and percentage of customers or subscribers you lost during a given time period.
If you want to track these in ProfitWell, you can do it easily by building a plug-and-play dashboard that takes your customer data from ProfitWell and automatically visualizes the right metrics to allow you to monitor your SaaS revenue performance at a glance.
You can easily set it up in just a few clicks – no coding required.
To set up the dashboard, follow these 3 simple steps:
Step 1: Get the template
Step 2: Connect your Profitwell account with Databox.
Step 3: Watch your dashboard populate in seconds.
Note : Other than text, make sure you include images, graphs, charts, and tables. These elements will make your report more readable and illustrate your points.
Whether you're writing a specific type of business report for the first time or you simply want to improve the quality of your reports, make sure you follow this comprehensive guide to writing an effective business report.
Do Your Research
Create an Outline
Determine Formatting Guidelines
Think of an Engaging Title
Write the Introduction
Divide the Body of the Report into Sections
Choose Illustrations
Conclude Effectively
Gather Additional Documentation
Add a Summary
Proofread Your Work
Step 1: Do Your Research
A well-planned report is a job half done. That means you need to do research before you start writing: you need to know who you're writing for and how much they know about the topic of your report. You need to explore the best business dashboard software and templates you can use for your report.
Also, if you believe you will need additional resources and documents to add in the appendix, you should do it during this phase of report writing.
Step 2: Create an Outline
Once you've gathered the resources, it's time to plan the report. Before you start writing, create an outline that will help you stick to the right structure. A business report is complex writing in which you can get lost very easily if you don't have a clear plan.
Moreover, the report shouldn't be complicated to read, so sticking to a plan will allow you to keep it concise and clear, without straying from the topic.
Step 3: Determine Formatting Guidelines
Most companies have their in-house formatting that every official document has to follow. If you're not sure if such rules exist in your company, it's time you checked with your managers.
If there arent' any guidelines regarding formatting, make sure you set your own rules to make the report look professional. Choose a simple and readable format and make sure it supports all the symbols you may need to use in the report. Set up proper headings, spacing, and all the other elements you may need in Word or Google Docs.
Pro tip: Google Docs may be easier to share with people who are supposed to read your business report.
Step 4: Think of an Engaging Title
Even if you're writing a formal business report, the title should be clear and engaging. Reports are typically considered dull as they're a part of official business documentation, but there's no reason why you can't make them interesting to read. Your title should suit the report topic and be in different font size so the reader can recognize it's a title. Underneath the title, you should add the name of the author of the report.
Step 5: Write the Introduction
A good introductory paragraph for a business report should explain to the reader why you've written the report. Use the introduction to provide a bit of background on the report's topic and mention the past results if there's been a significant improvement since your last report.
Step 6: Divide the Body of the Report into Sections
As this will be the most comprehensive part of your report, make sure you separate the data into logical sections. Your report is supposed to tell a story about your business, and these sections (such as methodology, hypothesis, survey, findings, and more) will help the data look well-organized and easy to read.
Step 7: Choose Illustrations
Of course, each of these sections should be followed with charts, graphs, tables, or other illustrations that help you make a point. Survey results are typically best displayed in pie charts and graphs, and these enable the reader to visualize the data better. From the formatting point of view, breaking the long text sections with illustrations makes the report more readable.
Pro tip: Using centralized dashboard solutions like Databox can bring your reporting game to the next level. Sign up for a forever-free trial now to see how you can use Databox to track and visualize performance easier than ever before .
Step 8: Conclude Effectively
Finish your report with a to-the-point conclusion that will highlight all the main data from the report. Make sure it's not too long, as it's supposed to be a summary of the body of the report. In case you don't want to add a specific section for recommendations, this is where you can include them, along with your assessments.
Step 9: Gather Additional Documentation
If you've determined what additional documents, images, surveys, or other attachments you may need for your report, now is the time to collect them. Request access to those you may not be able to get on time, so you have everything you need by the deadline. Copy the documents you can use in the original form, and scan the documents you need in electronic format.
Step 10: Add a Summary
The summary is usually at the top of the report, but it's actually something you should write after your report is completed. Only then will you know exactly what your most relevant information and findings are, so you can include them in this brief paragraph that summarizes your report's main points.
The summary should tell the reader about the objective of the report, the methodology used, and even mention some of the key findings and conclusions.
Step 11: Proofread Your Work
It may seem like common sense, but this final step of the process is often overlooked. Proofreading your work is how you make sure your report will look professional because errors can ruin the overall impression the reader will form about your work, no matter how great the report is.
Look for any spelling or grammatical mistakes you can fix, and if you're not sure about specific expressions or terminology, use Google to double-check it. Make sure your writing is to-the-point and clear, especially if you're writing for people who may not know the industry so well. Also, double-check the facts and numbers you've included in the report before you send it out or start your reporting meeting.
Business Report Examples (with Ready-to-Use Templates)
Here, we're sharing a few business reporting examples that you can copy, along with ready-to-use and free-to-download templates. If you don't know where to start and what to include in different types of business reports, these business report examples are a great way to get started or at least get some inspiration to create yours.
Activity Report Example
Annual report example, project status report example, financial report example, sales report example, marketing report example.
Note : Each of the business report templates shared below can be customized to fit your individual needs with our DIY Dashboard Designer . No coding or design skills are necessary.
For reporting on sales activity, HubSpot users can rely this streamlined sales activity report that includes key sales metrics, such as calls, meetings, or emails logged by owner. This way, you can easily track the number of calls, meetings, and emails for each sales rep and identify potential leaks in your sales funnel. Check all our sales team activity dashboards here. Or if you are looking for dashboards that track general sales performance, browse through all Databox sales dashboards here.
If you're preparing for annual reporting, you will benefit from choosing this HubSpot annual performance report . It contains all the relevant metrics, such as email and landing page performance, new contacts, top blog posts by page views, and more. See all our performance dashboard templates here.
Project status reports can be very similar to progress reports. If you're in need of one of those, here's an example of a Project overview dashboard from Harvest that shows that can help you create simple, but well-organized report based on metrics that matter: hours tracked, billable hours, billable amount split by team members., and more. Check out more project management dashboard templates we offer here.
Are you creating a financial report? You will find this QuickBooks + HubSpot integration a great choice for a financial performance dashboard that makes creating a report simple. This dashboard focuses on the essential financial report
ting metrics and answers all your revenue-related questions. See all Databox financial dashboards here.
If you're tracking your sales team's monthly performance, this sales report template will help you prepare an outstanding report. Check out all the vital productivity KPIs, track your progress towards your goals, and understand well how your current sales pipeline is performing. See all sales performance dashboards we have available here.
Marketing reports can be easily prepared by using this monthly marketing report template . With HubSpot's reporting, you can determine where your website traffic is coming from, how your landing pages and specific blog posts are performing, and how successful your email campaigns are. Browse all Databox marketing dashboards or marketing report examples here.
Create a Professional Business Report in No Time with Databox
Does creating a business report still sound like a daunting task? It doesn't have to be with Databox.
In times when we're all trying to save our time and energy for things that matter rather than scattering valuable resources on tedious, repetitive tasks, it's critical to optimize your business process. And we want to help you do just that.
Using a business reporting dashboard enables you to track data from all the different tools you're using – but in one place. With Databox, you can monitor and report on performance in a single dashboard that is optimized for all your favorite devices and you can create streamlined and beautiful dashboards even if you are not that tech-savvy. (no coding or design skills are required).
Automating business reporting has never been easier. And with Databox, you can do exactly that in just a few clicks. Sign up now and get your first 3 business dashboards for free.
Get practical strategies that drive consistent growth
How to Write Data Analysis Reports in 9 Easy Steps
How to write an informal business report.
How to Do an SEO Competitive Analysis: A Step-by-Step Guide
Latest from our blog
How to Write Data Analysis Reports in 9 Easy Steps November 30, 2023
How to Write an Informal Business Report November 30, 2023
Popular Blog Posts
What is a KPI?
SMART Goal Tracker
Marketing Report Templates
Google Analytics Dashboards
Google Search Console SEO
Website Performance Metrics
SaaS Metrics
Google Analytics KPIs
Business Dashboards
Dashboard Integrations
Dashboard Examples
Calculate Metrics
Build Dashboards
Dashboard Reporting
Metric Tracking
Goal Tracking
KPI Scorecards
Desktop, Mobile & TV
More Features
TV Dashboards
Mobile Dashboards
Dashboard Snapshots in Slack
White Label Dashboards
Client Reporting
POPULAR DASHBOARD EXAMPLES & TEMPLATES
Marketing Dashboards
Sales Dashboards
Customer Support Dashboards
Ecommerce Dashboards
Project Management Dashboards
Financial Dashboards
SaaS Dashboards
Software Development Dashboards
Databox vs. Tableau
Databox vs. Google Looker Studio
Databox vs. Klipfolio Klips
Databox vs. Power BI
Databox vs. Whatagraph
Databox vs. AgencyAnalytics
Culture & Careers
Product & Engineering teams
Junior Playmaker Internship
Talent Resource Center
We're Hiring!
Affiliate Program
System status
Case studies
Help Center
API Documentation
Start a Chat

24 Types of Business Reports With Samples & Writing Structure
Table of Contents
Reports are a crucial form of communication for any business. But what's more important is preparing the right kind of report for the right cause.
Most people are not aware of the different types of business reports used in business communication along with their use cases.
Luckily this guide will help you out in increasing your awareness. Along with other reporting aspects such as its importance, characteristics and structure. But before that..
Overview of a Business Report?
A business report is a formal document used to communicate information in a systematic manner. The information includes statistics, facts, research analysis, arguments, recommendations, etc.
The content of a business report is unbiased and factual. It is presented in an orderly structure within a specific format. Business communication report writing serves as a way to bridge the gap between the lower and top levels of management. There are different types of business reports used for evaluating, reviewing, and analyzing specific events.
Must Read: Check out our detailed guide on, what is a business report, how to write one with examples
Characteristics of report writing are:
Reports must be accurate.
The information presented is clear and precise.
Relevant information such as facts and figures.
Written in an unambiguous style with simple language 
Business reports are objective and logical 
Related Reading: Characteristics And Features of a Good Business Report
Classification of business reports:  
A business report can be categorized in many forms depending on the need and requirement. The classification of the report helps set the right expectations and objectives for the business. Reports can be classified under 6 forms, 
1) On the basis of function: Reports are categorized in terms of functions, as they can be used to inform and analyze. 
2) On the basis of frequency & importance: Reports are prepared to be transmitted on a daily, weekly monthly, and annual basis. Some reports are needed on daily basis for moving with the regular operations of the company. 
3) On the basis of subject matter: Business reports are associated with specific business operations, and discuss the subject matter. 
4) On the basis of the level of formality: Business reports are also classified on the basis of formality and the tone used by the writer. At times reports can be prepared to communicate with a colleague using a conversational tone which represents an informal context in nature. 
5) On the basis of length:  Business reports range by length and the amount of information they provide. Short can be of few pages compared with a long report that provides a deeper analysis. 
6) On the basis of purpose: Some kind of business reports are prepared to achieve specific objectives. 
7) On the basis of the reader-writer relationship: Business reports can be prepared for the internal management team as well as for the people having a direct interest in the company. They are rather called external stakeholders.
8) On the basis of communication medium:  The report can also be categorized in the manner in which the report is presented. Such as oral reports, written reports, etc
24 Different Types of Business Reports used by Organization
->on the basis of frequency or importance.
The reports that fall under this category are routine reports and special reports.
1) Routine Report: A routine report is prepared at specific intervals or as a routine activity. The frequency of these reports can be daily, weekly, monthly, etc.
Examples of Routine Report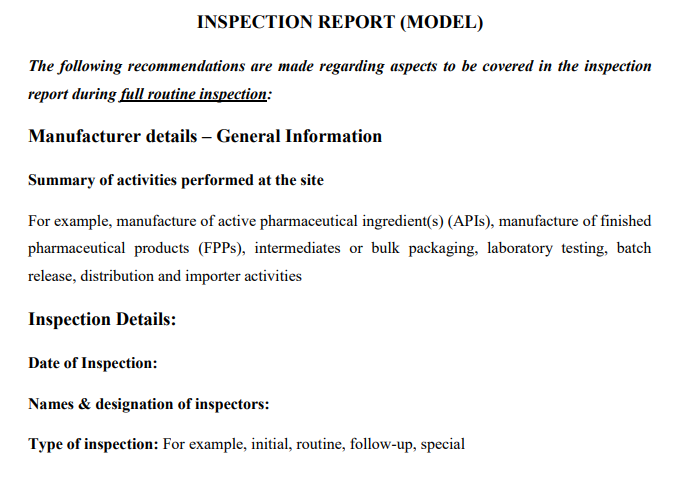 The above image is a real demonstration of a routine inspection report prepaired for a manufacturing firm with an inspection date and type of inspection inducted.
2) Non-routine: The organization prepares non-routine reports on special occasions. That is why non-routine reports are not required by the management on a daily basis and belong to special nature.
There are various kinds of non-routine reports for example Interview reports, Exception reports, Staff reports, etc are some of them.
3) Special Report: This kind of report is prepared for the management on special requests for a specific purpose. Typically, these kinds of reports include the recommendations and views of the report writer based on factual information.
->On the basis of legal formalities
These reports are used for legal activities and business obligations. They include:
3) Formal Report: A formal report is prepared in a predetermined and structured format. It focuses on deep detail and objectivity. No personal pronouns are used in this type of report.
Example of Formal Report
The above image is an example of real formal report drafted on the topic "Effect of stress on Business Employess" with introduction, statement of the problem and significance of the study.
4) Informal Report: An informal report is prepared in a letter or memo format. Usually, the informal business report consists of three elements that include an introduction, a body, and a conclusion. It uses casual language and can be addressed directly to the concerned person.  
Example of Informal Report 
The above image is an real example of  informal report written for top management, recommending the suitbale product for the company after comparing two differnt software.
Related Reading : Difference between formal report and informal report
5) Statutory Report: These are required by the law to be provided by a large company. The information provided includes share allotments, cash receipts, details of company board members, contact information, etc.
6) Non-Statutory Report: A non-statutory report is not required under the provisions of the law. However, it is used by the board of directors of a company to make important decisions. These reports are prepared for submission to shareholders, directors, committees, and employers.
->On the basis of function
Functional reports include the following types of reports in business:
7) Informational Report: An informational report is an objective report that only mentions facts without detailed explanations. Some examples of informational reports are attendance reports, annual budgets, and employee roles in the company. etc.
8) Analytical Report: This kind of business report is necessary for important decisions made by a company. It evaluates a company's current standing and presents relevant conclusions, solutions, and suggestions. Examples – are scientific reports and employee appraisal reports .
The difference between an Analytical report and Informational report  Informational business reports are created for informing the reader about the current facts and data. The creator of the report collects, organizes, and represents the data without any interpretation. Informational reports can be prepared in a standardized format, such as a company Annual report as well as using an information tone.    Whereas an analytical report provides a details analysis of the information and data shared. The purpose of the analytical report is to explore the problem, evaluate the right solution, and provide justifiable recommendations.  Information provided in the analytical report is supported with the help of, graphs, statistics, and illustrations.
Just like any other business report type, an Analytical report consist of three main parts. 
The Front Matter 
The Body Matter 
The End Matter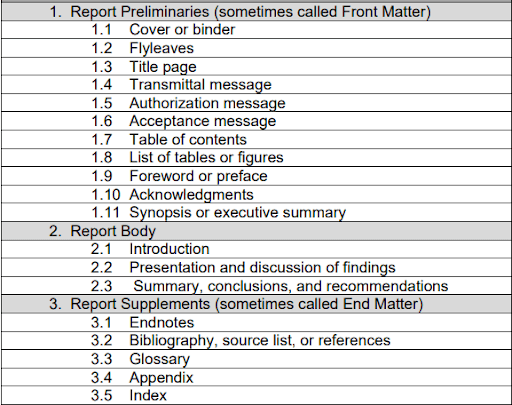 The above image represents part of the Analytical report in three structured formats. These include Report preliminaries , Report bodies , and Report supplements .
9) Progress Report: A progress report is used to track the development of a company. It follows progress being made in accordance with the goals set. This type of report can be daily, weekly, monthly, etc, and is used to track tasks from different departments.
Example of Progress Report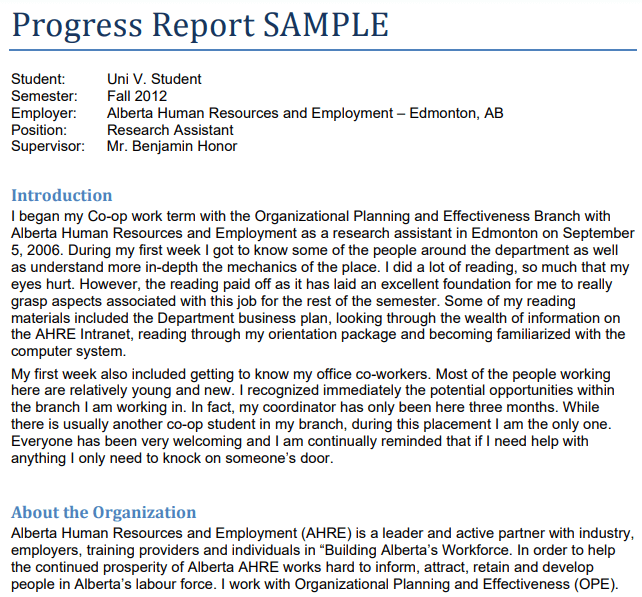 The above image is an sample of progress report prepaired by a student as a research assistant in a company.
10) Vertical Report: A vertical report follows a hierarchical structure with up or down movement within a company. It could be for the managers in an upward motion or mentees in a downward motion.
11) Lateral Report: On the other hand, lateral reports move from side to side. This report is shared between the same or similar departments of an organization. This helps in coordination and working on tasks in unison.
12) Recommendation report: Also referred to as justification report is prepared to provide useful recommendations to the management. The recommendation can be in the form of factual data that can help to solve complex problems.
The main purpose of the recommendation report is to assist in decision-making. It aims at solving specific problems with a recommended plan of action. Moreover, the report can also provide justification for management action. Such as justification for expansion, hiring new staff, purchasing assets, etc. 
13) Feasibility report: This type of business report helps in validating the recommended alternatives present in the report. For any business, it is important to predict the outcome of the plan of action prepared.
Hence the basic purpose of a feasibility report is to help businesses make a corrective plan of action that facilitates decision-making. The writer of the report has to draft some major points within the report that is:
The description of the writer's decision. 
The problem addressed in the report,
The reason for implementing the suggestion and the side effects.
The resource required to implement the solution majorly, the time, and the cost. 
14) Yardstick report: The yardstick report is for comparing and finding the right solution for the business. The term Yardstick refers to side-by-side comparison and framing analysis based on available data.
It helps business to validate multiple alternatives for solving problems and chose the best alternative as a plan of action. The essential of the Yardstick report includes: 
The problem statement with a brief description. 
The possible alternatives for solving the problems. 
The criteria to validate the multiple alternatives.
The final conclusion with the selected alternatives. 
->On the basis of length
There are various types of business reports that are lengthy and detailed, while others are short and concise. They are: 
12) Long Report: These reports are written in a formal manner and consist of multiple pages. The content is heavily detailed and focuses on a wide range of data collected through investigation and research.
13) Short Report: As the name suggests, short reports are compact and concise. They are written in an informal manner, usually in the form of a letter or memorandum. Short reports can directly be addressed to the manager and do not require detailed information.
Template of Short Report
Related Readings: Short Report In Business Communication: (Format and Types Included)
->On the basis of purpose
These reports are written to carry out a specific objective. They include:
14) Research Report: A research report is the most detailed type of business reporting for any enterprise. It is made when a company wants to try something new or expand into a new geographical location.
It is made up of all the data collected by researchers and specialists. This includes market research, in-field studies, experiments, census, etc.
15) Explanatory Report: An explanatory report is written to explain a specific topic of interest to its readers. It is written in a clear and formal way which is easy to understand. Explanatory reports can be used to explain the findings of a research report. 
-> On the basis of the subject matter
16) Sales report: The sales report is a special draft prepared to maintain records in a systematic manner. For any business, organization sales are one of the important functions.
There are many types of sales reports such as Call reports, expense reports , sales work plan reports, loss sales reports, etc. A record of sales should be maintained in order to measure the actual performance of the business. 
Therefore sales report is prepared to evaluate crucial information related to sales. It holds information about the total number of sales during the financial year, the type of unit sold, the number of new customers, the cost of goods sold, etc. The creator of the sales report should keep the essentials in check, including 
The report should be concise with important information mentioned clearly. 
The report should include complete information about the sales recorded in the financial year. 
The data and facts should be accurate with no marginal error. 
17) Market survey report: As the name suggests a market survey report is a collection of primary data collected from companies' targeted regions. It includes feedback from a potential customer for an upcoming new product.
A market survey business report is an essential report for business organizations as it included direct responses from consumer and help the business make crucial decisions.
The report usually contains information related to consumers' likes and dislikes, needs for the product, pricing capabilities, etc. 
Below is an outline of a market survey report, with 12 components. 
Prepared by 
Objectives 
Background information 
Target group 
Methodology 
Discussion 
Conclusion 
Limitations 
Some clear benefits of market survey reports include: 
Analyzing product-market fit : The market report contains curial information related to the target market. This helps businesses to validate the market for the new upcoming product. 
Competition analysis: While analyzing the market report, management can understand the state of competition available in the market. This helps in strategizing and building competitive frames works. 
Discovering marketing alliance : Market research reports can help businesses come up with new business partners that can help in penetrating the market. 
Identifying consumer behavior: Organizations can analyze the report data to discover similarities and differences among the target audience. Which helps in building buyers' persona for better brand visibility. 
18) Interview report: Depending on the need for the information organization may ask for an interview report. Interview reports are prepared in order to obtain primary information while conducting interviews with potential applicants.
The report also includes basic information such as the time for the interview, the venue, and the process of conducting the interview.
19) Memorandum report: These reports are informal in nature and are used to deal with daily issues and problems. They are prepared and shared with executives and colleagues who know each other. The writing style of the Memorandum report is informal thus it does not have any introductory para.
-> On the basis of the reader-writer relationship
20) Internal inquiry report: At times when a company faces internal issues related to employee advocacy, adverse incidents, and manufacturing defects.
The company needs to take necessary premises and resolve them with the help of an internal committee set. An internal inquiry report is prepared which helps the intern committee to take the necessary steps to resolve the issue. 
Features of the internal inquiry report include 
Below is the outline for Internal Enquiry Report 
Business name/ Location – 
Investigator(s) – 
Executive summary – 
Complaint summary – 
Conclusions – 
Factual background – 
Scope of the inquiry – 
Witnesses – 
Findings – 
Recommendation – 
Signature of Investigator(s) 
21) Director's report: Also referred to as the Board's report is submitted alongside the balance sheet report before the general meeting of the company. The report contains financial as well as state of affairs information about the company. 
22) Auditors reports: For managing and evaluating business performance financial reports are created. Auditors are appointed by the organization to audit the financial statements and create an audit report.
Just like the director's report the auditor's report is also attached to the balance sheet. And act as a reference point for the financial statement included. 
23) Cost audit report: The cost audit report records the cost structure of the company. It includes information related to the capital employed within the business, net profit after deducting all the expenses, disbursements of all the salaries, manufacturing costs, direct and indirect costs, etc.
The cost audit report is ordered by the central government under cost audit rule 168.
24) Staff report: As the name suggests the staff report is prepared by the department's staff and is been assigned by the department manager. The report consists of important information after analyzing a problem and provides an actionable solution.
How To Write A Business Report (Structure of Business Report)
Each part of a business report has a clear purpose. The purpose of following a format in report writing is to present information in an organized manner. This makes all types of reports in business communication easier to navigate for the reader.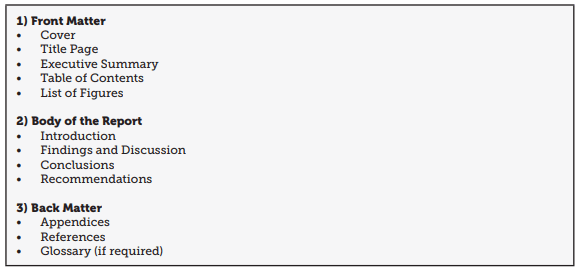 A business report contains the following elements:
1) Title Page: This informs the reader what they're about to read, and when and by who it was written.
2) Executive Summary: This is the shortened version of a report. It contains the topic, overview of data and recommendations. This is for busy managers and executives who may not have the time to go through the entire report. 
3) Table of Contents: For lengthier reports, this section lists the headings and subheadings in chronological order. The page number is mentioned along with the headings and subheadings for easier navigation.
4) Introduction: This section highlights the topics presented in a report. The reader is informed about the purpose of the report, the data collected and why it was collected.
5) Body: The body of a report is where the details come in. Depending on the type of report, this section highlights multiple sets of data and subheadings relevant to the main subject. Data can be presented using pictures, tables, graphs and charts.
6) Conclusion: This is the concluding part of a report. It is used to summarize the content found in the body of a report. 
7) Recommendations: The recommendation section is used as a call for action as to what should be done next. It is used to present solutions to issues, answer questions and justify arguments found in a report.
8) References: This section lists the sources of information found in the report. Contact info, links and locations of third-party resources can be found in this part of a business report.
9) Appendices: This is the last section of a business report. Additional documents and information such as a glossary, financial data and transcripts of interviews are listed in the appendix.
To know more check out our detail guide on structure of a business report .
Important Benefits of Business Report for an Organization 
Out of all the important characteristics of report writing , the prime one is it being a tool of communication. Reports are used to bridge the gap between different areas of a company. 
Other important benefits of business reports are:
Tracks Development: Business reports track growth history, analysis of trends and project details. This progress is tracked over a period of time. Past reports are used as reference points for working on weaknesses and improving the company's goods and services.
Duty to Stakeholders: The legal fiduciary obligations of a company to its stakeholders and government agencies also rely on written reports. Annual business reports are processed to provide a complete picture of all business activities to the concerned parties. 
Audit Trail: Reports record the history of a company's past activities. Information related to budgets, sales, meetings, etc. is all documented. This helps provide a well-organized record of the company's transactions for auditing purposes. 
Tackling Complex Situations: Different types of reports in communication are used to understand complex situations that arise in a company. These reports are used to implement strategies and offer solutions.
Coordination Among Various Levels of Management: Reports reduce the administrative distance between the three levels of management in a business. These levels are – operative, strategic and coordinative.
Related Reading: Importance of Report Writing In Business Communication
Frequently Asked Questions
Q1. what is the purpose of a business report.
Ans. The purpose of a business report is to communicate data in a clear and concise manner to managers, executives and shareholders. It is a managerial tool used for decision-making, professional advancement and conducting investigations. 
Q2. Three types of business reports?
Ans. There are many different types of business reports. Three commonly used ones are – Informational Reports, Analytical Reports and Research Reports.
Q3. What are the types of formal reports?
Types of Formal Reports are:
Annual Report
Incident Report
Situational Report
Compliance Report
Inspection Report
Safety Report
Share Your Read Share this content
Aditya Soni
You might also like.
What is Report Writing: Format, Examples, Types & Process
Informal Business Report: How To Write One With Examples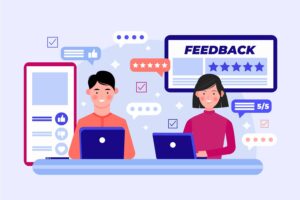 5 Best Free WordPress Feedback Plugins For 2023 (With Steps To Create)
Leave a reply cancel reply.
Save my name, email, and website in this browser for the next time I comment.
Advertising
Applications
Assessments
Certificates
Announcement
Invitations
Newsletters
Questionnaires
Food & Beverages
Recruitment
Marketing Examples
Transportation
18+ Making Daily Business Report Examples – PDF
8+ Performance Report Examples
7+ Sample Activity Reports
examine available and potential solutions to a problem, situation, or issue;
apply business and management theory to a practical situation;
demonstrate your analytical, reasoning, and evaluation skills in identifying and weighing up possible solutions and outcomes;
reach conclusions about a problem or issue;
provide recommendations for future action; and
show concise and clear communication skills. You may also see status report examples .
What Is a Formal Business Report
Sample Business Report Template
Minutes of the Business Meeting
Sample Executive Summary
Sample Report Layout
Drafting a Business Report
Deciding What Type of Report to Write
1. present an idea..
For example, you would ask the manager to use this new and up-to-date P.O.S. system instead of the ones that have been around since the restaurant first opened. Try your best to indicate on why it is needed and how it can be used to improve the business at stake. You may also like employee report examples & samples .
2. Present risks involved with a specific opportunity.
For instance, Microsoft wishes to partner up with a certain virtual reality (VR) company so that PC gamers can enjoy the immersive experience that the game has to offer. They discovered, however, that the VR company is running low on funds nearing total bankruptcy. As a result, Microsoft now has the responsibility conducting an investigation by writing a report as to discuss in-depth financial information on the VR company and its directors.
3. Present compliance information to a governing body.
4. present the feasibility of an idea or proposed project..
Can this project be completed within its budget?
Will the project be profitable?
Can this project be completed within the allotted time frame?
5. Present research found in a study.
Going back to the underground subway proposal, your study has to identify other countries or states that have successfully adapted the underground subway and see whether it will work for your area as well given the fact that there are several variables to consider. Do you think that this can solve the problem of mass transportation and pollution in the province? What are some of the downsides and ups of this project moving forward? You may also like service report examples .
6. Help a company improve its policies, products, or processes via consistent monitoring.
For instance, restaurant managers list down the weekly sales of the establishment and how much of each featured dish was sold.
7. Report on a specific situation.
One example would be on the status of Haiti after the earthquake left them devastated and destroyed. Normally, a damage report would be written.
8. Present several solutions for a problem or situation.
For instance, ABC Auto Manufacturing, Inc., wants to open a plant in Asia. The report might narrow down three country options based on the company's needs. The report would then conclude which of the three countries is the best location for the new plant. You may also check out book report examples & samples .
Butler Group Example Business Report
Humber Liberal Arts and Sciences Business Report
Massey University Center for Teaching and Learning: Business Report
Planning Your Business Report
Radio and Television Business Report
The Company Business Report
Graphic Business Report
2017 Business License Data Report Card
Writing a Business Report
1. determine your objective and format..
Regardless of the answer, you need to make your objective concise. If it is muddled, then your report will only confuse your audience, which risks damaging the report's credibility.
2. Identify your audience.
3. identify what you need to learn., 4. collect the appropriate data for your report..
Data may come internally, which means you'll be able to collect it quite quickly. Sales figures, for example, should be available from the sales department with a phone call, meaning you can receive your data and plug it into your report quickly. You might be interested in police report examples .
External data may also be available internally. If a department already performs customer analysis data collection, borrow that department's. You don't need to conduct the research on your own. This will be different for every type of business, but the writer of a business report often doesn't need to conduct firsthand research. You may also see financial report examples .
5. Organize and write the report.
One step would be to break up all important and relevant data into separate sections. Your business report should not look like a big pile of mess with random data here and there. Without organization and cohesiveness, everyone who reads it will just simply be confused. Remember that one key to the success of a well-written business report is organizing the data into separate sections. You may also see project report examples & samples .
Organize the report into appropriate section headers, which may be read through quickly as standalone research, but also supporting the basic objective of the report together.
6. Draw conclusions with specific recommendations.
Any goals should include specific, measurable actions. Write out any changes in job descriptions, schedules, or expenses necessary to implement the new plan. Each general statement should directly indicate how the new method will help to meet the goal/solution set forth in the report.
GeoPlan Persona Graphic Business Report
Example of a Business Report
2010 Seniors Week Grants Business Report
Clear Estimates Formal Proposal
Instant Search UK Business Report
7. Write the executive summary.
The  executive summary gets its name because it's likely the only thing a busy executive would read. This should only be written in just 200 to 300 words just enough to get the executive interested in the report you submitted. After all, this section is normally the make or break moment for the businessmen writing the report to get the higher ups interested.
8. Use infographics for applicable data, if necessary.
Generally speaking, visual figures are a great idea for business reports because the writing and the data itself can be a little dry. Don't go overboard though. All infographics should be relevant and necessary.
9. Cite your sources, if necessary.
Use the appropriate formatting for the citations in your report, based on your industry.
10. Proofread your report twice.
For example, don't overuse fancy words or make your sentences too wordy.
Avoid using slang.
If your report and audience are both closely tied to a specific industry, it's appropriate to use jargon or technical terms. But you have to take care to not overuse jargon and technical terms.
Generally, business writing is written in the passive voice, and this is one of the few instances where passive writing is usually better than active active writing. You might be interested in sales report examples & samples .
11. Create a table of contents.
12. package your business report., more design, 8+ feasibility report examples, 7+ activity report examples, 6+ examples of short report, 5+ project report examples, 5+ ways of writing an observation report examples, how to write a progress report, how to write an evaluation report, what should be in an executive summary of a report, how to write a short report.

Related Articles
id; ?>)" rel="noopener" role="button" tabindex="0" aria-label="postclick">56+ Examples of Report Forms
id; ?>)" rel="noopener" role="button" tabindex="0" aria-label="postclick">50+ Report Examples
We use essential cookies to make Venngage work. By clicking "Accept All Cookies", you agree to the storing of cookies on your device to enhance site navigation, analyze site usage, and assist in our marketing efforts.
Manage Cookies
Cookies and similar technologies collect certain information about how you're using our website. Some of them are essential, and without them you wouldn't be able to use Venngage. But others are optional, and you get to choose whether we use them or not.
Strictly Necessary Cookies
These cookies are always on, as they're essential for making Venngage work, and making it safe. Without these cookies, services you've asked for can't be provided.
Show cookie providers
Functionality Cookies
These cookies help us provide enhanced functionality and personalisation, and remember your settings. They may be set by us or by third party providers.
Performance Cookies
These cookies help us analyze how many people are using Venngage, where they come from and how they're using it. If you opt out of these cookies, we can't get feedback to make Venngage better for you and all our users.
Targeting Cookies
These cookies are set by our advertising partners to track your activity and show you relevant Venngage ads on other sites as you browse the internet.
Google Tag Manager
Infographics
Graphic Design
Graphs and Charts
Data Visualization
Human Resources
Training and Development
Beginner Guides
Blog Marketing
50+ Essential Business Report Examples with Templates
By Sara McGuire , May 29, 2023
Reports may not be the most exciting communication format. But they're important.
In order to make smart decisions about budgeting, marketing strategies, product development, and growth strategies, really, any part of your business, you can't rely on gut feeling alone.
That's where a lot of small businesses fail, in fact: they don't use data to validate their ideas.
And if you're trying to sway stakeholders, creating a report with a simple, elegant design and creative data visualizations is guaranteed to impress.
This guide will deliver the most essential business report templates you can edit with Venngage, plus design tips and best practices.
Top business report templates (click to jump ahead):
What is a business report.
Annual reports
Project status reports
Budget reports
Sales reports
Marketing reports
Case studies
White papers
How to create a business report in 6 steps
What are the types of business reports
Business report template FAQs
A business report is a document that delivers important information about a company's performance, financial health, a particular project, or other aspects that influence its decision-making process. Business reports come in various formats, such as PowerPoint presentations and online dashboards, offering more than just traditional files and spreadsheets. They are crucial for organizations as they provide vital details that guide decision-making for business owners and managers. They act as GPS, highlighting essential aspects like customer satisfaction, operational efficiency, and financial figures. Business reports serve different audiences and purposes, delivering information in a clear and engaging format for both internal and external stakeholders.
Want a quick rundown of some of the business report templates in this blog? Check out this video tutorial:
1. Annual Report Templates
An annual report is an all-encompassing document that allows you to reflect on your company's past year, including:
Your company's mission statement
Your company's growth (financially, product-wise, culture-wise)
Your statement of income and cash flow
Your various business segments
Information about the company's directors and executive officers
Information about your company's stock and dividends
Wins and success stories
A lot of that sounds pretty dry, doesn't it?
There's actually a lot to be excited about in that list. You're talking about how your company has grown, your wins (and maybe a few losses), and what's on the horizon for the coming year.
You can bring that story to life in your annual report design and we have business report samples to inspire you.
This annual business report example uses a variety of charts and unique sections like "program highlights" to tell the agency's story:
Think about how you can represent your company visually:
Are there photos you can include of your business in action?
What fonts and colors reflect your business's personality?
Are there icons you can use to illustrate certain concepts?
The below annual report design uses an energizing orange and yellow color scheme and cute icons. The format is highly visual and modern. All this reflects a dynamic company that's optimistic about the future.
This company annual report template uses a mountain motif to reflect the company's ambitious goals. Take a look at how the different sections of the report ("Strategy", "Finance" and "Performance") are color-coded to make the report easier to scan:
In the business report example below, the sleek, modern design with bold color accents reflects design trends in the games industry, which would appeal to stakeholders.
The same design ideas can be applied to an annual report presentation.
Take this annual report presentation for a coffee shop company. The whole design reflects the coziness of a coffee shop, from the softly filtered photos to the old-fashioned font:
A few annual report best practices:
Create an eye-catching cover for your report
Tell your company's story in your annual report design by using thematic visuals, like background images and icons
Pick a decorative font for headers and pair it with a more minimalist font for body text
Look for opportunities to visualize data using infographics , charts and pictograms
Related : Our blog post with 55+ annual report templates , plus design tips and best practices.
Return to Table of Contents
2. Project Status Report Templates
Communication is central in any project. Consultants, agencies and freelancers especially want to be as transparent as possible. That is why a project status report template is one of the business report examples we are sharing in the article.
A project status report is crucial for communicating updates on what you've accomplished and what's still pending. It also helps you flag any issues, either current or on the horizon. This helps build trust with the client.
The project status report template below communicates key information in an easy-to-understand format.
The above template lets you alert the client if the project is:
Suffering from budget or scope creep
On track in terms of schedule
Healthy or not i.e. milestones completed on schedule, issues resolved
You can add bullet points on the second page to quickly flag key issues that are impacting project success.
Related : Our post on how to write a project management plan .
Simple Project Status Report Templates
Avoid ad-hoc emails or meetings. Use a simple project status report template to present your latest work and keep everyone on the same page, without endless back and forth.
The project status report below would work well for weekly updates.
This template lets you quickly provide an overview to busy stakeholders, who'll be able to spot key project issues and progress at a glance.
Project Status Report Template PPT
Big updates might require consultants to communicate the status of a project in person. The below presentation template uses charts and data visualization to get your key points across immediately.
Clients or other stakeholders can see what's been accomplished and when, while the last slide leaves room for what's still pending.
A few project status report best practices:
Include a summary of all important tasks currently in progress. If you have a weekly meeting with the client, this section will probably serve as the jumping-off point for your conversation.
Stakeholders should be able to tell at a glance if the project is way off schedule or there are too many unresolved issues.
Document all outstanding problems and concerns. It's important to have a record in case you run into issues with the client later on.
Related : Our post with 30+ project plan examples plus design tips.
3. Budget Report Templates
This is Business 101: on a quarterly or yearly basis, you should be analyzing your budget, expenses and revenue.
A budget report typically breaks down:
The different categories of your budget
The last year or quarter's spending for each category of your budget
Areas where you may need to cut or increase spending
Forecasts for the coming year or quarter
Business Monthly Expenses Template
A full budget report is a bit too dense to pass around a room during a meeting.
But, a visually engaging presentation or one-page summary, like the business report example below, is perfect for keeping your team and stakeholders up to speed.
You can provide an overview of the last period's spending by category, and highlight the amount you saved or exceeded the budget by.
For example, take a look at this summary budget report slide that uses a thematic background image to make it more engaging:
A quick summary page is also the perfect opportunity to creatively visualize data.
While tables are certainly efficient for comparing amounts spent, you could also use a more unusual visual like a bubble chart. This is because unique visuals make memorable business report examples.
Forecast Budget Template
A forecast is an essential business report that shows where a business is headed financially. It's not a plan for the future, but rather its current short-term direction .
Use this forecast template to project your businesses' revenue, and take appropriate action.
A few budget report best practices:
Clearly label the period the report covers (monthly, quarterly, yearly)
Provide a brief description of each section of your report, to highlight important insights
Use a table to compare amounts of money saved vs. spent
Use bar charts, pie charts and bubble charts to visualize budget allotment
Highlight important insights using contrasting colors, bold fonts and icons
4. Sales Report Templates
If you aren't tracking your sales on a weekly, monthly, quarterly and yearly basis, it's time to start.
Creating a sales report for different time periods can help you identify trends, as well as an opportunity for growth. Regularly reporting on your sales can also help your team stay focused on your goals.
What should be included in a sales report?
A sales report typically covers any of the following data:
An overview of sales goals and whether or not those goals are being met
Revenue and expenses
Sales forecasts for the upcoming periods (month, quarter, year)
Products and services that are selling the most and ones that are lagging
Number of leads and conversion rates for a given period
Any challenges or roadblocks
Weekly sales report template
Consider making sales reporting a segment of your weekly team meetings. You may want to provide a quick update for company-wide meetings and a more in-depth report for sales and marketing team meetings.
Here's an example of what a quick weekly sales report could look like:
The slide simply covers the total sales for the week and compares them to previous weeks to highlight growth.
While this sales report presentation digs deeper into KPIs (key performance indicators) and conversions :
Monthly sales report template
For a monthly, quarterly or yearly sales report, you will probably want to go more in-depth into your metrics as you plan for upcoming periods.
That said, you don't want to produce a 62-page text-heavy document no one will read. Surprise your client or boss with a fresh new way of doing things that are engaging and concise. You'll differentiate yourself as an innovator.
For example, the following monthly sales report template uses a variety of charts and tables to keep the data fresh:
The below sales report template will help you visualize key sales metrics using pie charts, bar graphs and tables. The weighted text and icons help organize information in an easily digestible way.
Making your sales report easily accessible will help build your reputation as someone who's transparent and trustworthy.
A few sales report best practices:
Clearly identify the time period you are reporting on
Use descriptive section headers and include descriptions for any charts or tables that need more clarification
Provide context for readers, explain any major trends they should be aware of, any challenges your team encountered, and how the goals have been impacted
Use line charts and bar graphs to show changes over time and highlight trends
Emphasize key metrics in big, bold fonts (for example, the total sales for a given week)
Use contrasting colors to emphasize keywords or one point on a graph
Related : 5 ways to host a more successful sales demo by using images.
5. Digital Marketing Report Templates
If you're a SaaS or e-commerce business, I don't have to tell you how important digital marketing is. It's the thing that can make or break many small businesses.
In order to scale and grow your business , it's important to make informed, deliberate digital marketing decisions.
That means always looking for ways to improve your search rankings, grow your social media engagement, and optimize your ad campaigns.
A ' digital marketing report ' is a pretty broad term for a report that could be an overview of all your digital marketing channels or one particular channel.
A digital marketing report that covers all your main marketing channels could include any (or all) of the following data:
An overview of your current digital marketing strategy
Your main marketing goals and whether or not they are being met
An overview of your conversion metrics, including the number of leads, paid vs. organic leads, and your cost per conversion
An overview of your traffic metrics, organized by channel
An SEO overview , including any chhttps://growthbarseo.com/anges in rankings for target keywords
An overview of PPC campaigns you're running, including clickthrough rate, ROI and cost per click
An overview of your social media channels, including engagement metrics and leads from specific channels
For example, take a look at this digital marketing report template that dedicates one page to each channel. Note how the company's branding has also been incorporated into the design by using the brand's colors and visuals that reflect the computer theme:
Detailed marketing reports focused on multiple channels or a broad industry can get lengthy. To save time for your clients or executives reviewing your report, make navigating your business report easy. Add simple hyperlinks to your table of contents.
In the editor, select the text you'd like to turn into a link. Then click the link icon in the top bar and choose the page it needs to link to. When the document gets shared as a PDF, readers will have clickable links!
In a digital marketing report that focuses on one specific marketing channel, you will probably want to go more in-depth into each metric.
For example, in a social media report, you should cover:
A comparison of your performance on specific social media channels like Facebook, Twitter and YouTube (you could try visualizing it with a comparison infographic )
Specific engagement metrics like impressions, clicks, subscriber count, likes and comments
An overview of your followers, including demographic information like age, gender and profession
Conversion metrics from each specific social media channel
The below social media report visualizes some of these key metrics.
As a consultant, you may be gifted in social media marketing but totally flummoxed by all things design. Look better than you are by using the above template. It'll help you present your findings in a way that's effective and professional, while still managing to be playful and engaging.
If you're concerned about organizing information by channel, here's an example of a social media marketing report presentation that uses colored columns to make it easy to scan for a specific channel's metrics:
A few digital marketing report best practices:
Provide an overview of the performance of all your channels, or a particular channel
Organize your report by channel ("Organic Search", "Social Media", "PPC") or by specific campaigns/projects
If your report is long enough, include a table of content to make it easier for readers to navigate your report
Use bar charts and tables to compare your performance on different marketing channels
Use icons to emphasize key information and visualize different channels (for example, different social media networks)
Try to communicate your information concisely and focus on only one topic per page or slide
Related : Our post on what is a marketing plan and how to write and design one for maximum effectiveness.
6. Competitor Analysis Templates
Get the attention of marketers with a competitor analysis report. The best reports show exactly what a company must face off (and beat) to be successful.
A competitor analysis report usually has the following sections:
Product summary
Competitor strengths and weaknesses
Competitor strategies and objectives
Outlook: is the market growing? Flat? Splintering into niche segments?
The following competitor analysis template neatly organizes these categories into compact sections and highlights important stats. Stakeholders can quickly compare them with their own company's numbers and get an immediate sense of how they measure up.
Using a pre-designed competitor analysis template is also a great idea for consultants who want to set themselves apart from big consulting firms or boutiques. Visualizing data is a way to set yourself apart as numbers-focused, unique and innovative, as in this business report example.
A few competitor analysis report best practices:
If you're listing all competitors, add those entering the market in the next year as well as indirect competitors who sell to the same customers as yours.
Find customer satisfaction surveys for competitors (usually carried out by trade press) and include their findings.
Talk to the sales department to get a sense of the competitor's customers.
Do informal research on the competitor's strengths and weaknesses. Talk to journalists who cover this specific industry. Don't just rely on online information.
Related : Our post on how to create a competitor analysis report (with templates).
7. Case Study Templates
One of the business report examples on our list is the business case study. Though not a report exactly, a case study analyzes a particular aspect of a company or a situation it faced. A consultant may need to write one as part of a corporate training program they're developing.
Case studies usually focus on one of these situations:
Startup or early-stage venture
Merger, joint venture, acquisition
Market entry or expansion
New project or product
Pricing optimization
Profitability
Industry landscape
Growth strategy
What makes case studies unique is how they tell a story. They include background information on the company, a protagonist or key players, the situation and outcomes.
The below case study template has plenty of space for this narrative while using icons and numbers to highlight key details.
Make sure to include a conclusion that contains your key findings. Why did the protagonist make the decisions she made? What were the outcomes? What can we learn from this? Circle back to the key question the case study raises and answer it.
Business case study template
Business case studies are usually teaching tools to show how real companies approached a particular scenario or problem. The case study usually reflects a business theory and demonstrates its real-life application.
For example, the following business case study template shows how a crafts retailer uses earned media to drive engagement-heavy traffic.
This is another version of the above case study. Notice the changes in branding in this business report example that sets it apart from the previous template.
Marketing case study template
Case studies are a powerful form of marketing as they show a potential customer how existing customers are already using your product or service to meet their goals.
For example, this social media marketing case study illustrates how Toy Crates used content marketing to radically increase their sales:
A few case study best practices:
Outline any constraints and challenges the protagonist of the case study faced that affected her decision (such as a tight deadline).
Attach supporting documentation, such as financial statements.
Include an original title, such as "Design Thinking and Innovation at Apple." The title should mention the company and the subject of the case study.
Related : Our post on how to write and design a case study .
8. Growth Strategy Templates
Setting goals for your business might seem easy in theory… but setting ambitious yet realistic goals can actually be quite challenging.
At Venngage, we follow these 5 steps to set our goals:
Identifying and set high-level goals.
Understand which inputs and outputs impact those goals.
Run experiments to impact those inputs.
Validate those experiments.
Foster accountability for the results within the team.
For a more in-depth look at this process read our growth strategy guide .
For example, if you're a SaaS company, your high-level goals would probably be a specific number for revenue, a number of daily active users or employee count, like in the business report template below:
Once you've identified your high-level goals, the next step is to identify your OKRs (Objective Key Results), the metrics that impact your goals. Generally, you will probably want to break down your OKRs by channel.
So, if one of your goals is to hit a certain number of daily active users, your OKRs could be organized by:
Acquisition OKRs, like organic traffic and paid traffic
Conversion OKRs, like conversion rate
Retention OKRs, like retention rate
Once you've identified your OKRs, you can come up with experiments to run that will impact those OKRs.
At Venngage, we use a weekly sprint to plan, execute and analyze our growth experiments. But I know other companies that use longer sprints, like two-week or month-long sprints.
Before you run an experiment, you should validate that it's an experiment worth running. You can do that by identifying which goal it impacts, what resources the experiment will require, and how much effort you anticipate it will take to run the experiment.
This is the exact marketing sprint validator template that our marketing team uses when we schedule growth experiments:
After you've run a growth experiment, it's extremely important to track your results.
At the end of every sprint, take a good chunk of time to analyze your experiments to see what learnings you can take from them. Then, classify an experiment as a "Winner" or "Loser" based on whether or not the results lined up with your hypothesis.
You can use your results from the sprint that just ended to inform your experiments in the upcoming print.
Here's an example of a sprint release and results template that you could use. Note how each experiment is owned by a team member to foster accountability for the process and results:
A few growth strategy report best practices:
Divide your growth strategy reports into color-coded columns based on goals, OKRs, or stages in a sprint
Use icons like checkmarks and x's to identify winning experiments and losing experiments
Include brief descriptions on each template, to make it easy to understand
Attribute each growth experiment to a team member, to foster accountability for the process and results
Use your company colors, fonts and logo to maintain consistent branding across all of your communications
Related : Our complete guide to developing a growth strategy checklist.
9. Market Research Report Templates
Even after you've launched your business, it's a good idea to do regular market research. You can use your research to plan and refine your marketing strategies, to identify new prospective customers and product plan.
Market research generally involves gathering information about the needs, problems and wants of your customers. This research can help you come up with your customer personas and specific problems you want to solve with your product or service.
You can conduct market research in two ways:
Qualitative research (calls, focus groups)
Survey research
For example, many consultants struggle to get buy-in from various stakeholders. The boss may be constantly changing the scope of the project based on a whim, such as the latest article he's scoured from the internet! Employees may be set in their ways and resistant to incorporate consultants into their workflow.
One way to get clients on board and build trust is to provide stats and research that support your recommendations.
Here's a market research business report example that lays out the industry landscape and gives clear guidance on the way forward, all backed up by facts.
This cheerful, icon-heavy market research report should help energize reluctant stakeholders. Packaging new (and sometimes daunting) information in fresh ways can help break through resistance.
You may also want to look at competitor statistics and industry trends. This template includes a competitor case study, including website analytics, and a SWOT analysis :
When it comes to creating your market research report, you may want to do an in-depth overview of all of your market research. Or you may want to focus on one area of your research, such as your survey results.
Survey Report Template
This survey report template helps visualize your findings; the pictogram and chart make the findings easy to understand.
The one-slide market research report identifies the demographics of the survey participants. The report categorizes participants by their jobs, locations, and the topics that they find most engaging. Note how each persona is visualized using an icon:
This business report example highlights how you can give your team and stakeholders a quick overview of your main market and what topics they're interested in.
One of the purposes of a market research report is to present any conclusions that you came to after analyzing the data.
These could be conclusions about who your target customers are, areas where you can expand your business, and customer needs that aren't currently being met. The below business report example visualizes this data and also provides space to draw your own conclusions.
Here's an example of a market research report template that emphasizes key findings in the larger text before providing supporting data:
A few market research report best practices:
Use icons to illustrate your customer personas
Use charts and graphs to compare demographic information like customer age, gender, location, and occupations
Include the main conclusions you came from after analyzing your data
If your market research report is long enough, include a table of contents
Include a brief summary of your data collection methods , including the sample size
10. White Paper Templates
White papers are great tools to educate and persuade stakeholders. Consultants can also use them to improve their reputation vis-a-vis big consulting firms and boutique firms or use them as lead magnets in Facebook ads etc.
As always, a polished design is much more likely to engage senior leaders or potential clients.
A business report template or consulting report template is the fastest way to produce something that's both attractive and easy to understand.
The below consulting report example has a full page dedicated to visuals. It's the perfect way to break up the text and let it breathe. It also reinforces the information.
Browse our library of thousands of professional, free stock photos to swap in images that suit your topic best. Or upload your own.
Our editor makes it simple to adapt any of our business and consulting report templates to your needs. Change the text, fonts, photos, icons, colors, anything you want.
The next business report template is perfect for marketers and marketing consultants. It has an inviting and fun (but still professional) cover page that quickly communicates the content marketing process using icons.
Venngage has an extensive library of thousands of custom, modern and diverse icons you can swap into the above consulting report example. For instance, you could add the Twitter or Facebook logo or a "thumbs up" icon.
Then, click on the template's chart or graph (pages four and five) to add your own data.
Struggling with organizing information in your reports? It's important for consultants and marketers to find a way to communicate key takeaways, and not overwhelm your reader with data.
The below consulting report template uses filled text boxes and icons on the third page to highlight top findings.
Different-colored headers also help create a hierarchy of information and add more variety to the design.
A few white paper best practices:
Create an eye-catching white paper cover page using a background in bold color, photos or icons.
Add a key takeaways section, with a header and bullet points.
Visualize data using charts and pictograms in order to highlight key data.
Incorporate your branding into your white paper template (brand colors and logo).
Related : Our blog post with 20+ white paper examples for even more templates and design tips.
11. Project Plan Templates
A project plan is the best way to keep a project on track.
But, showcasing the steps towards completing a project and showing how each step is actionable and measurable can be tough.
This is especially difficult if you're a consultant and you don't have company templates to rely on.
The below project plan template is a simple way to visualize what needs to happen, and when.
The above highly organized project plan template uses bar graphs, icons and color-coding to present information in an accessible way. Once you enter the editor, click on the bar graph to customize the schedule.
The project timeline below also uses icons and color-coding to organize information, though in a slightly different way.
Projects suffer when there's confusion about deadlines and what's required at each step. This timeline from a business report sample makes it crystal clear what tasks belong to what step and how long each step should take.
A timeline is a perfect way for your team or client to refer back to the project schedule without having to read through tons of text.
You can also revise your timeline as the project progresses to reflect changes in the schedule.
The below consulting report template has a more traditional format for a project plan. Still, like the timelines, this business report sample relies heavily on visuals to create an easily scannable and understandable project overview.
Scope creep is the enemy of any project's success (and the bane of many consultant's existence). That's why it's so important to define the project from the very beginning. The consulting report template above has a section to do just that.
Of course, projects change and evolve. The project report below will help you raise any issues as soon as they happen and present solutions. That way, stakeholders can make a decision before the project schedule is seriously derailed.
Check out our blog post with 15+ project plan templates for even more examples and design tips.
A few project plan best practices:
Plot your project schedule visually using a timeline.
Use color to categorize tasks and milestones.
Use icons to illustrate steps in a process.
Insert charts to track the duration of each phase of a project.
Pick a flexible template that you can update as the project progresses and things change.
Related : Our post on the four phases of the project life cycle .
12. Business Proposal Templates
A business proposal is a document that presents your product or service as the solution to a client's problem. The goal of a business proposal is to persuade a prospective client to buy your product or service. These proposals can be either solicited or unsolicited.
The contents of a business proposal report will vary depending on the problem.
Typically, a business proposal will include these sections:
Information about your company (mission, qualifications, competitive edge)
A detailed description of your client's problem
The cost of your product/service
The methodology of how you propose to solve the client's problem
A timeline of your approach to solving the problem
A few business report examples and design tips:
Create an engaging title page for your business proposal. Think of it as the cover of a book or a movie poster. This will be your prospective client's first impression of your business.
Use a design that tells a story about your company's mission and the people you serve. For example, the cover for this business proposal template shows a happy team working together:
Meanwhile, this simple business proposal example uses icons to illustrate what the company does. The motif is carried throughout the rest of the proposal design:
Use visuals to highlight the emotion behind the problem
Businesses are made up of people, and people are emotionally charged. When identifying the problem, use imagery to highlight the frustration, confusion, or dissatisfaction behind the problem. This will show empathy towards the people you're proposing your solution to.
This business report sample page from a business proposal contrasts one image to illustrate the "problem" with a more cheerful image for the "solution":
This marketing business proposal uses a variety of visuals like icons, bold typography and photos to tell a story:
Related : Our post on consulting proposal templates or our guide to creating a business proposal .
How to create a business report in 6 steps?
Creating a business report can seem daunting, especially if you've never done it before. don't let the word "business" intimidate you – these steps can be used for writing a report in any field!
Step 1: Define the purpose and scope of your report
Know the purpose of your report. Are you aiming to share the results of a project? Analyze performance? Recommend specific actions? Whatever the goal, keep it in mind as you go through the process. Also, consider the scope of your report. Decide what information you'll be including, as well as what you can leave out.
Example: Let's say your boss wants a report on your team's sales performance during the last quarter. Your purpose might be to analyze the numbers and identify trends, areas for improvement, or opportunities for growth.
Step 2: Gather relevant data and information
Now that you know what you're aiming for, it's time to gather the information you'll need. This might involve pulling data from internal systems, interviewing colleagues, or even conducting your research. Remember, the quality of your report depends on the accuracy and relevance of the information you provide, so double-check your sources and make sure you've got everything you need.
Example: For our sales performance report, you'll need to collect data on product sales, individual and team performance, and any factors that may have influenced sales during the quarter.
Step 3: Organize your content
Next up is organizing all that information into a logical and easy-to-follow structure. This will depend on the specific requirements of your report, but some common components are an introduction, executive summary, main body, conclusion, and recommendations. A clear and logical structure helps readers easily understand and follow your report.
Example: In a sales performance report, you might start with an executive summary highlighting sales growth (or declines), outline individual team member's performance, and then delve into a more detailed analysis of factors and trends.
Step 4: Write the report
When writing your report, start by developing a clear and concise writing style, avoiding jargon and buzzwords. Keep your audience in mind – make sure your report is easily digestible for your intended readers.
Example: When writing about sales performance, share facts and figures in simple terms that everyone can understand. Instead of saying, "Our sales team demonstrated a 12.3% compound annual growth rate," say, "Our sales team increased their sales by 12.3% each year."
Step 5: Add visual aids
To make your report more engaging and easier to understand, consider adding visual aids like graphs, charts, or images. These can help break up large blocks of text and highlight key findings or trends.
Example: For your sales performance report, you might create a bar chart showing sales growth over time or a pie chart displaying individual team members' contributions.
Step 6: Review and refine
Last but not least, review your report. Does it achieve the purpose you set at the beginning? Are there any gaps in the information? Are there areas that could be clearer or more concise? Address any issues you find and refine your report until it meets your goals and is easy to understand for your target audience.
Example: In your sales performance report, if you find that you haven't adequately explored the impact of a new product launch on sales, go back and add that analysis to provide a more comprehensive view.
What are the types of business reports?
Different types of business reports cater to various purposes, including monitoring performance, making decisions, and more, offering a range of options beyond standard reports.
1. Informational reports
The primary purpose of informational reports is, well, to inform. These reports provide all the nitty-gritty details of specific aspects of your business without any conclusions or opinions.
Examples include daily sales reports, inventory levels, or even project updates. This is the essential "just the facts, ma'am" type of report you need to stay in the loop.
2. Analytical reports
Analytical reports give you a more in-depth look at the data to help you make decisions. These reports come with all the bells and whistles – charts, graphs, and recommendations based on thorough analysis. Analytical reports are what you whip out when you need to decide whether to invest in a new project, evaluate your marketing efforts, or diagnose challenges within the company. The goal of such a report is to help you make smarter decisions for the growth and development of your business.
3. Summaries & reviews:
If you're a little short on time and need a quick overview of your business's performance, summary reports are your best bet. These reports condense the crucial details from other reports at regular intervals (monthly, quarterly, or annually) and present them in a digestible format.
4. Research reports
As the name suggests, these in-depth reports dig into specific topics or issues relevant to your business. Research reports are great when exploring new markets, considering new product development, or requiring a detailed evaluation of business practices. These reports act as guides for making major decisions that could significantly impact your company's direction and success.
5. Progress reports
Let's say you've got a fantastic project idea underway. You'll need to keep track of every stage of it to ensure it's smooth sailing ahead. Enter progress reports. They track the achievements, setbacks, and future plans of ongoing projects. These are essential for keeping everyone – from employees to investors – in the loop.
Business report template FAQs
1. what are the best practices for creating a business report.
You could open up Google doc, record your metrics and make a few points of analysis, send it to your team and call it a day. But is that the most effective way to report on your findings?
Many people may not even read those types of reports. Not to mention, a plain old report probably won't impress stakeholders.
It's important to brand yourself (and stand out from your competition). And then there's the ever-important need to create buy-in from stakeholders and convince them of your recommendations.
That's why it pays to make your reports as engaging as possible. That means visualizing data , processes , and concepts to make them easier to understand and more fun to look at, as you've seen from the business report examples in this post.
You can do that easily by getting started with a business report template or consulting report template .
There are two big reasons why it's a good idea to create a highly visual business report:
You will be able to organize, analyze and summarize your findings .
You will be able to communicate your reports more effectively with your team, stakeholders and customers.
For example, the below business report template shows four different ways you can visualize information. It's much more captivating and easily digested than a block of text.
And don't worry about how time-consuming designing a report might be. If you start with a solid business report template, you can repurpose that template over and over again.
Use the template as a framework, then customize your information and design to fit your specific needs. Then, use a chart tool to convert cumbersome data into clear visuals.
Just like in the above business report sample, you'll have a succinct, powerful (and polished) report that stakeholders can understand at a glance.
2. How do you design a business report template?
Incorporate your branding into the design
Part of building a strong brand is using consistent branding across all of your content, both internal and public-facing. You can incorporate your branding into your business report design by importing your logo and using your brand colors and fonts.
Our My Brand Kit feature automatically imports company logos and fonts from any website. You can then apply them to your design with one click.
Stick to only one topic per page or slide
When creating a report, it's easy to try and cram a bunch of text onto one page. But then you run the risk of creating an impenetrable wall of text.
Instead, focus on only one topic per page or slide. If you find that even that makes your page look too cramped, then try breaking up your information into two pages or looking for ways to better summarize your information .
Put functionality first
When you're designing a business report, you should look for opportunities to visualize data and creatively present information. That being said, the primary goal of your business report should still be to communicate information clearly.
Use design elements such as icons or fonts in different sizes, weights and colors to highlight, emphasize and categorize information, not obscure it. If a page you're working on looks cluttered or confusing, take another stab at it.
Remember that functionality comes first, and that includes using the right visuals for your information.
3. What is the best business report maker?
You can make a business report online using a number of tools. As we have mentioned, a great business report is visually appealing, includes icons, images, clear fonts, easy-to-understand charts and graphs, as well as being branded.
Venngage is the one-stop design solution when it comes to creating reports. The business report examples in this article highlight how easy it is to design a variety of reports for every type of organization and activity. Make design simple by using Venngage.
More business communication guides:
20+ Stunning Consulting Proposal Templates That Will Convert Prospects to Clients
10 Page-Turning White Paper Examples and Design Tips