IT Helpdesk Resume Example
Resume Examples
Common Tasks & Responsibilities
Top Hard & Soft Skills
Action Verbs & Keywords
Resume FAQs
Similar Resumes
Common Responsibilities Listed on IT Helpdesk Resumes:
Respond to and resolve IT support tickets submitted by end-users
Install, configure, and troubleshoot hardware and software for end-users
Provide technical support for desktops, laptops, printers, and mobile devices
Manage user accounts and permissions in Active Directory
Monitor and maintain network infrastructure, including switches, routers, and firewalls
Perform regular backups and disaster recovery procedures
Conduct security audits and implement security measures to protect against cyber threats
Collaborate with other IT teams to resolve complex technical issues
Train end-users on new software and hardware systems
Document IT processes and procedures for future reference and training purposes
Speed up your resume creation process with the AI-Powered Resume Builder . Generate tailored achievements in seconds for every role you apply to.
IT Helpdesk Resume Example:
Implemented security protocols, monitored and maintained company systems, and resolved user issues before escalations with an average response time of 6 minutes
Evaluated and introduced new IT solutions, including hardware and software, to increase employee productivity by 30%
Developed and trained end-users on company-specific applications and software that decreased help desk tickets over 45%
Reduced total system downtime by 40% through successful diagnostic and preventive maintenance on systems, networks, and applications
Researched and successfully integrated a cloud-based system to streamline operations and improve customer service
Flawlessly maintained and updated inventory of IT resources, troubleshooting any issues and providing solutions in a swift and effective manner
Constructed and launched video tutorials and user guides to help end-users on how to use the system with improved accuracy and efficiency
Assisted in the installation and configuration of various software and hardware, ensuring minimal error and zero downtime
Consistently exceeded expectations for end-user onboarding, providing them with technical support and training and leading to a 95% customer satisfaction rating
Network troubleshooting and diagnostics
System/Server administration
Data/System security protocols
End-user support & training
Remote IT Infrastructure management
System integration and configuration
Cloud computing and storage
Installation of hardware and software
Antivirus, anti-malware and malware removal
Network monitoring and performance optimization
User account administration & management
Network and system scripting
Documentation and user guides creation
Scripting & Automation technologies
Incident handling & resolution
Helpdesk ticketing software
IT asset inventory management
Video conferencing & remote access tools
VoIPand telecommunication techniques
Change & Problem Management principles
Information Technology
Computer Science
Top Skills & Keywords for IT Helpdesk Resumes:
Hard skills.
Troubleshooting and Problem Solving
Technical Support and Customer Service
Network Administration and Maintenance
Operating System Installation and Configuration
Hardware and Software Installation and Configuration
Remote Desktop Support
Active Directory Management
Firewall and Security Management
Backup and Disaster Recovery
Cloud Computing and Virtualization
Mobile Device Management
ITIL Framework and Service Management
Soft Skills
Communication and Interpersonal Skills
Problem Solving and Troubleshooting
Time Management and Prioritization
Attention to Detail and Accuracy
Patience and Empathy
Adaptability and Flexibility
Customer Service and Support
Technical Aptitude and Knowledge
Teamwork and Collaboration
Active Listening and Feedback Incorporation
Analytical and Critical Thinking
Stress Management and Resilience
Resume Action Verbs for IT Helpdesks:
Troubleshooted
Communicated
Collaborated
Implemented
Prioritized
Investigated
Coordinated
Facilitated
Resume FAQs for IT Helpdesks:
How long should i make my it helpdesk resume, what is the best way to format a it helpdesk resume, which keywords are important to highlight in a it helpdesk resume, how should i write my resume if i have no experience as a it helpdesk, compare your it helpdesk resume to a job description:.
Identify opportunities to further tailor your resume to the IT Helpdesk job
Improve your keyword usage to align your experience and skills with the position
Uncover and address potential gaps in your resume that may be important to the hiring manager
Complete the steps below to generate your free resume analysis.
Related Resumes for IT Helpdesks:
It support analyst, it support specialist, it support manager, it service manager, it systems analyst, it security analyst, it system administrator, it architect.
IT / Help Desk Resume Sample
The resume builder.
Create a Resume in Minutes with Professional Resume Templates
Work Experience
Timely completion of all work
Working closely and harmoniously with fellow workers
Adherence to all safety, health and privacy act rules and regulations
Effective communication and time management
Complete administrative tasks, such as tracking help desk calls, assisting with organizational efforts and asset management
IT team projects as assigned
Answering end users' questions about systems and applications
Windows Server & Desktop operating systems
Windows and Network Administration
IT Service Management Software Experience (HEAT)
Solid understanding of IP networking (LAN/WAN/Wireless)
Remote help tools like SCCM, RDP and Dame Ware
Monitoring software (Splunk, IP Monitor, etc.)
Information Sciences, Technology, Computer Science
Experience in a Helpdesk or Customer Service environment
Experience in handling technical support calls in an in-bound call center environment
Strong knowledge of standard PC hardware/software/operating systems
Commitment to team concept
Work in a fast paced & high volume environment
Production support or technical support experience required
Proficient in all MS Office Suite including O365
Professional Skills
Excellent organizational skill to prioritize project timelines effectively and ability to multi-task on competing priorities
Strong PC Skills including MS Word, Outlook, and Excel
Possess excellent telephone etiquette and oral and written communications skills
Resourceful and excellent customer service skills
Professional appearance and strong written and verbal communication skills
Demonstrated experience working in a 24/7 production support environment.
Demonstrated ability to develop business relationships and communicate effectively with the user community
How to write IT / Help Desk Resume
IT / Help Desk role is responsible for basic, software, events, travel, research, reporting, wireless, security, mac, database. To write great resume for it / help desk job, your resume must include:
Your contact information
Work experience
Skill listing
Contact Information For IT / Help Desk Resume
The section contact information is important in your it / help desk resume. The recruiter has to be able to contact you ASAP if they like to offer you the job. This is why you need to provide your:
First and last name
Telephone number
Work Experience in Your IT / Help Desk Resume
The section work experience is an essential part of your it / help desk resume. It's the one thing the recruiter really cares about and pays the most attention to. This section, however, is not just a list of your previous it / help desk responsibilities. It's meant to present you as a wholesome candidate by showcasing your relevant accomplishments and should be tailored specifically to the particular it / help desk position you're applying to. The work experience section should be the detailed summary of your latest 3 or 4 positions.
Representative IT / Help Desk resume experience can include:
Strong knowledge of Microsoft based operating systems with emphasis on Windows 7 and Office 2007
Possess experience with computer imaging and configuration
Min. 1 years of experience with a ticketing system (Heat, Remedy, ETC..)
Experience working with remote control software
Experience with Microsoft Active Directory, file/print servers, directory structure, access rights, and network printing
Good understanding of TCP/IP networks
Education on an IT / Help Desk Resume
Make sure to make education a priority on your it / help desk resume. If you've been working for a few years and have a few solid positions to show, put your education after your it / help desk experience. For example, if you have a Ph.D in Neuroscience and a Master's in the same sphere, just list your Ph.D. Besides the doctorate, Master's degrees go next, followed by Bachelor's and finally, Associate's degree.
Additional details to include:
School you graduated from
Major/ minor
Year of graduation
Location of school
These are the four additional pieces of information you should mention when listing your education on your resume.
Professional Skills in IT / Help Desk Resume
When listing skills on your it / help desk resume, remember always to be honest about your level of ability. Include the Skills section after experience.
Present the most important skills in your resume, there's a list of typical it / help desk skills:
Experience and demonstrated proficiency in troubleshooting desktop operating systems and associated hardware and peripherals
Problem Solver – able to resolve problems effectively
Computer Savvy – proficient with basic computer skills
Experience with using and troubleshooting Outlook 2007 within a network environment (permissions, calendar sharing, and delegation)
Incident Management experience ¿ Managing incidents including business expectations and communication
Good working knowledge of various versions of Microsoft Windows including both workstation and server versions
List of Typical Experience For an IT / Help Desk Resume
Experience for it help desk associate resume.
Act as Lead for the local Service Desk supervising 4-5 Service Desk Analysts
Act as a single point of contact for phone calls and emails from staff regarding IT issues and queries
Install and maintain end user PCs and laptops using Windows, MacOS, anti-virus, etc
Maintain corporate backups using Symantec Backup Exec
Remotely connects to end user's PC to fix problems
Remotely connects to end user's PC to fix problems and desk side support
Assist users and answer technical questions about Gmail, Google Apps, MyPima, and other PCC systems and software
Help users configure their mobile devices to connect to PCC wireless networks
Consistently and accurately track, update, and close assigned support requests
Experience For IT Help Desk Coordinator Resume
Support to in house applications as well as standard business applications
Perform routine Active Directory administration tasks
MS Active Directory Group Policy configuration, deployment and management
MS WSUS patch management
Symantec Backup Exec configuration and administration
Proficiency in Microsoft Products and Applications; Office 365, SharePoint
Aptitude to be the first point of contact for corporate IT support and team
Experience For IT Help Desk-grand Rapids Resume
Provide shared drive access
Troubleshoot corporate computer systems and applications
Develop and maintain asset management program
Provide voice and data communication network support
Trains users on software and hardware use as needed
Participates in On-Call Rotation as scheduled by IT Support Services Management
Configuration and support of desktop HW, SW, printers and peripherals
Receives user requests via ticket system for technical assistance
Documents, refines, executes and closes user request tickets
Experience For IT Help Desk / Service Desk Analyst Resume
Performs phone support and analysis/ticket creation of user phone request
Instructs user on problem resolution
Promotes complex issues to technical specialists in the NEC or System Support
Assures problem resolution to created tickets within the allotted timeframe (72 hours for simple issues)
Manage NEARNG DISA EE and mobile devices via tickets submitted by users
Serve as the first-line technical specialist that responds to all help tickets assigned using phone, messaging, email and SolarWinds DameWare for remote support
Serves as primary phone support contact at System Support Helpdesk
Manages printer fleet through software and fields all help request tickets for all MFD devices; coordinates with RICOH contract support staff for resolution
Experience For IT Help Desk Lead Resume
Analyzes and diagnoses hardware and software problem tickets with the technical guidance and assistance of other System Support Helpdesk or information technology staff
Submits change requests to System Support Supervisor for network hardware and/or software
Conducts adds and removes of permissions to user permission tickets with approvals from user Supervisor
Provides general ticket-based resolution support to printers and laptops at all NEARNG armories (remote support only, no travel to physical locations)
Mobile device management of DISA service-provided phones/smartphones via tickets submitted by users
Troubleshoot basic network issues
Escalate unresolved calls to the infrastructure support team
Experience For Tier, IT Help Desk Resume
Troubleshoot and resolve hardware and software problems for end users and corporate systems
Knowledge of technologies in use, including, Intel, Mac, and Cisco hardware and various operating systems including Windows, Linux, MacOS, Citrix XenServer and Cisco IOS
Provide end user support for Android and Apple iOS devices
Aptitude to be the first point of contact for customers and interaction with server and network teams
Versatile leadership qualities and the ability to manage change
Present ideas, expectations and information in a concise, well-organized way
Experience For Ssllc IT Help Desk Analyst Resume
Maintaining a positive, service-oriented attitude in general, seeks to educate end users, assist in resolving operational issues and promote the collaboration benefits of the Office365 platform
Project management skills and solid time management
Provide assistance to associates and troubleshoot issues related to hardware and software
Diagnose hardware onsite and accurately determine replacement parts
Install peripherals (printers, scanners, etc.)
Experience For IT Help Desk-san Juan Resume
Replace CAT 5/5E/6 patch cables, jacks and patch panels
Min. 1 year phone based support
IT Help Desk experience including knowledge and experience with the principles, methods, and techniques involved in IT Help desk operations, support technician operations, and basic Active Directory
Carry out tasks with minimal direct supervision
Handles problems that the first-tier of help desk support is unable to resolve
Experience For IT Help Desk Lead / Supervisor Resume
Eager to learn with can-do attitude
Expert knowledge of Windows applications (usage, configuration and support)
Format Windows computers
Administration of ITSM
Disable user accounts
Experience For Senior Coordinator, IT Help Desk Resume
Create user accounts
Update user access
Effective communication to support end user community, able to question the user to get adequate information. Collaborative attitude and creative thinking, ability to think "outside of the box" to assist end user to create a forward-thinking solution. Uses open-ended questions and active listening to help define user requirements and stage potential solutions
List of Typical Skills For an IT / Help Desk Resume
Skills for it help desk associate resume.
Experience using and installing relevant IT hardware, software and other equipment
Proven ability to type 35 WPM
Min. 1 year Service Desk or Help Desk experience
Experience with Mac OSX 10.6+ & Windows 7
Relevant Healthcare IT experience considered in lieu of education
Skills For IT Help Desk Coordinator Resume
Experience with Microsoft Office 2007, 2010, and 2013
Experience with Microsoft Windows XP, 7 and 8
Computer Science/Information systems background with2years of IT experience
Strong knowledge of DHCP, DNS, SMTP, FTP, SFTP,TCP-IP, RDP, VPN, Vlan Configuration
Experience with industry standard backup procedures
Time Manager – able to manage multiple assignments and tasks, set priorities
Strong Work Values – dependable, positive attitude
Completes all DoD Enterprise Portal Services tickets (after prior approvals are complete) through DISA (DEPO)
Experience in the Service Desk Lead role
Skills For IT Help Desk-grand Rapids Resume
Computer Science/Information systems background with 2 years of IT experience
IT experience, BA in Computer Science or Information Systems
Working on the new building renovation project by recommending and supporting technology changes
Developing, maintaining and implementing servers /systems in a mixed technology environment
Analyzing existing systems and making proactive recommendations for improvements
Receiving, logging and managing calls from internal staff via telephone and email
Skills For IT Help Desk / Service Desk Analyst Resume
Working knowledge of TCP/IP and general networking principles
Developing solutions for complex network, desktop, and server problems
Working on IT Apps
Configuring computers with the appropriate software and security configurations. Perform software upgrades and configuration enhancements
Supporting large company events such as the Global Webcast done by the CEO
Supporting systems and applications in a large LAN/WAN environment
Provide and revoke system access during on-boarding, off-boarding of new financial consultants
Skills For IT Help Desk Lead Resume
Perform admin tasks of maintaining users on third party application - Pershing, Sales Reporting
Positive Communicator ( listening, speaking and writing)
Perform routine Active Directory administration tasks including adding/removing users from the domain, group policies, Office365
Provide the support to search historical emails containing specific keywords or meeting specific criteria
Support Finance, Risk etc by searching oracle DB containing account and client information
Provide month end reporting and data processing activities
Independently research a problem using available resources, such as manuals, training materials and the Internet
Conduct onsite repairs for clients and internal customers by troubleshooting software and hardware, including Copier Workstations and Printers
Assist server staff with maintaining production systems and performing system upgrades
Skills For Tier, IT Help Desk Resume
Proficiency and understanding how to complete essential responsibilities of job with minimal training
Maintain understanding of TCP/IP and networking concepts
Provide ad-hoc support by running miscellaneous run data queries from Oracle database
FPA008: a monoclonal antibody that inhibits the CSF-1 receptor and is being studied in multiple tumor settings and pigmented villonodular synovitis (PVNS)
FPA144: a monoclonal antibody targeting FGFR2b for selected gastric cancers
Possess a working knowledge of the Microsoft Office Suite and Windows 7/10
Capable of working in an environment of near-100% system availability and be able to render solutions to issues in a timely manner
Diagnoses and troubleshooting Level 2 problems encountered with personal computer hardware, software and peripherals
Skills For Ssllc IT Help Desk Analyst Resume
Documents service orders and perform follow up of completed orders for management information reporting and customer satisfaction
Coordinates user requests with external vendors according to policies and procedures
Coordinates referrals to appropriate technical, professional or service personnel for appropriate services, repairs, training or follow-up
Troubleshoot remote user issues connecting via Virtual Private Network
Trains users on software and hardware on site or in classroom, or recommend outside contractor to provide training
Conducts office automation feasibility studies, including work flow analysis, space design, and cost comparison analysis
Skills For IT Help Desk-san Juan Resume
Phone Based Support Answer incoming client calls on a wired headset at your desk, average 25-40 calls per day
Responsible for providing corporate end user support
Handle Tier 3 escalations requests directly by phone and/or using remote access tool (Bomgar)
Systems Imaging deployment and management
Familiarity with network troubleshooting process and tools
Ability and willingness to work in an environment providing 24x7x365 support
Utilize HEAT ticketing system to process requests
Skills For IT Help Desk Lead / Supervisor Resume
Microsoft updates and application patching
Analyzes requests and determines course of action, ticket creation or routing
Fulfills computer imaging tasks in support of baseline lifecycle plan based on tickets input by the System Support Supervisor
2nd and 3rd line support - troubleshooting of IT related problems from in-house software to hardware, such as mobile, Laptops, PCs and Printers
Log all calls in the Service Desk Call Logging system (SCSM)
Provide support via phone, email and instant messaging
Assist with maintaining corporate servers in a mixed technology environment
Skills For Senior Coordinator, IT Help Desk Resume
Provide first-level support for requests coming into company help desk
Applies knowledge of customer service techniques as required to address problems with PC based tools and products
Enable user access after system lock-out situation of end user
Provide necessary software upgrade support to all front office and back office
Create and maintain email distribution list for Finance, Compliance, Risk and other admin tasks
Provide system support to ensure spam and virus protection is in place throughout the network
Create and support auto-job that perform routine weekly/month activities in systems
FP-1039: a FGF ligand trap for mesothelioma
Technical knowledge of modern Hardware and Software
Related to IT / Help Desk Resume Samples
Deal desk resume sample, help desk administrator resume sample, it help desk technician resume sample, web consultant resume sample, oracle manager resume sample, consultant solution resume sample, resume builder.
Knowledge Base
Free Resume Templates
Resume Builder
Resume Examples
Free Resume Review
Looking for an IT Help Desk resume?
[ Click here to directly go to the complete IT help desk resume sample ]
IT help desk is an important part of any organization.
As an IT help desk professional, it is your responsibility to provide technical support to customers and uphold the productivity of an organization.
And in this blog, we have listed all the tricks and tips to help you frame the perfect job-winning IT help desk resume that can get you on the radar of the recruiters.
Before going further, take a look at our IT help desk sample resume to know what an ideal resume should look like:
Programming Languages: Java, Python, C#, C++
Service Management Software: TOPdesk, ServiceNow, Spiceworks, Jira Service Desk, SolarWinds Service Desk
Oversaw 15+ help desk staff members who were tasked with assisting customers remotely, by e-mail or phone, or in-person
Played a key role in hiring, scheduling , and providing employee evaluations and feedback
Administered repairing, upgrading , and complete configuration of 200+ PCs and related peripherals
Performed periodic hardware & software checks to ensure that they are functioning properly; improved quality by 17%
Motivated the team members, administered training materials and gave KTs to small or large audiences once a month
Trained 150+ non-IT employees on analyzing & repairing minor hardware/software failures to increase efficiency by 15%
Performed random audits to ensure that the help desk team of 50+ employees is providing good customer service
Increased client satisfaction by 30% through effective communication and problem solving
Attended major support calls (~20/day ), 5+ walk-in customers, and 30+ emails daily for Tier 2 & 3 levels technical support
Developed, executed, and followed IT operational policies, standards, and work instructions for customer support
Installed and updated hardware & software and recommended computer equipment to reduce the overall cost by 18%
Designed & performed tests on 15+ applications as per the required standards and ensured data security
Documented all software/applications upgrades & modifications and maintained the IT & software Inventory
Responded to user's inquiries ( 25+ daily ) regarding computer, email, phone connectivity, software or hardware inquires
Answered, evaluated, and prioritized incoming telephone , voicemail, e-mail, and in-person requests for assistance
Collaborated with 7+ vendors to troubleshoot issues related to IT equipment, LAN/WAN connectivity, and software
Installed and configured computer systems & installed/updated to the latest software/applications for 30+ employees
Responded to 15+ customer inquiries in a day, diagnosed the issue and assisted them in troubleshooting challenges
Updated, maintained & monitored all aspects of computer networks and resolved network related issues
Assisted in resolving technical issues concerning 15+ client's accounts and the company's software infrastructure
CompTIA A+ Certified Professional | CompTIA | Apr '17
GPA: 4.5/5.0
Here is a brief overview of our 2022 It Help Desk Resume Blog:
Unless you are a job hopper or looking for a change in your career, make use of the reverse-chronological format.
Create separate sections to highlight your key skills and technical skills in an IT help desk resume skills.
If you are a certified professional, make sure that you mention the details in your IT help desk technician resume.
To analyze more about what to put on a resume for IT help desk job, keep reading.
You will also learn how to write a job-winning IT help desk support resume while simultaneously learning:
What to put on a resume for IT help desk job that can make you stand out.
How to highlight your skills in an IT help desk entry level resume.
How to create a keyword optimized IT help desk resume.
How to compose a suitable IT help desk resume summary.
How to optimize your IT help desk resume skills.
Hiration's Online Resume Builder is here to help you write the perfect IT help desk resume with professional assistance.
Our Online Resume Builder is stocked with a huge library of resume examples and an IT help desk resume template that will make your job application easier and effective!
All you have to do is replace the pre-filled information in our example templates with your details as per the targeted job application requirements.
Follow the given steps and learn how to write an IT help desk resume that will further help you communicate your skills to the recruiters:
Pick the Right IT Help Desk Resume Format
Include distinct sections to organize your it help desk resume, start by framing your it help desk resume header, draft a flawless it help desk professional experience section, provide the details of your education in the it help desk resume, highlight your it help desk resume skills, conclude your it help desk resume with a suitable summary/objective, use hiration's services to create the perfect it help desk resume.
Here is a list of all the topics that you will learn in this blog:
[ Back to Table of Content ]
The Applicant Tracking System is a reliable software used by most recruiters and employers during the hiring process.
And the right resume format can help you enhance your IT help desk resume in the most effective way and make it easier for the recruiters to recognize your professional expertise.
Pick the most suitable resume format from the most distinct ones described below:
Reverse-Chronological: This is one of the best and the most preferred resume format because your most recent and relevant professional details are highlighted upfront to make it recruiter-friendly. Additionally, it is also ATS-friendly and hence gives you a higher chance to get recognition from the recruiters.
Functional: This format is not the best kind to be used as it is not effective enough to help you rank high on the ATS. But for freshers, job-hoppers, and people looking for a change in their career, this resume format can have its benefits. Try and avoid using it if you have a smooth sailing career trajectory.
Combination: This resume format can be effective for framing your IT help desk resume if you have extensive years of professional experience ranging between 15-20 years. You can highlight both your skills as well as your work experience and describe them in detail.
In case you are not sure about which resume format to use to frame your resume for IT help desk, you can always rely on our resume experts at Hiration.
Here is an opportunity to get your resume reviewed by professionals to make it recruiter friendly and ATS-compliant.
There are two types of resume sections and you need to know exactly which sections to include in your resume that can help you frame a job-winning resume.
The sections listed below are the traditional or standard sections that should be included in your resume at all times:
Personal Information
Profile Title
Summary/Objective
Professional Experience
The below-given sections are optional and you can include them whenever required or deemed necessary to add value to your standard sections:
Certifications (if any)
Additional Information (if any)
Awards & Recognitions (if any)
To learn more about resume sections you can go through Hiration's 2022 Guide to adding the right sections in a resume .
Or you can simply go to Hiration's Online Resume Builder and create an IT help desk support resume that can help you get shortlisted for the job of your dreams.
If you are someone who uses "CV" or "Resume" as your resume header, you have to stop stating the obvious and start saving precious space on your resume.
Your name should be written at the topmost part of your IT help desk resume to maintain its unique identity and make it allow the recruiters to keep an easier track of your resume.
Use the largest font size in the range of 16-20 font size and simply leave a space between your first name and last name.
In case of a middle name, just write the initial of your middle name, add a full stop and place it between your first and the last name.
To get an in-depth knowledge of curating the perfect resume header, you can go through Hiration's 2022 Guide To Writing The Perfect Resume Header .
Look at the IT help desk resume example illustrating an ideal resume header that we have made with Hiration's Online Resume Builder :
IT Help Desk Resume: Personal Information
Provide the required details to make sure that the recruiters get in touch with you for any likely shortlist.
An ideal personal information section should contain the following:
Contact Number: Provide the contact number that you actively use through which the recruiters can easily get in touch with you.
Email Address: Provide an email address that has your real name to maintain a professional approach.
Current Location: If you are applying for a job abroad, mention your state and country. Else simply mention your current city and state of residence.
Additionally, you can also mention the details of the following as per your discretion:
LinkedIn profile link
Link to an online portfolio
For more details on this section read Hiration's 2022 Guide to composing your contact information .
Refer to the sample IT help desk resume given below to see what an ideal personal information section looks like in an IT help desk support resume:
Our Online Resume Builder can help you put together an impeccable IT help desk entry level resume.
IT Help Desk Resume: Profile Title
The second-largest text in the range of 14-16 font size should be used to curate your profile title on a resume.
It communicates your current designation, your functional industry, and the level of seniority in your field of work.
If you are tempted to exaggerate your profile title, get rid of the thought because it can only spell doom for your job application.
Be accurate with what you have professionally done and where you stand in your professional podium for the recruiters to recognize your professional status.
An ideal profile title should look like the one shown in our below-given IT help desk sample resume:
Our AI-powered Resume Review Service is available to give your resume an in-depth and constructive analysis within minutes of uploading it on our tool!
Since the professional experience section takes up most of your resume you need to make the best use of this section.
Every relevant work experience or the current job profile that you are holding should be described for the recruiters to easily recognize your professional expertise and raise your chance of being shortlisted for the targeted job profile.
To ensure that you frame an impressive professional experience section, you need to apply the following factors:
STAR Format
Bucketing & Bolding
[ Back to Table of Content ] Use the STAR format to describe your work details for the recruiters to easily recognize your potential:
STAR refers to:
S: The s ituation, backdrop, or context of your contributions.
T: The actual t ask that was assigned to you.
A: The strategy you put into a ction to execute the assigned task.
R: The r esult or outcome of your action in the form of an achievement figure.
Framing Points
[ Back to Table of Content ] What do employers look for in resume for IT help desk?
Well, the answer is simple!
They simply look for those applicants who are qualified to shoulder the responsibilities of an IT help desk.
Just as simple as the answer is to the question asked, your professional experience statement should be simple and easy to understand too.
Let us look at the two sets of IT help desk resume examples that we have given below for you to understand the effectiveness of framing your points and how it can be easily done.
IT Help Desk Resume Example 1
"As an IT help desk for the XYZ company I was assigned to oversee 10 help desk staff members who were given the task to remotely assist the customers and clients, through e-mail or phone. I also played a key role in the process of scheduling meetings, hiring, and providing evaluations of the employees. I have successfully administered the complete configuration of 150+ personal computers for two different departments by repairing and upgrading. Additionally, I performed periodic hardware or software checks to ensure that they were properly functioning and improve the quality of work by 15%."
IT Help Desk Resume Example 2
Oversaw 10 help desk staff members who were assigned to remotely assist customers, via e-mail or phone Played a key role in the process of scheduling, hiring, and providing evaluations of employees Administered the complete configuration of 150+ PCs for two departments by repairing and upgrading Performed periodic hardware/software checks to ensure the proper functioning and improve 15% work quality
Framing Points: Analysis
From the two IT help desk resume examples illustrated above, we can observe that:
Writing a long paragraph to describe your professional roles & responsibilities as an IT help desk does not do justice to your expertise and potential. It is hard to recognize your skills at a glance and most recruiters may not spend enough time going through the whole paragraph.
Whereas, framing one-liner bullet points are easier to read and hence the recruiters would easily recognize the positive impact you had on your work. Moreover, one-liner points tend to focus on your main involvements and do not highlight vague points.
In conclusion, you can curate ATS-friendly resumes by using bullet points to frame one-liners and communicate your professional caliber to the recruiters.
[ Back to Table of Content ] Another important factor that can contribute towards enhancing your professional experience section is bucketing and bolding.
To understand why it is so, look at the two IT help desk resume examples give below.
Administered materials for training materials and conducted KTs to both small and large audiences every month Trained 100+ non-IT employees on how to analyze & repair failures of hardware/software Increased 50% client satisfaction through effective communication and problem solving Attended support calls (~30/day) and 40+ emails for Tier 2 & 3 levels technical support Provided customer support as per the IT operational policies and standards to ensure the best service
Training & Customer Satisfaction Administered materials for training materials and conducted KTs to both small and large audiences every month Trained 100+ non-IT employees on how to analyze & repair failures of hardware/software Increased 50% client satisfaction through effective communication and problem solving Client Relationship Management Attended support calls (~30/day) and 40+ emails for Tier 2 & 3 levels technical support Provided customer support as per the IT operational policies and standards to ensure the best service
Bucketing & Bolding: Analysis
Framing points in one-liner alone are not enough to get the attention of the recruiters as it does not make the highlights of your points stand out for the recruiters to easily recognize.
Whereas applying bucketing and bolding makes it easier for the recruiters to recognize the most significant points without having to read through the whole resume.
In conclusion, you must always list all the similar points under the relevant buckets by creating unique headings. And enhance your framed points to communicate your work experience for the recruiters to easily read and comprehend.
To understand this section in detail and learn how to master it, read Hiration's guide on framing the work experience in your resume .
IT help desk resume sample for Professional Experience
Here is an IT help desk resume sample signifying an ideal professional experience section:
IT Help Desk Resume Keywords
To make sure that your IT help desk entry level resume ranks high on the ATS, you need to keyword-optimize your resume.
Suitable keywords can be found in the IT help desk job description.
Before you start sending out your resumes to the recruiters, make sure that you compare your job description and the keywords included by the recruiters in the job listing.
Pick the most relevant and significant keywords that highlight your professional skills and list them in your professional experience section and key skills section.
You can also add suitable keywords in your IT help desk resume summary and IT help desk resume skills sections.
Including the right keywords in your resume can raise your chances of ranking high on the ATS and give your better opportunity to end up being recognized by the recruiters who can give you the required shortlist.
Every time you wonder what to put on a resume for IT help desk job, remember that your educational qualification can raise your chances of landing your dream jobs.
Do not skip the education section in your resume, especially if you are writing an IT help desk entry level resume.
The education section of your resume should ideally consist of the following details:
Name of the school/university you have attended.
Name of the courses you have pursued.
The location of your school/university.
Enrollment and graduation dates in the month & year format.
We have an exhaustive guide written just for this section on Hiration's 2022 Guide on how to list education on your resume .
Refer to the IT help desk support analyst sample resume showcasing the ideal education section for your resume:
IT Help Desk Resume: Certifications
Apart from the details of your educational qualification, you can also add any relevant certifications that validate your eligibility to practice your line of work.
The certification section of your IT help desk support resume should consist of the following details:
Certification course name.
Name of the institute of affiliation.
Location of the institute of affiliation.
Enrollment and completion date of the course in the month & year format.
Hiration's 2022 Guide on listing certifications on a resume has more in store for you to get a better understanding of this section.
The below-given sample resume for IT help desk is showcasing what an ideal certifications section for your resume looks like:
Create an impeccable resume with the help of our Online Resume Builder .
It is safe to say that this section can do wonders for your resume and raise your chances of being shortlisted by the recruiters if curated effectively.
Most of the skills that need to be highlighted in this section are ideally present in your professional experience section. So simply scan through your one-liners and pick those skills that have been justified, then list them in this section.
To use this section in your favor and rank high on the ATS, add suitable and relevant keywords that are mentioned in the job description.
Make sure to read Hiration's 2022 Guide on what skills to put on a resume and learn more about curating the perfect skills section.
Here is an IT help desk resume sample showcasing the perfect key skills section:
IT Help Desk Resume Summary
A resume summary is an important feature of a resume that can help you give the recruiters an insight into your resume in just a few lines without wasting their time.
It is most suitable if you compose this section in the end because that way it will be easier for you to decide which points to skip and which points to mention.
Compose an IT help desk resume summary only if you have more than 3 years of work experience to highlight in your resume.
Try to keep it short and precise in 3-5 lines and add suitable keywords
There is more about this section in our Resume Summary Guide so make sure that you go through it to learn how to compose a suitable IT help desk resume summary.
Attached below is an IT help desk resume sample showcasing the ideal resume summary:
In the meanwhile, make resume-writing an effortless affair with Hiration's Online Resume Builder now!
IT Help Desk Resume Objective
Compose an IT help desk resume objective if you are a fresher writing an IT help desk resume entry level or have very less experience to highlight in your resume.
It gives an overview of your resume just as an IT help desk resume summary.
The only difference is that you need to keep professional experience on the sideline and focus on your skills and describe how you can contribute towards the higher goals of an organization.
Read Hiration's 2022 Guide on Resume Objectives to learn more about resume objectives.
Looking for a state-of-the-art resume builder and review services to help you build an impeccable It help desk resume?
Visit our Online Resume Builder and explore the best we have to offer you.
Resume Review & Free Resume Templates
Send us your existing resume to get it reviewed by the resume professionals at Hiration.
Your resume will be reviewed in compliance with the below-mentioned parameters:
Compliance with industry norms ** Conversion Scope
ATS Compliance
Content Relevance
Recruiter Friendliness
Design Compatibility
Global Compatibility
Performance Assessment
Resume Formatting (font, margins, the order of sections, etc.)
Online Resume Builder for Your Resume
Here is a list of the resources that come with our Online Resume Builder :
JD-resume matcher
Intuitive text recommendations
100+ pre-filled resume templates
25+ resume designs
Full rich-text editor
1-click design change
A sharable link
LIVE resume Score
LIVE resume editor
Option to save unlimited resumes
Our Online Resume Builder is here to help you create job-winning resumes.
Key Takeaways
Always use the right resume format that best suits the trajectory of your career and the requirements of your job application.
Label your resume with your name as the header and provide your contact details along with an accurate profile title.
Frame action-oriented one-liner points and apply the bucketing and bolding to make them effective.
Make sure that your resume is keyword optimized to rank high on the ATS and raise your chances of being shortlisted by the recruiters.
Clearly mention the details of your education and certification to enhance your resume.
Create a separate section to highlight your most significant skills.
Compose a suitable IT help desk resume summary to give an overview of your resume.
Now that this blog has come to an end, we advice you to make use of all the IT help desk resume examples and IT helpdesk resume samples while writing the best resume.
Go to Hiration resume builder and create a professional resume for yourself. Additionally, reach out to us at [email protected] and you can get 24/7 professional assistance with all your job & career-related queries.
Share this blog
Subscribe to Free Resume Writing Blog by Hiration
Get the latest posts delivered right to your inbox
Stay up to date! Get all the latest & greatest posts delivered straight to your inbox
Is Your Resume ATS Friendly To Get Shortlisted?
Upload your resume for a free expert review.
Resume Builder
Resume Experts
Search Jobs
Search for Talent
Employer Branding
Outplacement
Resume Samples
Information Technology
IT Service Desk Resume Samples
The guide to resume tailoring.
Guide the recruiter to the conclusion that you are the best candidate for the it service desk job. It's actually very simple. Tailor your resume by picking relevant responsibilities from the examples below and then add your accomplishments. This way, you can position yourself in the best way to get hired.
Craft your perfect resume by picking job responsibilities written by professional recruiters
Pick from the thousands of curated job responsibilities used by the leading companies, tailor your resume & cover letter with wording that best fits for each job you apply.
Create a Resume in Minutes with Professional Resume Templates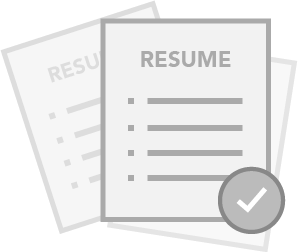 Assisting with the detection and recording of possible Problems
Maintaining accurate hardware and software inventory and configuration information
Escalating the process as necessary per established escalation policies
Keeping affected business partners informed about progress
Assisting with the fulfillment of Service Requests
Monitoring the status and progress towards resolution of assigned Incidents
Performing Incident investigation diagnosis and resolution
Supervises team, including having responsibility over hiring, firing, and discipline
Occasionally works during evening or weekend hours when warranted
Working knowledge of MS operating systems and applications
Manage relationship with Tier 3 teams to drive continuous improvement while identifying opportunities for additional Tier 1 involvement in incident resolution
Ensure Service Desk phones are answered, voicemails and e-mails responded to and physical space staffed during business hours
Assists with on-boarding of new teammates
Drives change, fosters team spirit, and builds a winning team
Demonstrates management basics-planning, organizing, directing, developing and supervising
Everyone deserves a GREAT manager - Be one! Develop your staff and nurture the next leaders in the team
Leverage service desk best practices and process frameworks, such as ITIL foundations, to drive continuous process improvement
Perform occasional "remote hands" support for enterprise Networking, Storage or Systems Admin teams
Manage on-call rotation for Service Desk teams
Provides technical support to the organization's internal users of computer applications and hardware
Align, support, and recognize staff to maintain a high performing team with high morale
Analyzing Incidents to identify service restoration actions to be taken
Provide hardware and software support for all supported Personal Computer and Mobile Devices plus associated peripherals
Provides basic support of telephony and UC systems
Provides support of conference room audio video equipment
15 IT Service Desk resume templates
Read our complete resume writing guides
How to tailor your resume, how to make a resume, how to mention achievements, work experience in resume, 50+ skills to put on a resume, how and why put hobbies, top 22 fonts for your resume, 50 best resume tips, 200+ action words to use, internship resume, killer resume summary, write a resume objective, what to put on a resume, how long should a resume be, the best resume format, how to list education, cv vs. resume: the difference, include contact information, resume format pdf vs word, how to write a student resume, it service desk duty manager resume examples & samples.
Associates degree or apprenticeship
6-8+ years of experience
Associate's degree or equivalent combination of education
Requires five or more years of service desk related technical and managerial experience
It-service Desk Analyst Resume Examples & Samples
Communicates and coordinates ticket escalations, updates and outages with IT. Communicates ticket descriptions, updates, ETA's, resolution explanations and outage notifications with the business
May be required to perform daily and weekly scheduled procedures for Data Center operations including, but not limited to, routine core systems maintenance, tape management, daily financial processing and reporting for foods, merchandise and ticketing as well as iSeries maintenance and monitoring
Can multi-task in a fast paced office environment
Can deal with problems involving a few concrete variables in standardized situations as well as problems that are undocumented and fairly complex as technology evolves and new systems implemented
Minimum 2 years' experience with PC desktops, networked computer systems, Windows XP & Win 7 operating systems, Active Directory & Microsoft Office 2003, 2007 and 2010. Preferred knowledge of POS systems, VPN and iSeries
Works with 3rd party vendors, remote users and communicates with customers including, at times, top level executives. Solid written and verbal skills are a must
Minimum 2 years' experience in computer related field and customer service or equivalent combination of education, experience or on the job training
Regularly (2/3 or more) sit for prolonged periods; talk; hear audible alarms, voice commands with background noise; use hands and fingers to grip, pinch, handle or feel objects, tools or controls; repetition-using an input device-a keyboard or mouse-in a steady manner; use close vision with or without corrective lens. (clear vision at 20 inches or less); maintain alertness and attentiveness up to 4 hours while working varying hours; maintain concentration/focus (e.g., ability to interpret the work environment and make decisions on predetermined operating policies and procedure)
Frequently (1/3 to 2/3) repeat motions more than twice per minute
Occasionally (1/3) stoop, kneel, crouch or crawl; use distance vision with or without corrective lens. (clear vision at 20 feet or more); use color vision (ability to identify and distinguish colors); use peripheral vision (ability to observe an area that can be seen up and down or to the left and right while eyes are fixed on a given point); use depth perception (vision, ability to judge distances and spatial relationships); work in varied light conditions including low or diminished lighting; use their ability to smell
Frequently (1/3 to 2/3) work in extreme cold (non-weather)
IT Service Desk Analyst Intern Resume Examples & Samples
Respond to all user inquiries and reported incidents following established Incident Management processes. Troubleshoot computer/application problems, resolve problems whenever possible, and escalate to appropriate team when needed. Ownership of all high priority incidents by escalating to management, communicating status to business, tracking resolution process, and following up with users upon resolution. Complete all required process documentation
Process user access requests for all new hires, employee transfers, and separations in accordance with all established guidelines. Complete all required documentation associated with user access requests to ensure adherence to all SOX general controls
Complete low complexity production data repairs following established guidelines and prepared SQL. Work closely with application development and/or senior analyst to analyze data discrepancies and determine corrective actions. Document all changes in accordance with SOX general controls related to production data access
GPA of 3.3 or above
Troubleshoot computer/application problems
Hardware setup and configuration
Software installation/configuration
Active Directory user administration
Manager IT Service Desk Resume Examples & Samples
Managing overall day to day operations of the service desk; supervising service desk staff; hiring and training staff; ensuring adherence to processes and procedures for the service desk
Monitors customer satisfaction survey results; identifies potential customer service problems and seeks immediate resolutions; provides up-to-date process documentation and communicates project information to staff
Producing weekly reports, including and service availability, MTTR, as well as root cause data; using data/reports to drive continuous improvement and repair performance and fault rates; creating or assisting in the creation of "After Action" reports for major events that are suitable for customer and executive level review
Providing routine feedback to service desk staff in the form of KPI's, service level agreements, and help desk best practices; working with systems and network engineers to ensure available network and consistently detect and isolate network and service level outages and impairments
Establishing and following a planned professional development program
Demonstrated leadership skills, communication, analytical and problem solving skills, and short term and long term planning skills
Background in web technologies and enterprise application implementations in a UNIX/Oracle or Windows/SQL environment
Bachelor's degree or similar work experience
Extensive knowledge of Help desk operations, procedures and policy creation
Experience with event management and incident and problem management processes and tools
Knowledge of ticketing systems, Service Now preferred
Interpersonal/human relations skills
Strong interpersonal, organizational and analytical skills
ITIL, Apple, A+, Net+ certifications a plus
Specialist IT Service Desk Western Europe Resume Examples & Samples
Assist the Service Desk Manager in all daily operational tasks as listed below and act as a stand-in
Day to Day monitoring of the external providers service delivery and SLA fulfillment
Knowledge- and Quality Management between adidas and external service provider
Point of contact for the Business user community in all IT-related inquiries
Handling of escalations and interface between Business users, IT-departments and external Service Desk
Provide a high level of customer service/satisfaction in best in class approach
Creating and analyzing reports
Arranging meetings and creating presentations
Knowledge of common Service Desk processes and best practices
Non-expert but wide spread knowledge of PC, MAC, Business Applications and IT Infrastructure
Excellent Communication- and English language skills in verbal and written form
Strong analytical skill and understanding of reports
Knowledge in MS Excel and PowerPoint
Ability to learn and understand complex processes and to manage and interact between different parties
Willingness to travel and to interact with and in front of international crowds with a healthy self-confidence
Strong sense of customer and service orientation
Minimum 2 years of working in a large corporate IT-setting
Experience working with a wide range of computer technologies and business solutions
Experience with administrative tasks such as reporting and analysis
Experiencing in customer service and –communication
Ideally experience IT-Service Management or IT-Service Desk environments
Team Lead-it Service Desk Resume Examples & Samples
Bachelor's degree and/or 5 years experience in an IT support and service function
Candidates must have 3 to 5 years of supervisory experience
Experience in call center analytics/metrics
Quality Monitoring experience
Strong communications skills (verbal and written) along with presentation skills
Ability to build and maintain business partnerships
Ability to work with little day to day supervision
Strong planning skills
Ability to approach technical challenges from a business perspective
Familiarity with basic elements of Information Technology infrastructure
Understanding of PC operating systems and hardware
IT Service Desk Analyst Snei-sd Resume Examples & Samples
Resolve technical issues with Outlook, Mail, Distribution groups
Application support for SAP and other business applications
Mobile device support including Android and iOS
Use tools like Microsoft SCCM 2012 to distribute software
Procure Hardware and Software for IT department
IT Service Desk Coordinator Resume Examples & Samples
Utilizing technical and customer service skills to satisfactorily resolve end-user issues with products and services
Provide feedback and innovative suggestions for solutions to improve service and to reduce support call volume
Proactively follow-up with customers and escalate issues as necessary
Input and update service documentation into the call request system
To qualify, you must have an Associate's Degree or better in a computer-related field or equivalent work experience. A+, Network +, MCP, or MCSE a plus. Previous customer service experience is preferred. The ideal candidate will be detail-oriented and will possess excellent troubleshooting and analytical problem solving skills as well as excellent written and verbal communication skills. Must possess knowledge of PC hardware, Windows operating systems, VPN remote access connections, Active Directory, Citrix, and the world-wide web. An understanding of TCP/IP, WINS and DNS is required. VMS/VAX and MS Office support experience is a plus. Ability to type 35-40 wpm
A positive, flexible and professional team player who thrives in a fast-paced environment will be well-suited to our team
IT Service Desk Analyst With French Resume Examples & Samples
Accepts and logs authorized calls by phone, web, mail, or other authorized means
Ensures phone coverage in shift patterns
Fluent written /spoken English and French
IT Service Desk Agent / Technician Resume Examples & Samples
Strong technical aptitude
Willingness to work shifts that start 7am-11am and end 4pm-8pm and can change quarterly
We do have needs for Spanish speaking technicians/agents. For those fluent in Spanish, please apply to our other online posting or send our Talent Acquisition Business Partner an email at [email protected]
IT Service Desk, Team Lead Resume Examples & Samples
Very good people management skills, should have experience in previous roles
Very good communication skills, should have managed services across geographies
Ability to drive initiatives in the team with creativity and a long term vision
ITIL understanding, experience of dealing with process improvements
Having a proven track record
Good understanding of the Fixed Line Internal IT Infrastructure
5+ years IT call center experience a must
2+ years' experience as a lead or manager of a call center
Experience working in and SLA driven environment
Works well under pressure and in a fast paced, growing environment
Seeks solutions independently to solve problems. Works well under minimum supervision and deliver results daily
Experience leading and motivating a team
Experience creating, analyzing and presenting performance reports
Exceptional customer service orientation with strong interpersonal and relationship building skills; the ability to maintain patience in the face of experienced and inexperienced computer users
Ability to work in a challenging environment producing positive results that demonstrates a high degree of attention to quality, detail, correctness and deadlines in a multi-tasking, priority changing environment
Excellent computer application skill set including Exchange, Active Directory, Virtualization, Printer troubleshooting, MS Windows, Linux Operating System and MS Office Suite
Ability to analyze, identify and troubleshoot Window & Linux Operating System, desktop applications, hardware, and infrastructure via the phone and with remote access tools
Must be able to work with a variety of people and departments, and maintain confidentiality
Excellent written, organizational skills, verbal and analytical skills are a must
Understands friendly and helpful customer service is a top priority
Proactive team player who can work both independently and within a team environment to promote a unified front to our customers
Experience with ITSM based ticketing system Service-Now, BMC Remedy, JIRA Service Desk, HEAT or other ITIL based call tracking software
Experience in hiring and building small to mid-sized teams
Experience in handling a high volume operations teams
Education: Bachelor's Degree
8+ Years of professional experience
Desired ITIL Certification
2015: 1st to market with competitive benchmarking analytics for publishers
Senior Mgr, IT Service Desk Resume Examples & Samples
Responsible for oversight and supervision of employees under management and 3rd party service providers critical to the delivery of the Service Desk functions
Drives continuous improvement and leads transition from business centric service desk function to HCH enterprise model
Responsible for overseeing the day-to-day operation of the IT Service Desk, which represents initial contact for all users reporting questions, problems or service requests regarding use of technology services
5-10 years Service Desk \(or equivalent Operational\) experience and at least 5 years supervisory / manager experience
It-service Desk Specialist With Knowledge of Spanish Resume Examples & Samples
Provide technical assistance and support for incoming queries and issues related to computer systems, software and hardware
Respond to customer queries
Resolve technical problems with Local Area Networks (LAN), Wide Area Networks (WAN), and other systems
Organize new computers and other office techniques preparation and installation
Provide IS/IT induction and assist in IT trainings
Install computer peripherals for users. Maintain daily performance of computer systems. Install, modify, and repair computer hardware and software
It-service Desk Specialist With Knowledge of French Resume Examples & Samples
Provide all corporate software supports
Prepare technical documentation and user instructions
Organize equipment for meetings and end-users, also be responsible for equipment asset
IT Service Desk Team Lead Resume Examples & Samples
Ability to work in group setting and independently; ability to adjust to changing priorities
Strong interpersonal and communication skills, both verbal and written
Fluent in reading, writing and speaking English
5 year experience in a similar role and/or a technical support position preferred
Experience working with computer software including Office 365 preferred
Experience with building and imaging of PCs is a plus
Knowledge of Microsoft SharePoint also a plus
Proven problem solving abilities
IT Service Desk Generalist Resume Examples & Samples
Handle customer issues via calls or emails recording an incident for each issue
Consistently uses service management tool to create/update incidents, requests, problems, etc
Coordination of user administration processes and password resets for all Polo platforms
Assists in the development of training activities and documentation to operational support processes
Adheres to all Service Desk processes and procedures
Contributes articles to knowledge base tool and functionality to support IT Customer Service team in resolving customer issues
Positive advocate for goals, commitments; and vision of Polo and is able to deploy that vision through the functional areas; knows when to proactively communicate regarding issues and problems that exist in their own functional area
The candidate must have general knowledge of iSeries, UNIX, Intel and WAN technologies
Excellent interpersonal skills are required
Meets individual scorecard requirements for operational performance
Communications: Listens with sensitivity and openness. Actively seeks constructive feedback and remains open and receptive to it. Messages are presented in a logical and well-organized manner. Anticipates the information needs of others. Proven skills in communicating with technical staff, customers and all levels of management. Possesses excellent writing and presentation skills
Teamwork and cooperation: Takes an active role to help team members accomplish tasks and goals. Takes initiative to resolve conflicts. Documented evidence of ability to facilitate collaboration among multidisciplinary groups
Building/Managing Relationships: Takes steps to manage how others view them Makes time to meet people and develop mutual understanding
Flexibility and response to change: Supports and promotes new or evolving procedures and routines. Demonstrated ability to study, understand, adapt and respond effectively to a constantly changing environment
Quality of work: Performs challenging tasks efficiently and effectively. Anticipates problems and takes corrective action prior to completing the task. Documented ability to manage projects from planning stages through implementation
Customer service: Anticipates and takes personal responsibility for customer satisfaction. Consistently goes out of the way to listen, understand, and support the needs of others in a sensitive manner
Availability: Demonstrates flexibility in meeting unexpected work fluctuations and schedules. Achievement motivation: Sets challenging objectives and works against self-defined standards of excellence to continually improve personal performance
This position description is intended to describe the essential functions, general content, and qualifications of this position. It is not an exhaustive statement of all duties and responsibilities performed in this position. Other duties may be assigned as needed
Education: Associate degree in Computer Science, Electrical Engineering, Information Systems or vocational/technical degree OR equivalent relevant experience in addition to the minimum experience requirement. A minimum of two-three years' experience in a call center/service desk/help. Additional Training/Certification: Help Desk certification preferred. ITIL Foundations certification preferred. Technical certifications such as A+, Security +, MCP, are a plus
IT Service Desk Analyst With German Resume Examples & Samples
Categorizes and prioritizes all incidents and service requests arriving on the Global Service Desk queue, either resolving them directly or re-assigning them to other support teams as required
Cooperate with partners located over the whole globe
Fluent written /spoken English and German
IT Service Desk Analyst With Spanish & Italian Resume Examples & Samples
Understands service levels and executes tasks accordingly
Adherence to process and procedures to maintain quality and professionalism
Innovative and prepared to try different ideas where this could be beneficial to the environment and our clients
Fluent written /spoken English, Spanish and Italian/ French/ German
Manager, IT Service Desk Resume Examples & Samples
Supervise a team of individuals responsible for implementing and maintaining Service Desk standards, policies, processes and procedures, aligned with ITIL framework
Responsible for implementation of Incident Management process and works in conjunction with IT Operations and Engineering and associated Problem Management functions. Incident management process will include first level triage and direction to appropriate service lines
Serve as the escalation point to end-users for desktop support related incidents and requests
Proactively lead and develop the performance of team members through performance management, calibration, resource review & planning, capability, disciplinary, training & development to meet the needs of the business
Recommend and implement applicable technologies to effectively manage the client environment in regards to security, anti-virus, image and patch management
Manage reporting of metrics and Service Level Agreements that effectively measure team, department and vendor performance, and are in line with the needs of the business
Must be customer focused and will be tasked with continually improving customer satisfaction, which will include managing customer surveys, monitoring service desk interactions, and helping train service desk staff
Will help determine technology direction around client services including desktop/laptop, mobile devices, and remote access solutions
Support multi-media, teleconferencing, and conference room technologies
Responsibilities will include managing and serving multiple remote sites and remote employees
Four to six years related experience
IT Service Desk Resume Examples & Samples
Education – BA or BS in technical discipline (e.g. MIS, CS, Network Engineering, etc.)
Certifications – (HDI - Help Desk Institute, a professional organization for those working in the IT Service Management industry.)
Technical Experience: Hands-on and phone-based technical support experience in professional environment
Customer Service: Phoned-based technical support experience
Education: Associates earned - Nearing completion of BA or BS in technical discipline (e.g. MIS, CS, Network Engineering, etc.)
Certifications: A+, Network+
Technical Experience: Hands-on technical experience in professional environment
Customer Service: In-person technical support experience
Operate and maintain AV equipment for live and recorded events
Operate audio board and/or video conferencing and streaming or bridging technologies and equipment for presentations and meetings
Troubleshoot issues remotely and in person
Demonstrates accuracy and thoroughness; Looks for ways to improve and promote quality; Applies feedback to improve performance
Works closely with Network and Telecommunication Administrators
IT Service Desk Performance Manager Resume Examples & Samples
Development and shaping of the design and implementation of a strategic delivery programme to drive excellence in customer experience
Management and accountability for service partner performance and productivity relative to SLA's & KPI's
Act as point of escalation for all service related issues. Resolves escalated issues in accordance with the governance escalation procedures
Identification and analysis of key data points to establish trends and along with the formation of insights, and provision of thought leadership and recommendations to drive continuous improvement and influence the right outcome from partners
Work with our service partners to ensure the availability of the core Head office and Branch Desktop, email and collaboration platforms
Ensure effective collaboration with internal and external stakeholders to drive consensus, and ensure buy-in for the actions required to mature the effective operational framework and drive continuous improvement across AIB's ways of working
Key stakeholder at the Vendor Service Governance forums to demonstrate the effectiveness of supplier performance against contracted KPI's and SLA's
Work closely with Financial Governance to analyse performance outcomes for Vendor Performance Credits/Earn-backs and to reflect impacts of Balanced Scorecard
Ensure the Service Provider delivers on continuous improvement process and assist in benchmarking service levels. Implementing service improvement plans where service levels are not being met
Delivering/representing Supplier Performance Metrics to Executive steering committee and other executive leadership groups, providing supporting commentary. Maintains database of outsourcing performance metrics
Reviewing Service transition plans for introduction of all new technologies and business processes
Tracking performance issues and corrective measures where implemented, with independent decision making in relation to the vendors and their performance
Accountable for minimising the operational risk of service delivery to AIB ensuring both direct and partnership approach to service delivery
Planning and priority setting – getting things done effectively and efficiently - Level 4
Communication and influencing – genuine two-way communication to achieve consensus and progress - Level 4
Problem solving and decision making – making timely, quality decisions - Level 4
Results focus – achieving results resiliently - Level 4
General Technical - Demonstrable understanding of the influence of ITIL/ISO20000 on IT Service Management practices. Level 4
IT Service Desk Analyst With Italian & English Resume Examples & Samples
Updates existing incidents and requests records active in the incident management system
Contagious enthusiasm fueled by a desire to be best in class
Client focused and biased in pursuit of business goals and objectives
After Hours IT Service Desk Agent Resume Examples & Samples
Diagnoses and troubleshoots end user desktop application issues and provides appropriate solution
Provides timely resolution of problems or escalation on behalf of the customer and ensures their satisfaction
Provides case status updates to management and end-users per service level guidelines
Support and maintain effective relationships with users
Develops, documents, and implements standard operating procedures and customer service guidelines relating to remote IT support
Provide support for PCs, laptops, printers, cell phones, and tablets etc
Support end users in their use of applications such as Microsoft Office, ERP, CRM, VPN, Citrix, and MDM (mobile device management)
Performs account management and maintenance for various applications and systems (e.g., creates or modifies user accounts and permissions, and performs password resets)
Communicates with customers at all levels of technical and non-technical skills sets
Follow all standard operating procedures (SOP) through the effective use of Knowledge management
1-2 years of related work experience preferably in an IT Service Desk/Call Center environment
AA degree or technical training preferred or equivalent combination of education and experience
Experience using ITSM Ticketing tools (e.g. Service Now, Remedy) to manage and track incidents preferred
Certification in relevant IT products/technologies a plus
Focus on providing exceptional customer service
Able to communicate effectively in English both written and verbal with key stakeholders, leadership, partners, team members, other organizations, and customers
Ability to type while in involved in a conversation, at least 30 WPM
Sound understanding of customer support, operations, and processes with a desire and enthusiasm to serve customers
Working knowledge of Windows operating systems, networks, databases and network security concepts and tools is required
Working knowledge of the Microsoft Office application suite including MS Outlook
Active Directory, and Exchange experience preferred
Solid analytical/cognitive skills to troubleshoot complex and technical problems
Ability to coordinate and prioritize multiple tasks simultaneously while maintaining attention to detail and quality
Demonstrated capability to achieve results under pressure in a fast paced client driven environment
IT Service Desk Phone Agent / Technician Resume Examples & Samples
Building and shaping a high performing team with proper customer centric mindset, knowledge, empowerment and sense of purpose that delivers valuable and timely support to our End Users
Oversee and operate the "what" and the "how" the organization delivers against the expectations and defined metrics
Driving for continuous improvement and different ways of doing things
Acting as escalation point for customers and major incidents
Performing overall Account Management activities with IT Managers in remote countries
Champion Knowledge Management in the organization
Participating in defining and documenting operational procedures; drafting and maintaining technical content for the knowledge database for use of upstream support teams
Team Lead IT Service Desk Resume Examples & Samples
Building and shaping a high performing team with proper customer centric mindset, knowledge, empowerment and sense of purpose that delivers valuable and timely support to our End Users. Overseeing and operating the "what" and the "how" the organization delivers against the expectations and defined metrics
Driving for continuous improvement and different ways of doing things. Acting as escalation point for customers and major incidents
Performing overall Account Management activities with IT Managers in remote countries. Perfroming Champion Knowledge Management in the organization
Providing technical guidance on more complex issues, including global project coordination
Working at least 20% on the morning or night shift for follow the sun model
German Speaking Senior IT Service Desk Analyst Resume Examples & Samples
Supporting the onboarding of new team members ensuring new team members cover all required trainings and process for properly start providing support
Defining and shaping how Knowledge Management will work strategically within the organization promoting best practices in Knowledge Management
Analyzing current and future trends and propose inputs in the resource allocation and workforce planning
Proposing and implementing improvements actions engaging properly stakeholders in SSC, sites or other teams
Checking the behavior of the supporting channels* in real time making proper assessment and action plan (*call- and chat volume, incoming emails, incoming IT self service tickets, community postings and escalation received from sites)
Measuring and assessing the overall performance of SSC in a structured way, collecting and assessing information and feedback from various sources related to services, processes and people by using available/creating new reports (KPI, Operational Reports, Global Employee Survey, End User Satisfaction Survey, Satisfaction Survey of Local IT Sites, etc.)
Communicating all relevant system/application based outage to relevant end-user and/or IT Function and/or stakeholder following agreed process with impacted country
IT Service Desk Analyst With Italian / French Resume Examples & Samples
Provides internal and external communication of incident/request status, engaging next level support when required
Bachelor's degree or equivalent work experience
Willingness to learn and focus on results
IT Service Desk Agent Resume Examples & Samples
The candidate will possess and aptitude for working with Microsoft-based applications, with emphasis on Windows 7 and Office suites
Problemsequests range from simple to complex; the candidate will analyze each request or symptom(s) and provide optimum resolution ulfillment for each customer in a prompt and efficient manner
The successful candidate will provide excellent customer service and adhere to all service management principles, documented processes, and team guidelines
This role requires the ability to interact professionally with a diverse group of customers, team members, managers and subject matter experts
The IT Service Desk Agent will take ownership of follow up status and communicate progress regularly to both their customers and leadership (when requested)
Provide timely assistance and support for incoming queries and issues related to computer systems, software, and hardware
Effectively document incident management requests and resolution
Analyze root cause, identify known issues or workarounds, and document resolutions
Support local and remote employees utilizing standard IT tools
Troubleshoot and configure laptops and desktops
Provide support for Microsoft Windows, Office Suite, and other third party applications
Image, deploy, maintain and upgrade IT systems as assigned
Proactively identify areas for improvement and present suggestions to IT Management
Support IT assets and environment using diagrams, run-books and procedural documents
Assist with maintaining an accurate inventory of hardware and software assets
Learn new technologies, concepts, and processes as needed or requested by management
Continued improvement of knowledge and skills
Perform planned support and maintenance during scheduled windows
Maintain communication with team members distributed across the country
Comply with IT service management controls including incident management and change management
IT Service Desk Phone Agent Resume Examples & Samples
Multilingual it service desk positions resume examples & samples.
Taking ownership and responsibility for problems of client's technical issues
Accepting and immediately starting to process, solve or forward Software/Hardware and telephony problems. Having a duty to supply information to the users
Answering calls offered to Service Desk queues and being responsible for managing the ticket queues
Analyzing requests and problems and developing solution suggestions
Maintaining a high level of Quality Customer Service
Promptly notifying Critical Incident Management of high priority issues after collecting required information for escalation
Increasing knowledge base by passing new issue resolution information to Service Desk's Knowledge Administrator through the established Missing Knowledge process
IT Service Desk Agent With Spanish Resume Examples & Samples
Provides first level IT Support to multiple clients supported out of Romanian Service Desk. Performs initial level of problem identification and attempts resolution
Must maintain a high degree of customer service for all support queries, take ownership of user problems and be proactive when dealing with user issues
Ensures that correct resolutions are found and involves appropriate areas in resolving problems when needed
Actively participates in preventive maintenance, by documenting common problems and scripts for customer support in the Service Desk knowledge base
Develops and maintains knowledge of BMC Remedy (incident tracking system), AIDU and of the Service Desk procedures and business environment
Fluent in English and Spanish
Professional skills: problem solving/ troubleshooting, analytical, written and oral communication, administrative and organizational
Ability and desire to build additional technical skills
Ability to interact effectively with others in a team environment
Ability to work with broad range of experience levels
IT Service Desk Shift Supervisor Resume Examples & Samples
Supervises activities of the Service Desk Specialist to ensure goals and service level commitments are achieved
Assures appropriate staff coverage including back-up coverage as needed
Distributes workload and provides direction to team members to resolve restaurant incidents and problems
Manages incident shift log, which includes assignment and transitioning of calls to next shift
Ensures Service Desk Specialists incidents are resolved are accurate and in the agreed upon time frame
Evaluates open incidents for possible re-prioritization or escalation
Ensures priority accuracy of ticket assignments. Reviews all urgent priority tickets to ensure proper assignment
Manages, addresses, researches, targets and initiates resolution of incidents that have missed defined SLAs or have been escalated
Directly handles some incidents when required due to call volume
Must be a Power Use of the Remedy tool. Understands and achieves a high level of competence in the Service Desk Agent role
Monitors staff's performance and coaches for improvement and development
Orients and trains staff as necessary
Provides input into staff performance evaluations
Assists with the implementation of new operational processes and procedures. Ensures Service Desk Agents follow defined processes, procedures and measurements; ensures documentation and procedures are defined to maximize first call resolutions. Reviews existing processes and procedures provides recommendations for improvement
Identifies and communicates potential problems and issues to the Service Desk Manager and IT Leadership as appropriate. Identifies alternatives and recommends solutions as appropriate
Creates and updates knowledge for the IT Service Desk knowledge base to ensure that consistent support processes and procedures are properly documented and available to team members
Consistently enhances skills and job knowledge by researching new internet/intranet technologies and software products and trends; reading professional publications; maintaining personal networks; participating in professional organizations
3+ years' of experience in a Service Desk / Call Center / Customer Support
Demonstrated experience in problem solving of computer, networking, and telecom
Practical experience with information technology infrastructure operations and service management
Demonstrated ability to meet or exceed Service Desk measurements that drive performance improvements (examples: Speed to answer, abandonment rate, service consistency, etc.)
Experience with BMC Remedy or equivalent service desk ticketing systems
BS/BA in MIS, Computer Science or Business
Supplemented by three (3) years progressively responsible experience in managing Service Desk operations and telecommunications, computer and applications technical support; or an equivalent combination of education, training, and experience
Experience and demonstrated competency in supervising people, tasks, and service processes
Demonstrated ability to lead and motivate staff; ability to work in a team oriented environment
Strong verbal and written communication skills with the ability to interact professionally with a diverse group of people at all levels of the organization
Strong interpersonal skills with positive team attitude and commitment to customer service and department goals
Strong analytical skills and ability to identify and track problem trends
Strong problem-solving, and decision making skills
Practical experience of process management and continuous improvement methods and techniques
Good understanding of the Information Technology Infrastructure Library (ITIL) disciplines and the interaction of ITIL and other processes
Demonstrated ability to take initiative and provide ownership of projects and key deliverables
Demonstrated ability to handle multiple tasks
Strong Customer Focus
Knowledge of restaurant or retail business
Operational Support and Analysis ITIL Practitioner certificate preferred with ITIL Foundations Certification
Internship IT Service Desk Resume Examples & Samples
Respond to requests for technical assistance via phone or electronically
Administer help desk software
Track and route problems and requests and document resolutions in knowledge base
Supervisor, IT Service Desk Resume Examples & Samples
Day-to-day operational support
IT Knowledge Management support
Escalation for service failures
Review feedback from users and IT Support teams to find areas of improvement
IT Service Desk Agent f/m Resume Examples & Samples
Familiar with software installation and application
Knowledge of basic Networking and Desktop Support (2 year minimum)
Assist users by troubleshooting and resolving operating system, application, and hardware issues
Document, track, and monitor problems to ensure a timely resolution
Ability to react to change appropriately and handle other essential tasks as assigned
Receive, configure, and deploy end user computing devices using established corporate procedures
Display a high level of effort and commitment to performing work; perform effectively within the organizational structure, demonstrate trustworthiness and responsible behavior
Assist with projects typically as a team member. At times, candidate may lead small to medium size projects
Assume and perform other duties and responsibilities not specifically outlined herein, as requested
Proactive, energetic, go-getter, willing to learn and adapt new technologies, work under stress, willing to work night shifts and occasional weekends
Work independently in the absence of supervision
Technically Proficient
Detailed Oriented
Professional Demeanor
Intuitive Problem Solving
IT Service Desk Intern / Co-op Resume Examples & Samples
Answer the calls coming to the IT Service Desk station
Gather pertinent information about problems/requests
Enter the incident into IT Service Desk Software System
Strive to resolve a majority of issues over the phone
Update the IT Service Desk knowledge base to support efficient and effective resolution of frequently raised IT issues
Escalate open tickets to proper IT Staff for problem resolution
Follow up with end-users and IT Staff on status
Provide frequent communications between the end-users and the IT Technology systems staff member
Maintenance and support for the phone system and voicemail system
New orders and support for cell phones
Network, email, vendor management, print queue management, business systems
Assist in creating new procedures
Increase first call telephone resolution through standard documentation
Continuous improvement of communications and IT Service Desk programs
Maintain all IT documentation Including the IT library and supplemental information
Work towards best practices and contribute to the "follow-the-sun" Global IT support vision
Hardware installation, maintenance and support
Software installation, maintenance and support
Network maintenance and support
Ensure effective communication between the Service Desk and appropriate system support teams within the rest of the IT organization, including status reports of projects and/or systems issues
Candidates must be actively enrolled at an accredited college or university, pursuing a degree in Information Technology, Computer Science or a related field
Commitment to ongoing training and new system implementation
Ability to develop effective working relationships with customers, co-workers and Administration
Ability to make contacts with other departments, requiring tact and judgment to ensure effective support
Strong English verbal and written communication skills which are geared towards exceptional customer satisfaction
Proven ability to identify, research, and resolve IT level-1 issues in a timely manner, and quickly escalate non-resolvable issues to the appropriate IT team
Ability to develop effective working relationships with customers, co-workers and administration
Technical IT Service Desk Analyst Resume Examples & Samples
Provision of first line support, including but not limited to triage and appropriate troubleshooting, correct incident categorisation and resolution where possible. Retention of end to end ownership and working with ENGIE resolver groups and third parties where required
Communicates incident resolution or request fulfilment to the user
Develop skill set to provide guidance on all supported software and hardware deployed by the organisation
Ensure that priority setting and escalation procedures are applied effectively and that all complaints are responsibly and professionally resolved
Perform remote / onsite desktop support, including installing and upgrading of software and hardware components
Support the Service Desk Team Leader with the successful take-on of new services
A requirement to work the contracted 37.5 hours per week between the hours of 07:30hrs – 17:30hrs
The Service Desk Analyst assists the organisation by ensuring incidents and service requests relating to IT services are resolved satisfactorily and in a timely fashion
Identifying recurring problems that require in-depth attention
Identifying ways to deliver improved service performance to clients
Provide day to day service desk support
Identify and resolve incidents within agreed SLAs, ensuring 1st line resolution is achieved wherever possible, referring to 2nd and 3rd line support where required, whilst maintaining ownership of the issue through to completion
Correctly log, prioritise, assign, track and respond to incidents and service requests in a timely manner, meeting agreed SLAs, and according to agreed standards and procedures
Escalate high priority incidents to both internal and external teams, as appropriate
Keep users and other interested parties informed of progress throughout the lifecycle and ensure that corrective action is taken to avoid or minimise delays
Continually increase the amount of incidents and requests resolved at the first point of contact
Appropriately apply priority setting and escalation procedures
Professionally resolve complaints
Contribute ideas for improvements to the Service Desk Team Leader
Maintain support documentation of tools that are used by the Service Desk
Monitor incident trends and identify recurring incidents for resolution
Ensure that all relevant incidents are linked to their appropriate problem
Ensure that together the team develops effective working relationships at all levels by simplifying complex technical messages and acting as an advocate of IT both externally and internally
Qualification in the field of Information Technology and / or 2 years equivalent work experience
Good knowledge of a leading IT Service Management Tool
Strong ability to quickly understand user requirements and issues
Professional telephone manner with ability to remain calm under pressure and be able to express solutions and ideas to colleagues and users at all levels
Proven experience in a customer facing role
IT Service Desk Analys Resume Examples & Samples
Deliver to agreed service levels within agreed budgets
Answer telephones calls from customers within 60 seconds using the correct ENGIE greeting
Assessing the criticality of each situation by being proactive and asking for as much information as possible to help the caller assess their requirements
Utilise diagnostic utilities to aid with troubleshooting to achieve first time resolution
Carry out any ad hoc tasks/duties which may reasonably be expected as requested by IT Management
Qualification in the field of Information Technology and / or substantial previous work experience
A good technical background with knowledge of common software packages and a broad understanding of IT Infrastructures
Monitors the quality of live and non-live contacts for each team member
Conducts coaching sessions with each team member to discuss contact quality reviews and individual performance scorecard
Prepares and conducts monthly and yearly performance reviews on each team member using the individual performance scorecard
Analyzes regular performance reports and take actions to ensure desired behaviors from team members
Handles escalations from dissatisfied customers and proactively reports such instances to the Service Desk Manager
Conducts team huddles and events to ensure high levels of team motivation as well as to communicate key updates
Develops training and performance improvement plans for team members
Proposes innovation and improvements to current processes/procedures/tools to the Training, Process & Tools Lead
Helps instill a fun working environment by proposing gamification initiatives to the Service Desk Manager
Position may be required to work various time zones, in support of 24x7x365 support requirements
Strong problem solving skills and decision-making ability
Work experience with Microsoft Active Directory Users and Groups Management
Minimum five years of work experience in IT Service Desk environment with at least 2 years as a team lead
IT Service Desk & Onsite Operations Manager Resume Examples & Samples
Responsible of Service Desk & Onsite Support deliveries for North America, ensures that agreed targets are met and appropriate qualitative standards achieved
Responsible for driving performance against the Service Level Agreements (SLA's) and Key Performance Indicators (KPIs)
Handle large volume operation of 12,000+ PCs, 5,000+ mobiles, 11,000+ users, 11,000+ tickets
Manage deployment/collection of all end-point devices via CMDB
Run managed service operations provided by 3rd party vendor – onsite and remotely
Develop and implement robust automation & processes to ensure that high quality service is provided to customers
Improvement of key customer satisfaction metrics, SLA and deliverable
Continuous improvement: Analyze support Services activities and make recommendations for increased organizational efficiency and effectiveness
Ensure that regular training are provided to staff to ensure that each member of the team is able to provide the best level of customer support
Be willing to travel within NA and worldwide about 20%
At least 7 years of experience of managing team (local and remote) in IT environment
High interpersonal skills and customer orientation
ITIL expert in managing service via SLAs and KPIs
Experience and skill in managing managed service provider to achieve service objectives
Multicultural orientation and experience with international organization and distributed environment / Locations
Demonstrate evidence of influencing positive change within IT Customer support environment
Ability to lead teams effectively both through structured coaching and deliveries
Thorough knowledge of IT Customer support operations
Ability to efficiently convey ideas though oral and / or written communication
Ability to work in a group or independently; good analytical skills, details oriented ability to effectively listen to and resolve customer issues
High capabilities of data analysis and analysis tools
A good awareness of software and IT services providers within IT support marketplace
High technical capabilities with IT infrastructure, knowledge of client, servers, network and telecom
Proven project management capabilities
English fluent speech and written
IT Service Desk Reports & Workforce Lead Resume Examples & Samples
Knowledgeable with IT Service Desk performance metrics
Microsoft VBA programming
Proven experience to convert telephony & ITSM tools raw data into meaningful business information
Highly experienced in writing complex Microsoft Excel functions, VBA codes
Knowledgeable with statistical analysis
IT Service Desk Administrator Resume Examples & Samples
Enjoy working with high professional standards to meet high expectations from our customers
You have just entered the job market
Technical know-how in infrastructure technology is a definite plus
Are ready to provide the best solution to client queries
Carry a positive attitude
Fluent in Finnish and English Language skills, able to communicate easily with customers both verbally and in writing
Flexible attitutude and thus prepared to work in shift to provide service to our customers from Monday to Sundy, round the clock
On the job training
A competitive salary with possibility to earn a monthly bonus
Be part of a shift based team
Very friendly and supportive team members
Career development opportunities in an International company
Manager of IT Service Desk Resume Examples & Samples
Supervise the Service Desk support staff by defining and establishing schedules, work assignments, priorities, providing support/direction and dealing with administrative issues as needed
Gather, analyze, and publish metrics to benchmark the IT Support workload/performance and identify trends in support issues, making recommendations to improve services and support where needed
Work with the end user community to promote exceptional customer experience, effective response times and provide expert insight into general support issues
Train helpdesk staff on operational procedures and troubleshooting techniques. Provide training on new hardware and/or software applications as requested
Ensure that the helpdesk staff provides timely and considerate customer service to end users by fielding helpdesk calls and resolving technical issues within defined SLAs
Ensure that proper escalation paths are followed by the Service Desk, in line with documented procedures
Maintain documented information and processes, updating as needed
Maintain a strong working relationships with preferred vendors
Assist end users, as needed, both in person and over the phone
Associate's Degree in related field and/or equivalent experience
2+ years in a supervisory/management setting
5+ years hands-on technical help desk experience
Knowledge of Microsoft Directory Services (Active Directory) and Communications (Office 365/Exchange)
Expert at troubleshooting hardware/software
Ability to create, document and implement efficient processes
Ability to lead technical projects of moderate complexity
Performance Management and Coaching skills
IT Service Desk Supervisor Resume Examples & Samples
Management and/or leadership of personnel engaged in the support and delivery of IT technologies
Manage Tier 1 Service Desk to pre-defined metrics
Provide continuous improvement recommendations as a result of metrics management
Manage knowledge documentation for Tier 1 Analysts
Skill assessment and training of ITSC Analysts (initial and ongoing)
Interpret customer survey results and SLA reports and develop corrective actions
Perform analyst performance reviews with the direction of the Service Desk Manager
Focus on process improvement and increased efficiencies within the Service Desk
Review staff utilization reports to efficiently manage Tier 1 agents and develop appropriate staffing for the Tier 1 Service Desk
Manage all Tier 1 queues - delegate and monitor queue management responsibilities appropriately
Act as point of escalation for resolution of customer complaints
Have an open rapport with all Tier 3 managers and business managers in order to be involved in any new technologies that will be supported by Tier 1 agents. Ensure proper training and documentation of new services to be supported
Excellent customer service skills, including the ability to work with users of all ability levels
Working knowledge of Windows desktop, MS Office suite (Word, Excel, and Outlook)
Ability to evaluate team procedures and update where necessary
Ability to quickly learn proprietary applications that are core to the business and provide expert support
Patience; have effective interpersonal skills; assertiveness as well as diplomacy and the ability to determine when each is required
Excellent questioning skills as well as the ability to identify isolate and communicate problems from and to all levels of customer base and staff
College Degree required. (Preferred MIS; Computer Science; or Business)
2-3 years experience working in an environment where service delivery is shared between internal and external providers
Creates knowledge articles for publication to technical and non-technical personnel
Comply with Cubic Occupational Health, Safety and Environment policies and procedures
IT Service Desk Analyst Watford Resume Examples & Samples
Act as the single point of contact for all BrightHouse colleague IT issues
Recording, managing, co-coordinating and resolving Service Desk Requests and Incidents
Keeping users notified and informed of Request and Incident status
Consistently meeting agreed Service Desk quality and performance standards
Proactively monitoring and maintaining the Service Desk Telephone, Email and SupportWorks queues
To adhere to Service Desk procedures, highlighting out of date process when necessary
Undertake deskside support when required to do so
Maintaining user accounts (password resets, creating/suspension/deletion of accounts, changes)
Provision and recover IT equipment, maintaining the IT asset register
Contribute to IT projects as a defined project resource when required to do so
Contribute towards the IT Service Desk skills matrix and knowledge base
Ensure essential knowledge and skills levels are maintained in line with the Service Desk Skills Matrix and BrightHouse Learning Management System
Good verbal communications
Basic understanding of network architecture
Basic understanding of Microsoft Operating Systems
Basic understanding of PC's
Basic understanding of Outlook and eMail
Basic understanding of Word and Excel
Good awareness of computer technology
Proactive approach to problem solving
Previous IT Qualifications to any level advantageous
ITIL and/or Service Desk Institute qualifications
Experience of using Supportworks or similar IT Service Management toolset
Experience of working in a Retail or Financial environment
Previous Customer Service or Help Desk experience
Summer Intern, IT Service Desk Resume Examples & Samples
Install and configure software
Transfer data
Escalate problems when necessary to the appropriate support level
Configure laptops and desktops using client management software according to established standards
Identify and recommend improvements to procedures
Entry Level knowledge of Intel-based PC hardware and Microsoft Windows Workstation operating systems
Must be enrolled in an IT related undergraduate degree program for the duration for the internship
Ability to work as a team player in a fast paced environment, with excellent communication/phone skills
Ability to carefully follow established procedures
Comfortable working with all levels of corporate personnel
Agent, IT Service Desk, Muscat Oman Resume Examples & Samples
Experience of working in the Airport / Airline industry
Diploma in IT
Able to work in shifts
Desktop services
Customer specific services and solutions (for dedicated support)
Excellent customer communication skills, both verbal and written, in English and other languages as required
Agent, IT Service Desk Muscat Oman Resume Examples & Samples
The Service desk agent has the primary responsibility to attempt to resolve the incidents at his/her level and to refer them to the appropriate resolver group while still managing them until resolution
This function requires working in shifts during nights, weekends and public holidays
Linux certified system administrator or equivalent
Min of 1 years of experience in a support role
Bi-lingual (Arabic & English) preferred
Product and Service knowledge in one or several of the following areas at beginner level
Lead IT Service Desk Specialist Resume Examples & Samples
Supervise the IT Service Desk support staff by defining and establishing schedules and priorities in performing day to day activities within the service life cycle
Provide oversight and support to the Service Desk team in desktop, access provisioning, hardware, software, general support/guidance and compliance
Produce and enforce quality through the Service Desk team performance
Training Service Desk staff on operational procedures for catalog of services
Engage with current vendors and service providers for the IT Service Desk
Act as customer and IT Service Desk escalation point
Responsible for documenting the established standards for knowledge management, projects, configurations and standard operational procedures
Structure internal and external audit requirements in accordance with defined guidelines; perform audit tasks and deliverables as required
Assist in strategic initiatives through implementation and pressing process into Service Desk team
Provide customer support through installing, diagnosing, repairing, maintaining, configuring, granting and upgrading systems and hardware
Make recommendations for the selection of software and hardware products
Facilitate downtime impact on users through accurate communication, planning of scheduled downtime and quick problem resolution for unscheduled downtime
Actively participate in the Change Control Board
Monitor customer survey data
Create status reports for management on progress of projects, open items and issues
Perform all job related responsibilities with minimal direction and guidance
Participate in 24/7 on-call program
Knowledge of IT Service Management and Service Desk toolsets
Excellent collaboration skills and able to work in a team environment
Knowledge of the ITIL disciplines
High school diploma is required; Bachelor's degree from an accredited college or university in Computer Science, Information Systems, or related IT field is preferred
Minimum 7 years of experience in a Service Desk or Desktop support environment
Pepp IT Service Desk Internship Summer Resume Examples & Samples
Pursuing a degree in an Information Technology discipline
Experience with PC Hardware and internal components
Strong interpersonal and communication skills with the ability to interact effectively with others, and maintain composure in stressful situations
The ability to translate technical terms into layman's terms
Demonstrated problem solving abilities
Must have strong customer service and time management skills
Perform Day-to-Day support interacting with users, resolving technical problems in a service desk environment using remote support tools or in-person
Document issues, solutions as well as time spent using internal incident tracking system
Installs computer hardware, personal computer software, and operating system software for remote office employees
Configure and test computer hardware, networking software and operating system software
Coordinate the resolution of problems and issues with the appropriate vendors and internal staff
May audit information technology (IT) platforms and operating procedures in accordance with established standards for efficiency, accuracy, security and risk mitigation
Maintains smooth operation of multi-user computer systems, including coordination with IT technical specialists, network and/or system engineers
May make recommendations to purchase hardware and software, coordinate installation. Investigates information, network, and communications needs of users
Bachelors degree or 2-4 years IT support experience, or combination IT customer service experience and/or training
Certifications preferred: MCP, MCSA, A+, Network+, ITIL Foundations
Excellent problem-solving, communication and interpersonal skills, along with patience, a customer-friendly attitude and the ability to work in a team environment
Must be great communicators and be able to translate their technical knowledge into actionable direction
Must also be resourceful in how to research a problem and come up with a solution
Skills to support Windows Client Operating Systems, General software installation and troubleshooting, Internet Explorer and integrated applications, PC Hardware, PC Peripherals, mobile device setup and troubleshooting, Active Directory/Profiles troubleshooting, Exchange, ActiveSync, Antivirus, Encryption, Citrix, CRM, Microsoft Office Software, General Office Productivity software, printer setup and troubleshooting, network and basic telephony (VoIP)
Basic understanding of the various hardware, software and networking systems being supported
Basic understanding of ITIL/ITSM methodology
2 years' experience using an Incident tracking system such as Remedy, ServiceNow, ZenDesk, etc
"Wow!" our users by delivering prompt, professional and thorough solutions to their IT needs and to the demands of our growing business
Provide 1st level, remote support to all 4,000+ employees. Know when to escalate to localized End User Support teams as needed
Manage one of 7 localized End User Support teams. Develop strong relationships with your peers (other EUS managers) and work collaboratively with them to ensure consistent delivery of solutions throughout the enterprise
Design, document and implement policies and procedures to support industry compliance demands of business and ensure unwavering adherence
Maintain and manage local hardware inventories to ensure ability to respond to user needs in a timely manner
Prepare and deliver routine Executive Dashboards to highlight current state for Service Desk and End User Support teams
Build amazing professional relationships with key internal stakeholders. Become an extension of their teams
Completely OWN your domain! Independently resolve critical technical issues promptly, perform root cause analysis, document all issues, and implement steps for future mitigation
Communicate, Communicate, Communicate. Up, Down and Out
Computer maintenance and issuance
Monitoring patch levels of local and remote machines
Facilitating employee workstation moves
Updating all asset management systems, and formally documenting all problem tickets per a predefined, standardized process
Accept responsibility/ownership for all assigned problem tickets from creation to resolution or to the point of escalation
Trouble-shoot, resolve and escalate customer issues, for which Service Desk Professionals and Specialists are unable to resolve
Provide feedback and updates to customers (and other appropriate Teammates) through to resolution of such issues
Appropriately tracks customer or other Service Desk operational issues and follows up as needed
Ensures appropriate level of engagement from the Service Desk with Major Incident and Problem processes
Tracks and maintains aging open incidents for the Service Desk
Identifies resources in the Service Desk area to participate in cross training and works with other Service Desk Leadership and the Workforce Management team to adjust scheduling as necessary
Manages Service Desk coverage and makes changes as needed to shift hours, staffing etc
Participates in rotational Supervisor on-call coverage for weekends and holidays
Reviews performance results for the Service Desk, identifies opportunities for improvement, and makes/implements improvement suggestions
Offers feedback with performance appraisals and compensation for Service Desk Professionals/Specialists
Ensures appropriate functionality and coverage with respect to the Service Desk ACD/Telecom system
Manage through change in a positive and constructive manner
Demonstrated commitment and adherence to all DaVita core values
A demonstrated positive attitude and approachability is expected
College Education (2 year) or equivalent job experience
Proficient with MS Office applications
2 plus years of Customer Service experience in a support environment
Excellent oral and written communication skills with the ability to communicate technical information to non-technical personnel
1 year previous experience in the Information Technology field
Demonstrated ability to establish priorities, set objectives and meet them with minimal supervision
Demonstrated ability to analyze complex problems, use problem-solving skills to resolve them, request assistance and work with outside groups when appropriate to see the problem
Advanced interpersonal skills
Requires working knowledge and/or good theoretical knowledge of Service Desk escalation procedures
Ability to identify, document and adjust processes and process flows to provide customer service to the Village
Ability to travel up to 10%
IT Service Desk Knowledge Resume Examples & Samples
Create, maintain, and support the IT Service Desk knowledge management process
Strive for continuous improvement of the knowledge management process and its integration with other IT Service Management processes, such as incident, problem and change management
Design and teach new hire training, and continuous improvement training for all Service Desk team members
Be an active member of the change, knowledge, asset and problem management teams responsible for increased call avoidance, improved asset use and decreased end-user downtime
Maintain and improve the IT Service Desk Knowledgebase in partnership with other IT Teams
Provide on call escalation support as part of an On Call Rotation
Monitor call statistics daily
Identify, document and implement process improvement suggestions
Polite, friendly, and empathetic presence
Expertise in conflict resolution and emotional intelligence
Exceptional problem solving skills and technical skills
Excellent verbal and written communications skills
Excellent customer service skills and the ability to translate technical information into user-friendly terminology
Analytical thinker involving problem resolution and process/policy development
Exceptional interpersonal, presentation, and communication skills required to interact effectively with all levels of the organization and external contacts
Extensive knowledge of information systems principles and techniques, and good analytical ability
General knowledge of Active Directory, User Accounts, Groups, and OUs
Experience in supporting and troubleshooting a variety of computer related equipment and peripherals
Excellent knowledge and troubleshooting experience in supporting Microsoft Office 2010 and 2013 (Outlook, Word, Excel, Lync, & PowerPoint)
General knowledge of Microsoft Systems Center Configuration Manager (SCCM)
At least 5 years job-related work experience required
Excellent project management skills required with a minimum of 2 years project management experience preferred
IT Service Desk Change & Project Process Coordin Resume Examples & Samples
Make sure the Service Desk is prepared for all changes to our end-users environment
Be a resource for all IT projects to ensure the Service Desk and our users are prepared for changes to the environment from new tools and processes
Work with all IT departments to ensure the success of our project roll outs
Strive for continuous improvement of the change and project management process and its integration with other IT Service Management processes, such as incident, problem and knowledge management
Assist with new hire training, and continuous improvement training for all Service Desk team members
Leverage service desk best practices and process frameworks, such as the ITIL, to drive continual process improvement
Promote self-service tools and the knowledge repository as mechanisms to improve end-user satisfaction and reduce costs
Perform trend analyses, and develop action plans for improving service timeliness and reducing costs. Develop and monitor Service Desk success criteria including responsiveness and customer satisfaction
Stay abreast of trends in Service Desk operations, management, technologies, sourcing, policies, procedures and other external changes that could have an impact on service desk services
Monitors the Service Desk report tracking system and monitor outstanding or critical issues
Ensures that work is performed and completed in an efficient and timely manner, and meets customer needs and corporate quality standards
Provide first line escalation point for customer issues or concerns
Provide Service Desk SLA Monitoring and Reporting to Service Desk leadership on established schedule
Provide updates to Service Desk leadership on daily and weekly accomplishments
Provide feedback to other IT teams on lessons learned from areas impacting the Service Desk
Clear, confident, and calming voice
Have a questioning attitude until user's issues are understood
Ability to think and act quickly
Detailed oriented and thorough follow-up
Professional and polished appearance
Ability to work with business people in a collaborative application design and development environment
One on One and small group teaching skills
Technical aptitude with working knowledge of fundamental operations of Windows software, clinical software, PC, laptop and server hardware and related IT equipment such as printers, wireless devices, and scanners
Knowledge and understanding of Bob Evans Farms complex IS systems, how they work together to provide services to our users
Time management and multi-tasking skills
General knowledge of how Bob Evans Farms systems work together, how our users interface with those systems, and the IT departments that support them
Ability to manage relationships, conflicts and communication with a high-level of proficiency
In-depth knowledge of LAN connectivity, hardware maintenance, software operation, and desktop operating system setup
In depth understanding of communications protocols and advanced hardware
Bachelor's degree in computer science or a related field or equivalent experience
ITIL certification (preferred)
Strong skills in use of PC desktop applications such as MS Word, Excel, PowerPoint, and Project
IT Service Desk, Technical Specialist Resume Examples & Samples
Fields and resolves telephone calls, chat and online portal questions from users seeking guidance
Meets all Goals and Objectives as identified such as Login Time, Available Time, Idle Time, First Contact Resolution, and Case Quality
Receives, documents and tracks Incidents and Service Requests in the ITSM solution
Assures timely response to questions and requests
Provide Subject Matter Expertise on all ITSD tools, such as the ITSM, Knowledge Management, and ACD
Provides Tier 1 and Tier 1.5 level technical support to assist users questions/issues including those regarding hardware, software, access management, process and procedure, and telecomm
Pushes software packages and install drivers utilizing approved tools
Provides internal Subject Matter Expert and escalation point for all biomedical, chapter, corporate technical, process and training issues. Performs as first escalation POC within Service Desk for process and technical questions
Adheres to and maintains high levels of expertise in all support processes, procedures, and expectations established by management to meet the highest level of customer care
Meets or exceeds all Service Level Targets
Assists or takes lead assignment on projects oriented towards the development or the educational advancement of IT Service Desk staff
Performs as technical evaluator for PSP's and Knowledge Articles
Available to work on-call hours as needed
Ability to follow outlined processes and procedures
Ability to speak and communicate effectively and in an articulate and diplomatic manner across all levels of the organization
Identify data patterns that do not adhere to Policy or Procedure standards or requirements and escalate for mitigation
Ability to follow verbal and written instructions
Ability to recognize errors and correct to meet organizational standards
Ability to troubleshoot problems and work with other groups to find solutions
Bachelor's degree from an accredited college or university in Computer Science or Business or equivalent years of experience in lieu of degree
Five or more years of experience in Customer or Computer Support, or its equivalent, required
Requires a minimum of three years of progressively responsible management experience
Requires knowledge of industry standard KPI's as they relate to the Service Desk
HDI Support Specialist, Manager and Director and ITIL certifications a plus
Ability to lead and supervise others, both in person and remote
Ability to manage and write processes and procedures surrounding best practices
Ability to identify data patterns that do not adhere to Policy or Procedure standards or requirements
Ability to follow and communicate verbal and written instructions
IT Service Desk Engineer Resume Examples & Samples
Install end user equipment, software and telecommunications systems
Be the hands, eyes and feet on-site to support USA based Server Engineering and Network Teams
Coordinate and manage APAC IT Vendors Activities
Manage APAC Region IT Purchasing
Act as Tier1 support for Email System issues during APAC Time Zone
Provide guidance, assistance, coordination and follow-up on client questions and problems
Follow standard helpdesk procedures, logging all helpdesk interactions and administering helpdesk software
Track and route problems, requests and document resolutions
Assistance with planning and implementing IT projects, i.e. Office Relocation, New Office Build-outs, Network and passive infrastructure upgrades
At least 2 years of experience in a IT support position, preferably in a worldwide company supporting remote offices
Fluent spoken and written Filipino and English
Working knowledge of Microsoft client O/S (specifically Windows 7 & Windows 8) in an Active Directory distributed environment
Working knowledge of managing Microsoft Server O/S (2008/2012)
Working knowledge of managing Microsoft Office 365
Experience with relevant software, hardware and end user peripherals
Working knowledge of Networking, Ethernet and TCP-IP protocols
Knowledge of relevant call tracking applications (SalesForce preferable)
Knowledge and experience of customer service practices & ITIL
Experience with Exchange and BES administration
Experience with AD GPOs
Microsoft certification or other relevant certifications
Experience with MAC
Experience with VMware ESX, Building new VMs, Allocating resources and more
Experience with IP Telephony systems (Microsoft Lync preferable)
Experience with IIS & SQL
Experience with imaging tools such as SCCM
Experience with deployment of passive /active networking equipment
IT Service Desk-team Lead Resume Examples & Samples
Ownership of calls within the Service Desk and proactive in moving to final resolution, escalating appropriately as necessary
Work with Senior Support Analyst to review daily SLA reporting and ensure calls are progressed accordingly
Monitor SLA's & operational KPI's, liaising with internal and external support functions and taking responsibility for customer communication when major incidents occur
Maintain accurate and up to date information for live support issues, Information Security, IT asset information and the administering of user profiles wherever appropriate/practical
Internal auditing of IT Accounts for all employees within the company. Working directly with information provided by HR/Business and securing/modifying related accounts
Assist the Global IT Service Desk Manager in creating processes; ensuring all processes remain effective globally
Participate in On Call duties on a rota basis with the Global Service Desk team
Minimum 2 years experience in similar support environment
Possess professional IT qualifications is preferred
Excellent Customer Service skills with a good telephone manner and excellent written and oral communication skills
IT Service Desk Apprentice Resume Examples & Samples
Full advanced apprenticeship (NVQ Level 3) training in conjunction with QA Apprenticeships, including vocational and technical certificate courses
A very broad range of experience in IT support for the institution's research, teaching and support services
A supportive working environment and mentoring scheme
Involvement with world-leading research activity
IT Service Desk Member Resume Examples & Samples
Providing first call resolutions to the customer over the telephone or using remote desktop support tools to provide remote assistance
Supporting Windows and Mac desktop systems, on the unclassified and classified networks
Installing, configuring and troubleshooting desktop, or mobile devices, workstations, software and network issues including, wireless and role-based access control in a heterogeneous environment
Communicating technical information to both technical and non-technical personnel
Practicing Information Architecture processes and standards
Providing exceptional customer service skills with a customer friendly attitude, responding in a timely manner to customers regarding IT incidents and requests
Utilizing the ticketing system to log incidents/requests by providing detailed information
Identifying service calls that require escalation, utilize the Escalation Model appropriately, and route the user issue to the appropriate IT support group for resolution
Assisting the Service Desk Supervisor, Service Desk Manager, and Incident Manager with projects, data requests, and coordinated triage of Major Incidents
Experience with Software and Applications Engineering (SAE) services such as Oracle Business suites which includes, concur, time and labor, I-procurement, worker self-service, OBI dashboard etc
Familiarity with Active Directory and other ADBI business applications
Knowledge of wireless connectivity and VPN
HTML experience
Knowledge with TPET
Knowledge in group policy and active directory administration
Working knowledge of Laptops on Foreign Travel (LoFT)
Knowledge with system backups and using TSM
Experiencing with assigning and manage IP address in hostmaster
Knowledge with CPAT scans
Active Q clearance
IT Service Desk Represenative Resume Examples & Samples
High volume IT Service Desk experience
Strong verbal customer service skills
Desktop and/or network support experience
Efficiently answers, troubleshoots, resolves, thoroughly documents and accurately triages incoming calls, web portal interactions and e-mails to the Service Desk
Interacts with the customer, department and vendor support to facilitate first call incident resolution. Documents interactions with customers using Service Desk and Incident Management system. Escalates user issues as needed by contacting the appropriate resource group. Updates the incident tracking system as necessary. Provides updates to customers via the outgoing ACD message system and web-based communication tool
Provides a high quality customer service experience to all customers and coworkers
IT Service Desk Director Resume Examples & Samples
BS degree in Computer Science or other related fields with minimum of ten years of experience in IT Operations/Call Center 24 hours environment and Lean or 6Sigma certifications preferable
Have a proven record of accomplishment of delivering results while dealing with ambiguity and organizational complexity. Demonstrate experience in managing both complex issues
Demonstrate the ability in inspiring, motivating, growing the team to achieve high team engagement, efficiency, and quality at all times
Strong communication skills. Be able to influence executive teams and other organizations on decisions. Proven collaboration skills with other groups
Ability to recognize areas of improvement and put together an action plan
Minimum 10 years of work experience in IT Service Desk or Technical Support environment with at least 5 years as an IT Service Desk Manager
To provide an excellent Service Desk and Desk Side support service to local users as well as user from S.E.A region either onsite of offsite
Quickly identify and resolve incidents with all of Dyson's end user computing services including Desktops/Laptops, printing, phones, conferencing, mobile services, and corporate software support (email, remote access solution, Microsoft office etc.)
Manage and complete standard change requests' including PC/Laptop builds, new user configuration, and software installations
Contribute to the knowledgebase for the service – writing new articles and updating existing ones to ensure maximum resolution efficiency of incidents and changes
Contribute to asset management activities including auditing, proactive resolution of audit issues, inventory management, and asset tagging
Hardware support and problem resolution of primarily Dell desktop PC's and laptops
IT project support and implementation of end user computing projects (e.g. Windows version upgrades, hardware refresh activities)
Assist in the service take on process as projects are handed over to the service desk for on-going support
Participate in problem management activities regarding the end user computing environment
Processes and Work Instructions: Contribute updates and improvements to key service desk documentation and training material
Any other duties as required for the service
Required to record, log and progress user requests
Team Lead, IT Service Desk Resume Examples & Samples
Act as a primary escalation point for service desk staff and provide guidance to staff prior to escalation of service outages
Act as a technical lead contact for West provided hardware and software in the environment
Work in a mentor capacity to assist, improve and implement process improvements for service desk staff
Work in a team lead capacity to provide guidance to service desk staff and manage the operational support of the service desk
Represents Service Desk in a professional and businesslike manner and communicates effectively with end users and IT support staff
Provide effective technical guidance and constructive feedback to service desk staff on service related issues
Provide end user support activities to address incidents, service requests, and problems in the environment
Perform after-hours support on a rotational basis and available for escalations/service outages as needed
Monitor Service desk support queue to verify incidents, service requests, and related activities are being processed in accordance with service level agreement
Proven ability to draft, edit, and review documentation as it pertains to FAQ's, SOI's, Support guides, and Service Descriptions
Ensure team members delivering IT services follow procedures, adhere to standards and complete related support activities
Understand West technologies and able to understand and manage lifecycle of West software and Hardware
Vendor Management experience dealing with service related issues
Mentoring of end user services team
Basic working knowledge of VoIP technology, Mobile Devices, Audio conferencing, Video conferencing
Experience supporting and managing Mobile Device Management
Active Directory Account administration
Administration and Support of MS Office productivity services
IT Hardware roadmap and supporting the lifecycle of products
Education or Equivalent Experience: Bachelor's in Information Sciences or related field
Experience administrating and supporting Office 365 and other Microsoft Services
Experience working in a service desk environment: 5-8 years of experience
ITIL V3 Foundations Certification
Experience working in a global service desk environment
Vendor Management Experience
Experience working in a team lead/Team Lead capacity
Audio Video support experience
Specialist, IT Service Desk Resume Examples & Samples
Maintain a problem and solutions log
Emulate or reproduce technical problems encountered
Triage, diagnose, escalate and resolve incidents
Consult documents to implement solutions
Contributions to Knowledge Management system
Minimum 1+ years customer service experience (in any industry)
Strong technical knowledge of Microsoft products, including Windows OS, Outlook, Exchange, Word, Excel, SharePoint & PowerPoint
Type approximately 35 words per minute with accuracy
Ability to identify and diagnose moderately complex IT problems and implement solutions rapidly and effectively
Associate degree (or higher) in a technical discipline, IT industry recognized certification or significant relevant work history required
IT Service Desk Associate With Italian Resume Examples & Samples
Fluent in English and Italian
Professional skills: problem solving/ troubleshooting, analytical, written and oral communication, administrative and organisational- Bachelor degree in a related field or equivalent work experience
Technical expertise in the following: Windows Operating Systems, Microsoft Office, Network Connectivity, Print Services, Hardware, Microsoft Outlook client and OWA
Aptitude to manage many tasks simultaneously
Associates Degree or Undergraduate degree recommended but not required
Entry level to 2 years of experience
Low to Medium complexity applications
Desktop hardware and software support
Ability to speak, read, write and comprehend English
Ability to communicate effectively in both writing and verbal arenas as well as via email
Ability to work independently without supervision
IT Service Desk Senior Analyst Resume Examples & Samples
Responsible for local site staff, following documented process
Conduct monthly call quality for all Service Desk staff members
Implement and maintain documentation and knowledge articles
Work with the user over the telephone, direct PC to PC connection or via email to resolve problems with IT service issues
Ensure that requests for assistance are responded to in a timely manner according to agreed SLA's
ITIL foundation qualified
BTO (HP Service Manager 9) knowledge
Understanding of MOD, Police and Service Desk processes
Current SC clearance
IT Service Desk Tier Resume Examples & Samples
Provide tier Isupport for all hardware/software services via telephone, e-mail, and walk-ins in a courteous and professional manner. Route and/or escalate more complex requests to appropriate Tier U support technician
Provide telecom services for adds/changes/deletes. Follow up to ensure telephone services are maintained. Troubleshoot problems on extensions and v-mail. Assist users in changing passwords and train users on v-mai l access/usage
Research hardware/software problems for end users by applying standard procedures and best practices. Ensure
Install, troubleshoot and support Microsoft Office Products. Identify and learn appropriate software and hardware used and supported by the organization
Record, track, and document all the help desk request problem-solving process, including all successful and unsuccessful decisions made, and actions taken, through to final resolution
Monitor and coordinate SPAM control process. Evaluate SPAM email for validity allowing appropriate emails to pass
Train new users on computer software and hardware tools via the phone
BNBS in Information Systems or related area required
Desired Language: Fluent in Spanish
1-2 years plus technical phone support experience
1-2 years experience with voice services
L-2 years experience with SPAM control and anti-virus tools
Experience train ing users on basic software and hardware functions via phone
Exceptional customer service orientation and written and verbal communication skills
Knowledge of computer hardware. including I ntel based desktops, laptops, and servers
E>rperience with desktop operating systems. including Exchange, Outlook and Windows Office products
Support experience with PDAs
Exceptional interpersonal skills. with a focus on rapport-building, listening, and questioning sk ills
Experience working in a team-oriented. collaborative environment
A+ Certification a plus
Abil ity to share after-hours on call duties with other technicians
Ability to work flexible shifts including nights and weekends
Accenture IT Service Desk Specialist Resume Examples & Samples
Participate in hiring events ensuring good caliber resources with right attitude are recruited for the organization
Ensure maintenance of quality documents as per guidelines under Accenture delivery methods
Expected to assist with taking customer calls/emails (interactions) during high call volume
Ensures communication of necessary policies, procedures, standards and processes
Good people management skills and feedback giving skills
Good client relations skills
Excellent communication skills, with neutral accent
Excellent written communication skills with email etiquettes
Good problem solving and analytical skills with good knowledge on MS Excel reporting and MS PPT presentations
Self-motivated and capability to motivate teams/ colleagues
Fundamental Technical know-how on system trouble shooting
Good knowledge of incident management and reporting tools
Represents process in various meetings if asked to do so
Face internal and external quality audits
Execute delegated responsibility and report to domain lead
Ensure delivery of best in class customer service
Ensure Service Now incidents and requests are created and thoroughly documented
Create Knowledge Base articles as appropriate
Enter and follow up on purchase orders
Participate in the phone queue, minimum 25% of the time
Advance analytical and problem solving skills: Solve problems on Windows and Macintosh platforms. Developing centralized, efficient methods for managing end user systems to minimize downtime and hands on visits to workstations, including Remote Management Tools. Applying business/technical support concepts to support Tier 3 (highest-level) technical support
Advance printer management skills
Advanced desktop management technologies, including detailed understanding and PC proficiency, Working knowledge of Microsoft Windows client operating systems as well as various software packages including Microsoft Office, Windows 7, Windows 10, MS Exchange and Active Directory
Excellent verbal and written communication skills with demonstrated ability to effectively communicate with staff and clients of various technical levels of the organization
Experience with remote desktop tools, and ticketing systems. Ability to use online resources including knowledge based articles and forums for troubleshooting
Experience with Mac OS X support
Broad knowledge of IT hardware, software and systems
BS/BA in Computer Science, Business Administration or related field or the equivalent industry experience
5 years of IT work experience in supporting desktop software and hardware products and problems solving/troubleshooting
8 years related experience preferred (either Service/Support Desk, Help Desk, Network Operations, etc)
Minimum 5 year experience supervising Support Services / Desktop team
Level IT Service Desk Resume Examples & Samples
Provide end user support for the Desktop Computing Environment including various Apple hardware and software platforms and LAN based services. Agents will retain ownership to resolve all issues utilizing the solutions that are defined within our Known Error Database (KEDB) (i.e. Knowledge Base). Agents will also be responsible for troubleshooting and diagnosing issues using various skills and techniques, including investigating solutions via the Web, use of product manuals and other available resources to resolve support issues
Utilize the call tracking tool and database to record call details and to track troubleshooting progress. Set reasonable customer expectations for resolution time, based on scope, impact and severity of issue. Route unresolved incidents to the correct upper level support group for resolution
Provide guidance and support in helping the team to reach the defined Service Level Objects for First Call Resolution, Mean Time To Repair, Speed To Answer, Abandon Call Percentage, and Incidents Resolved per Agent
Apple hardware and software
Associates or Bachelors Degree, preferable in MIS/CIS or similar major
Technical or Business aptitude with proven analytical, problem solving, troubleshooting skills
Excellent oral, written and customer service/interface skills
Account requests
Networking/ Connectivity (Exchange, AD, Wi-Fi, etc.)
VPN Connectivity
Windows Environment
Blackberry and iOS devices support
Hardware such as Laptops, Desktops, Peripherals, etc
Ensures that Emerson IT Shared Service's Service Level Expectations are maintained
Provides users with updates as requested and documents them in the service ticket
Based on routing documents, routes and/or escalates more complex requests to the appropriate support work group providing case documentation and significant information regarding performed steps
Provide six IT Service Desk analysts who are proficient (level 2) in providing phone support Microsoft Windows 10, & Office 2016 for countywide rollout
Expectation for each analysts is able to provide support based on their troubleshooting, and deduction skills and strong knowledge of the Microsoft technologies
Must have experience with ITIL Incident Management, Service Management, and Knowledge Management processes
Ability to meet business requirements and service level targets per Hennepin County customer agreements
Provide the appropriate technical skillsets to resolve and help customers to adapt to the new technologies
Demonstrate a high level of customer focused skills to insure a positive experience for all customers
Three years previous IT Service Desk performing at a proficient level of experience in an IT Service Desk environment
Strong active listening skills
Strong customer focus and very personable
Proven troubleshooting and deduction skills to assist and resolve customer application, navigation and technical issues
Ability to recognize and adapt communications with the customers to a level the customer understands
Strong communication skills both written and verbal – able to fully document all ticket documentation at the time of the call
Bachelor degree in IT related field or equivalent work experience required
HDI Support Center Analyst or Team Lead Certification strongly valued
Knowledge Centered Support (KCS) Certification strongly valued
ITIL Foundation Certification preferred
5+ years of technical experience as a senior contributor (such as computer systems or IT support)
1-3 years supervisory or leadership experience required
Demonstrated strong leadership and delegation skills
Excellent customer service skills and telephone etiquette. Strong problem solving skills
Track record of setting Service Desk standards and developing guidelines, as well as helping others interpret policy
Extensive knowledge of computer and telecommunications strategies, environments, equipment, operating systems, development tools and methodologies
Strong oral and written communication skills
Project Management
Change Management
Interpersonal skills
Multi-tasking ability
Time Management
Detail oriented
IT Service Desk Level Technician Resume Examples & Samples
Recognize major incidents timely and accurately
Perform quality on all incidents handled, clearly documenting case situations, and providing accurate investigation
Bachelor's degree in Computer Science or a related discipline, or equivalent work experience
Successful completion of College/University course in Business, Computing or Information Technology
Knowledge of ITIL Foundation course or MCDST
Lotus Notes 8 – Mail & Databases
Networking concepts (e.g. WAN, LAN)
Good knowledge of English, both verbal and written
Knowledge of hardware and software on Mac and Windows desktop and mobile products
Ability to troubleshoot and assist with hardware, software, and network problems
Experience with system imaging and device management
Strong ability to work autonomously and as part of a team
Ability to juggle multiple tasks simultaneously
Associates Degree in IT or related field
6 months Technical Support Experience - providing hardware/software support to users
Bachelor's Degree in IT
Certifications (Sec+, Net+, ITIL, CCNA)
1 year Technical Support Experience
Manage a team of Service Desk professionals. Management activities include employee selection, ongoing performance management, compensation administration, education and development, goal setting, and team-building activities
Assess, identify and develop team skills by facilitating and providing feedback to team members on customer service, and communication skills, in order to enhance the quality of support and customer satisfaction
Manage Service Desk support functions and professionals
Lead, schedule, coordinate and oversee daily work meetings, and projects
Resolve daily issues of complex scope that impact the team and overall business objective
Lead efforts to determine skill requirements for hiring. Conduct interviews and hire employees
5 years work experience in business and/or Information Technology environment required
5+ years telecommunications or call center experience highly preferred
2-5 years of management/lead experience required in IT or related field
Thorough knowledge of management/leadership principles
Technical knowledge of Microsoft products, including Windows OS, Outlook, Exchange, Word, Excel, PowerPoint required
Knowledge of current trends and developments in the area of IAM
Understand general telecom technology
Service Desk: Provide 1st line desktop, network, VoIP system to Align China office and remote staff; maintaining office IT systems and back-office environment
Responsible for monitoring and communications with 2-nd and 3-d level support in order to ensure end-to-end service deliver
Technical Support - Responsible for effectively, efficiently and promptly resolving issues related to PC systems, software and company web applications for remote user customers and customer support department. Provides technical Service Desk support to ensure customer satisfaction
Providing 1st desktop support to end-users in Chengdu sales offices and remote sales staff
Providing 1st network support for the office LAN's, as well as troubleshooting the WAN infrastructure (you will be required to work closely with distributed teams in different time zones)
Participating as a member in various IT or cross-departmental projects
Possesses extensive knowledge of company processes, procedures and product information/materials. Familiar with sales, manufacturing and distribution structure of company to respond effectively to customer contacts
Expert in the use of the Customer Support phone, data systems and the corporate web site
Liaison with other departments to provide updates on current mutual topics/issues, participate in problem solving and development of mutual solutions and improvements
Handle technical questions and issues efficiently, effectively and promptly for customers
A thorough understanding of MS Windows OS & Office application suite, as deployed in a corporate organization. And good understanding of general server concepts (such as security, file sharing, server resources, centralized updates)
Experience with Cisco network devices (switches, routers) and Cisco VoIP system
Experience with Active Directory and MS Windows Server
Experience with MS office 365
Experience with anti-virus software suite - TrendMicro
Experience with Cisco network devices (switches, routers)
Experience supporting a Cisco VoIP system
Experience with firewalls & network security
Excellent organizational skills and documentation skills
Ability to understand customers and their requirement
Takes ownership of problems/issues within his/her control
Executes to goals and objectives; makes and keeps commitments
IT-related degree or equivalent work experience
Excellent verbal and written English language
Demonstrable experience in an IT Analyst role, ideally within a Service Desk environment
Team leader / people management skills
RemedyForce
Microsoft Office 365
Mac OS X, IPhones and IPads
Outlook, Email, Calendars
Organised and able to multi task
Strong problem solving experience
Provides first tier technical support by directly responding to customer requests and inquiries
Educates customers and communicates troubleshooting steps
Prefer six months to one year of related work experience in a technical field which could include assisting end users with hardware and software related incidents in a professional business environment
Experience with servicing customers (internal or external) preferred - in-person and/or phones
Bachelor's or Associate's degree in an IT related field is preferred
Call Center Experience is a plus
Technical certification is a plus (e.g. CCNA, A+, Network+, etc.)
Proven ability to adapt to change
Must demonstrate flexibility
IT Service Desk Program Manager Resume Examples & Samples
Conceptual knowledge of U.S. Navy IT Policies and Guidance
NAVAIR or SPAWAR IT Service Management experience
Familiarity with SECNAVINST – 5239.2
Student Assistant, / IT Service Desk Resume Examples & Samples
Must be customer service-oriented
Tech-savvy, willingness to learn basic technical troubleshooting, and the ability to work within IT guidelines
Available to work at least 2-3 shifts per week, up to a maximum of 20 hours per week
Reception/ First level of communication and support
General information dissemination
Enforcing policy and procedures
General problem assessment, troubleshooting, escalating and reporting
Limited user assistance with application/technology workflow
Projects as assigned by management
Ability to maintain focus and attention to detail in a fast paced environment
IT Service Desk, Department Manager Resume Examples & Samples
Provide mentoring and leadership for the department
Create and execute departmental business plan
Create and manage departmental budget
Monitor department and project related spending to insure spending aligns with business plans and budgets
Participate in organizational strategy meetings and ensure departmental resources are aligned with the overall strategy and business plan of the Business Unit
Ensure all employee's receive semi‐annual reviews and necessary feedback to provide career and growth opportunities
Responsible for recommending promotions, salary adjustments and end of year bonuses
Ensure proper resources and staffing levels to provide the necessary services for POWER
Oversee all hiring and firing within the department
Approve vacation requests, timecards, and business expenses
5 to 7+ years of combined experience supporting global infrastructure, applications, and computer systems
3 to 5+ years of leadership responsibility
Demonstrated product and service lifecycle management capabilities
Strong product, service, and vendor knowledge
Knowledge of SLA, KPI's, and forecasting (demand management)
Business case management
Knowledge of scripting and system automation
Experience working with onshore and offshore teams
Experience working with insourced and outsourced IT Operations
Demonstrated leadership and team building experience
Superior decision making and client relationship building skills
Excellent verbal, presentation and written communication skills
Strong understanding of project management methodologies
Excellent analytic, organization, and facilitation skills
Ability to manage multiple tasks under tight deadlines
Ability to interface with executive level management and give senior level presentations
Self-directed, self-starter, and motivated with the ability to work with minimal supervision
ITIL v3 Foundations and\or other relevant certifications
Advises support staff concerning administrative procedures, escalated technical issues, and priorities
Ensures Service Desk resources maintain compliance with service level agreements
Manages concierge service for SVPs and above
Manages multi-site operations 24/7 with the help of team leads
Monitors and prepares reports on progress, work trends, and problems
Monitors the performance of Service Desk resources, which includes ensuring assigned tasks are completed, providing feedback on day-to-day performance, and works to identify and address training needs
Provides direction for the help desk ticketing system and processes
Provides technical support to the organization's internal users of computer applications and hardware
5+ Years experience in IT Support that directly aligns to the responsibilities of this role, including 2+ years of supervisory, managerial, and/or demonstrated leadership experience(Required)
Awareness of ITIL principles
Experience with Incident Management
Senior IT Service Desk Specialist Resume Examples & Samples
Provide central point of contact and support for customers of IT
Manage support interactions through the IT Service Management System
Troubleshoot problem areas in a timely and accurate manner, and provide end user training and assistance where required
Maintain desktop configurations to provide performance monitoring and tuning of systems
Assist in the selection of software and hardware products
Establish standards for documenting projects, configurations, and standard operating procedures
Take ownership of problems and follow through resolution communicating progress in a timely manner
Perform briefings to Service Desk staff on changes or deployments that may affect volumes
Arrange for external technical support where problems cannot be resolved in house
Participate in strategic initiatives by performing technical and process project activities
Engage with audit and follow audit guidelines as requested
Ability to work well on deadlines and under pressure
Able to work quickly and effectively under pressure and to efficiently handle multiple priorities simultaneously
Minimum 5 years of experience in a Service Desk or Desktop support environment
Experience in Problem Management and Ticket Analysis
Senior Manager, IT Service Desk Resume Examples & Samples
Oversee the deployment, monitoring, maintenance, development, documentation and support of high quality and reliable end-user support services
Oversee incident, problem, availability, change and configuration management related to end user computing environment
Manage and mentor IT staff supporting end user computing services
Create and drive an ongoing environment and culture of exceptional customer experience
Company - Ensure compliance with FDA regulations related to IT infrastructure and compliance with SOX controls by all Service Desk staff
Develop key performance indicators and perform continuous process improvement
Maintain exceptional communications with the organization's leadership, customers and staff
Oversee vendor selection processes and vendor and contract management
Lead the design and sustainable implementation of a defined IT Service Management framework
Develop and review budgets
10+ years of total IT experience required
5+ years of experience with outsourced service desk/managed services vendors required
5+ years experience in managing technical teams and Service Desk required
7+ years of experience with end user computing and communication technologies required
5+ years experience negotiating Enterprise level agreements with Microsoft, Adobe and other large software vendors required
2-5 years of experience within a manufacturing environment regulated by the FDA preferred
2-5 years of experience with computer system validation preferred
2-5 years of experience with the laboratory systems in a pharmaceutical environment preferred
Excellent written and Verbal communication skill required
IT Service Desk Representative Resume Examples & Samples
Responds to a high volume of calls and interactions with employees. Functions as tier 1 support for end-user computing service requests reported to the Information Technology (IT) Service Desk
Performs basic troubleshooting and restores routine technical service and equipment problems by analyzing, identifying and diagnosing faults and symptoms using established processes and procedures
Logs calls, problem information and actions into an incident tracking systems
Maintains knowledge database and call tracking database to enhance quality and efficiency of incident and problem management
Keeps abreast of innovations and changes to LCRA's systems to ensure having the appropriate tools and training to provide quality support
Processes requests to grant and revoke access to software applications. Maintains user ID's on LAN or enterprise applications according to appropriate security policies and procedures. Troubleshoots basic LAN and enterprise user ID and access issues by analyzing the problem, developing and implementing appropriate solutions
Participates in annual audits related to system access reports
Provides after hours/on-call support as assigned
Knowledge of LCRA's corporate policies, Technology Use and Privileged Access policies
Knowledge of Microsoft office applications
Skill in providing customer service
Skill in analyzing and solving problems
Skill in performing online research
Skill in listening to users' problems, prioritizing needs and explaining technical solutions in user-friendly terms
Skill in interpreting technical manuals
Skill in providing training and coaching to less experienced staff
Skill in sharing ideas on process improvement and technical tools with peers and other technical staff
Skill in resolving complex technical problems and using good judgment as to when to refer more complex problems to senior staff or vendors
Intermediate skill in computer software programs such as incident management software, user account management software, email, Microsoft operating systems, and Microsoft office applications
Ability to work efficiently and independently with minimal supervision
Ability to build relationships and foster teamwork
Advocates for the team and team members to upper management
Passes on what was learned by generating self-service content, such as knowledgebase articles, training documents or videos, or other self-service training content
Submits reports to the IT Service Desk Manager and upper management
Organizes and conducts meetings
Queries tickets, monitors call trends, and provides organized reports
Manages and resolves conflicts
Manages problems
Ensures that each member of the team understands objectives
Ensures that all specifications are met through thorough ticket documentation
Explains difficult concepts to a variety of audiences and ensures that these audiences understand the concepts
Improves defect prevention, product development efficiency, and quality
Trains and supports the tier-1 and tier-2 agents who serve as the first-point-of-contact for customers
Answers inbound and places outbound calls to customers and other staff (as needed)
Supports local and remote team leads, other supervisors, and tier-1 and tier-2 agents
Applies knowledge of and experience with routine technological concepts in systems and network troubleshooting
Coordinates service calls on onsite leased equipment
Manages work orders through service desk ticketing systems as needed
Tracks team performance and ensures that team members adhere to company policies, including attendance and punctuality
Provides performance reviews and recommends raises
Taps into the collective IQ of the team
Understands the skills and knowledge of team members
Understands the team's objectives
Acts as a source of technical expertise to others in own area
Instills company values and ensures that policies align with them
Articulates roles and responsibilities
Manages and solves problems
Recommends program improvements or revisions to programmers and business analysts
Develops, applies, and maintains quality standards for IT Service Desk
Oversees department standards and mentors all employees
Monitors team performance and efficiency
Reports metrics, team performance, and other statuses
Strong communication, interpersonal, and analytical skills
Ability and desire to provide excellent customer-service to internal and external customers
Ability to work side by side with other supervisors and leaders in the organization to achieve excellence
General IT knowledge
Coordinates closely with senior peers to identify, investigate, track, and resolve desktop, application and system issues, ensuring the solution is timely and of acceptable quality
Assists in developing and utilizes on-line procedures, solutions, and knowledge databases. Assists with training of peers and acts as a resource for other staff members
Director, Enterprise IT Service Desk Resume Examples & Samples
Define the sourcing and supplier strategy including global outsourced vendor, plan and execute short term tactical and long term strategic goals of the service desk organization
Lead, coach and mentor, Tier 1 and Tier 2 (including application support) and Incident Management teams
Drive analysis to identify trends, efficiency gains, innovation, best practices as well as cost savings. Develop business case to substantiate opportunities and prioritization
Lead/manage multiple projects and transitions, maintaining professionalism and performing well under pressure
10-15 years of progressive experience in IT with a large focus around service desk management
Deep understanding of service desk support center and end user technologies
Thought leadership in market and industry intelligence
Strong organizational experience including people and process
Healthcare experience a plus
Demonstrated thought leader in service desk strategies with expertise in IT insourcing/outsourcing support
Experience with workforce management principals and staffing models
Prior experience providing customer service and/or clinical end user application support is a plus
Ability to lead staff both onshore/offshore in multiple locations
Deep understanding of the business and the ability to discuss technological terminology in business terms
Up to 30% travel may be required
Dir IT Service Desk Resume Examples & Samples
Direct development of standard operating procedures for successful execution of Incident identification, troubleshooting, resolution, and escalation if necessary
Continue to grow and mature service desk services and improve customer service while balancing overall business value
Maintain strong relationships with other IT operational areas to make sure compatible directions and goals are set
Understand threats to and performance of IT platforms (infrastructure and applications) and proactively mitigate by working with IT leadership and vendors
Interact frequently with senior leadership delivering messages that are tailored to the recipient and effectively communicate the right message, at the right time for action to occur
Stay current with industry trends related to IT Service Desk Operations and focus on how these trends can influence and support company strategy
Obtain, organize, and align global resources to complete multiple business objectives focused on the organization's strategy
Develop Managers by helping them set the appropriate priorities and removing barriers and obstacles
Deliver positively to measures of success for the business unit and company by maintaining a strong focus on the bottom line and other top priorities
Provide employees a direct line of sight as to how they affect the business, translating strategy from Executives and communicating business requirements
Provide leadership and management to set Service Desk priorities that align with Lowes IT Operations and Business priorities and objectives
Ensure meaningful development opportunities for individuals in the organization so that the right people are developed and prepared for succession opportunities
Motivate teams to perform at high levels and embrace change around a shared company vision and shared IT visions
Focus the group on the needs of the customer and sets goals that strive to exceed the customer's expectations
Hire, train and develop the talent necessary to achieve stated business goals
Bachelor's Degree in Computer Science, Information Systems, MIS, a Business Degree in a related field or 15 years of experience in IT with subject matter expertise in ITIL methods and practices
10+ years of IT Management experience, including 5+ years managing and developing managers
Experience applying ITSM methodology and processes
Demonstrated experience with organizational change management activities
Proven experience leading successful changes across a large IT organization
Experience planning and managing a budget
Demonstrated experience as a program champion and leader
Demonstrated experience managing third-party vendors and software solution providers
Experience in both technology and business environments with a proven ability to integrate process improvements to meet business needs
Experience in a retail environment
Experience using the IT Infrastructure Library (ITIL) frameworks
ITIL Certification Help Desk Institute (HDI) Certification
Excellent communication and excellent reporting skills
Fluent Spanish is recommended
Knowledge of French or Italian is a plus
Good knowledge and experience of mobile phones (Blackberry, iPhone, Android, etc.) for system configuration (email settings, certificates deployment, application installation, etc.)
Ability to write technical documentation to feed the Service Desk knowledge database
Knowledge of a ticketing system and Service Desk procedures
Act as first and central point of contact, documenting IT incidents and requests in an automated incident tracking system
Coordinate incoming client calls, emails, and other client contacts in a call center environment
Use documented procedures to assist clients with solving issues related to hardware, software, networks, and peripherals; primarily using available technology and knowledge base
Maintain maximum availability to act as the first and central point of contact, documenting incidents and requests in an automated problem tracking system
Coordinates incoming calls, emails, and other client contacts in a call center environment
Use documented procedures to assist clients with solving issues related to hardware, software, networks and peripherals using available technology and knowledgebase articles
Use documented procedures to provide timely resolution of issues or escalation on behalf of client to appropriate 2nd or 3rd level support teams
Creates and documents incident cases and any necessary status updates with additional client contacts
Leverage a variety of provided support tools including knowledgebase articles, remote access, and peers, etc. to accurately assess system issues and assess business impact
Contact clients to provide follow up on incident resolution or request completion to ensure proper and complete closure
Share expertise with fellow team members
Provide training to clients , and team members
Act as a personal mentor for other team members as needed
Complete required time reporting and other administrative duties
Maintain working relationships with other IT teams, other departments and outside suppliers, as appropriate, as partners in request fulfillment
Actively participate in assigned work tasks which may be short or long term in duration and help to provide better tools, process or customer service to our clients
Associates degree in IT or related field
Previous service desk call center environment experience preferred but not absolutely required
Working knowledge of commercially available software such as Microsoft Word, Excel, Internet Explorer, and computer hardware. Other preferable but not mandatory skills include Active Directory, Remedy Incident and Knowledge Management, mobile and virtual computer support
Demonstrate solid verbal, listening, and written communication skills to document incidents with clear and concise details gathered during interactions
Accuracy in performing detailed work
Maintain patience and reasoning under stress
Typing and keyboarding skills
Account Management IT Service Desk Specialist Resume Examples & Samples
2 years of experience as a systems administrator in Windows environments
Experience with operating systems, organizations operating environment, and network requirements
Experience with user account management NMCI e–mail accounts for new users and transferring existing users NMCI e–mail accounts
Experience with issuing user passwords or password resets, data input requests for NMCI services, and NMCI trouble tickets
Experience with the administration and management of various user domains, including Global Groups, Distribution Lists, and Public Folders
Security + CE Certification
Consistently delivers excellent technical customer service
Clearly documents interactions, incidents and resolutions within Hyatt's ticketing system
While acting as a single point of contact, takes ownership and responsibility of issues from start through to resolution
Customer-oriented and solution-focused worker
Ability to maintain confidentiality with information or items as required
Possesses flexibility and works well within a team
Adaptable and with the intellectual ability to thrive in a demanding and changing environment
Ability to develop effective and quality working relationships with other departments, groups, and personnel
Ability to identify process and document improvement opportunities and works with their supervisor to take corrective action to implement change
Possesses an international mindset
Manage all activities related to the global IT Service Desk
Responsible for the efficient operation of the IT Service Desk group including staffing, scheduling and training activities
Assess Service Desk performance through various statistical and reporting technologies
Define, develop and enhance success measures for Service Desk agents
Ensure quality standards for all tickets and calls are met or exceeded regarding accuracy of ticket data including client demographic information, description, resolution, etc
Develop quality standards and quality assurance measurements and auditing
Monitor the ACD phone system to ensure agent availability, and ticketing system queues to ensure all tickets are responded to in a timely manner
Responsible for recognizing, identifying, isolating and resolving escalated support issues
Ensure problems are identified and escalated to appropriate IT groups, document work around procedures if necessary
Ensure all Service Desk staff are current on all supported technologies and applications
Partner with IT leadership to review metrics, trends and analysis
Build and maintain customer relationships to guarantee full understanding of user needs to provide effective support and services
Work with peers to develop processes to monitor trends based on service requests, incidents and queries
Escalate issues appropriately and maintain communication with customer and support teams
Maintain policies and procedures regarding Service Desk work flows, and ensure compliance
A minimum of five years in a technical support role or similar position with supervisory experience
A minimum of 3 years' experience within a customer service environment
Must have excellent writing and verbal communications skills
Must have knowledge of PC hardware and desktop software, system and recovery methods and software tools, call tracking and problem tracking software use
An understanding of service level agreements and building process and procedures for resolving problem tickets
Strong knowledge of operations and networking architectures, concepts and terminology and help desk operation/management technique
IT Service Desk Knowledge Center Manager Resume Examples & Samples
Lead a team providing first point of contact helpdesk for all service requests
Ensure account management and serves as initial point of contact for internal and external customers accessing DSS mission applications
Ensure coordination to resolve service requests with technicians located across a geographically distributed network infrastructure
Ensure timely service request acknowledgement, problem identification, escalation, resolution and closure for all service requests. Response to service requests shall be based on prioritization level and service level agreements (e.g., VIP, Mission Impact, etc.)
Ensure requests are serviced through all accessible communication channels and utilizes an enterprise ticket management system (Remedy) to track and monitor service requests
Ensure accurate status of service requests for users via self-accessible portal or through direct communication
Ensure team provide end-user account administration services (add/change/remove) and password resets
Ensure team provides desk side support to resolve customer service requests
Support coordinated escalation effort of service requests to third parties, such as hardware and software suppliers, other third-party contractors, and other DSS internal technical support
Ensure proper documentation and tracking of call metrics, service request/resolutions, and analyze trends to implement measures that prevent recurring problems and improve customer satisfaction
Provide situational awareness throughout DSS on IT-related issues impacting the enterprise
Support continually enhance a self-service capability for users to resolve issues
Support weekly status report on all call and service metrics
Provide customer service satisfaction measurements (e.g., surveys)
Provide user training and knowledge transfer as required
Maintain call-in responsibility in the event of building closure
Ensure team provides user account administration and creation, assistance with user registration, and respond to user account requests
Experience: 9 Years with Bachelors in Science; 7 Years with Masters; 4 Years with PhD
HDI-SCA certification
Experience using Remedy BMC and Microsoft SharePoint
ITILv3 Foundations
IT Service Desk Specialist, Second Shift Resume Examples & Samples
Monitoring all Mission Critical and Enterprise Critical Systems that comprise SAS' infrastructure
Identify potential system degradation and escalate to appropriate support teams to avoid and interruption of services
Ensure incidents are resolved or escalated in accordance with SAS' Incident Management Standard
Ensure problem root cause analysis is performed in accordance to SAS' Problem Management Standards
Create Root Cause Analysis problem tickets as needed
Accurately assesses and records problems in the problem management tool
Responds promptly to customer requests including hardware installation, decommission and deployment of equipment
Formal training or coursework in an IT related field; Associates degree in an IT related field is preferred
One year of experience in service management at an IT Service Desk or related field
Valid North Carolina Driver's License
Strong analytical and problem solving
Strong written, verbal, and interpersonal communication skills
Ability to work effectively in teams and individually
Hours are 04:00pm-midnight weekday and 08:00am-08:00pm weekend
IT Service Desk Specialist, Third Shift Resume Examples & Samples
Resolve issues utilizing excellent customer service skills, problem solving skills, technical thinking/reasoning
Create and distribute Incident Summary Reports
Maintains accurate asset management information in the CMDB
Ability to work nights and weekends and holidays
Hours are 12:00am-8am weekday and 08:00pm-08:00am weekend
Director Global IT Service Desk Resume Examples & Samples
Assessing the overall global end user service desk support currently comprised of insourced internal Tier 1 and Tier 2 service desks and the outsourced regional Tier 1 service desk
Manage and analyze existing outsourced vendor services, recommend and execute insourced vs. outsourced model supporting 55,000+ end users globally. Create a scalable model to accommodate acquisitions, new business, new applications, and various end user computing support needs
Lead, coach and mentor, Tier 1 and Major Incident Management teams
Provides leadership in the research, development and implementation of innovative, efficient service desk technologies in support of business needs and opportunities
Leadership of people management to include but not limited to; recruitment of FTE's as well as contractor staff, management of staffing vendors, performance and compensation management, training and development
Create enterprise strategic partnerships with Information Technology peers/leaders, and business partners. Collaborate with key internal stakeholders to ensure service desk support aligns with the company's overall vision, mission and goals
Contract Negotiation -- Responsible for negotiating and documenting all key terms with suppliers for goods and services
Developing continues improvement plans to optimize KSR cost and measure as well as grow customer satisfaction KPIs
Innovate and communicate around the area of responsibility (i.e. prize competitions, virtual service-desk) to bring service delivery and customer satisfaction to the next level
Demonstrated thought leader in service desk strategies with strong expertise in IT insourcing/outsourcing support
Strong ability to translate business requirements into cost efficient (IT) solutions
Proven experience in managing and leading large scale IT projects
Strong budgeting and Financial Management Skills
High level of technical proficiency and awareness (ITIL/MCP/MCSE/CNE/disaster recovery)
Strong experience in Personnel Management, and ability to raise engagement and proactivity within an International Team
Excellent communication skills, including the ability to develop and nurture good relationships with other parts of IT as well with business
Educated to at least degree level in a Business-Computing related subject or comparable qualification
8-10 years of work experience within international IT environments, including several years in management positions. Experience required in IT Service and Project Management
Very good in English and in local language both written and spoken
Related Job Titles
Resume Worded
Resume Examples
Administrative Resumes
Help Desk Resume Guide & Examples
IT Help Desk (Entry Level) Resume Examples: Proven To Get You Hired In 2023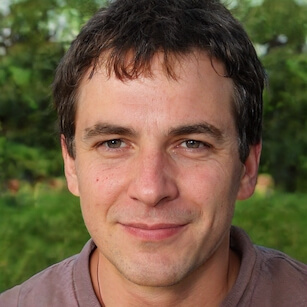 IT Help Desk (Entry Level) Resume Template
Download in google doc, word or pdf for free. designed to pass resume screening software in 2022., it help desk (entry level) resume sample.
Help desk centers usually work in tiers, meaning that technicians have a designated level of complexity with technical support. Some of them handle advanced issues while others focus on basic setup tasks and lower-level troubleshooting. That is precisely the work of an entry-level IT help desk specialist since they don't have extensive experience on their resume.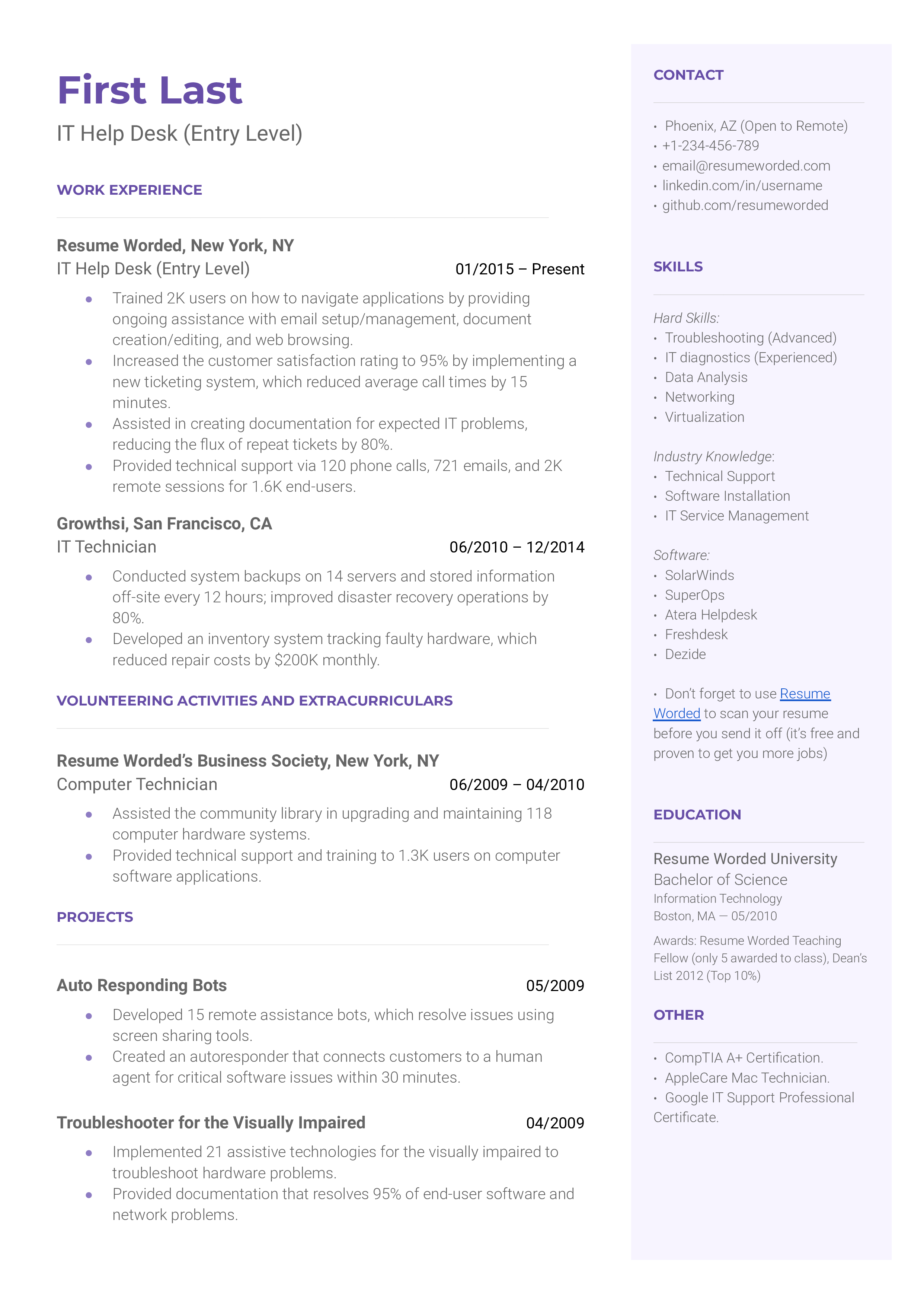 We're just getting the template ready for you, just a second left.
Recruiter Insight: Why this resume works in 2022
Tips to help you write your it help desk (entry level) resume in 2023, include volunteering experience in it..
Having a lack of professional experience in help desk centers doesn't have to prevent you from applying to this position. You can also include relevant experience in volunteering and internships. These days, this type of on-the-job training has a lot of value in the IT industry.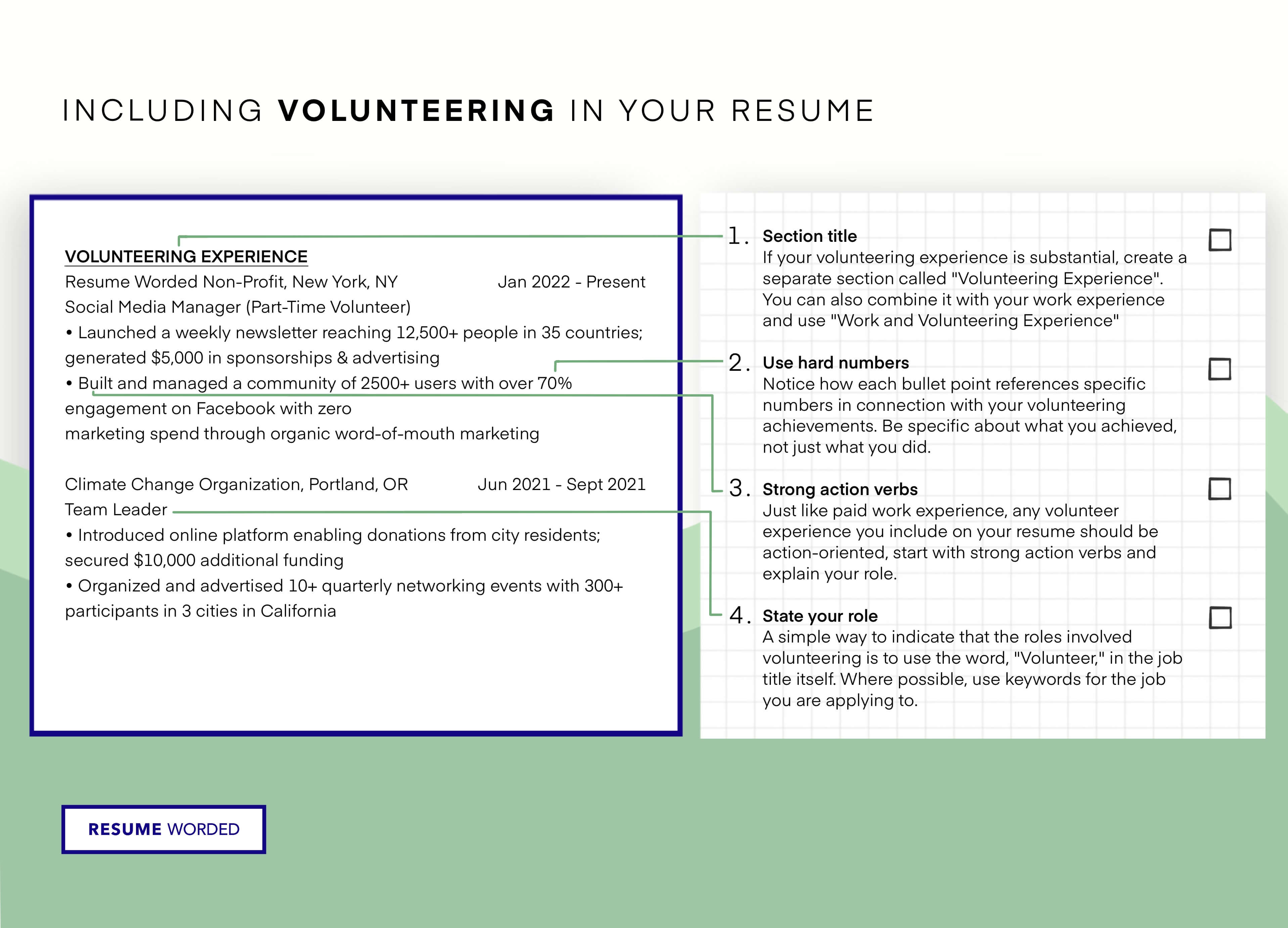 Highlight projects in which you used your transferrable skills.
If you have worked in personal or extracurricular projects where you used your technical support skills, you can mention that in your resume. This is a good idea to demonstrate your value. You can highlight skills from this experience, such as problem-solving and troubleshooting.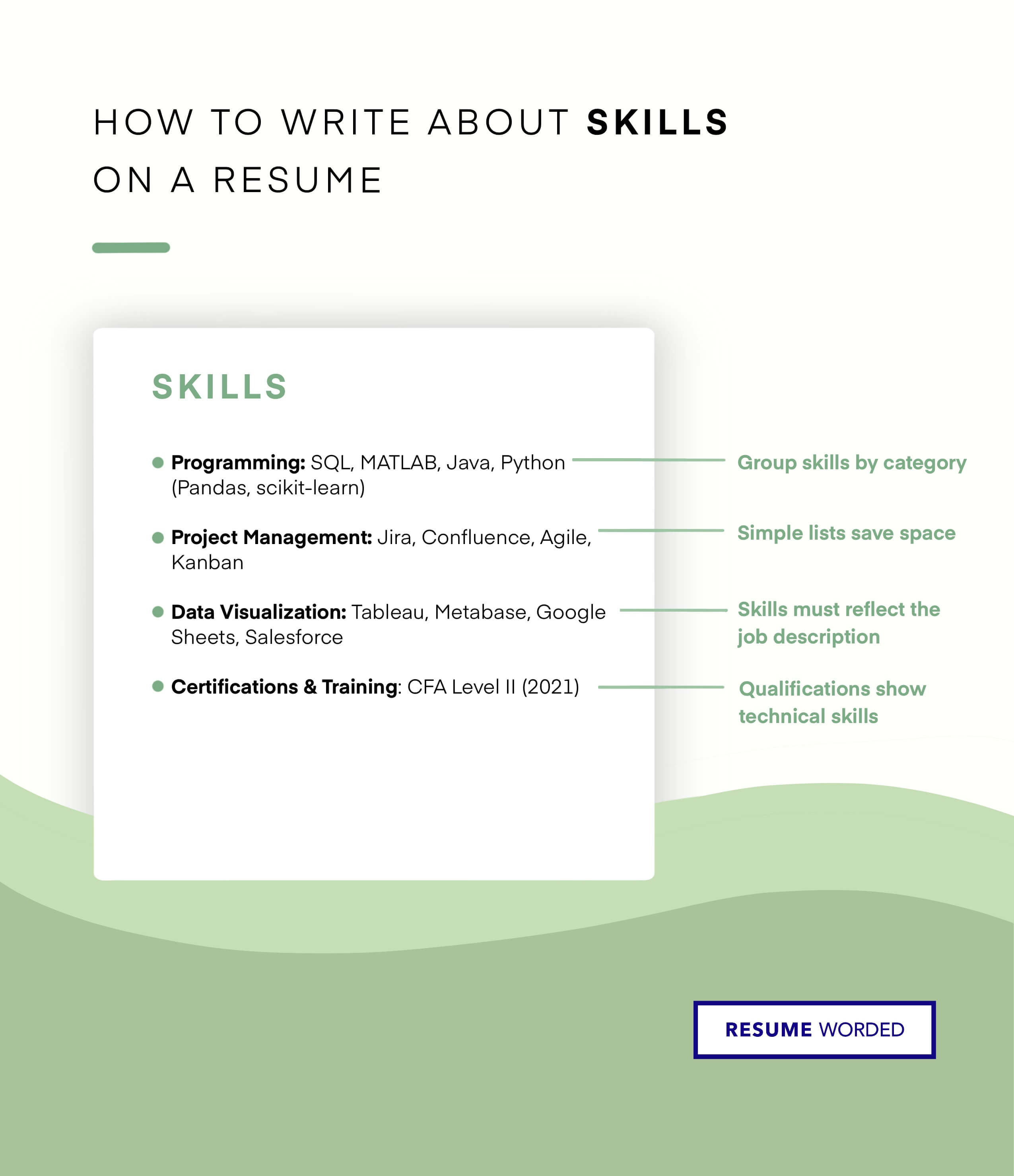 IT Support Specialist Resume Sample
It support technician resume sample, help desk technician resume sample, it support associate resume sample, skills for it help desk (entry level) resumes.
Here are examples of popular skills from IT Help Desk (Entry Level) job descriptions that you can include on your resume.
Service Desk
Technical Support
Microsoft Access
Computer Hardware Troubleshooting
Network Administration
Computer Hardware
Operating Systems
Skills Word Cloud For IT Help Desk (Entry Level) Resumes
This word cloud highlights the important keywords that appear on IT Help Desk (Entry Level) job descriptions and resumes. The bigger the word, the more frequently it appears on job postings, and the more likely you should include it in your resume.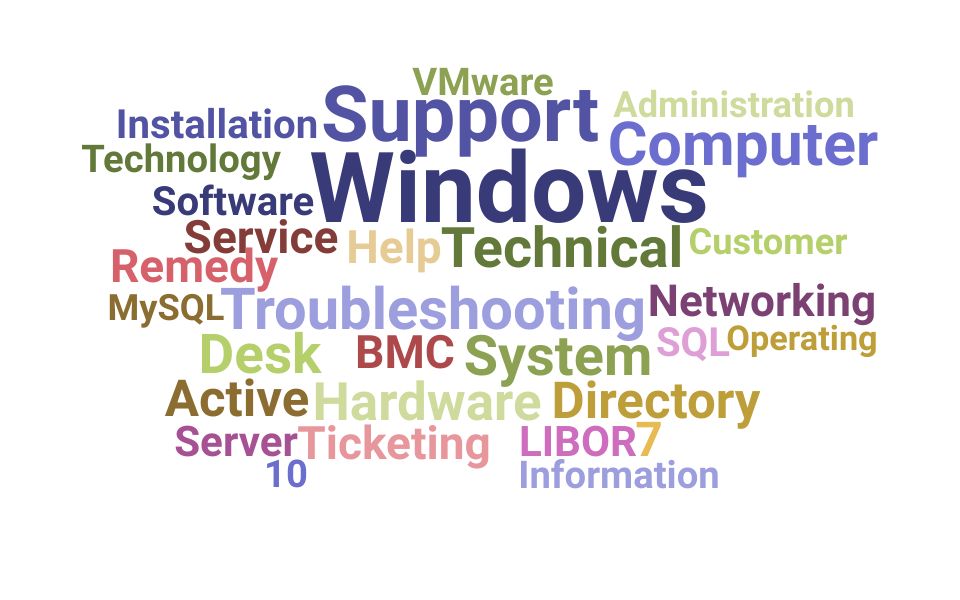 How to use these skills?
Similar resume templates, desktop support.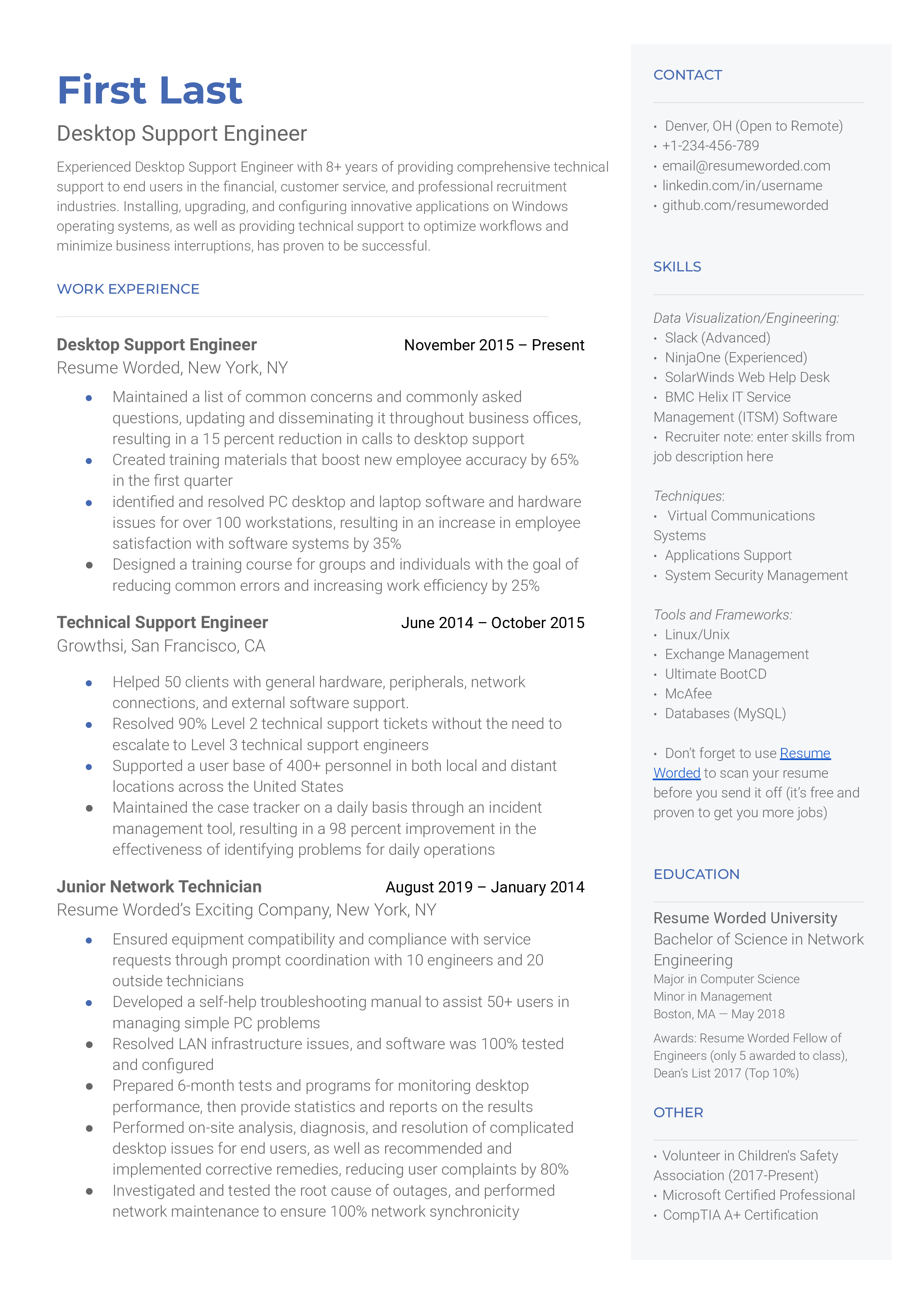 Customer Service Resume Guide
Virtual Assistant Resume Guide
Administrative Assistant Resume Guide
Executive Assistant Resume Guide
Office Manager Resume Guide
Research Assistant Resume Guide
Customer Success Resume Guide
Back Office Resume Guide
Inventory Manager Resume Guide
Desktop Support Resume Guide
Loan Processor Resume Guide
Warehouse Manager Resume Guide
Fundraising Resume Guide
Service Desk Resume Guide
Help Desk Resume Guide
Administrative Coordinator Resume Guide
Administration Resume Guide
Scheduling Resume Guide
Gig Economy Resume Guide
Project Administrator Resume Guide
Facilities Resume Guide
Revenue Cycle Resume Guide
Resume Guide: Detailed Insights From Recruiters
Help Desk Resume Guide & Examples for 2022
Improve your IT Help Desk (Entry Level) resume, instantly.
Use our free resume checker to get expert feedback on your resume. You will:
• Get a resume score compared to other IT Help Desk (Entry Level) resumes in your industry.
• Fix all your resume's mistakes.
• Find the IT Help Desk (Entry Level) skills your resume is missing.
• Get rid of hidden red flags the hiring managers and resume screeners look for.
It's instant, free and trusted by 1+ million job seekers globally. Get a better resume, guaranteed .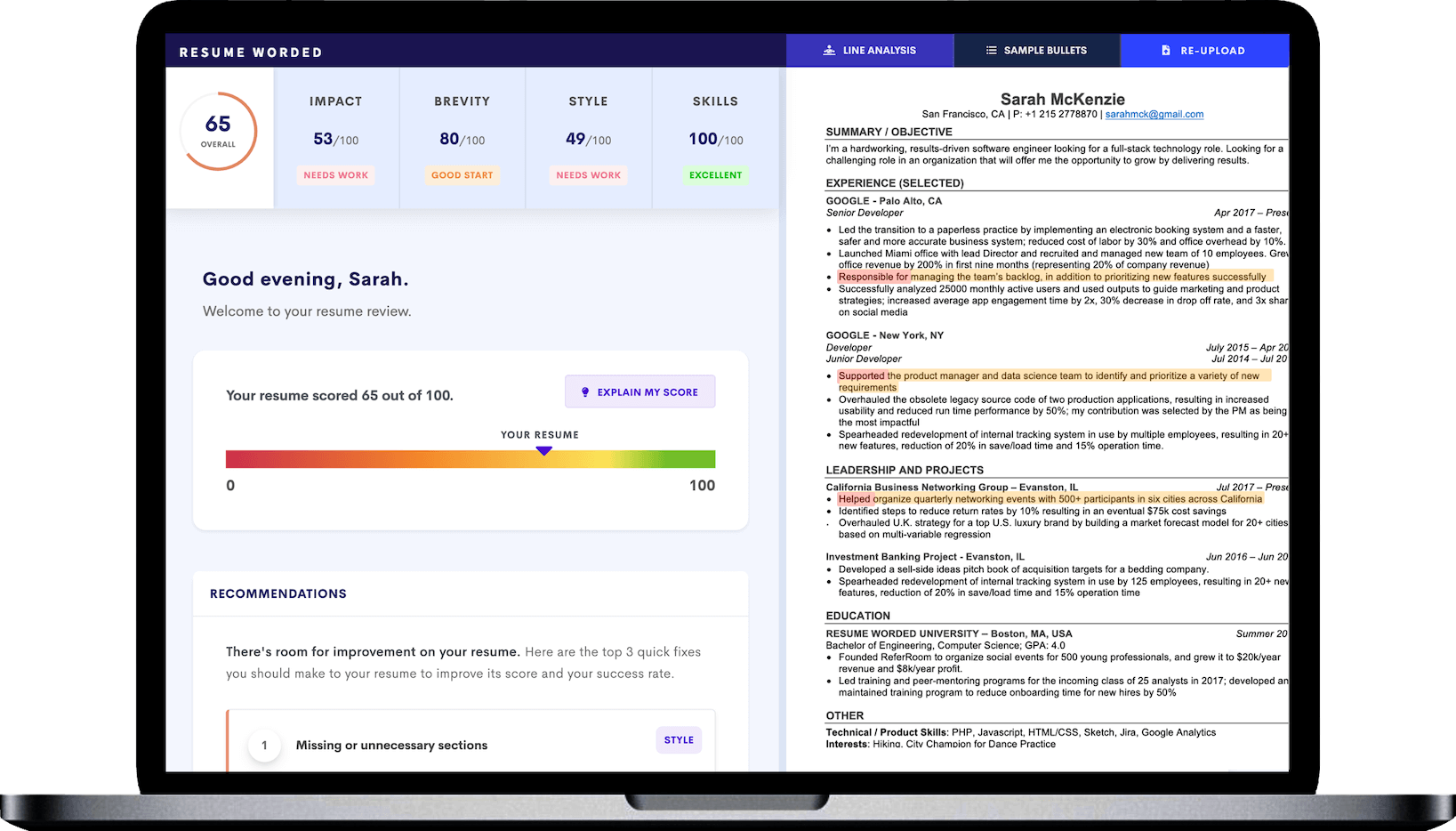 IT Help Desk (Entry Level) Resumes
Template #1: IT Help Desk (Entry Level)
Template #2: IT Help Desk (Entry Level)
Template #3: IT Support Specialist
Template #4: IT Support Technician
Template #5: Help Desk Technician
Template #6: IT Support Associate
Skills for IT Help Desk (Entry Level) Resumes
Free IT Help Desk (Entry Level) Resume Review
Similar Help Desk Resume Templates
Other Administrative Resumes
IT Help Desk (Entry Level) Interview Guide
IT Help Desk (Entry Level) Sample Cover Letters
Help Desk - 2023 Resume Guide
Alternative Careers to a Help Desk Specialist
All Resumes
Resume Action Verbs
Download this PDF template.
Creating an account is free and takes five seconds. you'll get access to the pdf version of this resume template., choose an option..
E-mail Please enter a valid email address This email address hasn't been signed up yet, or it has already been signed up with Facebook or Google login.
Password Show Your password needs to be between 6 and 50 characters long, and must contain at least 1 letter and 1 number. It looks like your password is incorrect.
Remember me
Forgot your password?
Sign up to get access to Resume Worded's Career Coaching platform in less than 2 minutes
Name Please enter your name correctly
E-mail Remember to use a real email address that you have access to. You will need to confirm your email address before you get access to our features, so please enter it correctly. Please enter a valid email address, or another email address to sign up. We unfortunately can't accept that email domain right now. This email address has already been taken, or you've already signed up via Google or Facebook login. We currently are experiencing a very high server load so Email signup is currently disabled for the next 24 hours. Please sign up with Google or Facebook to continue! We apologize for the inconvenience!
Password Show Your password needs to be between 6 and 50 characters long, and must contain at least 1 letter and 1 number.
Receive resume templates, real resume samples, and updates monthly via email
By continuing, you agree to our Terms and Conditions and Privacy Policy .
Lost your password? Please enter the email address you used when you signed up. We'll send you a link to create a new password.
E-mail This email address either hasn't been signed up yet, or you signed up with Facebook or Google. This email address doesn't look valid.
Back to log-in
These professional templates are optimized to beat resume screeners (i.e. the Applicant Tracking System). You can download the templates in Word, Google Docs, or PDF. For free (limited time).
access samples from top resumes, get inspired by real bullet points that helped candidates get into top companies., get a resume score., find out how effective your resume really is. you'll get access to our confidential resume review tool which will tell you how recruiters see your resume..
Writing an effective resume has never been easier .
Upgrade to resume worded pro to unlock your full resume review., get this resume template (+ 2 others), plus proven bullet points., for a small one-time fee, you'll get everything you need to write a winning resume in your industry., here's what you'll get:.
📄 Get the editable resume template in Google Docs + Word . Plus, you'll also get all 2 other templates .
✍️ Get sample bullet points that worked for others in your industry . Copy proven lines and tailor them to your resume.
🎯 Optimized to pass all resume screeners (i.e. ATS) . All templates have been professionally designed by recruiters and 100% readable by ATS.
Buy now. Instant delivery via email.
instant access. one-time only., what's your email address.

I had a clear uptick in responses after using your template. I got many compliments on it from senior hiring staff, and my resume scored way higher when I ran it through ATS resume scanners because it was more readable. Thank you!


Service Desk Manager CV Sample
Home » IT Resume Samples » Service Desk Manager CV Sample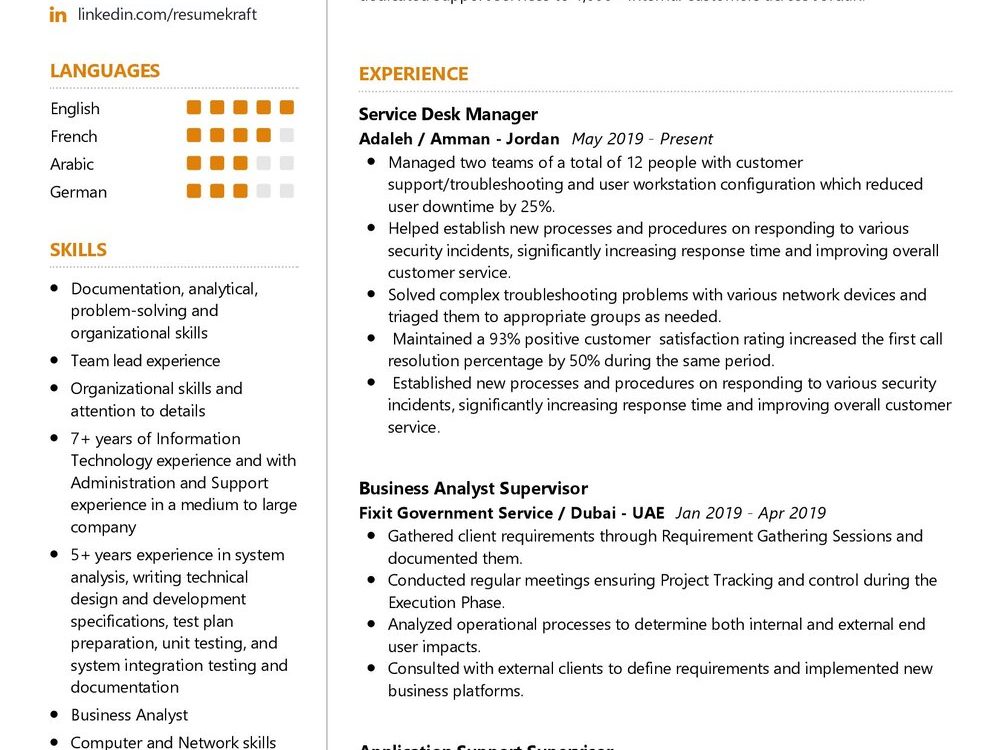 Are you a Service Desk Manager by profession and looking for a career change? We have good news for you! use our job-winning professional Service Desk Manager CV Sample template. You don't have to start writing from scratch. Just click "Edit CV" and modify it with your details. Update the template fonts and colors to have the best chance of landing your dream job. Find more Resume Templates.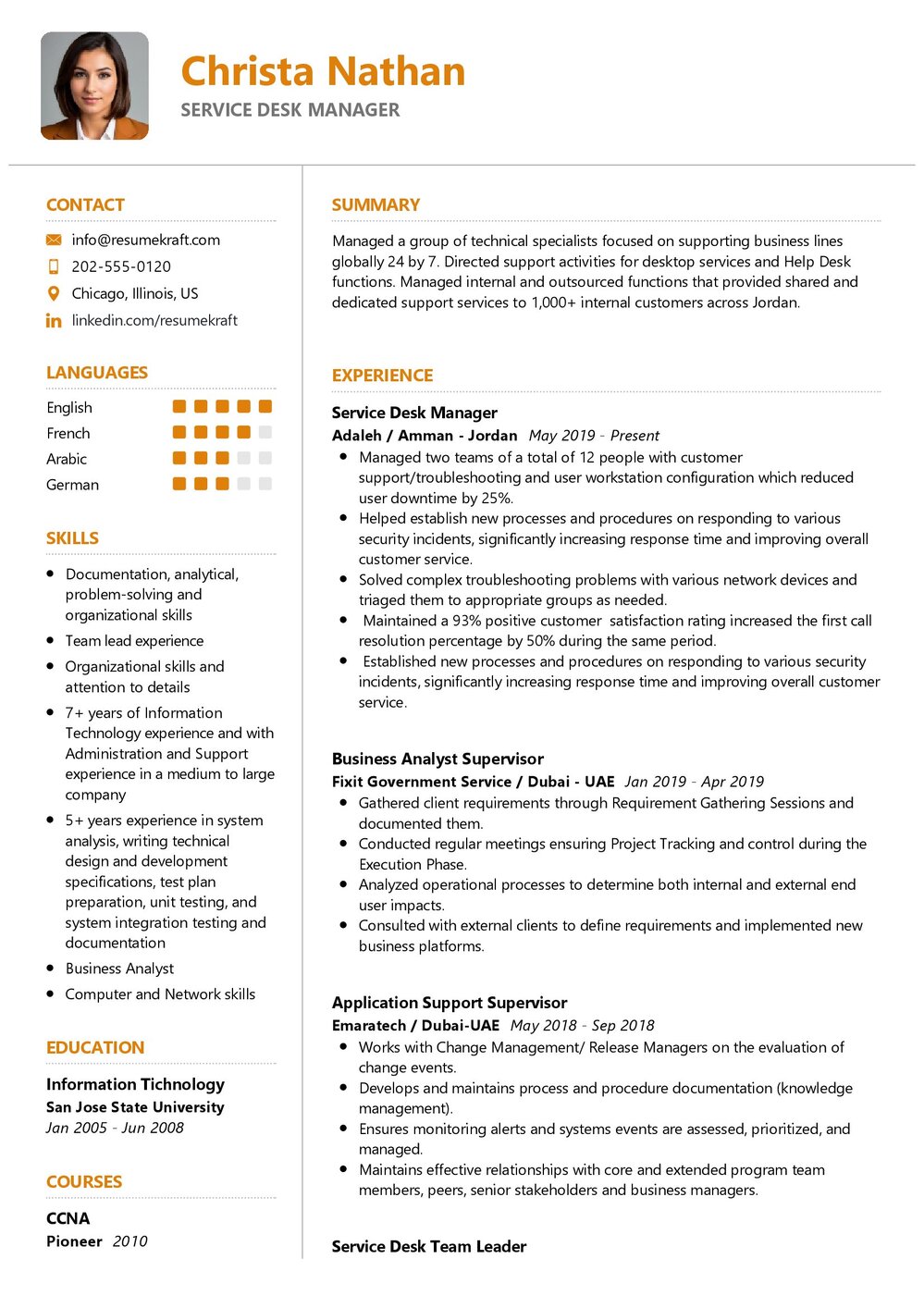 Christa Nathan
Service desk manager.
Managed a group of technical specialists focused on supporting business lines globally 24 by 7. Directed support activities for desktop services and Help Desk functions. Managed internal and outsourced functions that provided shared and dedicated support services to 1,000+ internal customers across Jordan.
Documentation, analytical, problem-solving and organizational skills
Team lead experience
Organizational skills and attention to details
7+ years of Information Technology experience and with Administration and Support experience in a medium to large company
5+ years experience in system analysis, writing technical design and development specifications, test plan preparation, unit testing, and system integration testing and documentation
Business Analyst
Computer and Network skills
Work Experience
Managed two teams of a total of 12 people with customer support/troubleshooting and user workstation configuration which reduced user downtime by 25%.
Helped establish new processes and procedures on responding to various security incidents, significantly increasing response time and improving overall customer service.
Solved complex troubleshooting problems with various network devices and triaged them to appropriate groups as needed.
Maintained a 93% positive customer satisfaction rating increased the first call resolution percentage by 50% during the same period.
Established new processes and procedures on responding to various security incidents, significantly increasing response time and improving overall customer service.
Business Analyst Supervisor
Gathered client requirements through Requirement Gathering Sessions and documented them.
Conducted regular meetings ensuring Project Tracking and control during the Execution Phase.
Analyzed operational processes to determine both internal and external end user impacts.
Consulted with external clients to define requirements and implemented new business platforms.
Application Support Supervisor
Works with Change Management/ Release Managers on the evaluation of change events.
Develops and maintains process and procedure documentation (knowledge management).
Ensures monitoring alerts and systems events are assessed, prioritized, and managed.
Maintains effective relationships with core and extended program team members, peers, senior stakeholders and business managers.
Service Desk Team Leader
With assistance from remote network team; maintain, monitor and support the network on-site to ensure 24/7 uptime.
Manages a team(s) that provides support for employees with hardware, software and network issues.
Monitors and analyzes performance metrics to determine areas of improvement.
Coordinates and ensures that quality customer service is provided to staff, management and employees of the organization.
Performing as a supervisor with the responsibility for the instruction, assignment, direction and monitoring of the performance of desktop technicians.
IT Assistant Manager
Administer departmental change management processes and participate in weekly change management meetings.
Manage the release calendar for all OM activity (code fixes and work orders).
Manage service restoration, incident resolution, root cause analysis by working with various technology and business teams.
Manage established budgets and forecasts.
Work with various teams to ensure business work requests / requests are delivered with minimal business impact
Project delivery – oversee and manage business initiatives that is small in nature following the project management standard
Ensure stakeholders expectations are well managed.
Information Tichnology
Career expert tips:.
Always make sure you choose the perfect resume format to suit your professional experience.
Ensure that you know how to write a resume in a way that highlights your competencies.
Check the expert curated popular good CV and resume examples
What is the Role of a Service Desk Manager?
In the realm of modern businesses, the role of a Service Desk Manager has emerged as a linchpin in ensuring seamless operations and efficient customer support. This position combines technical prowess with exceptional leadership skills, orchestrating a team dedicated to resolving technical issues and providing impeccable service to clients. Let's delve into the multifaceted role of a Service Desk Manager, a position that demands a deep understanding of IT service management coupled with the ability to lead a team effectively.
A Service Desk Manager is entrusted with the responsibility of overseeing the smooth functioning of the IT help desk, ensuring that technical issues are resolved in a timely manner, and customer satisfaction remains paramount. They play a crucial role in aligning the service desk operations with the organization's objectives, often serving as the focal point for communication between the IT department and other business units. Their role is instrumental in maintaining a high level of service quality, optimizing processes, and fostering a culture of continuous improvement within the service desk team.
What are the Service Desk Manager Job Requirements?
To excel in the role of a Service Desk Manager, one must meet specific requirements that reflect a blend of technical expertise, leadership capabilities, and strong interpersonal skills. Let's delve deeper into the prerequisites that one needs to fulfill to step into the shoes of a Service Desk Manager:
A Bachelor's or Master's degree in Information Technology, Computer Science, or a related field, showcasing a strong foundation in the technical domain.
Proven experience in managing a service desk, demonstrating the ability to handle complex technical issues and deliver exceptional customer support.
Proficiency in IT service management frameworks such as ITIL, highlighting a comprehensive understanding of best practices in service delivery and support.
Exceptional leadership and team management skills, honed through experiences and possibly through relevant certifications or courses.
Strong communication and interpersonal abilities, enabling effective interaction with both technical and non-technical stakeholders.
An analytical mindset and problem-solving skills, crucial for identifying root causes of issues and implementing effective solutions.
Additional certifications in IT service management can significantly bolster one's profile and enhance career prospects in this competitive field.
What are the Responsibilities of a Service Desk Manager?
The role of a Service Desk Manager encompasses a diverse array of responsibilities, combining technical expertise with effective team leadership and strategic planning. Let's uncover the key responsibilities that define this role, each contributing to the seamless functioning of the service desk and ensuring impeccable customer support:
Overseeing the day-to-day operations of the service desk, ensuring that all incoming technical issues are addressed promptly and efficiently.
Developing and implementing service desk procedures and best practices, fostering a culture of continuous improvement and delivering exceptional customer service.
Managing and mentoring the service desk team, providing guidance, training, and support to ensure a high level of technical expertise and customer-centric approach.
Collaborating with other IT teams to resolve complex technical issues, facilitating effective communication and ensuring seamless integration of services.
Conducting regular performance evaluations and implementing strategies for team development and enhancement of service desk operations.
Monitoring service desk metrics and generating reports to assess performance, identify trends, and implement necessary improvements to optimize service delivery.
Staying updated with the latest developments in IT service management, incorporating industry best practices and technological advancements into service desk operations.
Each responsibility plays a vital role in ensuring the smooth functioning of the service desk, fostering a culture of excellence and customer satisfaction.
Service Desk Manager Resume Writing Tips
Crafting a compelling resume for the role of a Service Desk Manager requires careful attention to detail and a focus on highlighting relevant experiences and skills. Here are some tips to help you create an impactful resume:
Showcase your leadership experience, emphasizing instances where you have effectively managed and motivated teams to achieve exceptional results.
Highlight specific instances where you implemented process improvements or innovative solutions that positively impacted service desk operations and customer satisfaction.
Quantify your achievements with measurable metrics, illustrating the tangible results of your contributions to the service desk's success.
List relevant certifications and training programs, demonstrating your commitment to continuous professional development and staying updated with the latest industry standards.
Customize your resume to match the specific requirements of the job description, emphasizing your relevant skills and experiences that align with the organization's needs.
Each tip is instrumental in crafting a resume that effectively showcases your capabilities and suitability for the role of a Service Desk Manager.
Service Desk Manager Resume Summary Examples
Your resume summary serves as a concise yet powerful introduction to your professional journey, highlighting your key experiences and the value you bring to the role. Here are some examples to inspire you:
"Service Desk Manager with over 8 years of experience, adept at leading high-performing teams and optimizing service desk operations to deliver exceptional customer support."
"Results-driven Service Desk Manager with a proven track record in implementing ITIL best practices, fostering a customer-centric approach, and achieving high levels of customer satisfaction."
"Dynamic Service Desk Manager with expertise in driving process improvements and implementing innovative solutions, dedicated to delivering seamless and efficient IT support services."
Each summary serves as a window to your professional journey, offering insights into your expertise and accomplishments as a Service Desk Manager.
Create a Strong Experience Section for Your Service Desk Manager Resume
The experience section of your resume is a critical component that showcases your practical application of skills and expertise in managing service desk operations. Here are some examples to guide you:
"Led a team of service desk analysts in a fast-paced IT environment, achieving a 25% reduction in average resolution time through the implementation of streamlined processes and improved communication protocols."
"Pioneered the adoption of ITIL framework within the service desk, resulting in a 30% increase in customer satisfaction scores and improved alignment of services with business objectives."
"Developed and conducted comprehensive training programs for service desk staff, enhancing technical skills and fostering a customer-centric approach to service delivery, resulting in improved customer retention rates."
Each experience highlights your proactive approach, leadership skills, and ability to drive tangible improvements in service desk operations.
Sample Education Section for Your Service Desk Manager Resume
Your educational background serves as a foundation for your career journey, emphasizing your academic qualifications and commitment to continuous learning. Here's how you can effectively list your educational milestones:
Bachelor of Science in Information Technology, XYZ University, a comprehensive program that laid the groundwork for a successful career in IT service management, 2014.
ITIL Foundation Certification, demonstrating proficiency in IT service management best practices and methodologies, 2015.
Master of Business Administration (MBA) with a specialization in IT Management, ABC University, a program that honed strategic and leadership skills, 2018.
Each educational qualification reflects your commitment to professional development and your pursuit of excellence in the field of IT service management.
Service Desk Manager Skills for Your Resume
Your skill set as a Service Desk Manager is a critical asset that showcases your ability to effectively manage service desk operations and deliver exceptional customer support. Let's list down the essential skills that a Service Desk Manager should possess:
Soft Skills:
Leadership and team management, the ability to inspire and guide teams toward achieving service excellence.
Effective communication and interpersonal skills, crucial for fostering strong relationships with clients and internal stakeholders.
Analytical thinking and problem-solving abilities, essential for identifying and resolving complex technical issues efficiently.
Strategic planning and decision-making, enabling the implementation of effective service desk processes and improvements.
Customer-centric approach, emphasizing the importance of delivering impeccable customer service and ensuring high levels of customer satisfaction.
Hard Skills:
Proficiency in IT service management frameworks such as ITIL, showcasing a comprehensive understanding of industry best practices and methodologies.
Technical expertise in troubleshooting and resolving complex technical issues, ensuring efficient and effective service delivery.
Knowledge of service desk management software and tools, facilitating streamlined operations and enhanced service delivery.
Experience in developing and implementing service desk procedures and best practices, ensuring standardized and efficient service delivery processes.
Data analysis and reporting skills, enabling the monitoring of service desk metrics and the generation of actionable insights for process improvements.
Each skill represents a crucial aspect of your capabilities as a Service Desk Manager, enabling you to deliver exceptional service and support to clients and stakeholders.
Most Common Mistakes to Avoid When Writing a Service Desk Manager Resume
While crafting your resume for the role of a Service Desk Manager, it is crucial to steer clear of common pitfalls that can diminish the impact of your application. Here we list down the mistakes often seen in resumes and how to avoid them:
Avoid using generic or vague language that fails to highlight your specific achievements and contributions as a Service Desk Manager.
Do not overlook the importance of customizing your resume to match the specific requirements of the job description, ensuring that your relevant skills and experiences are prominently featured.
Ensure that your resume is well-structured and easy to read, avoiding cluttered formatting and excessively long paragraphs that may deter recruiters from reviewing your application thoroughly.
Avoid exaggerating your skills or experiences, as this can lead to misunderstandings and may impact your credibility during the recruitment process.
Proofread your resume thoroughly to eliminate any grammatical or typographical errors, as these can create a negative impression and diminish the overall quality of your application.
Avoiding these common mistakes can significantly enhance the effectiveness of your resume and increase your chances of securing your desired role as a Service Desk Manager.
Key Insights for Crafting Your Service Desk Manager Resume
As we conclude this comprehensive guide, let's recap the key insights to consider while crafting your Service Desk Manager resume:
Emphasize your leadership capabilities, highlighting your experience in managing and motivating teams to deliver exceptional service desk operations.
Highlight your proficiency in IT service management, showcasing your expertise in implementing best practices and ensuring efficient service delivery.
Showcase your strategic initiatives, demonstrating your ability to drive process improvements and foster a customer-centric approach to service desk operations.
Include a dedicated section on continuous learning, emphasizing relevant certifications and training programs that reflect your commitment to professional development.
Finally, take advantage of our AI Resume Builder , Resume Design , Resume Samples , Resume Examples , Resume Skills , Resume Help , Resume Synonyms , and Job Responsibilities to create a standout application and prepare for the Service Desk Manager job interview .
Equipped with these insights and tips, you are now ready to create a resume that effectively showcases your capabilities and experience as a Service Desk Manager, positioning you as an ideal candidate for prospective employers. Best of luck!
Check Other Great Resumes:
Sr Brand Leader CV Sample
Project Management CV Example
Platform Specialist CV Sample
Web Developer CV Example
Pharmacist CV Sample
Senior Analyst CV Example
Academic Administrator CV Sample
Restaurant Manager CV Example
Public Relations Communication CV Sample
Receptionist CV Example
More Resume Examples:
Privacy overview.