Hotel Receptionist Cover Letter Examples
Use these Hotel Receptionist cover letter examples to help you write a powerful cover letter that will separate you from the competition.
Hotel receptionists are the first point of contact for guests. They need to be friendly and efficient in order to provide a great customer experience.
In order to get hired as a hotel receptionist, you need to write a cover letter that showcases your skills and experience. Check out the examples below to learn how to write a cover letter that stands out.
Formal/Professional Writing Style Example
With my strong background in customer service and my passion for creating welcoming and positive experiences for guests, I am confident in my ability to contribute to the continued success of your hotel. I am eager to bring my skills and dedication to your team as a Hotel Receptionist.
In my previous role as a Front Desk Associate at the Homey Hotel, I gained valuable experience in providing exceptional customer service to guests, handling reservations, and addressing any issues or concerns with efficiency and professionalism. My ability to multi-task, coupled with my strong attention to detail, allows me to manage demanding workloads without compromising the quality of my work. I also possess excellent interpersonal and communication skills, which enable me to build rapport with guests and establish a friendly and welcoming atmosphere.
Additionally, I am well-versed in various hotel management software, including Opera and Frontdesk Anywhere, ensuring a smooth and efficient administrative process for both guests and staff. Moreover, my proficiency in multiple languages, such as English, Spanish, and French, allows me to cater to a diverse clientele effectively, making their stay a more enjoyable one.
I am confident that my positive attitude, combined with my desire to constantly learn and grow within the hospitality industry, will make me a valuable addition to your hotel. I would welcome the opportunity to further discuss my suitability for the position at your convenience.
Thank you for considering my application. I look forward to the possibility of contributing to the exceptional service that your hotel is renowned for.
[Your Name]
Entry-Level Writing Style Example
As a recent graduate with a Bachelor's degree in Hospitality Management, I am excited to begin my career in the hospitality industry and believe that my skills, education, and passion for customer service make me an ideal candidate for this role at your esteemed hotel.
During my time at University, I gained valuable knowledge about the hotel industry through a variety of coursework and practical experiences. I also had the chance to volunteer at several community events in a guest-facing capacity, which helped refine my communication skills and ability to manage guest requests effectively.
While studying, I worked part-time at a local retail store, where I honed my multitasking and interpersonal skills. This position also allowed me to develop the patience and problem-solving abilities required to ensure a smooth and enjoyable guest experience in any hotel setting.
What particularly attracts me to your hotel is its reputation for excellent customer service and commitment to creating memorable experiences for the guests. I am confident that joining your team would be the perfect opportunity for me to learn, grow, and excel in providing exceptional service.
I am eager to meet with you in person to discuss my qualifications and suitability for this position. Thank you for considering my application, and I look forward to the opportunity to contribute to your hotel's success.
Networking/Referral Writing Style Example
I was referred to this opportunity by my close friend and your current employee, Jane Smith, who has been working as a front office supervisor at the hotel for the past three years. Given our close relationship, Jane has had the opportunity to familiarize herself with my strengths and abilities, and she believes my skillset and attitude would make me a strong candidate for the role. I am honored with her confidence in my potential and therefore excited to formally apply for the position.
I am confident that my experience in customer service, excellent communication skills, and positive attitude make me a perfect fit for this position. I have over three years of experience working in a fast-paced customer service environment, and I understand the importance of providing top-notch service to all guests. I pride myself on my ability to multitask, quickly resolve conflicts, and anticipate the needs of guests, always aiming to leave them with an unforgettable experience.
Furthermore, I am a fast learner and constantly seek opportunities to expand my knowledge in the hospitality industry. I am confident that, if given the opportunity, I can become an essential asset to your team and contribute to the continued success and satisfaction of your guests.
Thank you for considering my application. I would love the opportunity to further discuss my suitability for the position in an interview at your earliest convenience.
Enthusiastic/Passionate Writing Style Example
Ever since my first stay at one of your beautiful hotels, I have been captivated by the exceptional service, elegant ambiance, and attention to detail that sets your establishments apart from the rest. It would be an honor to contribute my skills and positive attitude as a Hotel Receptionist to ensure guests enjoy the same unforgettable experience.
Being a receptionist is more than just a job for me; it embodies the opportunity to create lasting memories and impact the lives of guests from around the world. I am passionate about exceeding expectations and delivering unparalleled service at each interaction. With my strong background in hospitality, impeccable communication skills, and adaptable nature, I am well-equipped to tackle challenges and ensure a smooth check-in process.
Throughout my hospitality experience, I have gained expertise in multitasking, managing reservations, and providing a warm and welcoming atmosphere for all guests. I take pride in assisting travelers in finding local attractions, restaurants, and events that will enrich their vacation experience. My dedication to learning your establishment's dynamics and maintaining a strong knowledge of available amenities and ongoing promotions will only boost my ability to be a valuable team member.
I am highly motivated to continue my growth in the hospitality industry and believe that this opportunity will grant me invaluable experience, while also allowing me to contribute to your hotel's success. Thank you for considering my application, and I am eager to discuss in person how my passion and enthusiasm as a Hotel Receptionist will make a positive impact on your esteemed organization.
Problem-Solving Writing Style Example
Having thoroughly researched your hotel and noted the recent expansion of guest services, I understand that there may be an increased need for adaptable and experienced staff to maintain the high standard of customer satisfaction your hotel is renowned for. I am confident that my extensive background in hospitality and outstanding interpersonal skills make me the perfect candidate to contribute proactively to your team and help tackle this challenge.
In my previous role as a Guest Services Agent, I garnered valuable experience in managing a diverse range of client expectations, made possible by my ability to speak three languages: English, Spanish, and French. I keenly noted that your hotel caters to a global clientele, and my linguistic skills would allow me to facilitate smooth communication and offer tailored assistance to meet individual guest needs. This talent would undoubtedly contribute to withstanding the surge in customer demands that accompanies growth.
Furthermore, I bring expertise in utilizing hotel management software such as Opera PMS and Amadeus, which, as I understand, are vital tools employed by your hotel to streamline daily tasks and maintain a high level of efficiency. My familiarity with these systems will enable me to hit the ground running from day one, ensuring a seamless integration and significant contribution to alleviating the workload faced by your expanding team.
Lastly, my innate ability to multitask and remain composed under pressure allows me to address guests' concerns with poise and professionalism, thereby fostering a welcoming atmosphere in line with your hotel's esteemed reputation.
I am eager to discuss how my skills and experiences can contribute to the continued success of your establishment. Thank you for considering my application.
Storytelling/Narrative Writing Style Example
Once upon a time, on a rainy evening, I found myself stranded in a new city. As I entered the warm and welcoming lobby of a hotel, I realized the importance of a receptionist's role in a guest's experience. I was greeted by a smiling face, who made me feel at ease after a long, tiring journey. The receptionist not only helped me with the check-in process but also provided me with valuable information about the city and recommended places to visit. It was in that moment I realized my passion for hospitality and my desire to be a part of this industry.
With over two years of experience as a receptionist, I have honed my customer service and multitasking skills while working in a fast-paced environment. My responsibilities have included managing reservations, handling guest inquiries, and providing personalized service to ensure guest satisfaction. I have also assisted in managing events and coordinating with various departments to ensure seamless operations.
I am eager to bring my passion for hospitality and dedication to excellent customer service to your hotel. I am confident that my experience, combined with my genuine desire to create memorable experiences for guests, will make me an asset to your team. My ability to adapt to new situations and handle challenges with grace, as demonstrated by my encounter in a new city, will enable me to excel in this role.
Thank you for considering my application. I am excited about the opportunity to contribute to your hotel's success and create memorable experiences for your guests. I look forward to the possibility of discussing my qualifications further.
Kitchen Assistant Cover Letter Examples
Bellman cover letter examples, you may also be interested in....
Chef Cover Letter Examples & Writing Tips
Wellness coach cover letter examples & writing tips, hvac supervisor cover letter examples & writing tips, community support worker cover letter examples & writing tips.

Hotel Receptionist cover letter examples

To secure Hotel Receptionist jobs, firstly you need to get your CV in front of the employer.
And to do that you will need a strong cover letter.
But writing a cover letter which stands out from the crowd and encourages recruiters to read your CV is not always easy.
So, we have created 3 Hotel Receptionist cover letter examples to give you some inspiration, along with a full guide on how to create your own winning cover letter.
Guide contents
How to write a Hotel Receptionist cover letter
What to include in a Hotel Receptionist cover letter

Hotel Receptionist cover letter example 1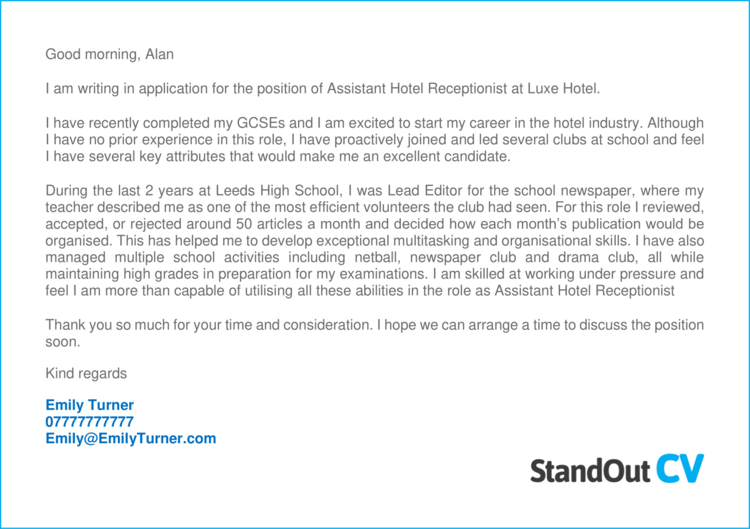 Hotel Receptionist cover letter example 2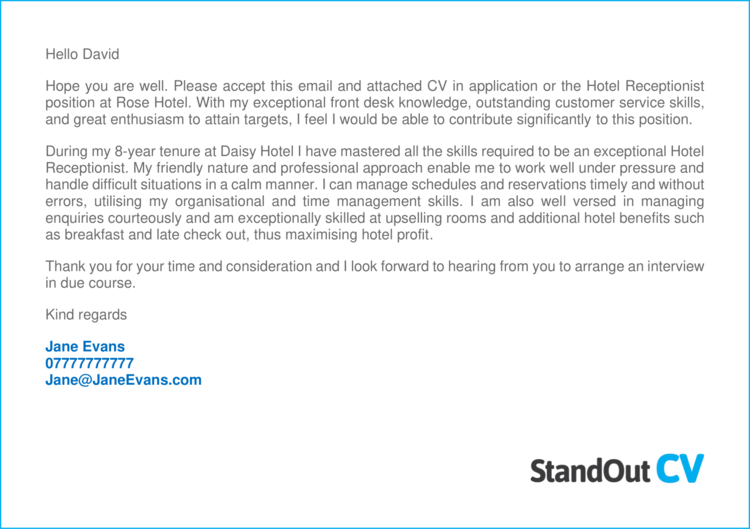 Hotel Receptionist cover letter example 3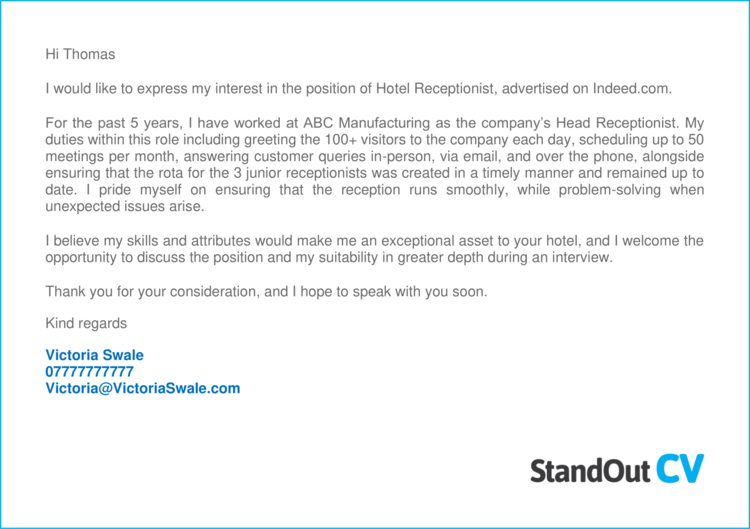 These Hotel Receptionist cover letter examples provide you with some guidance and inspiration for writing a cover letter that gets noticed and ensures your CV will get opened.
But if you really want to master the art of writing a winning cover letter , then follow our step-by-step cove letter writing guide below.
Here's how you can write your own eye-catching cover letter, broken down into simple steps.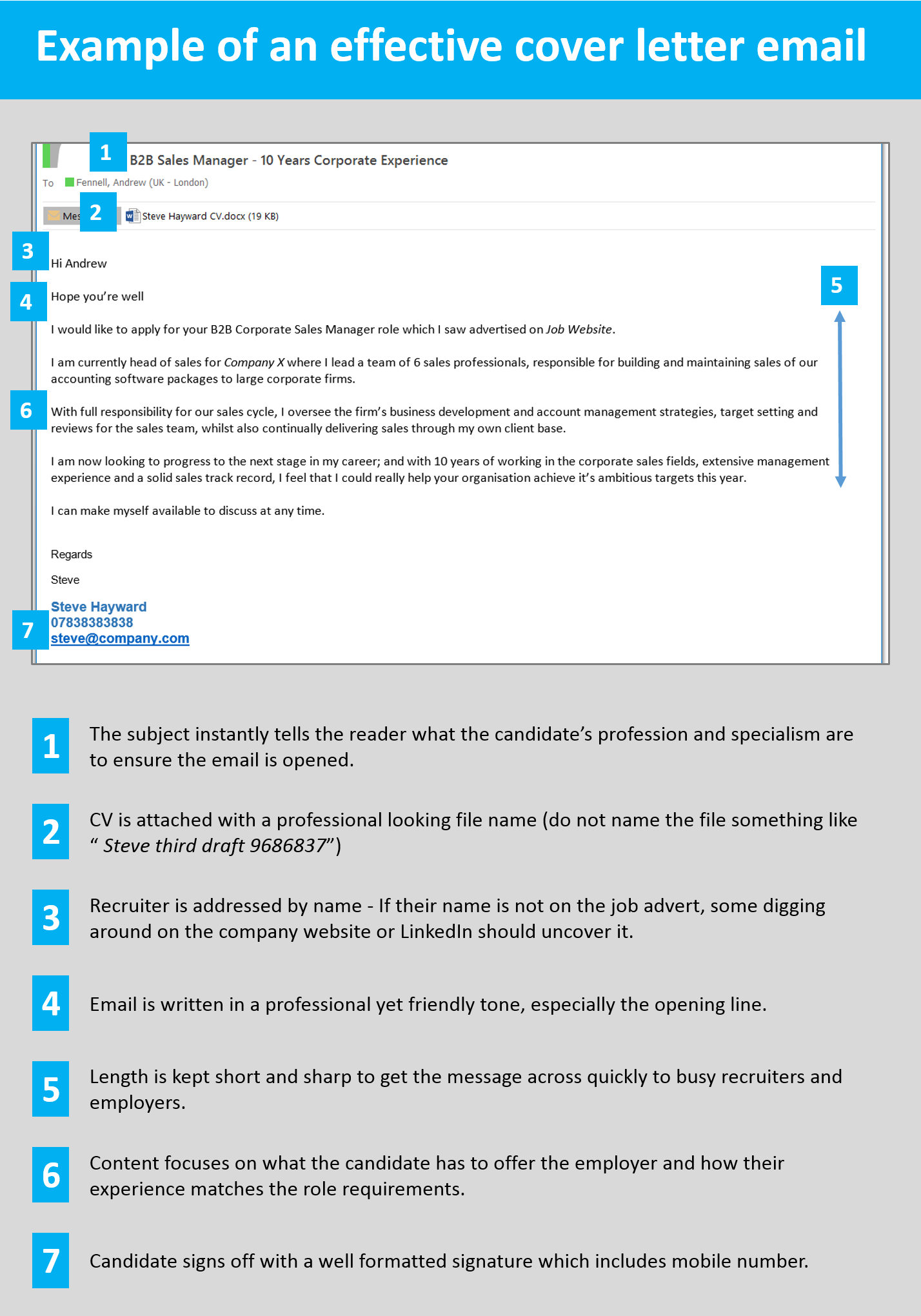 Write your cover letter in the body of an email/message
Type the content of your cover letter directly into the email you are sending, or if you are applying via a job board, directly into their messaging system.
The reason for doing this it to ensure that your cover letter gets seen instantly and you can start connecting with the recruiter as soon as they open your message.
If you attach your cover letter as a separate document, the recipient will have to open up the document, which will slow the process down, or make them less likely to even open your cover letter – which could mean your application gets skipped over.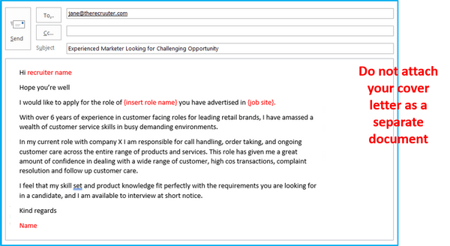 Start with a friendly greeting

To build an instant connection with the recruiter reading your cover letter, start with a warm greeting.
It should be friendly but not casual – keeping it professional at all times.
Hi, hope you're well
Hi [insert recruiter name]
Hi [insert department/team name]
Avoid overly formal greetings like "Dear sir/madam " unless applying to very traditional companies.
How to find the contact's name?
Addressing the recruitment contact by name is an excellent way to start building a strong relationship. If it is not listed in the job advert, try these methods to find it.
Check out the company website and look at their About page. If you see a hiring manager, HR person or internal recruiter, use their name. You could also try to figure out who would be your manager in the role and use their name.
Head to LinkedIn , search for the company and scan through the list of employees. Most professionals are on LinkedIn these days, so this is a good bet.
Identify the role you are applying for
After you have greeted the recruiter, it's important to state the job you are applying to.
Recruiters are often managing multiple vacancies, so they need to know exactly which job you are referring to.
Be as specific as possible and use a reference number if you can find one.
Here are some examples you can use;
I am interested in applying for the role of admin assistant with your organisation.
I would like to apply for the role of Sales assistant (Ref: 4057393)
I would like to express my interest in the customer service vacancy within your retail department
I saw your advertisement for a trainee project manager on Reed and would like to apply for the role.
See also: CV examples – how to write a CV – CV profiles
Highlight your suitability
The sole objective of your cover letter is to motivate recruiters into to opening your CV. And you achieve this by quickly explaining your suitability to the roles you are applying for.
Take a look at the job descriptions you are applying to, and make note of the most important skills and qualifications being asked for.
Then, when crafting your cover letter, make your suitability the central focus.
Explain why you are the best qualified candidate, and why you are so well suited to carry out the job.
This will give recruiters all the encouragement they need to open your CV and consider you for the job.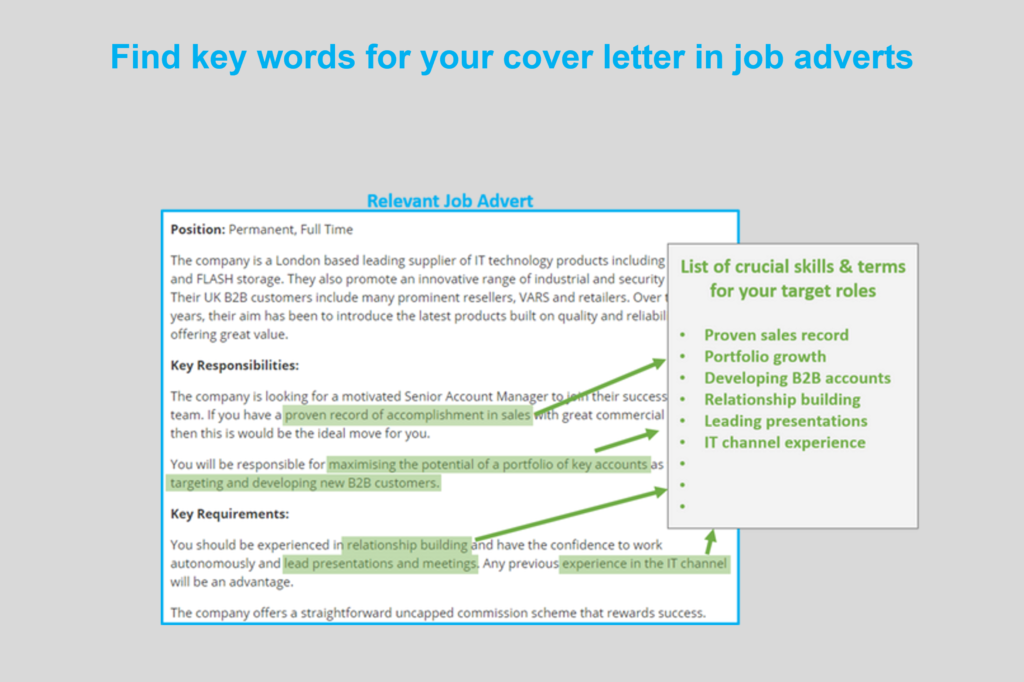 Keep it short and sharp
When sending a job application to a recruiter or hiring manager, it is important to remember that they will normally be very busy and pushed for time.
Therefore, you need to get you message across to them quickly (in a matter of seconds ideally). So, keep your cover letter short and to-the-point. A long waffling cover letter will overwhelm recruiters when they are running through hundreds of emails in there inbox, but a concise one will get their attention.
So, keep your cover letter to just a few sentences long, and save the extensive detail for your CV.
Sign off professionally
To finish off your cover note, add a professional signature to the bottom, stating your important contact details and information.
This not only provides recruiters with multiple means of contacting you, but it also adds a nice professional appearance to the cover letter, which shows that you know how to conduct yourself in the workplace.
Include the following points;
A friendly sign off – e.g. "Warm regards"
Your full name
Phone number (one you can answer quickly)
Email address
Profession title
Professional social network – e.g. LinkedIn
Here is an example signature;
Warm regards,
Aaron Smith Customer service professional 075557437373 [email protected] LinkedIn
Quick tip : To save yourself from having to write your signature every time you send a job application, you can save it within your email drafts, or on a separate document that you could copy in.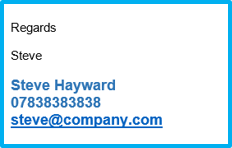 What to include in your Hotel Receptionist cover letter
So, what type of information should you write about in your Hotel Receptionist cover letter?
The specifics will obviously depend on your profession and the jobs you are applying to, but these are the key areas you should be covering.
Your industry experience – Tell recruiters the types of companies you have been working for and the roles you have held in the past.
Your qualifications – Highlight your most important relevant qualifications to show employers you are qualified to do the roles you are applying for.
The impact you have made – Demonstrate the positive impact you have made for employers in previous jobs. Have you saved money? Improved processes? Made customers happy?
Your reasons for moving – Employers will want to know why you are leaving your current/previous role, so provide them with a brief explanation here.
Your availability – When will you be able to start a new job ? Check your current contract to find out your notice period if you are in a position already.
To round up
Writing an impressive cover letter is a crucial step in landing a Hotel Receptionist job, so taking the time to perfect it is well worth while.
By following the tips and examples above you will be able to create an eye-catching cover letter that will wow recruiters and ensure your CV gets read – leading to more job interviews for you.
Good luck with your job search!
Hotel Receptionist Cover Letter Example
A potential employer will be able to segregate suitable job applications with compelling cover letters attached to the resumes. Therefore, your Hotel Receptionist Cover Letter should leave the employer with information on your superior customer service skills and well-groomed appearance to represent the Hotel.
We have an HR-approved Hotel Receptionist Cover Letter Sample to boost your chances of getting past through screening round for the specific role.
What to Include in a Hotel Receptionist Cover Letter?
Roles and responsibilities.
A Hotel Receptionist is the first point of contact when the guests enter the hotel. He has a broad set of responsibilities to fulfill out of which some are mentioned below :
Welcoming the customers at the entrance.
Receive the phone calls and effectively address the clients' inquiries.
Verify the guests' details and check their identity proofs at the time of check-in .
Explain to the visitors about the amenities available at the hotel.
Inform guests about the local tourist spots and attractions.
Issue room keys.
Direct the guests to their reserved rooms.
Maintain and update the guest and room reservation database regularly .
Arrange hotel cars, wake up calls, etc. on guests' requests.
Provide assistance to the guests in completing the check-out process.
Generate bills and accept payments.
Collect guests' feedback.
Instruct the housekeeping staff to clean the room when the rooms have been vacated .
Ensure cleanliness around the front desk area.
Follow Hotel's Hotel's policies and rules.
Education & Skills
Hotel receptionist skills:.
Service-oriented to identify and implement excellent ways of assisting the guests.
Willingness to work in shifts and weekends.
Well-dressed personality.
Excellent multitasker to attend to several guests simultaneously.
Remarkable speaking and listening skills to interact with the guests and colleagues.
Remain calm and polite while dealing with demanding customers.
Watchful to notice suspicious acts done on the part of guests.
Superior phone etiquettes to address customer inquiries effectively over the phone.
Hotel Receptionist Educational Requirements:
High school diploma or GED.
Certification in hospitality program is a benefit.
Proficiency in Microsoft Office applications and other computer software.
Familiar with invoicing and payment systems.
Acquaintance with general bookkeeping, account management, and other front desk activities.
Hotel Receptionist Cover Letter Example (Text Version)
Dear Mr./Ms.,
Upon learning the job opening of a Hotel Receptionist available with your Hotel, I felt hastened to send across my job application for the same. I want to walk you through my current job responsibilities to provide insights into my job qualifications.
Here are the highlights of my role contribution:
Answer phone calls.
Greet the guests at the hotel entry point.
Verify guests' details at the time of check-in.
Escort the guests to their respective rooms.
Maintain the room reservation database.
Assist the guests in completing checkout formalities.
Collect payment.
Ask guests for their feedback.
Besides the above job responsibilities, I have displayed job-specific skills like strong communication, flexibility to work in shifts, expertise in hotel management, and excellent numeracy skills. I believe that all the above skills will help me qualify as a perfect candidate for your Hotel Receptionist.
Thank you in advance for going through my job application. I am hereby attaching my resume to expand detailed information about my academic background and related previous experience. I am hoping to secure a personal round of interviews to discuss my abilities further.
Sincerely, [Your Name]
Write down professional examples to prove your customer-facing skills in order to catch the reader's eye. Prepare a top-notch resume by seeking assistance from our Hotel Receptionist Resume Sample .
Customize Hotel Receptionist Cover Letter
Get hired faster with our free cover letter template designed to land you the perfect position.
Related Hospitality Cover Letters
SemiOffice.Com
Your Office Partner
Application Letter for Receptionist Position
Sample job application letter for receptionist. Application letter for receptionist position in hotel. Cover letter for hotel receptionist with no experience.Sample cover letter for receptionist position.Front desk receptionist cover letter.Sample of application letter for hotel receptionist fresh graduate.
Job Application Letter for Receptionist
The Deputy Director (HR), Tiger Courier Service, Mumbai.
With reference to the subject cited above, it is humbly stated that applicant wants your permission to apply for the post of receptionist in your company.
The applicant got apprised of the subject post from advertisement in a newspaper. The applicant feels as though he is eligible for this job as his qualification, and experience of five years a receptionist make him a suitable candidate, altogether.
Therefore, you are earnestly requested to please consider this job application, and grant him one chance to show his potential, and skills for your firm. Applicant's curriculum vitae, and academic details are attached herewith.
Thanking in anticipation,
Sample Cover Letter for Receptionist Position
To, The Recruitment Officer
It came to my knowledge through an advertisement in newspaper that you have a seat open for title of Receptionist. As an interested person, I am writing this application to apply for the mentioned post. I have all the desired requirements suitable for the job along with relevant experience in the field.
I graduated last year, and after that I have been working in sales department in a popular firm. Therefore, I have good experience with dealing, and directly handling the issues with customers on first hand basis. I am a good looking person, and I have good communicational skills. My personality is pleasant, and friendly.
All the documents, and experience letters are attached to this application; however, I seek an interview before I can join.
Please contact me as soon as it becomes possible for you to conduct an interview.
Letter for Receptionist Job
Name Designation that applying for:
Respected HR manager!
Hope you are doing well. Recently I have seen your advertisement for the job of receptionist for the mentioned office, I have read the requirements, and I must say I posses all the mentioned skills. I have been working as a receptionist for the past five years, and recently I shifted my home that ended in me leaving that job, and finding a new one.
I am a very responsible, and efficient person which are the key qualities that every employers look. I have a diploma in communication studies from a reputed educational institution. My computer skills are top notch, I am proficient in ms word, ms excel sheets, and the other mentioned apps.
I have invented a new filing system at my previous job which can organize all the tasks, and meetings due without any hassle. I think I can be an excellent addition to your company.
Hope you find an interest in my application.
Application for a Receptionist
To, Manager Finance, ATS Co Ltd, Lahore.
I have come to know that there is a vacant seat of receptionist under your kind control. I have two year experience of this position. I will spare no pains to satisfy you, I will work hard, honestly, and with high commitment. Please give me a chance to work in your prestigious organization.
I shall be highly grateful to you.
Application for Receptionist
Dear Sir/Madam
I am writing to you because I heard from a very good friend of mine who works at your establishment says that you are looking for a receptionist. I would like to apply. I can work full time any time if the day, or night. My past work experience is working mainly in hotels as waitress staff but often I would have to fill in for reception when we were busy.
I also used to work in a library, and as a dentist receptionist. If you need any reference letter, or pay slips please let me know. Also please find attached a copy of my C.V with all my contact details if you wish to get in touch.
Kind regards,
Client's name
Applicant for Receptionist
Dear manager,
I am writing to you because I saw that you have a job vacancy open for a receptionist in your new clinical practice. I did apply two weeks ago but got no response. And I see that you are still looking. I do have very good receptionist experience, and I would love to work in a different environment. Usually I'm in a dentist, or an accountant.
I look forward to your reply.
Application for Receptionist Position in Hotel
I am writing this application to you to inform you that I want to apply for the job of receptionist in your hotel Las Vegas ( hotel name). I was working as a receptionist at hotel William James for about three years but that was a contract based job, and it came to an end after three years. I have an experience of 5 years as a receptionist, so please go through my application, and you will find that I am eligible for this job.
Hoping for the positive response
Sincerely, Wajahat
Application Letter for Hotel Receptionist Job
Dear Sir/Madam,
I sent this letter for applying for the post of receptionist in your hotel. I saw the vacancy of job available in the Dawn Newspaper, and got this email address from there. I have recently done my bachelors in Computer from _____ University. Even though I do not have an experience in this department but I can assure you that I am capable for this post. My participation in various events, and extracurricular activities has polished my communication skills, and as my degree is also in computer so I would be easily able to handle the records in the computer, or other data.
I have attached my CV with this letter which contains further details of my qualification, and experience. I hope you consider me for this post. Thank you.
Best Regards,
Contact-_______
Please Ask Questions? Cancel reply
Resume Builder
Resume Experts
Search Jobs
Search for Talent
Employer Branding
Outplacement
Hotel Receptionist Cover Letter
15 hotel receptionist cover letter templates.
How to Write the Hotel Receptionist Cover Letter
I am excited to be applying for the position of hotel receptionist. Please accept this letter and the attached resume as my interest in this position.
In my previous role, I was responsible for day to day office management Assistance to the office, including managing all incoming and outgoing post and couriers.
I reviewed the requirements of the job opening and I believe my candidacy is an excellent fit for this position. Some of the key requirements that I have extensive experience with include:
Have a sound knowledge of OPERA, Micros and Accesso and use all within the operating SOP
To demonstrate a high level of customer service with check in, check out and providing information to guests
Have good working knowledge of room types, facilities and locations within the Hotels
Take reservations face to face with guests, or on the phone
Medium work – Exerting up to 50 pounds of force occasionally, and/or 25 pounds of force frequently or constantly to lift, carry, push, and pull
Work experience as a Hotel Front Desk Agent, Receptionist or similar role
Understanding of how travel planning websites operate, like Booking and TripAdvisor
Skilled in use of a computer and related software
Thank you for your time and consideration.
Dakota Stoltenberg
Microsoft Word (.docx) .DOCX
PDF Document (.pdf) .PDF
Image File (.png) .PNG
Responsibilities for Hotel Receptionist Cover Letter
Hotel receptionist responsible for office support services in order to ensure efficiency and effectiveness within the office on a daily basis.
Hotel Receptionist Examples
Example of hotel receptionist cover letter.
In my previous role, I was responsible for support in events or meetings in the office premise, e.g., food catering, arrangement of furniture, and Outlook calendar room bookings.
Please consider my qualifications and experience:
To ensure all bookings are confirmed via e-mail
Provide full clerical support, including greeting guests, answering phones, checking reservations, taking messages, making copies and processing the outgoing mail
Perform all check-in and check-out tasks
Upsell additional facilities and services, when appropriate
Thank you in advance for reviewing my candidacy for this position.
Related Cover Letters
Create a Resume in Minutes with Professional Resume Templates
Create a Cover Letter and Resume in Minutes with Professional Templates
Create a resume and cover letter in minutes cover letter copied to your clipboard.