10 Interview Questions to Prepare For
Half the challenge of going for a job interview is not knowing what to expect. Many otherwise highly qualified candidates may be caught off-guard by questions they don't know how to answer. So, to help you prepare, here are the top 10 interview questions you could be asked — along with some excellent answers.
You'll probably be asked this at the outset. It's kind of meant as an ice-breaker, even if the thought of it makes you shudder. Don't be afraid to be personal. Talk about your hobbies and motivations, and feel free to showcase your personality. But don't go on too long. And try to relate what you say to the job.
Why Do You Want This Job?
No, the answer is not "for the money." Even if it is. Interviewers expect candidates to show off their knowledge of the company, and what appeals to them about the position they've applied for. So you should really know the ins and outs of the role and why you (might) want to work for that particular company.
What Is Your Greatest Weakness?
There's an art to answering this question; it involves spinning your weakness as a strength. You might say, for example, that you can be a bit of a perfectionist. But if you do, it's sensible to add that your drive to meet deadlines helps you to manage your time.
What Is Your Greatest Strength?
You might be proud of your crocheting skills, but is it relevant to the job? Always remember that you're (probably) not the only shortlisted candidate. So if your greatest strength is swimming 50 lengths in a lunch break and another's being a "people person," who's going to get the job in HR?
How Do You Handle Stress?
Bearing in mind that a smoke and a drink probably isn't an acceptable answer, try to come up with a concrete example of how you've dealt with pressure in the workplace in the past. Telling them you never get stressed isn't necessarily a good idea. Even if they believe you, they might just assume you've only worked in cushy environments.
Why Should I Hire You?
They're asking for your sales pitch with this one. Don't be modest. But don't be arrogant either. Recap the highlights of your resume and emphasize any qualifications and experience that meet the requirements for the job. And finish with your own USP.
Where Do You See Yourself Five Years From Now?
Maybe this job is just a stopgap. Maybe in five years' time, you won't want anything to do with this company. But whatever you do, don't tell them that. Instead, talk about your career progression goals and how your advancement will also be theirs. They might like to hear that you want to specialize and take on more responsibilities.
What Are Your Salary Expectations?
This is a horrible question. Not only can it knock you out of the contest if you quote a figure that's a little too high; but employers can also hold candidates to a figure that's well below average. Prior research is key. Find out the industry standard. And give a salary range instead of an exact sum — or, if possible, defer the question to your second interview.
Why Did You (or Will You) Leave Your Last (or Current) Job?
This isn't an opportunity to rail against another employer. That would just seem disloyal. Even if you're leaving under negative circumstances, focus your answer on the future. Talk about new opportunities. But also be factual and pragmatic.
Do You Have Any Questions for Me?
No, the interview hasn't ended. This question is just as important. Many employers ask this to gauge how interested you really are in their company. So you might want to ask about the management style, or what your predecessor went on to do. You could also ask about the prospects for career advancement.
Privacy Policy
Terms of Service
© 2023 Ask Media Group, LLC
Getting ready for your interviews
Interviewing is a two-way process—it helps us learn about you as a potential colleague, and helps you learn about McKinsey and what you could do here. Overall, we look for personal impact, entrepreneurial drive, inclusive leadership, and problem solving, and we recognize there are many ways to acquire those skills.
If you are interested in McKinsey careers beyond consulting, you can learn more about the assessment process for our internal roles here .
At McKinsey, we strive to create an unrivalled environment for exceptional people. During many of our interviews, you will learn more about what this value  means in practice at McKinsey. Your assessor  may share details of how McKinsey is a non-hierarchical, diverse, inclusive meritocracy. They may touch on our formal and informal apprenticeship and mentor programs. Or they may share examples of how we use the obligation to dissent.
After hearing from your assessor on what people related value means the most to them, you may be asked to share an experience that speaks to the McKinsey people value that is most meaningful to you.
Your recruiter will inform you on what questions you will be asked so you can best prepare. We want you to succeed and feel confident entering our process.
Practice cases
Electro-Light
Transforming a national education system
Talbot Trucks
Shops Corporation
Conservation Forever
Testing your skills.
Test your skills
Solve - gamified assessment, coding skills tests.
We want you to succeed
More resources.
Virtual Interview Zoom Guide
Important fraud alert
McKinsey has become aware of scams involving false offers of McKinsey employment. The scams and false offers use imposter websites, email addresses, and text messages. None of these offers are legitimate, and McKinsey's recruiting process never involves interviewing via instant message, nor requires candidates to purchase products or services, or process payments on our behalf.
Find your ideal job
McKinsey Case Interview & PEI - 6 Things You Need to Know
Last Updated November, 2023
Rebecca Smith-Allen
Former McKinsey Engagement Manager
If you're interested in a career in management consulting, McKinsey & Company is probably on your list of firms to apply to. It's the oldest consulting firm, established in 1926 by James McKinsey, a University of Chicago professor and expert in management accounting.
Today, the firm employs 30 thousand professionals working in 130 cities around the world. McKinsey regularly ranks at the top of lists of strategy consulting firms and is hired by businesses, governments, and non-profit organizations to help solve their toughest problems.
It's difficult to get a job offer from McKinsey.
Like its top management consulting competitors, Bain and BCG, McKinsey typically hires only 1% of candidates who apply. In particular, McKinsey case interviews are tough to crack…but not impossible.
If you're interested in trying to beat the odds, this article will tell you what you need to know to succeed. We'll tell you:
What's different about McKinsey,
6 things candidates recruiting with McKinsey should know,
We'll provide a mock McKinsey case interview video, and
Provide tips on acing your McKinsey interview.
Let's get started!
What's Different About McKinsey? 6 Things Candidates Should Know
1. consultants are hired for either the generalist track or a specialist track.
Generalists at McKinsey are consultants who could be staffed to help clients in any industry and dealing with any type of business problem. Specialists are consultants with a particular area of expertise.
Areas of specialization within McKinsey include digital and advanced analytics, marketing and sales, business turn around, operations, software development and design, and implementation.
2. Consultants Work On-Site At The Client 4 Days A Week.
Most consultants travel a lot and at McKinsey, this is definitely the case. Consider whether regular plane flights and hotel stays are right for you.
3. McKinsey Cases Are Interviewer-Led Rather Than Candidate-Led.
Candidates are still expected to identify key issues to be addressed to solve the business problem presented by their interviewer and outline a plan to explore these issues. After they do that, their McKinsey interviewer is likely to tell the candidate which issue they'd like to discuss first. Other management consulting firms, like Bain and BCG typically let candidates steer their case interview.
4. Interviewers Assess Fit As Part Of Every Interview With Personal Experience Interview (PEI) Questions.
While all strategy firms ask candidates Consulting Behavioral Interview Questions to assess their fit with their firm, many have one interviewer focus entirely on fit while others focus entirely on a case study question.
McKinsey interviewers split their interview time between the case and PEI in every interview.
5. McKinsey Looks For Personal Impact And Entrepreneurial Drive In Candidates.
This is in addition to the structured problem solving and leadership skills that McKinsey, as well as other top consulting firms, look for in candidates.
6. Mckinsey Recruiting Uses Solve - a Gamified Digital Assessment.
McKinsey's Solve Game was launched to broaden the firm's reach to find the best talent regardless of geography as well as provide deeper insight into candidates' problem-solving skills.
Keep reading for a deeper dive into these topics.
Generalist versus Specialist Track Roles
When the management consulting industry was first founded, simply having an MBA and expertise in solving business problems was enough to set a consultant apart. Consultants hired by McKinsey could expect to be staffed on a case in any industry and solving any type of problem.
To help clients solve these types of business problems effectively, McKinsey hires people with years of experience in functional specialties. These include advanced analytics, marketing and sales, business turn around, operations, software development and design, and implementation.
Specialists work alongside generalists on projects to leverage their functional expertise across the work of the team. The specialist practices are growing faster than generalist roles and get fewer applications, so if you have the right kind of expertise and apply to the practice, you may have a better chance of landing an interview.
How McKinsey Interviews Differ from Bain and BC
There are two main ways that McKinsey's interviews differ from those of other top management consulting firms. McKinsey uses interviewer-led case interviews while other firms use candidate-led case interviews.
In the "fit" portion of the interview, McKinsey uses the personal experience interview and each interviewer you meet with in all rounds will assess fit.
Interviewer-led Cases
At the start of any McKinsey case study, candidates need to go through 4 phases to solve the business problem the interviewer has given them in a structured manner: the opening, structure, analysis, and closing.
In a candidate-led case interview, candidates will pick which part of the problem they want to dive into first and proceed with it. In McKinsey's interviewer-led cases, the interviewer will pick the first part of the business problem they want the candidate to address.
Is the interviewer-led case interview easier or harder than the candidate-led one?
If you've structured the business problem well, breaking the problem down into the MECE issues that require further analysis, it should not matter who picks which aspect of the problem to address first. What is helpful is knowing what to expect in your case interview so that you don't start down one path just to be redirected by your McKinsey interviewer. You don't want anything to throw you in the middle of your case!
For more information on these 4 phases of answering a case interview question, see Case Interview Prep .
Behavioral Interview Questions - The McKinsey PEI
As mentioned above, fit or personal experience interview (PEI) questions are part of every McKinsey interview.
How else is the PEI different?
While other top management consulting firms focus on bringing the best creative problem-solving to their clients' problems (BCG is notable here), McKinsey is interested in candidates' personal impact and entrepreneurial spirit.
McKinsey interviewers look for these characteristics in answers to PEI questions. Because of this, it's good to have some insight into why the firm thinks these characteristics are important.
Personal Impact
McKinsey says this about personal impact on its career website:
McKinsey does not want to create PowerPoint presentations with elegant solutions that sit on an executive's shelf, not implemented.
Personal impact means that McKinsey consultants work shoulder-to-shoulder, on-site with client executives, developing solutions that don't just solve a business problem in theory but also do it in practice. This can require facing resistance to change in the client's organization head-on and persuading people to reassess long-held beliefs.
During the PEI, questions like the following will be asked to assess personal impact:
Tell me about a team you worked on when you needed to change someone's mind on a topic that was important to them, or
Tell me about a time when you needed to rely on your communication skills to solve a difficult interpersonal situation.
This belief that personal impact is key to developing an implementable solution is what drives McKinsey consultants to spend 4 days a week on client site.
Entrepreneurial Drive
McKinsey says this about entrepreneurial drive on its career website:
McKinsey doesn't hire consultants who can only implement solutions they've seen in previous businesses. They want people who are willing to try new things, take solutions to new industries or new types of problems.
The McKinsey problem solving approach treats each client problem as unique. Each solution should push thinking about best-practices.
In addition to personal impact and entrepreneurial drive, McKinsey also assesses leadership using the PEI. We won't address this in detail because this is similar to other consulting firms, but you can find more about how McKinsey assesses leadership in our page on McKinsey PEI Questions.
It also includes What McKinsey Is Looking For and provides a list of 11 Common PEI Questions.
Nail the case & fit interview with strategies from former MBB Interviewers that have helped 89.6% of our clients pass the case interview.
The McKinsey Interview Process - Traditional and Recent Changes
The traditional recruiting process.
For years, McKinsey focused on a group of core schools to find new analyst (undergraduate hires) and associate (MBA hires) candidates.
While the firm now recruits from a broader set of schools as well as more diverse candidates, recruiting at these core schools still starts in much the same way. McKinsey consultants conduct on-campus presentations and coffee chats to talk to potential candidates about what it's like to work in the management consulting industry and at McKinsey, in particular.
If the firm hosts an event at your campus, you should attend to make personal connections and to find out first-hand if a career at McKinsey is right for you. If there are no events at your school or if you're already employed, check out the company's career site for articles and videos that will tell you what it's like to work at McKinsey and what it takes to get an offer.
Candidates submit their resumes (and optional cover letters) to the firm's recruiting department via their school's department of career services and on the firm website. Candidates who are invited to interview typically have their first round interviews on campus.
During first round interviews, candidates meet with 2 interviewers back-to-back. Candidates who pass first round interviews are invited to a McKinsey office for second round interviews.
In second round interviews, candidates meet with 3 interviewers. Unless a candidate's interviewers are split in their decision, second round interviews are also final round interviews.
In each round of interviews, McKinsey interviewers walk candidates through a business problem and asks a series of McKinsey PEI Questions , aimed at evaluating their potential fit with the organization.
The Recruiting Process for Candidates at Non-core School and Experienced Hires
Candidates from non-core schools submit their resumes (and optional cover letters) directly to the recruiting department of the 3 offices they'd like to work in.
If they are invited to interview, candidates who live relatively close to a McKinsey office will be invited for in-person first round interviews. Others will be asked to do their first round McKinsey interviews via video conference.
Candidates already working in another industry or those working at another consulting firm submit their resumes (and optional cover letters) directly to the recruiting department of the three offices they'd like to work in. They will typically have a phone interview before the "first round" of in-person interviews.
In both cases, once candidates are passed to second round interviews the recruiting process is the same as for core school candidates.
Solve, The McKinsey Problem Solving Game
McKinsey is reaching out to more candidates outside of their traditional core schools to diversify its recruiting. As part of that, it's launched Solve , an online game that assesses candidates' problem-solving skills. Solve is both more fun and gives candidates from non-core schools a better shot at getting a McKinsey interview than they've had in the past.
Example McKinsey Case Interview - Video
Below, we have 4 videos in which My Consulting Offer founder, Davis Nguyen, walks you through each segment of a McKinsey case interview from beginning to end.
Mock McKinsey Case Interview - Opening the Case
The key thing to do in the opening of a McKinsey case study is to repeat back the question so you're sure you understand the problem you are solving. Then, ask questions to begin to get more information.
Mock McKinsey Case Interview - Structuring the Case
In the structure section of McKinsey Case Interviews, create a MECE list of important issues you will analyze to solve the client's problem.
Mock McKinsey Case Interview - The Case Analysis
In the analysis section of a McKinsey case study, you'll need to do analysis to evaluate the best option for your client. This may require interpreting data from charts or graphs provided by your interviewer or doing calculations based on numbers you're given.
Mock McKinsey Case Interview - Concluding the Case
In the conclusion of McKinsey case interviews, you'll need to pull your analysis together into a persuasive recommendation for the client. Restate the question you were asked to solve, lay out key findings from each section of your case structure, and show how your analysis points to the course of action the client should take.
Now that you've watched our sample McKinsey case interview, you should be ready to start practicing for your own interviews.
Here are 5 tips on making the most of your preparation time:
5 Tips on Acing Your McKinsey Interview
Practice casing with another person. Answering case interview questions does not come naturally and it is not enough to practice on your own since casing requires having a dialogue. Give yourself as much time to practice mock interviews as possible by starting early.
Record yourself during mock interviews using your computer or phone. Study these videos to see how you can improve your performance in each phase of the case interview. Aim to make your answers more fluent and conversational.
Practice sample McKinsey interview-led case interviews. Use McKinsey-specific case interview examples below to make sure you're not just familiar with cases, but with McKinsey cases. Make sure you are comfortable with being redirected at times.
Brainstorm several stories to answer common personal experience interview questions. You can find a list of these common questions here .
Find out more about the McKinsey Solve Game before you take it.
After reading this article, you should have a good understanding of what McKinsey's recruiting process looks like and how McKinsey case interviews are different from other management consulting firms.
Still have questions?
If you have more questions about McKinsey case interviews, the PEI, or working at McKinsey, leave them in the comments below. One of My Consulting Offer's case coaches will answer them.
People interested in this topic have also found the following pages helpful:
Why McKinsey?
McKinsey PEI Questions
McKinsey Problem Solving Game
Case Interview Examples
Help with Consulting Interview Prep
Thanks for turning to My Consulting Offer for advice on case study interview prep.
My Consulting Offer has helped almost 89.6% of the people we've worked with get a job in management consulting.
We want you to be successful in your consulting case interviews too.
Leave a Comment Cancel reply
Save my name, email, and website in this browser for the next time I comment.
© My CONSULTING Offer
3 Top Strategies to Master the Case Interview in Under a Week
We are sharing our powerful strategies to pass the case interview even if you have no business background, zero casing experience, or only have a week to prepare.
No thanks, I don't want free strategies to get into consulting.
We are excited to invite you to the online event., where should we send you the calendar invite and login information.
McKinsey Case Interview Preparation: the only post you'll need to read
McKinsey interviews are among the hardest job interviews in the world. The questions are difficult, specific to McKinsey, and the interviewer can sometimes seem intimidating.
But the good news is that with the right preparation it can actually become relatively straightforward to succeed at a McKinsey interview. We have put together the ultimate guide to help you maximise your chances of success.
Here's an overview of what we'll cover:
Interview process and timeline
Case structure and examples
Behavioural interview questions (PEI)
Preparation tips
Specialist roles
Click here to practise 1-on-1 with McKinsey ex-interviewers
1. interview process and timeline  ↑, 1.1 one in ten interview candidates get a job offer  ↑.
First, it is important that you understand the different stages of your interview process with McKinsey and your chances at each step. In most countries, McKinsey uses four filters to select candidates:
Resume and cover letter screening
McKinsey  Problem Solving Game
First round of interviews
Second round of interviews
First, recruiters will look at your resume and assess if your experience matches the open position. This is the most competitive step in the process—we've found that 90% of candidates don't make it past this stage.
You can use  this free resume guide  and this  free cover letter guide  to help tailor your application to the position you're targeting. 
And if you're looking for expert feedback, you can also get input from our  team of  ex-MBB recruiters , who will  cover what achievements to focus on (or ignore), how to fine tune your bullet points, and more.
After that, you must complete a difficult interview process. In a  recent interview , Dominic Barton, McKinsey's ex-Global Managing Director, revealed that about 1% of the 200,000 candidates applying to the firm every year receive a job offer.
Assuming a 33% success rate at the four steps of the recruiting process described above, we estimate that McKinsey interviews about 21,000 candidates every year and that they extend a job offer to about 2,200 of them. If you have been invited to a first round interview with McKinsey, you therefore have a 10% chance of getting an offer.
Filter 1 / Resume and cover letter: 200,000 candidates
Filter 2 / McKinsey digital assessment: ~65,000 candidates
Filter 3 / First round of interviews: ~21,000 candidates
Filter 4 / Second round of interviews: ~6,800 candidates
Job offers: 2,200 candidates
The good news is that the first and second round interviews are really manageable when you know how to prepare. Your interviews will usually last between 45 and 60 minutes and consist of two parts: 
Case Interview – for 75% of the interview time
Personal Experience Interview (PEI) – for 25% of the interview time
We will cover both types of interview questions in detail below, but let's first briefly discuss the interview timeline you can expect at McKinsey.
1.2 McKinsey interview timeline ↑
When preparing for your McKinsey case interview, it can be difficult to know when to expect each stage of the interview process. To help illustrate a typical timeline, we've created the below overview of McKinsey's recruitment schedule.  As a rule of thumb you can expect the whole process to take 5 to 8 weeks.
Please note: this is meant to give you a general overview, and may not reflect your specific interview timeline. Actual interview timelines depend on a number of factors (e.g. Experience hire vs. University hire). The below is based on the expected recruitment timelines at the University of Chicago (an MBB target school). You can find the original document from the University of Chicago here . 
Now that you have a clear picture of what to expect in terms of recruiting process and timeline, let's turn our attention to the skills that McKinsey will be testing you on during case interviews.
1.3 Skills tested by McKinsey case interviews ↑
McKinsey uses case interviews to test three types of skills that are used by consultants in their daily work:
Problem structuring and maths skills
Creativity and business sense skills
Communication skills
1.3.1 Problem structuring and maths skills
First, McKinsey already started testing your maths and logic skills with its  Problem Solving Guide . This skill will continue being tested during case interviews and you will be expected to perform mental maths both quickly and accurately .
In addition, your interviewer will ask you to solve the problem in a structured way. In simple terms, that means you will be expected to solve questions with a clear step-by-step approach, that is easy for your interviewer to understand.
1.3.2 Creativity and business sense skills
Second, McKinsey case interviews are designed to evaluate your business sense and creativity. That means your interviewer will assess your ability to come up with a range of ideas that make business sense to solve the client issue at hand. For instance, you could be asked to find innovative ideas for a restaurant to grow sales, or to decrease costs.
An important nuance is that interviewers will not assess your business knowledge per se. In other words, you are not expected to have any knowledge of the industry your case will be about.
For instance, you could get a case about re-insurance and not know anything about the re-insurance industry. This is perfectly normal. In these situations, your interviewer will expect you to ask questions about the industry and will help you understand its specificities.
The only expectation is that you know basic business concepts such as revenues, fixed and variable costs, etc. We have summarised the finance concepts you need to know for consulting interviews here .
1.3.3 Communication skills
Finally, your interviewer will also test your soft skills. This includes how you communicate your ideas and interact with others. As a consultant working with clients, good soft skills will be critical to your success.
So you'll want to show your interviewers that you can communicate well. You should try to communicate your ideas in a clearly structured way, and to speak confidently and professionally. This will have a big impact on the impression you make.
Take a look at the following excerpt from one of our McKinsey live case interview videos to find out what a good, consistent approach to answering case interview questions sounds like.
As you prepare for your interview, if you'd like to learn more about the type of work and the career path at McKinsey, check out our in-depth blog post about McKinsey Careers .
2. Case structure and examples  ↑
2.1 mckinsey case study structure  ↑.
During your McKinsey interviews, you will be presented with a case study about a company facing an issue. For instance, your case could focus on an industrial facility facing a profit challenge, or a company that needs help to make a strategic decision on a new product. Cases are usually a simplified version of real projects your interviewer worked on in the past.
Your interviewer will tell you about the situation the company is facing and will ask you questions about the situation. She may also provide you with documents such as graphs and tables with figures about the company. You will be allowed to use scrap paper to structure your thoughts and perform calculations. However, you will not be allowed to use a calculator.
Most McKinsey case interviews use the following structure:
Framework question
Quantitative question
Creativity question
Recommendation
First, your interviewer will introduce you to the company's situation and business problem. Then, the interviewer will ask you to identify the areas you would look at to solve the problem -  this is the framework question . You will then be asked to solve one or more quantitative questions, and afterwards you will be expected to outline some initial conclusions. 
In addition, at some point during your interview, you will be asked a creativity question. These are usually open-ended questions such as "what other areas should the company explore to increase its online sales?".
Finally, at the end of the case, your interviewer will ask you to make an overall recommendation for the company based on the analysis you have just carried out.
Although the format and order of questions may vary from one case to the next, you will almost invariably come across these types of questions during your McKinsey interviews and should therefore prepare for them. To find out more about the format of case interviews, check out our  Free McKinsey Case Prep .
An additional exercise we would recommend doing is to take a look at the different case interviews available on McKinsey's website . As you go through each case, you should try to map each question to the 5 types of questions we have listed above.
2.2 Differences between McKinsey and other cases ↑
All consulting firms use case interviews during their recruiting process. But McKinsey interviews are different in two regards.
First, McKinsey interviewers tend to control the pace of the interview much more than other interviewers. They will have a list of questions about the case they want to go through with you, and will take you from one question to the next. If they feel you spend too much time on one question, they might interrupt you and ask the next question.
Some people call this "interviewer-led" case interviews. At other firms such as Bain or BCG, interviewers give you more control over the pace of the interview. Some people call this "interviewee-led", or "candidate-led" case interviews. The skills tested in both types of cases are the same, but you should expect slightly different behaviours from your interviewers.
Second, there is a lot of competition to get into McKinsey, and your interviewer will probably challenge the quality and logic of your answers more than at other firms. That being said, interviewers are instructed to always be well intentioned and will not try to "trip you up" or misguide you.
2.3 Differences between 1st and 2nd round interviews ↑
Another important thing to understand is the number of case interviews you will have and how they will differ. Typically, you will have two rounds of interviews. The number of interviews by round may vary but it is usually between 2 and 4. In total, you will therefore have between 4 and 8 interviews before getting a McKinsey job offer.
First and second round interviews are similar in format and difficulty. However, your first round interviewers will usually be more junior than your second round interviewers.
Associates (2+ years of experience) or Engagement Managers (4+ years of experience) usually lead first round interviews, while the second round is led by Partners (10+ years of experience). If you'd like to learn more about the different levels in the consulting hierarchy, check out our post on the consulting career path .
In theory, McKinsey takes into account your performance at both first and second round interviews when making final offer decisions. However, in practice, your performance during the second round carries more weight.
This is simply because Partners will have a stronger voice when the recruiting group discusses your application. It is therefore particularly important that you do well at your second round interviews.
2.4 McKinsey phone case interviews ↑
One aspect of the process that's quite specific to McKinsey is that 1st round interviews are sometimes conducted over the phone, or a video-conferencing software.
There are a few additional things you need to consider, when preparing for a phone case interview. Specifically, you should:
Expect phone interviews earlier in the interview process
Do everything you can to avoid a bad connection
Pay special attention to your communication
We go into greater depth on the 3 points above, in our  article about phone case interviews.  Now let's go through a few interview question examples you can use in your preparation.
2.5 McKinsey interview questions examples ↑
One of the best things you can do to prepare for your McKinsey case interviews, is to practice with realistic case questions. McKinsey has made several example cases available, which are modeled after real-world consulting scenarios.
Important note: feel free to open the below practice cases for reference, but open them in a new tab. You'll want to keep this page open, because the sections below will help you be more strategic with your preparation, including your practice with sample cases.
You can find the available cases from McKinsey below:
Electro-Light
Transforming a national education system
In addition, we've put together the ultimate list of free practice cases , with materials from the world's leading consulting firms. The article includes practice case books from university consulting clubs, like Harvard, MIT, London Business School, and more.
Next, we'll turn our attention to behavioural interview questions.
3. Behavioural interview questions (PEI)  ↑
The PEI part of your interview will last about ten minutes. It is fairly different from a typical "CV interview" mainly because your interviewer will only assess you on a single topic. Interviewers at other firms tend to cover a large range of topics during a "CV interview" but that is not the case at McKinsey.
The good news is that the topics on which you will be assessed are very predictable. They are made relatively clear on McKinsey's career website : personal impact, leadership abilities, entrepreneurial drive and problem solving skills.
For instance you could be asked: "Tell me about a time when you led a group of people through a difficult situation" or "Tell me about a time when you had to solve an extremely difficult problem". 
Our recommended approach to prepare for these questions is to craft a story for each of the four skills McKinsey will test you on. You can then use and adapt these stories depending on the exact question your interviewer will ask. There are different structures you could use to tell your story but we recommend keeping it relatively simple:
Context: start by giving the necessary context on the example you are using
Problem: outline the problem you and your team were facing
Solution: explain the solution you came up with to solve the problem outlined
Impact: if possible, quantify the impact you had in solving the problem
Lessons: finish by any lessons you might have learned in the process
There are two common mistakes candidates make when answering McKinsey PEI questions . First, a lot of candidates spend too much time on setting the context when telling their story. Second, some candidates forget that the question is about them.
When responding to PEI questions, focus on what you  did, and what your  impact was on the situation. This is an important step in presenting your qualifications well. When you craft your four stories you should keep these common pitfalls in mind and try to avoid them.
For more details and example answers, you should read the following blog post on how to impress your interviewer when answering Personal Experience Interview questions .
4. Preparation tips ↑
In this section, we're going to cover the most important things you can do in order to prepare for your McKinsey case interviews. Let's begin with maths preparation.
4.1. Become really confident at maths
You don't have to have a perfect GPA or GMAT score to succeed at case interview maths. However, during your McKinsey  interviews, you will be expected to quickly perform accurate mental maths. 
In order to do this, it's essential to know the formulas for common metrics, like return on investment or breakeven point. And it's also helpful to know a few maths shortcuts to help you solve problems more quickly. To learn more about these topics, check out our free guide to case interview maths . 
In our experience, the most successful applicants start their interview preparation by practising maths skills, so make sure you prioritise this step.  
4.2 Develop a consistent method to crack cases
One of the biggest challenges of interviewing with McKinsey  is solving cases that you've never seen before. Each case can be difficult, and you'll have to perform well across multiple case interviews in order to get an offer.
As a result, it's critical for you to have a consistent approach for solving cases. McKinsey  uses interviewer-led case interviews, which can be broken down into the following types of questions:
Framework development
Quant question – Data provided
If you can crack each type of question (within a case), then you can crack the overall case.
4.3 Practice cases out loud
How you solve each case is important, but your interviewers will also be evaluating how you COMMUNICATE your answers. It's important to speak in a structured way that makes it easy to clearly understand your points.
The best way to hone your communication skills is to practice interviewing out loud, and you can do that in three main ways:
Interview yourself (out loud)
Practice interviewing with peers
Practice interviewing with ex-interviewers
To help you with this process, here is a broad  list of consulting interview questions  you can practice with. Practicing by yourself is a great way to get started, and can help you get more comfortable with the flow of a case interview. However, this type of practice won't prepare you for realistic interview conditions. 
After getting some practice on your own, you should find someone who can do a mock interview with you, such as a friend or family member.
We'd also recommend that you do mock interviews with ex-interviewers from McKinsey. This is the best way to replicate the conditions of a real interview, and to get feedback from someone who understands the process extremely well. You may not have the connections to do this on your own, but we've made the connections for you. Book your McKinsey mock interview now .
5. Differences for specialist roles
The advice we've given in this article is aimed at candidates for general consulting at McKinsey, but much of it is also relevant for candidates applying for other roles (e.g. McKinsey Digital Labs, Implementation Consultant, Data Scientist, etc.) although as you'd expect, there are some differences.
Below, we've summarised our general guidance which will help you understand the differences at a high-level view. If you are currently in the interview process, your HR contact should be able to provide the details for your specific interview track.
5.1 McKinsey Digital Labs
Broadly speaking, there are two types of roles at McKinsey Digital Labs: consulting roles and specialist roles (e.g.: software developer).
Consulting roles: if you're applying for an Analyst or Associate role, the interview process will follow the normal consultant interview track. You should therefore prepare for McKinsey-style case interviews, as well as McKinsey PEI questions .
Specialist roles: specialists have function-specific interviews. For instance, software engineers / data scientists typically have a mix of technical questions (coding), and personal experience interview questions. Some of the data scientists we've worked with were also asked to solve a case in later rounds of interviews.
One of our coaches is a former consultant from McKinsey Digital Labs. We have interviewed him in the following blog post, which you can read if you want to learn more about the interview process at McKinsey Digital Labs.
5.2 Implementation Consultant
Implementation Consultant is a consulting role. As a result, McKinsey interviewers will test the same skills as for other consultants, including problem solving, leadership and communication skills.
In addition, it's likely that McKinsey interviewers will also test specific implementation skills, such as the lean and six-sigma methods. They may cover it with a PEI question, by asking you to provide an example of how you led the implementation of a six-sigma project. Or, they may cover it during a case interview, by asking you to solve an implementation-related case.
5.3 Research Analyst and Data Scientist
In our experience, the interview process for Research Analyst is quite similar to the one for Consultant. Candidates for Research Analyst roles regularly prepare with our coaches.
For a Data Scientist role, the interview process is probably quite different, including coding interviews with statistics and computer science questions.
For any of these specialised roles at McKinsey, we would also encourage you to double check with your HR contact to understand the exact format.
The IGotAnOffer team
Photo: Ed Gregory / Stokpic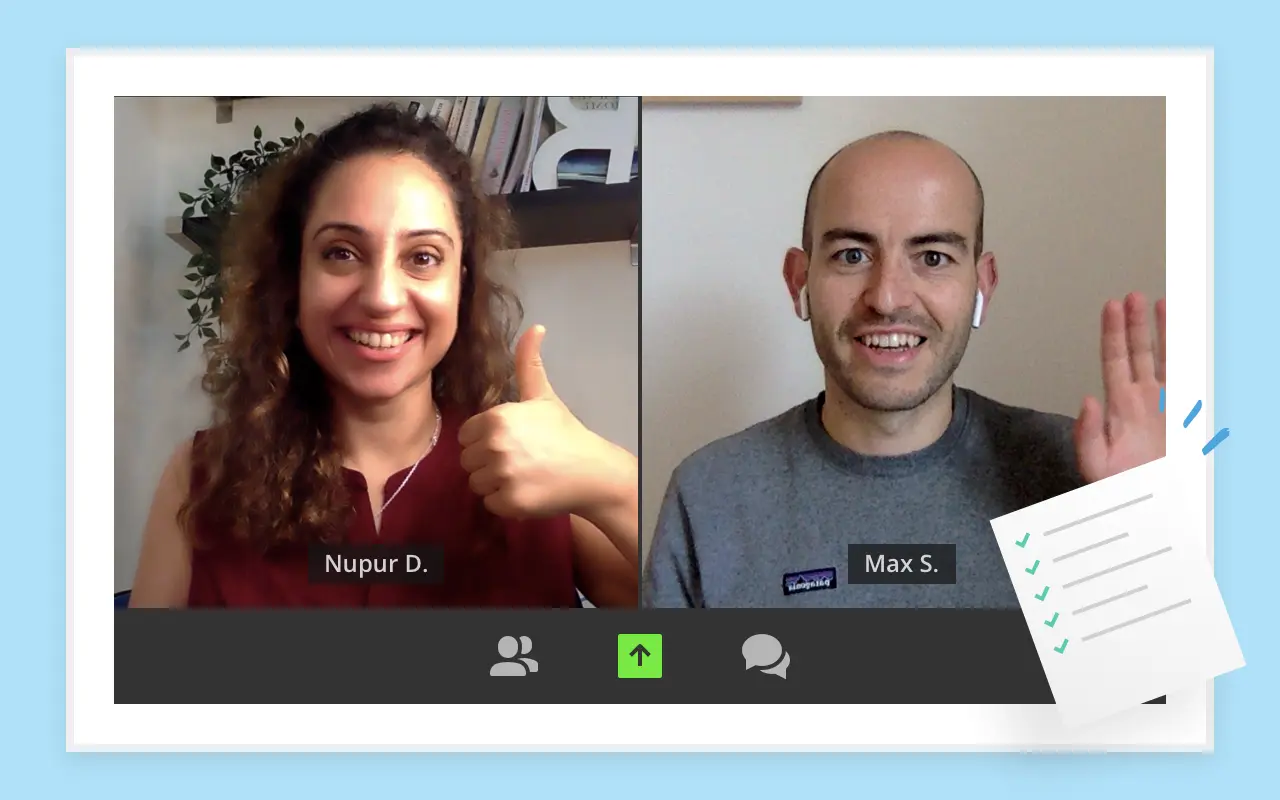 Hacking the Case Interview
We've compiled 50 case interview examples and organized them by industry, function, and consulting firm. Use these case interview examples for practice as you prepare for your consulting interviews.
If you're looking for a step-by-step shortcut to learn case interviews quickly, enroll in our case interview course . These insider strategies from a former Bain interviewer helped 30,000+ land consulting offers while saving hundreds of hours of prep time.
Case Interview Examples Organized by Industry
Below, we've linked all of the case interview examples we could find from consulting firm websites and YouTube videos and organized them by industry. This will be helpful if there is a specific consulting industry role that you are interviewing for that you need more practice in.
Aerospace, Defense, & Government Case Interview Examples
Agency V (Deloitte)
The Agency (Deloitte)
Federal Finance Agency (Deloitte)
Federal Civil Cargo Protection Bureau (Deloitte)
Consumer Products & Retail Case Interview Examples
Electro-light (McKinsey)
Beautify (McKinsey)
Shops Corporation (McKinsey)
Climate Case (BCG)
Foods Inc. (BCG) *scroll to bottom of page
Chateau Boomerang (BCG) *written case interview
PrintCo (Bain)
Coffee Co. (Bain)
Fashion Co. (Bain)
Recreation Unlimited (Deloitte)
Footlose (Deloitte)
National Grocery and Drug Store (Kearney)
Whisky Co. (OC&C)
Dry Cleaners (Accenture) *scroll to page 15
UK Grocery Retail (Strategy&) *scroll to page 24
Ice Cream Co. (Capital One)
Healthcare & Life Sciences Case Interview Examples
GlobaPharm (McKinsey)
GenCo (BCG) *scroll to middle of page
PrevenT (BCG)
MedX (Deloitte)
Medical Consumables (LEK)
Medicine Company (HackingTheCaseInterview)
Pharma Company (Indian Institute of Management)
Manufacturing & Production Case Interview Examples
Aqualine (Oliver Wyman)
3D Printed Hip Implants (Roland Berger)
Talbot Trucks (McKinsey)
Playworks (Yale School of Management)
Social & Non-Profit Case Interview Examples
Diconsa (McKinsey)
National Education (McKinsey)
Conservation Forever (McKinsey)
Federal Health Agency (Deloitte)
Robinson Philanthropy (Bridgespan)
Home Nurses for New Families (Bridgespan)
Reach for the Stars (Bridgespan)
Venture Philanthropy (Bridgespan)
Technology, Media, & Telecom Case Interview Examples
NextGen Tech (Bain)
Smart Phone Introduction (Simon-Kucher)
MicroTechnos (HackingTheCaseInterview)
Transportation Case Interview Examples
Low Cost Carrier Airline (BCG)
Transit Oriented Development (Roland Berger)
Northeast Airlines (HackingTheCaseInterview)
A+ Airline Co. (Yale School of Management)
Ryder (HackingTheCaseInterview)
Travel & Entertainment Case Interview Examples
Wumbleworld (Oliver Wyman)
Theater Co. (LEK)
Hotel and Casino Co. (OC&C)
Case Interview Examples Organized by Function
Below, we've taken the same cases listed in the "Case Interview Examples Organized by Industry" section and organized them by function instead. This will be helpful if there is a specific type of case interview that you need more practice with.
Profitability Case Interview Examples
To learn how to solve profitability case interviews, check out our video below:
Market Entry Case Interview Examples
Merger & acquisition case interview examples, growth strategy case interview examples, pricing case interview examples, new product launch case interview examples, market sizing case interview examples.
To learn how to solve market sizing case interviews, check out our video below:
Operations Case Interview Examples
Other case interview examples.
These are cases that don't quite fit into any of the above categories. These cases are the more unusual, atypical, and nontraditional cases out there.
Case Interview Examples by Consulting Firm
Mckinsey case interview examples, bcg case interview examples, bain case interview examples, deloitte case interview examples, lek case interview examples, kearney case interview examples, oliver wyman case interview examples, roland berger case interview examples, oc&c case interview examples, bridgespan case interview examples, strategy& case interview examples, accenture case interview examples, simon kutcher case interview examples, capital one case interview examples, where to find more case interview examples.
For more case interview examples, check out our article on 23 MBA consulting casebooks with 700+ free practice cases . For your convenience, we've listed some MBA consulting casebooks below:
Australian Graduate School of Management (2002)
Booth (2005)
Columbia (2007)
Darden (2019)
ESADE (2011)
Fuqua (2018)
Goizueta (2006)
Haas (2019)
Harvard Business School (2012)
Illinois (2015)
INSEAD (2011)
Johnson (2003)
Kellogg (2012)
London Business School (2013)
McCombs (2018)
Notre Dame (2017)
Queens (2019)
Ross (2010)
Sloan (2015)
Stern (2018)
Tuck (2009)
Wharton (2017)
Yale (2013)
Consulting casebooks are documents that MBA consulting clubs put together to help their members prepare for consulting case interviews. Consulting casebooks provide some case interview strategies and tips, but they mostly contain case interview practice cases.
While consulting casebooks contain tons of practice cases, there is quite a bit of variety in the sources and formats of these cases.
Some practice cases are taken from actual consulting interviews given by consulting firms. These are the best types of cases to practice with because they closely simulate the length and difficulty of an actual case interview. Other practice cases may be written by the consulting club's officers. These cases are less realistic, but can still offer great practice.
The formats of the practice cases in consulting casebooks also vary significantly.
Some practice cases are written in a question and answer format. This type of format makes it easy to practice the case by yourself, without a case partner. Other practices cases are written in a dialogue format. These cases are better for practicing with a case interview partner.
MBA consulting casebooks can be a great resource because they are free and provide tons of practice cases to hone your case interview skills. However, there are several caveats that you should be aware of.
Similarity to real case interviews : Some cases in MBA consulting casebooks are not representative of actual case interviews because they are written by consulting club officers instead of interviewers from consulting firms
Quality of sample answers : While consulting casebooks provide sample solutions, these answers are often not the best or highest quality answers
Ease of use : Consulting casebooks are all written in different formats and by different people. Therefore, it can be challenging to find cases that you can consistently use to practice cases by yourself or with a partner
Therefore, we recommend that you first use the case interview examples listed in this article and wait until you've exhausted all of them before using MBA consulting casebooks.
Getting the Most Out of Case Interview Examples
To get the most out of these case interview examples, follow these three steps.
1. Understand the case interview structure beforehand
If case interviews are something new to you, we recommend watching the following video to learn the basics of case interviews in under 30 minutes.
Know that there are seven major steps of a case interview.
Understanding the case background : Take note while the interviewer gives you the case background information. Afterwards, provide a concise synthesis to confirm your understanding of the situation and objective
Asking clarifying questions : Ask questions to better understand the case background and objective
Structuring a framework : Lay out a framework of what areas you want to look into in order to answer or solve the case
Kicking off the case : Propose an area of your framework that you would like to dive deeper into 
Solving quantitative problems : Solve a variety of different quantitative problems, such as market sizing questions and profitability questions. You may also be given charts and graphs to analyze or interpret
Answering qualitative questions : You may be asked to brainstorm ideas or be asked to give your business opinion on a particular issue or topic
Delivering a recommendation : Summarize the key takeaways from the case to deliver a firm and concise recommendation
2. Learn how to practice case interviews by yourself 
There are 6 steps to practice case interviews by yourself. The goal of these steps is to simulate a real case interview as closely as you can so that you practice the same skills and techniques that you are going to use in a real case interview.
Synthesize the case background information out loud : Start the practice case interview by reading the case background information. Then, just as you would do in a live case interview, summarize the case background information out loud
Ask clarifying questions out loud : Just as you would do in a live case interview, ask clarifying questions out loud. Although you do not have a case partner that can answer your questions, it is important to practice identifying the critical questions that need to be asked to fully understand the case
Structure a framework and present it out loud : Pretend that you are in an actual interview in which you'll only have a few minutes to put together a comprehensive and coherent framework. Replicate the stress that you will feel in an interview when you are practicing case interviews on your own by giving yourself time pressure.
When you have finished creating your framework, turn your paper around to face an imaginary interviewer and walk through the framework out loud. You will need to get good at presenting your framework concisely and in an easy to understand way.
Propose an area to start the case : Propose an area of your framework to start the case. Make sure to say out loud the reasons why you want to start with that particular area
Answer each case question out loud : If the question is a quantitative problem, create a structure and walk the interviewer through how you would solve the problem. When doing math, do your calculations out loud and explain the steps that you are taking.
If the question is qualitative, structure your thinking and then brainstorm your ideas out loud. Walk the interviewer through your ideas and opinions.
Deliver a recommendation out loud : Just as you would do in a real case interview, ask for a brief moment to collect your thoughts and review your notes. Once you have decided on a recommendation, present your recommendation to the interviewer.
3. Follow best practices while practicing case interviews :    
You'll most likely be watching, reading, or working through these case interview examples by yourself. To get the most practice and learnings out of each case interview example, follow these tips: 
Don't have notes or a calculator out when you are practicing since you won't have these in your actual interview
Don't take breaks in the middle of a mock case interview
Don't read the case answer until you completely finish answering each question
Talk through everything out loud as if there were an interviewer in the room
Occasionally record yourself to understand what you look like and sound like when you speak
4. Identify improvement areas to work on
When the case is completed, review your framework and answers and compare them to the model answers that the case provides. Reflect on how you could have made your framework or answers stronger.
Also, take the time to reflect on what parts of the case you could have done better. Could your case synthesis be more concise? Was your framework mutually exclusive and collectively exhaustive? Could your math calculations be done more smoothly? Was your recommendation structured enough?
This is the most important part of practicing case interviews by yourself. Since you have no partner to provide you feedback, you will need to be introspective and identify your own improvement areas.
At the end of each practice case interview, you should have a list of new things that you have learned and a list of improvement areas to work on in future practice cases. You'll continue to work on your improvement areas in future practice cases either by yourself or with a partner.
5. Eventually find a case partner to practice with
You can only do so many practice case interviews by yourself before your learning will start to plateau. Eventually, you should be practicing case interviews with a case partner.
Practicing with a case partner is the best way to simulate a real case interview. There are many aspects of case interviews that you won't be able to improve on unless you practice live with a partner:
Driving the direction of the case
Asking for more information
Collaborating to get the right approach or structure
Answering follow-up questions
If you are practicing with a case partner, decide who is going to be giving the case and who is going to be receiving the case.
If you are giving the case, read the entire case information carefully. It may be helpful to read through everything twice so that you are familiar with all of the information and can answer any question that your partner asks you to clarify.
As the person giving the case, you need to be the case expert.
You should become familiar with the overall direction of the case. In other words, you should know what the major questions of the case are and what the major areas of investigation are. This will help you run the mock case interview more smoothly.  
Depending on whether you want the case interview to be interviewer-led or candidate-led, you will need to decide how much you want to steer the direction of the case.
If your partner gets stuck and is taking a long time, you may need to step in and provide suggestions or hints. If your partner is proceeding down a wrong direction, you will need to direct them towards the right direction.
Recommended Case Interview Resources
Here are three resources we recommend to learn the most robust, effective case interview strategies in the least time-consuming way:
Comprehensive Case Interview Course (our #1 recommendation): The only resource you need. Whether you have no business background, rusty math skills, or are short on time, this step-by-step course will transform you into a top 1% caser that lands multiple consulting offers.
Hacking the Case Interview Book   (available on Amazon): Perfect for beginners that are short on time. Transform yourself from a stressed-out case interview newbie to a confident intermediate in under a week. Some readers finish this book in a day and can already tackle tough cases.
The Ultimate Case Interview Workbook (available on Amazon): Perfect for intermediates struggling with frameworks, case math, or generating business insights. No need to find a case partner – these drills, practice problems, and full-length cases can all be done by yourself.
Land Multiple Consulting Offers
Complete, step-by-step case interview course. 30,000+ happy customers.
35 Case Interviews Examples from MBB / Big Four Firms
Studying case interview examples is one of the first steps in preparing for the management consulting recruitment process. If you don't want to spend hours searching the web, this article presents a comprehensive and convenient list for you – with 35 example cases, 16 case books, along with a case video accompanied by detailed feedback on tips and techniques.
A clear understanding of "what is a case interview" is essential for effective use of these examples. I suggest reading our Case Interview 101 guide, if you haven't done so.
McKinsey case interview examples
Mckinsey practice cases.
Diconsa Case
Electro-Light Case
GlobaPharm Case
National Education Case
What should I know about McKinsey Case interviews?
At McKinsey, case interviews often follow the interviewer-led format , where the interviewer asks you multiple questions for you to answer with short pitches.
How do you nail these cases? Since the questions can be grouped into predictable types, an efficient approach is to master each question type. However, do that after you've mastered the case interview fundamentals!
For a detailed guide on interviewer-led cases, check out our article on McKinsey Case Interview .
BCG & Bain case interview examples
Bcg practice cases.
BCG – Written Case – Chateau Boomerang
Bain practice cases
Bain – Coffee Shop Co.
Bain – Fashion Co.
Bain – Mock Interview – Associate Consultant
Bain – Mock Interview – Consultant
What should I know about BCG & Bain case interviews?
Unlike McKinsey, BCG and Bain case interviews typically follow the candidate-led format – which is the opposite of interviewer-led, with the candidate driving the case progress by actively breaking down problems in their own way.
The key to acing candidate-led cases is to master the case interview fundamental concepts as well as the frameworks.
Some BCG and Bain offices also utilize written case interviews – you have to go through a pile of data slides, select the most relevant ones to answer a set of interviewer questions, then deliver those answers in a presentation.
For a detailed guide on candidate-led cases, check out our article on BCG & Bain Case Interview .
Deloitte case interview examples
Deloitte practice cases.
Undergrad Cases
Human Capital – Technology Institute
Human Capital – Agency V
Strategy – Federal Benefits Provider
Strategy – Extreme Athletes
Technology – Green Apron
Technology – Big Bucks Bank
Technology – Top Engine
Technology – Finance Agency
Advanced Cases
Human Capital – Civil Cargo Bureau
Human Capital – Capital Airlines
Strategy – Club Co
Strategy – Health Agency
Technology – Waste Management
Technology – Bank of Zurich
Technology – Galaxy Fitness
What should I know about Deloitte case interviews?
Case interviews at Deloitte also lean towards the candidate-led format like BCG and Bain.
The Deloitte consultant recruitment process also features group case interviews , which not only test analytical skills but also place a great deal on interpersonal handling.
Accenture case interview examples
Accenture divides its cases into three types with very cool-sounding names.
Sorted in descending order of popularity, they are:
These are similar to candidate-led cases at Bain and BCG. albeit shorter – the key is to develop a suitable framework and ask the right questions to extract data from the interviewer.
These are similar to the market-sizing and guesstimate questions asked in interviewer-led cases – demonstrate your calculations in structured, clear-cut, logical steps and you'll nail the case.
These cases have you sort through a deluge of data to draw solutions; however, this type of case is rare.
Capital One case interview examples
Capital One is the odd one on this list – it is a bank-holding company. Nonetheless, this being one of the biggest banks in America, it's interesting to see how its cases differ from the consulting ones.
Having gone through Capital One's guide to its cases, I can't help but notice the less-MECE structure of the sample answers. Additionally, there seems to be a greater focus on the numbers.
Nonetheless, having a solid knowledge of the basics of case interviews will not hurt you – if anything, your presentation will be much more in-depth, comprehensive, and understandable!
See Capital One Business Analyst Case Interview for an example case and answers.
Other firms case interview examples
Besides the leading ones, we have some examples from other major consulting firms as well.
Oliver Wyman – Wumbleworld
Oliver Wyman – Aqualine
LEK – Cinema
LEK – Market Sizing
Kearney – Promotional Planning
OC&C – Imported Spirits
OC&C – Leisure Clubs
Consulting clubs case books
In addition to official cases, here are a few case books you can use as learning materials.
Do keep in mind: don't base your study on frameworks and individual case types, but master the fundamentals so you can tackle any kind of case.
Wharton Consulting Club Case Book
Tuck Consulting Club Case Book
MIT Sloan Consulting Club Case Book
LBS Consulting Club Case Book
Kellogg Consulting Club Case Book
INSEAD Consulting Club Case Book
Harvard Consulting Club Case Book
ESADE Consulting Club Case Book
Darden Consulting Club Case Book
Berkeley Consulting Club Case Book
Notre-Dame Consulting Club Case Book
Illinois Consulting Club Case Book
Columbia Consulting Club Case Book
Duke Consulting Club Case Book
Ross Consulting Club Case Book
Kearney Case Book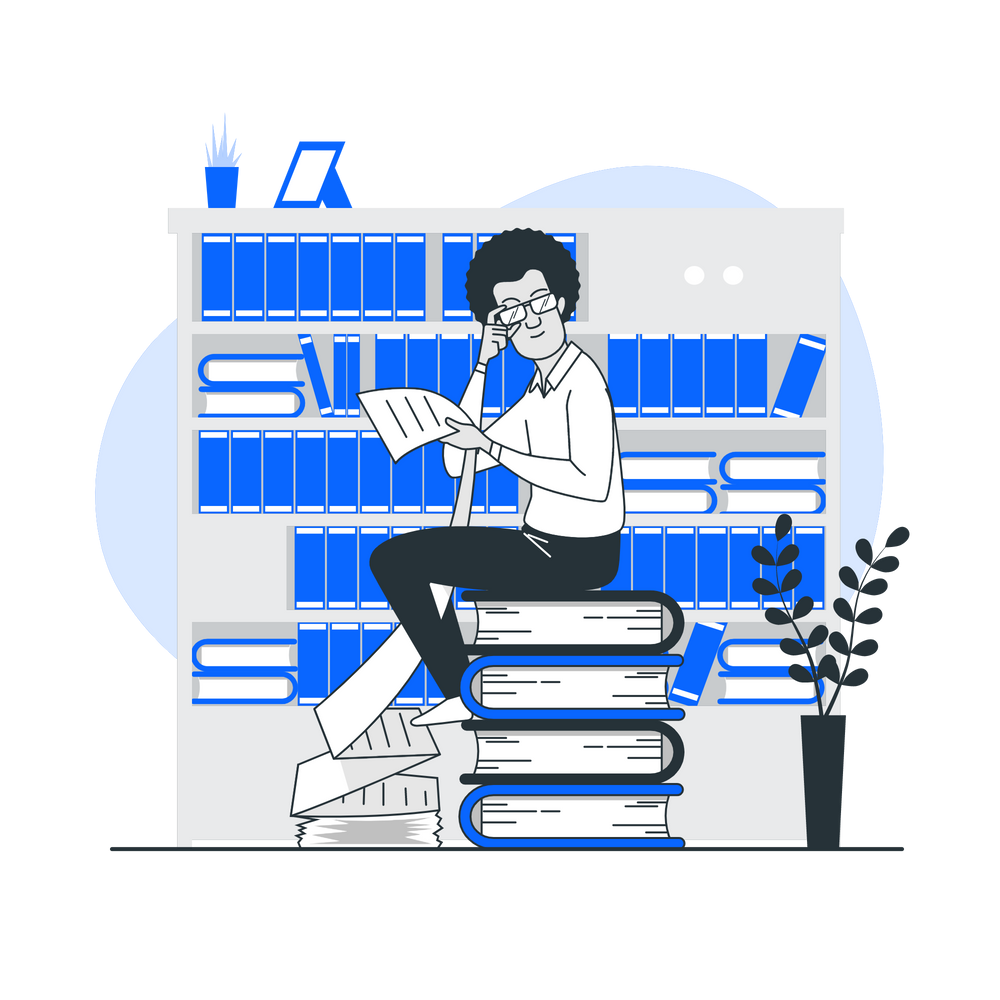 Case interview example – Case video
The limitation of most official case interview examples is that they are either too short and vague, or in text format, or both.
To solve that problem for you, we've extracted a 30-minute-long, feedback-rich case sample from our Case Interview End-to-End Secrets Program .
This is a candidate-led, profitability case on an internet music broadcasting company called Pandora.
In 30 minutes, this candidate demonstrates the exact kind of shortcoming that most candidates suffer during real case interviews – they come in with sharp business senses, then hurt their own chances with inadequate techniques.
Here are seven notable areas where the candidate (and you) can improve:
Thanking Throughout the case, as especially in the opening, he should have shown more appreciation for the time the interviewer spent with him.
Structured opening The candidate's opening of the case feels unstructured. He could have improved it by not mixing the playback and clarification parts. You can learn to nail the case in a 3-minute start through this video on How to Open Any Case Perfectly .
Explicitness A lot of the candidate's thought process remains in his head; in a case interview, it's better to be as explicit as possible – draw your issue tree out and point to it as you speak; state your hypothesis when you move into a branch; when you receive data, acknowledge it out loud.
Avoiding silence The silence in his case performance is too long, including his timeout and various gaps in his speech; either ask for timeout (and keep it as short as possible) or think out loud to fill those gaps.
Proactivity The candidate relies too much on the interviewer (e.g: asking for data when it can easily be calculated); you don't want to appear lazy before your interviewer, so avoid this.
Avoiding repeating mistakes Making one mistake twice is a big no-no in consulting interviews; one key part of the consulting skill set is the ability to learn, and repeating your mistakes (especially if the interviewer has pointed it out) makes you look like someone who doesn't learn.
Note-taking Given the mistakes this candidate makes, he's probably not taking his notes well. I can show you how to get it right if you watch this video on Case Interview Note-Taking .
Nonetheless, there are three good points you can learn from the candidate:
The candidate sums up what he's covered and announces his upcoming approach at the start and at key points in the case – this is a very good habit that gives you a sense of direction and shows that you're an organized person.
The candidate performs a "reality check" on whether his actions match the issue tree; in a case interview it's easy to lose track of what you're doing, so remember to do this every once in a while.
The candidate prompts the interviewer to give out more data than he asked for; if anything, this actually matches a habit of real consultants, and if you're lucky, your interviewer may actually give out important pieces you haven't thought of.
These are only part of the "ninja tips" taught In our Case Interview E2E Secrets Program – besides the math and business intuition for long-term development, a key feature is the instant-result tips and techniques for case interviews.
Once you've mastered them, you can nail any case they throw at you!
For more "quality" practice, let's have a mock case interview with former consultants from McKinsey, BCG, Bain, Oliver Wyman, Strategy& and many other consulting firms. They will help you identify your problem areas and give you actionable feedback, making your preparation much easier and faster.
Hi! This is Kim and welcome to another performance in the Tips & Techniques part of our amazing End-to-end program. You are about to hear a really interesting performance.
There is a common Myth that Profitability cases are easier. Well, for beginners, that's may make sense, but I would argue that Profitability cases can be really tricky and candidates without good foundation will make about the same level of mistakes regardless of type of cases given.
The profitability case we are about to watch will show that. It's a very unconventional
Profitability. It started out like a typical one but getting more and more tricky toward the end.
The candidate is fairly good in term of business intuition, but the Tips & Techniques aspect needs a lot of fine tune! Now let's go ahead and get started!
It's actually a little better to playback the case information and ask clarifications. The candidate does not distinguish between the two and do both at a same time. Also, the candidate was asking these clarifications in an unorganized and unstructured fashion. This is not something terrible, but could have been better, especially when this is the very first part of the case, where the crucial first impression is being formed.
My pitch would sound like this:
"That's a very interesting problem and I am happy to get the chance to solve it. First of all let me tell you my understanding of the case context and key objectives. Then I would like to ask a few clarifying questions regarding a few terminology and concepts. Both of these are to make sure that I will be solving the right problem.
So here is my understanding of the case: The client is ABC. Here are some DEF facts about the situation we just talked about. And the key case question is XYZ.
Does that correctly and adequately summarize the case?"
Once the interviewer confirms, I would move to the clarification part as follows: "Now I would like to ask a few clarification questions. There are three of them: No 1, … No 2, … and No 3, …"
You may see above pitch as obvious but that's a perfect example of how you should open any cases. Every details matters. We will point out those details in just a second. But before we do that, it's actually very helpful if you can go back, listen carefully to the above pitch, and try to point out the great components yourselves. Only after that, go back to this point and learn it all together.
Alright, let's break down the perfect opening.
First of all, you hear me say: "That's a very interesting problem and I am happy to get a chance to solve it". This seems trivial but very beneficial in multiple ways:
1. I bought myself a couple of seconds to calm down and get focused. 2. By nature, we as human unconsciously like those who give us compliments. Nothing better than opening the case with a modest compliment to the interviewer.
And (c) I showed my great attitude towards the case, which the interviewer would assume is the same for real future consulting business problems.
You should do that in your interviews too. Say it and accompany it with the best smile you can give. It shows that you are not afraid of any problems. In fact, you love them and you are always ready for them.
Secondly, I did what I refer to as the "map habit", which is to always say what you are about to do and then do it. Just like somebody in the car showing the drivers the route before cruising on the road. The driver would love it. This is where I said: "Let me tell you my understanding of the case context and key objectives. Then ABC…".
Third, right at the beginning of the case, I try to be crystal clear and easy to follow. I don't let the interviewer confused between playing the case vs. asking clarification questions. I distinguish between the two really carefully. This habit probably doesn't change the outcome of how the case goes that much, but it certainly significantly changes the impression the interviewer has of me.
Fourth, in playing back the case, each person would have a different way to re-phrase. But there are three buckets to always include:
1. Who is the client 2. The facts regarding the client and the situation and (c) The key question and the objective of the case.
Fifth, after playing the case context and objectives, I pause for a second and ALIGN with the interviewer: "Does it correctly and adequately summarize the case?". This is a habit that every consulting manager loves for young consultants to do. Nobody wants first-year folks to spend weeks of passion and hard-work building an excel model that the team can't use. This habit is extensively taught at McKinsey, Bain and BCG, so therefore interviewers would love somebody that exhibits this habit often in case interview.
Lastly, when asking clarification questions, you hear me number them very carefully to create the strong impression that I am very organized and structured. I said I have three clarifying questions. Then I number them as I go through each. No.1, No.2, and No.3.
Sometimes, during interviews it's hard to know exactly how many items you are going to get. One way is to take timeout often to carefully plan your pitch. If this is not possible in certain situations, you may skip telling how many items you have; but you should definitely still number your question: No.1, No.2; and so on.
Just a moment ago, the candidate actually exhibited a good habit. After going through his clarification questions, the candidate ended by asking the "is there anything else" question. In this case, I actually give out an important piece of data.
Though this is not very common as not every interviewer is that generous in giving out data. But this is a habit management consultants have to have every day when talking to experts, clients, or key stakeholders. The key is to get the most data and insights out of every interview and this is the type of open-ended question every consultant asks several times a day.
To show of this habit in a case interview is very good!
There are three things I would like you to pay attention to:
First, it took the candidate up to 72 seconds to "gather his thoughts". This is a little too long in a case interview. I intentionally leave the 72 seconds of silence in the recording so you get an idea of how long that is in real situations. But it's worth-noting here is not only that. While in some very complicated and weird cases, it's ok to take that long to really think and gather ideas. In this case, the approach as proposed by the candidate is very simple. For this very approach, I think no more than 15 to 20 seconds should be used.
No.2, with that said, I have told I really like the fact that this candidate exhibits the "map" habit. Before going straight to the approach he draws the overall approach first.
No.3. You also see here that the candidate tried to align the approach with me by asking my thoughts on it. As I just said on the previous comment, this is a great habit to have. Not only does it help reduce chance of going into the wrong direction in case interviews, but it also creates a good impression. Consulting interviewers love people doing it often!
Here we see a not-really-bad response that for sure could be much better. The candidate was going into the first branch of the analysis which is Revenue. I would fix this in 3 aspects:
First, even though we just talked about the overall approach, it's still better to briefly set up the issue tree first then clearly note that you are going into one branch.
Second, this is not a must, but I always try to make my hypothesis as explicitly clear as possible. Here the candidate just implicitly made a hypothesis that the problem is on the revenue side. The best way to show our hypothesis-driven mindset is to explicitly say it.
Third, you hear this a ton of times in our End-to-End program but I am going to repeat it again and again. It is better to show the habit of aligning here too. Don't just go into revenue, before doing that, give the interviewer a chance to agree or to actually guide you to Cost.
So, summarizing the above insights, my pitch would sound something like this:
"So as we just discussed, a profit problem is either caused by revenue or by cost. Unless you would like to go into cost first, let's hypothesize that the problem is on revenue side. I would like to look deeper into Revenue. Do we have any data on the revenue?"
And while saying this, you should literally draw an issue tree and point to each as you speak.
There is an interesting case interview tip I want to point out here. Notice how the candidate responds after receiving two data points from me. He went straight into the next question without at least acknowledging the data received and also without briefly analyzing it.
I am glad that the candidate makes this mistakes… well, not glad for him but for the greater audience of this program. I would like to introduce to you the perfect habit of what you should react and do every time you have any piece of data during case interviews. So three things you need to do:
Step 1: Say … that's an interesting piece of data. This helps the interviewer acknowledge that you have received and understand the data. This also buys you a little time. And furthermore, it's always a good thing to give out modest compliments to the interviewer.
Step 2: Describe the data, how it looks, is there any special noteworthy trend? In this case, we should point out that revenue actually grew by more than 50%.
Also notice here that I immediately quantified the difference in specific quantitative measurement (in this case, percentage). Saying revenue went up is good, but it's great to be able to say revenue went up by more than 50%.
Step 3: Link the trend identified back to the original case question and the hypothesis you have. Does it prove, disprove, or open up new investigation to really test the hypothesis? In this case, this data piece actually opened up new investigating areas to test the hypothesis that the bottleneck is within revenue.
My sample pitch for this step 3 would sound like this: "It's interesting that revenue went up quite a bit. However, to be able to fully reject our hypothesis on the revenue, I would like to compare our revenue to that of the competitors as well."
Then only at this point, after going through 3 steps above, I ask for the competitors' revenue like the candidate did.
Notice here that I ended up asking the same question the candidate did. This shows that the candidate does have a good intuition and thought process. It's just that he did all of these implicitly on his head.
In consulting case interview, it's always good to do everything as explicitly as possible. Not only is it easier to follow but it helps show your great thought process.
… the rest of the transcript is available in our End To End Case Interview
Learn the Secrets to Case Interview!
Join countless other successful candidates around the world with our Case Interview End-to-End Secrets Program ! 10 example cases with 100+ real-time feedbacks on tips and techniques, 50+ exercises on business intuition and 1300+ questions for math practice!
Scoring in the McKinsey PSG/Digital Assessment
The scoring mechanism in the McKinsey Digital Assessment
Related product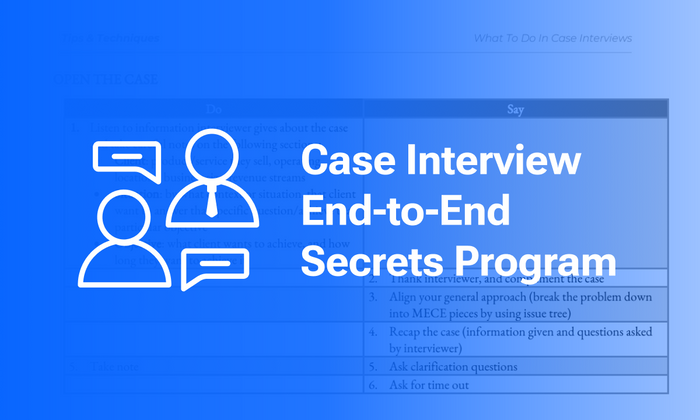 Case Interview End-to-End Secrets Program
Elevate your case interview skills with a well-rounded preparation package
Preparing for case interviews is a hard task when you only have 1 week, so the first part you need to learn during this time is fundamentals of case interview
Case interview in consulting is difficult with the passing rate is around 10%. This is because big consulting firms keep an extremely high recruitment standard
A case interview is where candidates is asked to solve a business problem. They are used by consulting firms to evaluate problem-solving skill & soft skills
Crafting Cases
Case Interview Examples: The 9 Best in 2022 (McKinsey, Bain, BCG, etc.)
February 26, 2021 By Julio Tarraf
Today I'm gonna show you a curated list of the 9 VERY BEST Case Interview Example videos from all around the web.
So you don't have to go through the same pains I did back when I was preparing:
I watched TONS of videos on YouTube, but most of my time was WASTED because many weren't helpful at all.
I couldn't tell which cases were realistic and which were unrealistic, or which were hard and which were easy.
I couldn't even tell whether each answer by the candidates was good enough to pass the interview or not (my best proxy was their confidence, which I later found was NOT a good proxy).
So that brings us to this article.
What's in for you:
Every hour you spend on the examples in this article is the equivalent of spending 3-5 hours browsing YouTube on your own, reading Case in Point, or going through piles of casebooks.
This article is the result of...
24 of those videos didn't make it to the list: they were  a mix of poorly recorded, unrealistic and even   misleading .
I curated just the best so you wouldn't have to waste your own 20+ hours to find them.
Table of contents:
#1. Playworks market entry  [Best for beginners]
#2. Agricultural chemicals product launch [Advanced candidates only]
#3. A+ Airlines' reaction to competitor's change
#4. Auto manufacturer profitability decrease  [Best profitability case]
#5. Swift fox population decrease
#6. Bed and Bath e-commerce acquisition  [Best for solo practice]
#7. FlashFash acquires LaMode
#8. medical supplies manufacturer demand decrease.
#9. Pepsi's LA bottling plant
#10. 1930's gangster growth strategy
#1. Playworks market entry
Easy case, with one Estimation, one Quantitative Analysis, and one Chart Interpretation questions within. Overall, good to practice and to get a feel for case interview dynamics
You can't see the Exhibit the candidate is shown, but you can find it in this link provided by Yale SOM Consulting Club  (go to page 9)
CANDIDATE'S PERFORMANCE
Stellar framework, touching on all relevant issues and showing a plan to solve the problem from beginning to end
Great job performing a spontaneous reality check to his estimation
I would expect more reasoning behind some of the key assumptions (# of high schools and colleges in the US). He was, however, close to the real values – his background as a teacher could have played a role, but as an interviewer I would still have needed to see his reasoning behind those numbers
Big mistake inadvertently converting square yards to square feet (~10x difference in final answer) combined with math confusion within the Estimation and inefficiencies in Analysis: his analytical skills would have to be tested more thoroughly in a third interview or in a next round
The next case is mostly useful for its framework question.
It's a high-quality, nuanced case question, similar to the ones you'll get in McKinsey, Bain and BCG interviews.
The problem with this case is…
It requires either a well-structured answer or a ton of business sense, and the candidate solving it had neither.
As a result, he missed so many great insights, which made the video poor where it could have been rich for those who are practicing: business insight.
To spice up your practice, I'll list those insights after the video under a spoiler alert, so you can add them to your own business sense library.
Given all of this, I would recommend this video for advanced candidates only .
(To understand what elements a perfect answer would need and how to create one for any case, check out our free course, Case Interview Fundamentals.)
#2. Agricultural chemicals product launch
Product launch
Candidate-led
Tough case. Full of nuance, and suitable for an MBB first-round (perhaps even for a final-round).
The analysis at  26:15  is a tough one, great practice for advanced students looking to improve their quantitative skills. Don't forget that  you need to provide an insight after getting to the numerical answer.
Right from the start, you can see that you'd need to (1) size the financial benefits orchards would get from using your product and (2) run viability and pricing analyses. The candidate fails to see this until the interviewer suggests it.
The candidate missed several other important insights which would have been impressive. Can you spot any? Read them below, under the spoiler alert.
As I said, I'll quickly go over the insights this candidate missed, as I think they could greatly add to your business sense library.
1) The one and most important is the pricing and viability analysis.
One of the first questions that need to be answered when solving this case is, "what's the size of the financial benefits of this product to the buyer, how much can we capture of it, and does it covers the manufacturing and distribution costs?".
The reason is simple: this analysis can be run entirely on data we most likely have (from research while developing the product), and it will quickly tell us if the product isn't viable or if we need a strategy pivot.
When guided, the candidate eventually runs this analysis, but the fact that this isn't even explicit in his initial structure is still a red flag.
Here's what I would expect from a top-2% candidate. This analysis should have been outlined in the initial structure, along with a quick brainstorming of how this product might bring increased profits for the buyer.
2) There are several other potential sources of increased ROI that the launch of this product could yield that he didn't even consider:
Cross-selling opportunities to these same clients, once we're selling Mango Maker to them.
The possibility of selling this product in several other countries (thus potentially decreasing the costs of production with scale gains.)
The possibility of selling this product to producers of other tropical fruits (to his credit, he did mention this when pressed, by the end of the video).
The possibility of acting towards increasing the patent duration.
The possibility of having some cash flow from the product after the patent expires.
The key to getting to those insights would have been to build a more robust initial framework. More business sense would help for sure, but  structuring techniques  are more feasible to practice and develop.
Lastly: the interviewer says, by the end of the video, that the interviewer would pass his first-round MBB interview with this performance. I do not agree with her.
While it is possible that his interviewers would pass him and let partners decide whether or not he's suitable for the firm, the risk is just too high.
Some interviewers might pass him, but many others definitely would not.
Before we move on…
Did you know there are ONLY 6 types of questions an interviewer will ask you in a case?
Join our FREE 7-day case interview course to…
Learn what these six types of questions are…
Get step-by-step approaches to answering them…
And get several in-depth examples taylored for solo practice.
Now to the next video…
Yale SOM Consulting Club and Elaine Dang deserve congratulations on the two videos they made.
It's super high quality work. 
Both of their video examples are similar to real case interviews in format and content, and they're even superior to some made by case interview prep websites.
#3. A+ Airlines' reaction to competitor's change
Questions and difficulty realistic for McKinsey, Bain, or BCG
A real case might have more Brainstorming questions within the case
Negative: you can't se the exhibits the candidate is shown
Great: all of her answers were backed by at least one layer of structure
Insights provided after calculating every new number, which is super important  (learn more)
She did a good job keeping the interviewer on board by doing her math out loud at all times
One thing she could've done better was to not constantly come back to the "cash tied up in the cash box" idea – she should've tested it once and definitively as to whether that is relevant or not (it isn't) – a partner would have certainly challenged her on that
Featuring next: me reviewing my own video from a neutral point of view.
Yes, I know that can't possibly be unbiased.
But here's why I think this video will get you ahead of other candidates and why you should ABSOLUTELY NOT miss out on this :
The case comes nearly straight from my own Bain final round.
My question in the end is difficult (even for McKinsey, Bain or BCG's standards), and Bruno's answer is impressive.
Bruno's solution is not perfect, and this gives us both an opportunity to openly discuss how it could've been better by the end.
#4. Auto manufacturer profitability decrease
Average-difficulty profitability case in the first half, and a difficult question at 15:44
Full realistic drill-down to find the real root cause of the problem, which is a common thing in case interviews that you'll only find in this video
Bruno should have presented his answer as a plan before diving into the profit tree , which is an advanced skill that makes you sound more like a consultant and less like a candidate
Efficient and organized drill-down in the profit tree, a must-master habit for all candidates
Super insightful answer to the second question because it shows second-order level thinking
If you're mainly looking to improve your performance in profitability cases, there are two pieces of content worth checking out:
This video: 5 Tactics To Stand Out In Your Profitability Case Interviews
And this article, the state-of-the-art in profitability trees: Profitability Trees: The Complete Guide
What I love about the next case is that the first question is on diagnosing a client's issue, but it's not a profitability case.
It's actually a public sector case!
Most beginners think you only use issue trees and drill-down analysis when solving a profit problem, but as you'll see in this case, this is not true at all.
The candidate's answer is good, so you can compare your own answer to his.
This is a difficult, realistic diagnostics case, great for advanced candidates to step up their practice with hard cases
You are not shown a critical exhibit the candidate gets in the middle of the case, making it unsuitable for practice from then on
The candidate's initial structure is insightful because it breaks down the population problem into its key drivers
The insights the candidate provided on the exhibits are spot-on, but I would expect next-steps after the conclusions (e.g. after 10:33 , he could have said  "And to figure out whether this really is the cause of the population decrease, the next thing I would do is…" )
But he doesn't make the same mistake twice – at 23:20 , he gets to a number the interviewer asked and, this time, he leads the case perfectly: he comes up with a conclusion (the insight), and then proactively leads the case with next steps
The next video is THE SINGLE BEST in this list for solo practice.
You will see Bruno's reaction to challenges most people only face in their actual interviews. Mock interviews hardly prepare you for this at all:
How should you react when an interviewer asks you for more ideas after you've given everything you have?
What do you do when your interviewer asks for a recommendation having given you nearly no data?
Go ahead and see for yourself.
(And how would a real candidate do in this case? I interviewed a candidate with this very same case and recorded it so you could see for yourself. )
#6. Bed and Bath e-commerce acquisition
Pay special attention to how I made spontaneous challenges to Bruno after his answers. Most mock interviews, even with consultants, don't have that. So candidates end up getting surprised by them in their actual interviews. You might even want to show this to your peers so they'll do more realistic mock interviews with you
In 9:00 I challenge Bruno to see if he's sure whether customer loyalty was good (higher customer lifetime value) or bad (harder to increase market share) for the acquisition
In 16:22 I challenge Bruno to find even more ideas other than the ones he had already given
Due to being interviewer-led AND having great benchmark answers, this is the best video in this list for solo practice
Super structured brainstorming, which showed me he would not leave any important area behind and helped him give me a ton of creative, insightful ideas
Insightful framework answer (e.g., 99% of candidates would not talk about whether running this business would be attractive to the friend, much less in depth like he did)
The next case is one of the unmissable videos in this list for two main reasons.
Number one, the candidate's answers are great, good enough to be benchmarks to your own.
Number two, it's a difficult M&A case (which is not as exciting as watching the last Avengers movie, I get, but still…).
Realistic, challenging interviewer-led case for McKinsey, Bain and even BCG (as some interviewers there have been doing this type of case recently)
Quality answers make it great for solo practice
Insightful, well-built framework, definitely a benchmark
Notice how the candidate shows his structure for the quantitative analysis before diving into the math – that's a great habit you definitely want to copy
I chose this next video mostly due to the quality of the initial case question. Here's why.
Most profitability cases in casebooks are simple: "industry Y, profits fell. Why?"
But the truth is, in real MBB interviews, the case question almost always has more nuance than that.
That's what this next video's initial case question shows.
Just a quick heads up: I would not pass this candidate, as I wasn't a fan of his initial structure nor of his business sense in general. Your initial structure should be more robust than his.
Profitability
Below average
The nuances of the case question make it a realistic one for MBB first-round interviews.
This case could be way more interesting and insightful if the candidate had followed a different path, like finding different sources of revenue, different segments they could cater to at a higher price point, or new markets they could enter with the resources they have.
Your answers to the initial case question and to all the other brainstormings in the case could (and should, if you're aiming for the moon) be 5X more robust than this candidate's. Don't base your answers off his.  (Learn how to create robust brainstorming structures here.)  
The analysis he performs is good, structure and communication-wise.
Great insight that buyers' price sensitivity would be driven by the switching costs if there were any ( 19:30 ) 
The next video shows an operations case example.
It's a wonderful use of process structures to diagnose an issue on production line.
I don't really like its style for practicing for two main reasons.
First, it just doesn't have the right tempo for you to pause and practice and then compare answers. 
Second, the comments in the middle break the flow.
Nothing wrong with those comments. They're actually helpful.
The problem is they make this video good for learning a few new concepts, watching a good structure put to use, but not really to practice by yourself.
If you're an advanced candidate and your practice is up to date and you're  just looking to learn something new, jump right in.
#9. Pepsi's LA bottling plant
Only one person playing the interviewer's and the candidate's roles, which doesn't give you an idea of how the case would flow
Difficult case, great case for advanced candidates to increase their experience/library
Not really tailored for you to pause and solve at each moment, doesn't have a good tempo for that
"Candidate's" structure at 5:34 is a great example of a process structure put to use in diagnostics cases
Super insightful brainstorming at 14:50 , with at least one idea you most likely wouldn't think of
Want to learn to solve cases like the best interviewees in these videos?
Here's the deal: you can watch as many of these great videos as you want, but they will only help you up to a point.
They'll help you understand what a case interview is like…
And if you try to answer the questions as you watch them, these videos will even help you get some practice…
But examples of case interviews will never teach you HOW to do cases well.
And if you want to be outstanding at solving cases so that firms like McKinsey, Bain, or BCG are begging you to accept their offers, we have something for you!
We've created a free course that will teach you EXACTLY HOW to answer the 6 (and only six!) types of questions you will find in ANY case interview.
(You can even go back to ALL the questions asked within the 9 examples of this article… You'll see that each of them can be answered using one of the six techniques.)
Just click the button below to get exclusive access:
Join the FREE course now!
Now, you might be asking yourself: is this even worth my time?
I get that! There's so much content out there, and so little time to practice.
Well, here's the kind of e-mail we get from candidates all the time… It speaks for itself:
Bonus video!
In the beginning of this article, I told you there'd be a video by the end that didn't make it to the list.
It's  not that good to make it to a "best of" list. 
Still, I want to add it as a bonus, as it will add value to you in its own way.
#10. 1930's gangster growth strategy
But first, a word of warning... .
This video has a comment that could be misleading. Do NOT watch it without reading the comments.
Sometimes the greatest lessons come from mistakes. This is one of those times.
There's a comment in the video in which the interviewer suggests that a necessary step in every case is "getting to" a chart.
This gives candidates two false impressions:
False Impression #1) There is a chart in every case, and your goal as a candidate it to "get to it".
False Impression #2) If your interviewer has given you all the charts they had, you've done a good job!
Your goal as a consultant is to find the relevant hypotheses to solve the problem in a structured way and to test them with data.
If you do that, you will have done a great job, and your interviewer may or may not have given you a chart along the way.
This is true for interviews and the consulting job alike!
Interesting case, as it's a growth strategy in an unusual "industry"
It is one of the few cases available online that let you practice Chart Interpretation questions, a common type at McKinsey, Bain and BCG
Unfortunately, it gives the impression that "getting to all the charts" is the overarching goal of solving a case
In the first Chart Interpretation question, the candidate missed a critical insight: that they already have 100% market share in all markets.  While the interviewer downplays it , it was a big foul that would be hard to recover from in a real interview
The candidate provided insight after reading each exhibit – good job. However, he'd never proactively give clear next steps, which is what a well-prepared candidate would do
If you're practicing by yourself, remember not to use this candidate's answers as a quality benchmark
I hope this article was helpful to you 🙂
If it was, I think you'll also enjoy our free course. Check it out for yourself by clicking here .