6 Interesting Customer Service Case Studies to Inspire You
July 18, 2023
An 11-year-old boy's experience with LEGO customer service changed the company's brand perception. It's not only brought in more customers but also justified their lead position in the market. Here, we will discuss a few more interesting customer service case studies.
One good service can not just help one customer but also influence future customers. Reading others' stories will help you understand ways to overcome new challenges.
I will start with some popular ones.
Popular customer experience case studies
Customer service is not just limited to providing product-related support anymore. We have passed the line way back. As the market gets more critical, everyone is running a few extra miles. Even the top companies in the field are not compromising anything.
Let's start with JetBlue's customer service case study.
JetBlue sets an example of how you can use social media to provide excellent customer service. They have multiple teams at different levels that are active on Twitter. And there are many examples of it.
Here is one: Paul once tweeted that he couldn't find Starbucks at the gate while boarding the flight. JetBlue immediately responded with an alternative, which was free for him.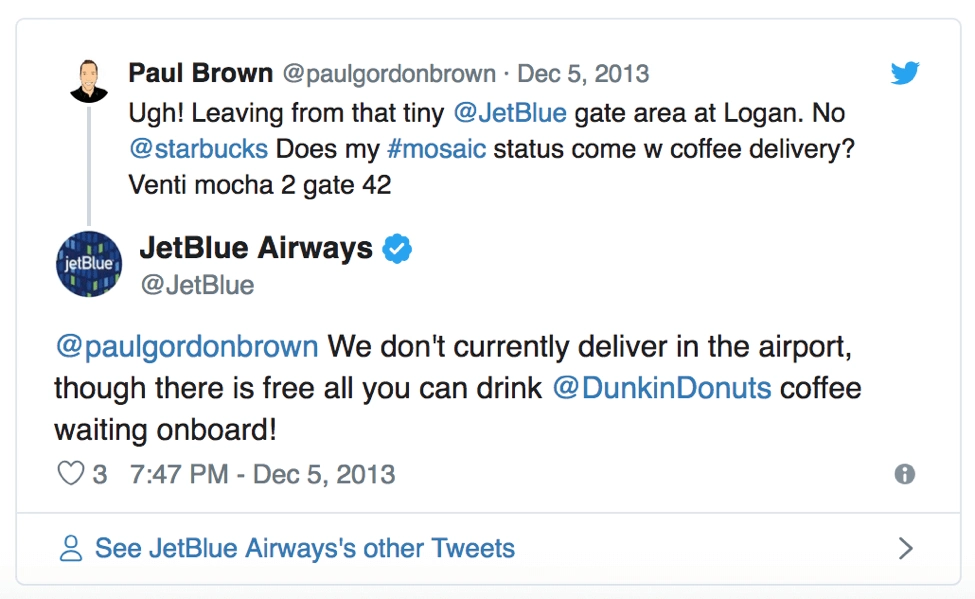 Another challenge that JetBlue faced was the winter storm in early January of 2017 . They had to cancel a lot of flights at that time. And because of this, thousands of people were impacted.
The challenge here is that JetBlue cannot change the weather or ensure a safe flight during a storm. But they can provide up-to-date information.
So, they started to tweet updates about the storm and the flight schedule the whole time. As a result, even though the passengers were frustrated, they were happy with JetBlue's service.
Zappos has a good reputation for providing the best customer support. And it has a lot of interesting customer service case studies. One particular service case created a lot of buzz in the market.
Zappos's service agent talked with a customer for 10 hours in one call. And, surprisingly, Zappos took it in a positive way. The call wasn't even about any service.
This long call started with where and how that customer lives. Then, eventually, it turns into clothing and fashion-related conversation. Finally, the customer ended the call with the purchase of a pair of UGG boots.
It breaks all the records and wins a long-running battle. Which one is better, automated calls or live agents? And without a doubt, it's the personal touch that steals the crown every time.
This customer service case study is a bit more heartwarming. 11-year-old James Groccia has Asperger's syndrome. He was looking at an expensive LEGO set for his birthday. It's the exclusive Emerald Night Train set.
James saved money for two years. The money came from his birthday gifts and his participation in research. But he was heartbroken when he found out that it was unavailable.
His mother looked everywhere possible. On Amazon, eBay, or any other platform, it was either out of stock or too expensive. Eventually, with the help of a social worker, James wrote to LEGO.
It was a huge surprise to James that LEGO wrote back. And not just that, they surprised him with the exclusive Emerald Night Train set just before his 11th birthday.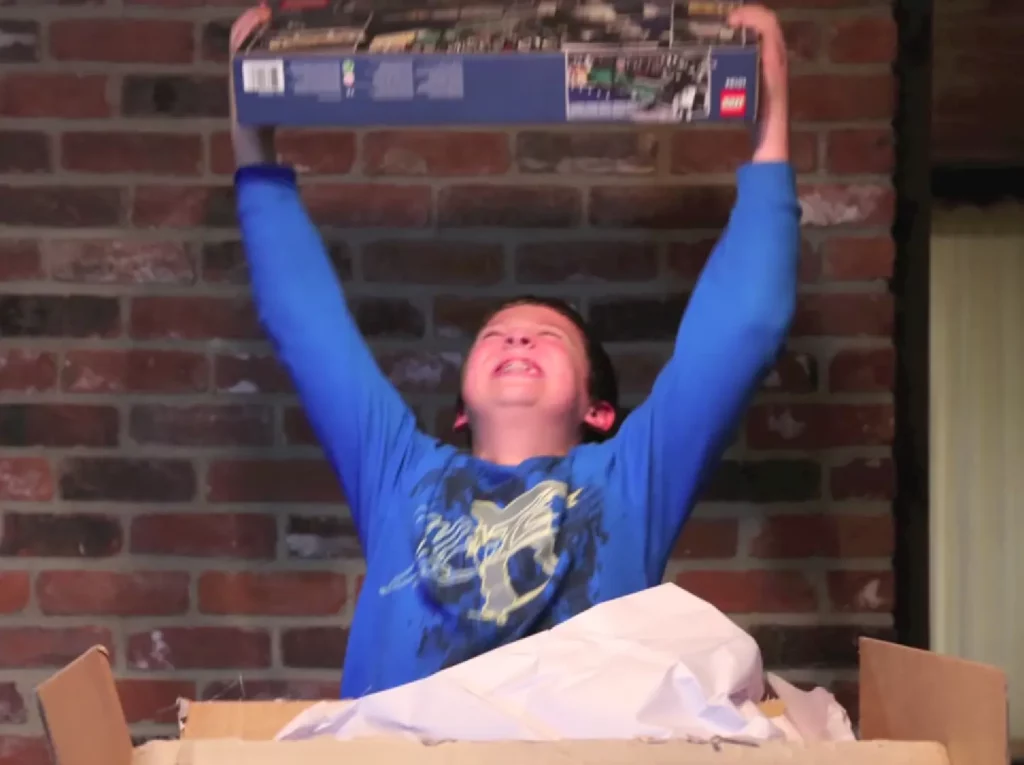 It wasn't easy for LEGO as well. It was a discontinued set and a collectible. They had to track it down for him. This extra mile not only made that customer happy but also established a brand perception that cares about its customers.
WPManageNinja's customer service case study
While we were looking for customer experience stories, we talked with our Support team head, Mr. Kamrul Islam , here at the WPManageNinja office. He shared a few interesting case studies with us.
"I made a full website using your table builder plugin."
Our support team faces and solves a lot of interesting cases every day. So, from a lot of stories, we have chosen three interesting stories to share with you in this blog. And, we are not going to be technical here at all.
So keep reading.
Story #1: Fluent Form
Let's start with a simple one. One of our clients creates a ticket with an issue through our Fluent Support helpdesk system .
Ticket created from customer's end
I am a Fluent Form user. And I want to create a booking form using your form builder.
Thanks a lot for contacting us. Let us get into it and see what we can do for you. We will get back to you ASAP.
Booking system plugins are typically used for appointment booking. However, our support team needs to find a way to use our form builder plugin to accomplish this task.
But instead of saying, "This is not possible," to our client, they get to work. Started figuring out a workaround for this. For obvious reasons, a form builder cannot provide a booking system facility, but the team finds a way to use it as a basic date booking system.
Our support team used two date-picker blocks from our Fluent Form builder and used different blocks to pick the starting and ending dates. Our team got in touch with the customer and gave him the solution.
But the customer knocked again.
Ticket continue
I am happy with the solution, but I'm facing an issue. I picked one date from the "Start from" calendar drop-down, but I can still see the previous dates are active in the "End at" drop-down. I want it disabled.
Here is a screenshot.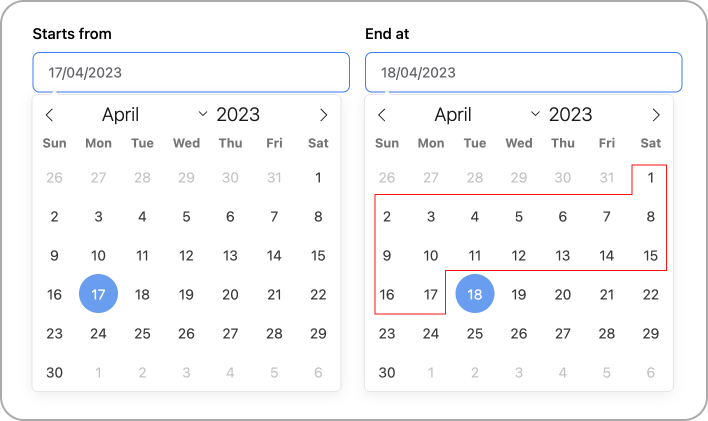 We can certainly help you out with this. We will get back to you shortly with a solution. We really appreciate your patience, and thanks a lot for being with us.
As our support specialist stated, they provided a solid solution. They had to write some custom code to implement a new feature in the client's system.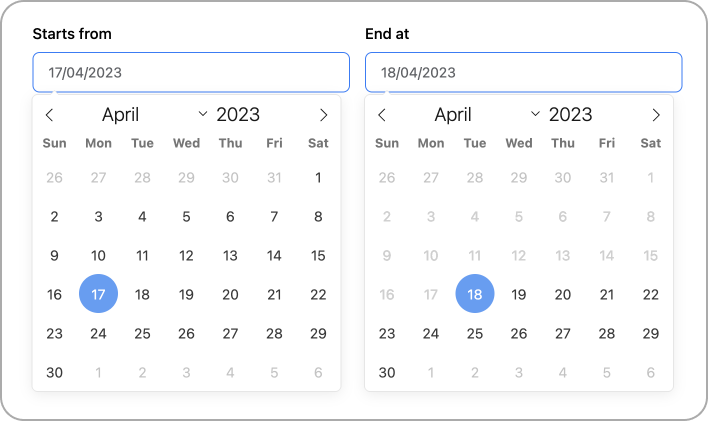 That customer not only gave us a 5-star rating for our service but also became one of our loyal customers.
Story #2: Ninja Table and Fluent Form:
Speaking of adding custom features, it's one of the regular jobs for our support team. Support agents, from time to time, write custom codes to fulfill customer requests.
Once, we got another ticket about a dynamic integration between two of our products. And the request came in multiple layers.
Hi, I am ruining a multi-user-based site, and recently I purchased the Ninja table for my site. I bought this to list my users information in a single table. But after a few tries, I failed to do it. Can you help me?
Thanks a lot for connecting us. We can help you with your issue. We will get back to you ASAP with a solution. Thanks a lot for being with us.
Our support agent needed to create a table from the site's SQL data that contained user information.
It was an easy fix. Ninja Table has that feature built-in. Our expert agent wrote a few lines of script to pull users' information. It created a table from SQL data.
The tickets continue.
Now I can see all the users' information in a single table. But now I want to display only logged-in user information in the table. The rest of the user's information should be hidden for that user.
Sure, we can do that for you.
So, the support agent created a custom shortcode to embed the table on the display page. That custom shortcode restricted other users' information to the logged-in user.
But the client came to our support team again.
Hi, I'm very happy with the output. But now I need one more thing from you. I need another column in the table with a form link in it. If a customer clicks on it, it will open a new page with the form on it. And I need it to be prefilled with the information from the table. I don't want my customer to fill out the form again.
We can certainly help you with this. Our engineers will get into it and get back to you soon with a solution.
Our support team has two challenges in solving this ticket.
A table created using SQL data has a limitation. You cannot add a new column to the table without touching the SQL data. Altering SQL data is not a good idea at all. So, adding a new column in the table with a form link is difficult.
Pull the data from the table to prefill a form with logged-in users data. And then make the prefilled input box uneditable.
Our team starts with the first challenge. We cannot create a new column without altering the SQL data. But then they figured out a way to replace particular data with the desired data. And in this case, the desired data is the form page link.
So, they used a column from the SQL data set that did not have important information. Using the custom scripting, they replaced the SQL-pushed data with the form page link. Part one is solved.
For the second challenge, our team used Fluent Form. They integrate the Fluent form with the Ninja table. With the help of some custom scripting, they were able to pull the data from the table into the form's input box.
The client was really happy with the outcome. Just because of this service, the client bought all of our products. And there is no need to mention that the client became one of our advocates.
Story #3: Ninja Table
Customers can show you totally different use cases for your product. This particular story is the best example of this statement.
Hi, I am using your Ninja Table plugin on my site. I need to link a Google Sheet with the plugin. Is it possible?
Thanks a lot for connecting us. We have a built-in integration facility for Google Sheets in the table settings.
At this point, the WP Manage Ninja team sent a step-by-step video tutorial to show how to do the integration. and the client was happy with this.
But shortly after that, clients connected with our support team again with multiple queries.
I need your help to customize the table. I want to make it look different from a regular table. Specifically, I want to hide the header and border and resize the columns and rows. I also want to know if I can apply custom styling to the data from the Google Sheet and if an image inserted in the Google Sheet will appear in the table. So somehow, I don't want it to look like a table.
Thanks again for connecting with us. All of your requests are possible. However, it would be helpful if we could have access to the site table on your site. This would allow us to provide you with a better suggestion.
The client shared a link to the site with the support team. The whole team was a bit confused.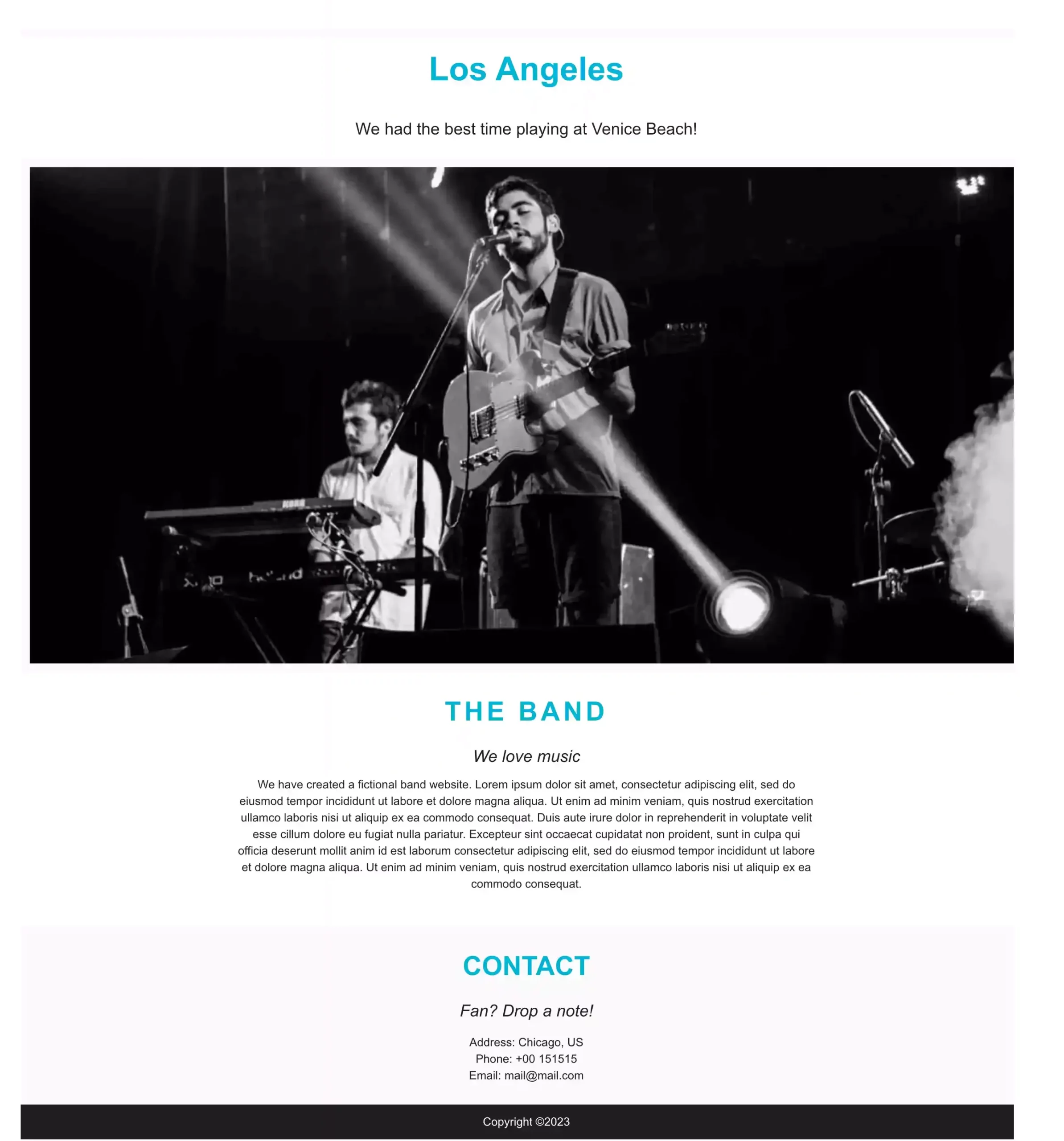 Hi again. Thanks a lot for sharing the site link with us. But we may need a little more information about the site. And please specify where you want to put the final table. Also, can you please give us a link to the actual table?
I gave you the link to the table.
We are very sorry; you just gave us a site link. We cannot see any tables here.
That is the table.
May you please elaborate? What do you mean by that?
I made a full website using your table builder plugin.
After some inspection of the site, our agent realized our client had made a fully functional website using our table builder plugin. We were just amazed by this type of use case.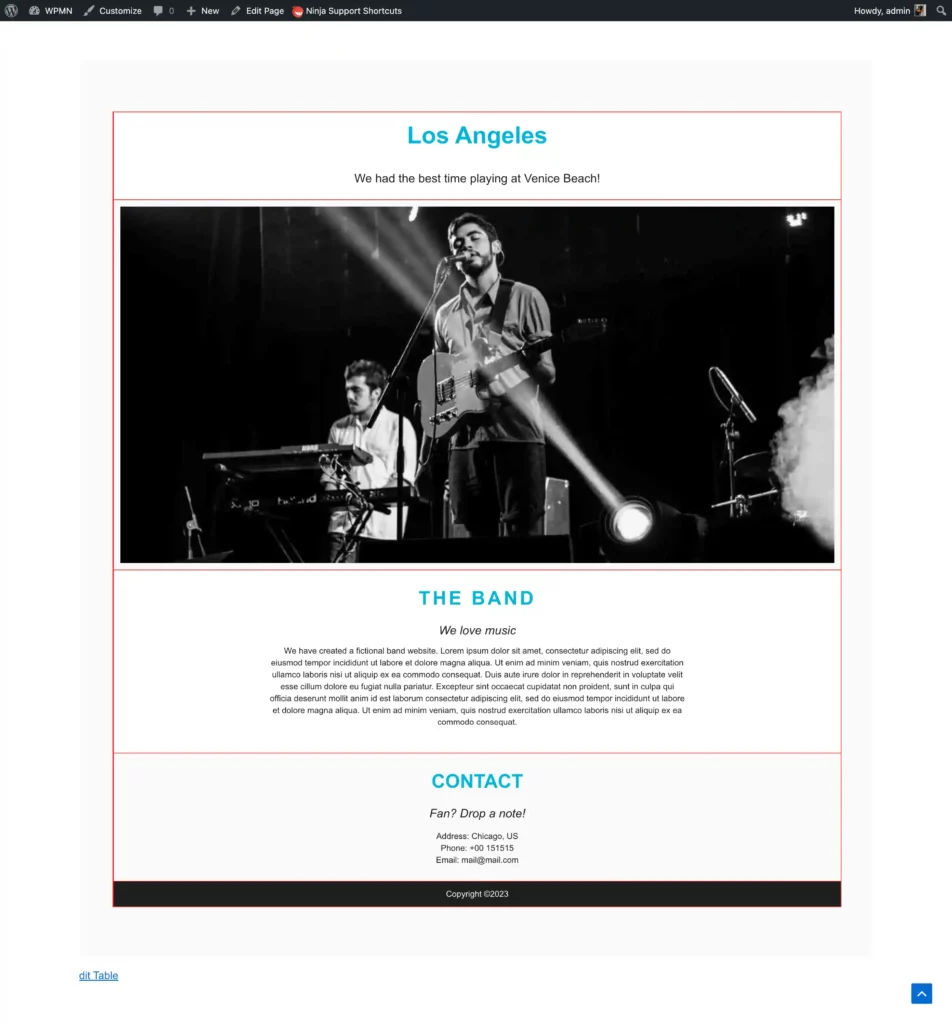 The client also linked the table with a Google Sheet, which we helped them with previously. This means that they do not need to log in to the WordPress dashboard to change any data.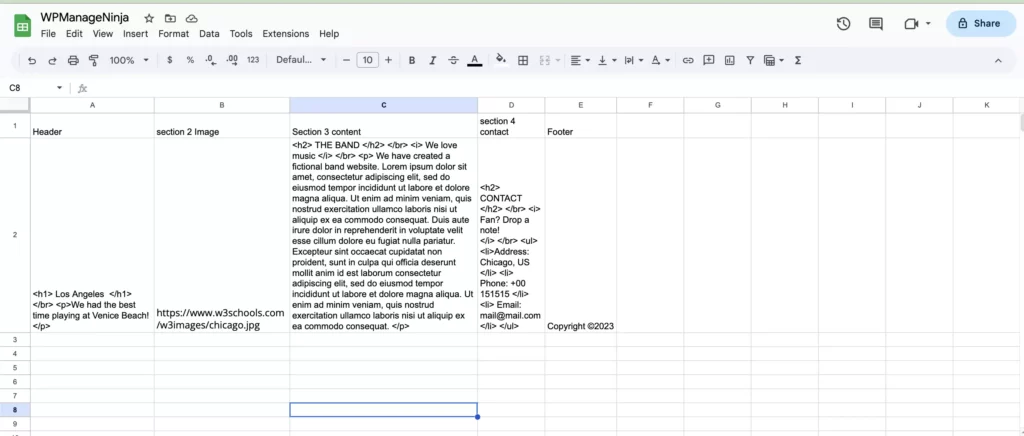 The client can simply make changes to the Google Sheet from their phone, and our table plugin will automatically update the data on the site.
This is so far one of the most unique and clever use cases we have seen for any of our products.
Takeaways customer service case studies
Up until now, we have shared six different customer service case studies. But these are not just stories. These case studies tell us what excellent service is. It teaches us how we can go the extra mile and how it can impact our customers.
Essential qualities of the best customer service reps
So, here are a few takeaways from these case studies:
Be responsive. Respond to the customer, even if it's a tweet. Be quick and efficient.
Be helpful. Go above and beyond to help customers, even when they don't know it's not required. This could mean offering advice, making recommendations, or just listening.
Be transparent. Be honest with customers, even when it's not good news. Customers always appreciate a direct response, even when they are angry.
Be personal. Take the time to get to know the customer's individual needs. This will help you provide more personalized service. Which will make them feel special.
Be human. Don't hold your personality back; let your human side shine through. Show that you care about the customer and their experience. This could mean using humor, being empathetic, or just being yourself. The personal level of connection is effortless. This will make your service seamless.
Go the extra mile. Go above and beyond to help customers. This could mean tracking down a discontinued product, giving a refund, or even just sending a handwritten note. Whether you need to write custom code, provide training, or even just be a sounding board, let it be.
Be creative. If you can't find a solution, that's fine. Go out of the box and come up with a new one.
Be patient. Sometimes, it takes time to find the right solution that works. Be patient with customers and stay with them until they're happy with it.
Be open-minded. Customers may use your product in ways that you never intended. Be open to new ideas.
Be impressed. Be amazed by the imagination and creativity of your clients. When you see customers using your product in a unique way, make sure to let them know how impressed you are.
Final thoughts
Being a tech support specialist or service agent is a challenging job, no doubt. A customer can come up with any type of issue. Hance, the service providers have to be sound enough to deal with any surprises.
The service-dependent industries are constantly facing a variety of cases every day. That's why customer service case studies are a must-read for support and service providers. And, on the other hand, these stories can bring in new customers.
Md. Ariful Basher
Hi, this is Abir, a full-time content writer and nocturnal web designer. With a love for psycho-thrillers and sci-fi action movies, I channel my creative energy into crafting captivating content and visually stunning websites. And, always provide top notch customer experience as a writer and as a designer. Also, I love eating.
Related Articles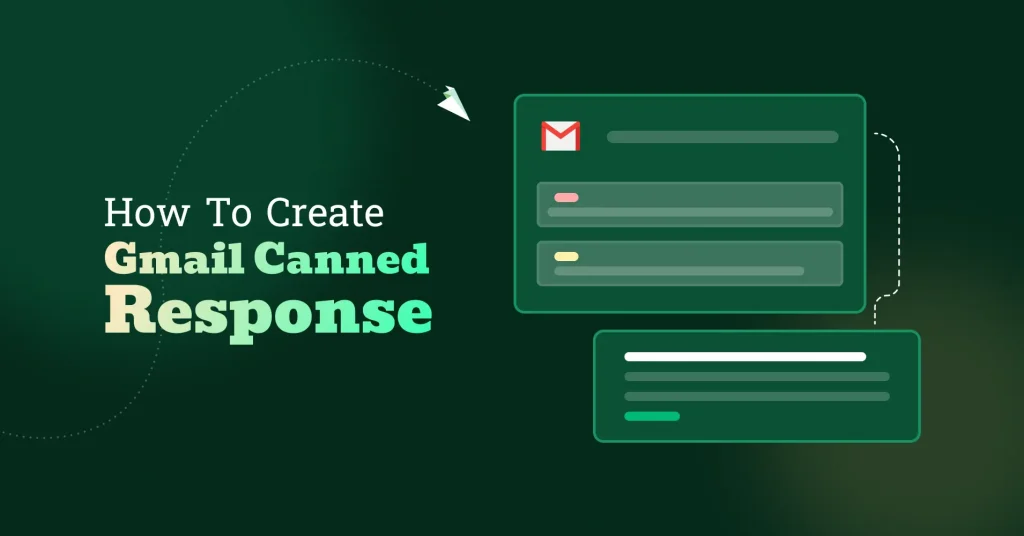 How To Create Gmail Canned Response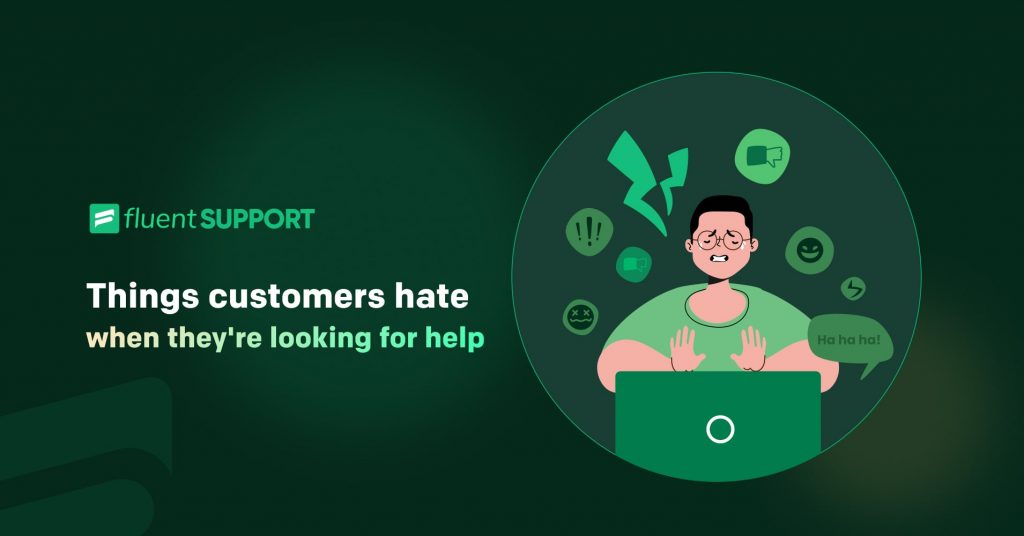 7 Things Customers Hate While Seeking Help: Try Avoiding Them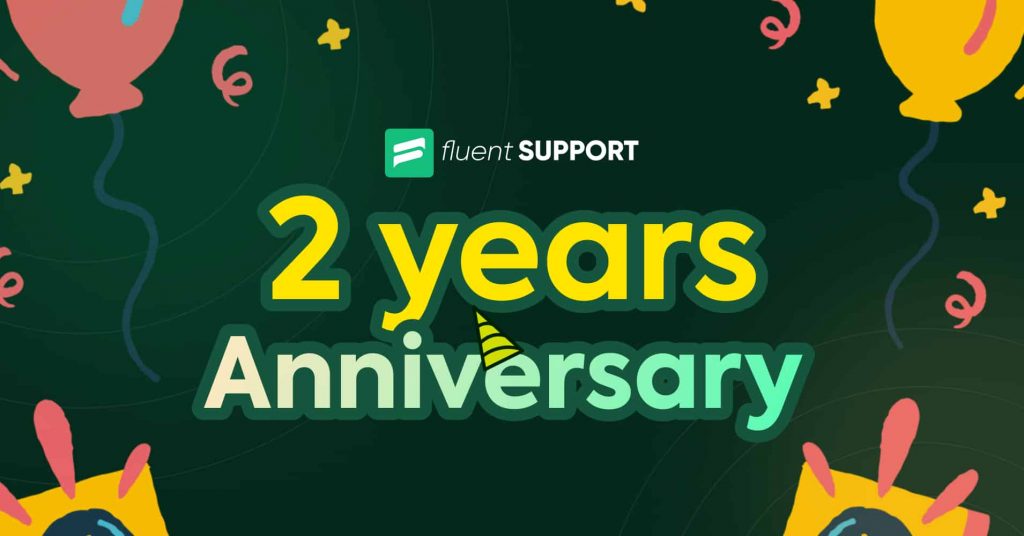 2 years of Fluent Support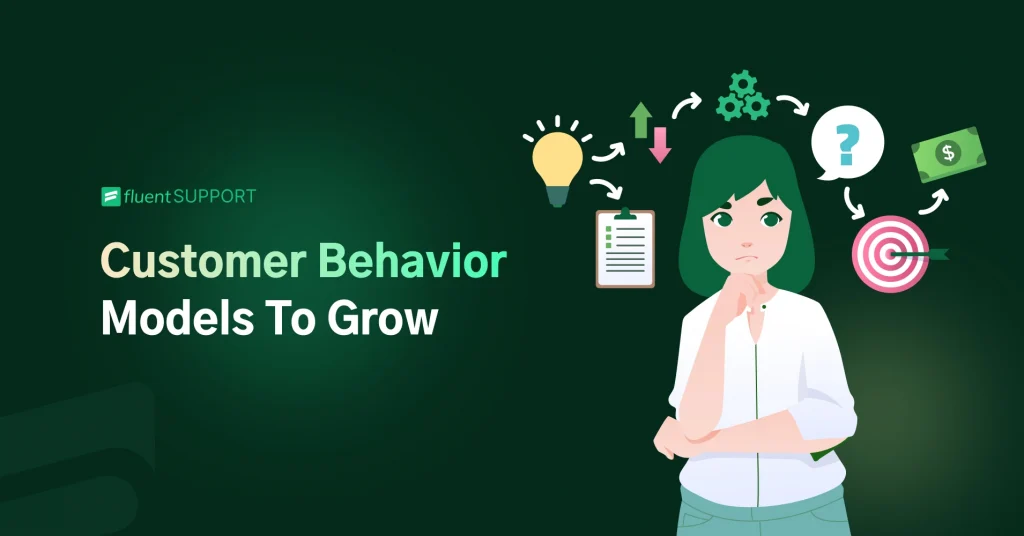 Customer Behavior Models And How Businesses Are Influenced By These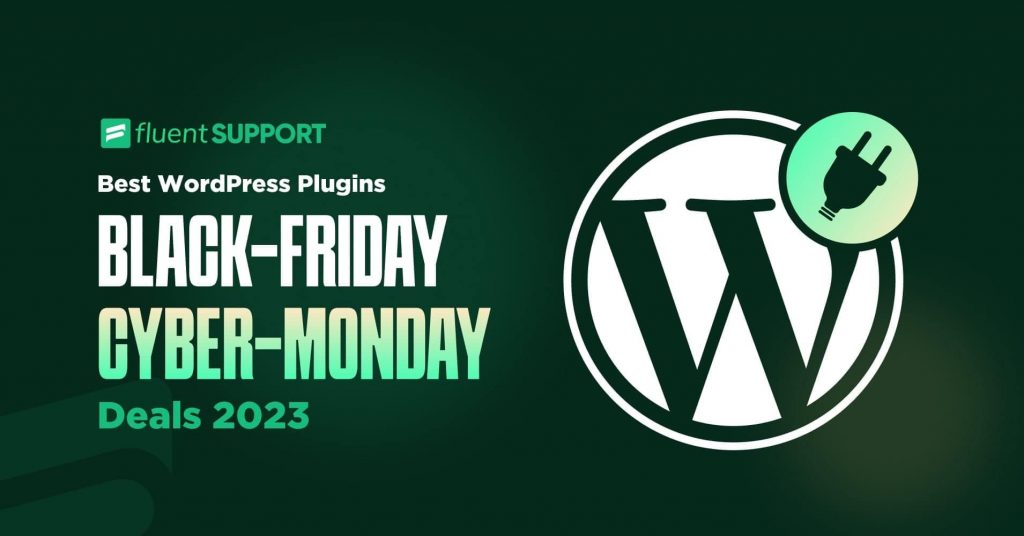 High-Priority Plugins: WordPress Black Friday Cyber Monday (BFCM) Deals 2023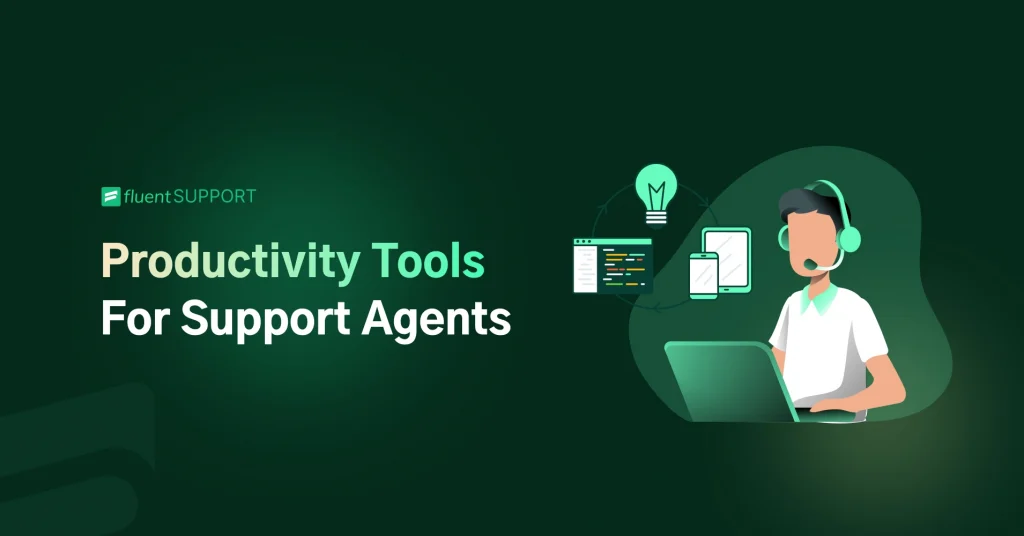 7 Best Tools To Improve Agent Productivity
Get our latest blog posts delivered to your inbox.
Actionable tips and tutorials, make the most out of your help desk software! Blog subscribe form
Don't get scared, No junk emails!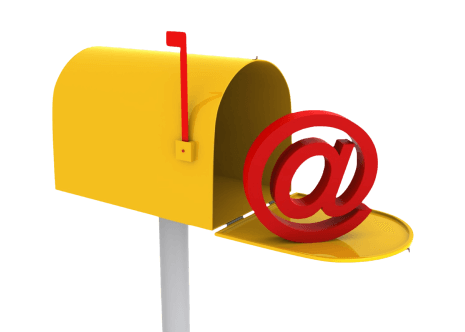 Leave a Reply Cancel reply
Your email address will not be published. Required fields are marked *
Save my name, email, and website in this browser for the next time I comment.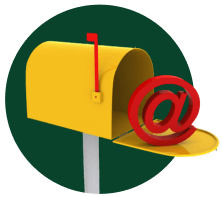 Actionable tips and tutorials, make the most out of your help desk software!
Customer Service Case Studies: Real-Life Examples Of Service Scenarios.
Are you looking for real-life examples of customer service scenarios that can help you improve your own customer service skills? Look no further!
In this article, we will explore a series of case studies that highlight different aspects of effective customer service. These case studies will provide you with valuable insights into how to handle challenging situations, resolve issues, and create positive experiences for your customers.
Customer service plays a crucial role in the success of any business. It is not just about answering phone calls or responding to emails; it is about building relationships and exceeding customer expectations. By studying real-life examples, you can gain a deeper understanding of the importance of effective customer service and learn strategies to enhance your own skills.
In each case study, we will delve into different scenarios and examine how businesses successfully handled them. From resolving product quality issues to dealing with difficult customers, these case studies will showcase various approaches and solutions that you can apply in your own work.
Get ready to dive into these insightful stories that demonstrate the power of exceptional customer service!
Table of Contents
Key Takeaways
Effective customer service is crucial for the success of a business.
Empathy and proactive customer service are essential aspects of providing excellent customer service.
Prompt resolution of product quality issues, with notification and compensation for affected customers, helps maintain customer satisfaction and loyalty.
Handling difficult customers with a calm and empathetic approach, offering alternatives, and empowering them to make choices can build trust and loyalty.
The Importance of Effective Customer Service
You can't underestimate the impact of great customer service – it's like a warm cup of coffee on a chilly morning, instantly making you feel valued and appreciated.
In today's competitive business landscape, providing effective customer service is more important than ever. Customers have numerous options at their fingertips, and one bad experience can send them running to your competitors. That's why empathy plays a crucial role in customer service.
When customers feel understood and cared for, they're more likely to become loyal advocates for your brand. Empathy is the ability to understand and share the feelings of others. In customer service, this means putting yourself in the shoes of your customers and genuinely listening to their concerns.
By showing empathy, you demonstrate that you value their emotions and are committed to finding a solution that meets their needs. This not only helps resolve issues effectively but also builds trust and strengthens the relationship with your customers.
Proactive customer service is another essential aspect of providing exceptional support. Instead of waiting for customers to come to you with problems or complaints, proactive customer service involves anticipating their needs and addressing any potential issues before they arise.
This approach shows that you're dedicated to delivering an outstanding experience from start to finish. By taking the initiative, you can prevent problems from escalating and create positive interactions that leave a lasting impression on your customers.
The importance of effective customer service cannot be overstated. Empathy allows you to connect with your customers on a deeper level by understanding their emotions and concerns. Proactive customer service demonstrates your commitment to going above and beyond expectations by anticipating needs before they become problems.
By prioritizing these aspects in your approach to customer service, you can foster loyalty, build strong relationships with customers, and ultimately drive success for your business.
Case Study 1: Resolving a Product Quality Issue
Resolving a product quality issue can be challenging, but did you know that 86% of customers are more likely to repurchase from a company that resolves their complaint? When faced with a product quality issue, it's important for companies to take immediate action and address the problem effectively.
One notable case study involves a product recall due to safety concerns. The company promptly notified customers about the recall through multiple channels such as email, social media, and website announcements. This proactive approach not only ensured customer safety but also demonstrated the company's commitment to resolving the issue.
To further enhance customer satisfaction during this challenging time, the company offered compensation to affected customers. The compensation included a full refund for the recalled product as well as additional discounts on future purchases. By going above and beyond in compensating their customers, the company not only mitigated any potential negative feelings but also showed genuine concern for their customers' wellbeing.
In addition to addressing individual complaints, the company took steps towards preventing similar issues in the future. They implemented stricter quality control measures throughout their production process and conducted thorough inspections before releasing any products into the market. This proactive approach reassured customers that their concerns were taken seriously and instilled confidence in the brand's commitment to delivering high-quality products.
By resolving a product quality issue promptly and ensuring customer satisfaction through compensation and preventive measures, companies can not only retain existing customers but also build trust with new ones. It's crucial for businesses to recognize that effective customer service goes beyond simply resolving complaints; it requires taking responsibility for failures, implementing meaningful solutions, and continuously improving processes to prevent similar issues from arising again in the future.
Case Study 2: Handling a Difficult Customer
Navigating through challenging interactions with clients can be a test of your company's ability to handle difficult situations. Dealing with angry customers requires a delicate balance of empathy, patience, and problem-solving skills.
One real-life example of a company successfully managing a difficult situation involved an irate customer who had received a damaged product.
In this case, the customer contacted the company's customer service department immediately after receiving the damaged product. The representative on the phone remained calm and empathetic throughout the conversation, acknowledging the customer's frustration. They apologized sincerely for any inconvenience caused and assured the customer that they would resolve the issue promptly.
The representative then offered several options to address the problem, including sending a replacement or providing a refund. By presenting these alternatives, they empowered the customer to choose what solution best suited their needs. This approach helped defuse tension and created an atmosphere of collaboration rather than confrontation.
Ultimately, by effectively managing this difficult situation and prioritizing customer satisfaction, the company not only resolved the issue but also built trust and loyalty with their client base.
Case Study 3: Going Above and Beyond for a Customer
Exceeding expectations and leaving a lasting impression, one company went the extra mile to ensure a memorable experience for a dissatisfied client. The customer, let's call her Sarah, had purchased a high-end laptop from this company but encountered numerous technical issues soon after receiving it. Frustrated with the product's performance and the lack of support she received initially, Sarah reached out to the company's customer service department for assistance.
To address Sarah's concerns promptly, the customer service representative assigned to her case took immediate action. Recognizing that resolving her technical issues alone would not suffice in restoring Sarah's trust and satisfaction, they decided to go above and beyond what was expected. The representative personally followed up with Sarah daily to provide updates on their progress in fixing her laptop. They also offered additional compensation for the inconvenience caused by sending her a complimentary accessory package.
In addition to their exceptional level of communication, this company created a personalized experience for Sarah through small gestures that left an indelible mark on her overall perception of their brand. One example was when they surprised her by upgrading her laptop's warranty without any additional cost. This unexpected act not only demonstrated their commitment to providing quality products but also highlighted their dedication towards ensuring customer satisfaction.
By going above and beyond in addressing Sarah's concerns and surpassing her expectations at every turn, this company exemplified outstanding customer service. Their proactive approach not only resolved technical issues efficiently but also left a lasting impression on Sarah concerning how much they valued her as a loyal customer. Through personalized attention, generous compensation, and unexpected upgrades, they not only ensured Sarah's satisfaction but also fostered a long-term relationship based on trust and loyalty. This case study serves as a powerful reminder that going the extra mile can make all the difference in customer satisfaction and retention.
Case Study 4: Turning a Negative Review into a Positive Experience
If your business has ever received negative feedback, it's important to know how to turn that experience into a positive one.
In this case study, we will explore how a business addressed a customer's concerns and transformed their perception from negative to positive.
By taking the necessary steps and going above and beyond, the business not only resolved the issue but also improved their reputation in the process.
The negative feedback received by the business
Despite your best efforts, your business was bombarded with a barrage of scathing feedback that left you reeling. Customers expressed their dissatisfaction with the quality of your products and the poor customer service they received.
These negative reviews not only affected customer retention but also posed a threat to your brand reputation. The negative feedback highlighted areas where improvements were needed. It pointed out flaws in your product design, manufacturing processes, and communication channels.
While it may be disheartening to receive such criticism, it presents an opportunity for you to address these issues and enhance the overall customer experience. By acknowledging the shortcomings and taking immediate action to rectify them, you can regain customers' trust and loyalty while rebuilding your brand's reputation.
The steps taken to address the customer's concerns
After receiving the negative feedback, we quickly took action to address the customer's concerns and improve our products and services. We understand that addressing customer complaints is essential for maintaining a positive reputation and ensuring customer satisfaction.
Our first step was to reach out to the customer directly, expressing our apologies for any inconvenience caused and assuring them that their concerns were being taken seriously.
To resolve the customer's issues, we implemented a thorough investigation into the matter. This involved examining the specific details of their complaint, evaluating our internal processes, and identifying any areas where improvements could be made. By conducting this analysis, we were able to pinpoint the root cause of the problem and develop an effective solution.
Once we identified areas for improvement, we promptly made necessary changes to prevent similar issues from occurring in the future. This included updating our training programs for staff members involved in customer service interactions and enhancing quality control measures throughout our production process. We also communicated these updates transparently with all relevant stakeholders to ensure everyone understood our commitment to resolving customer issues.
Addressing customer complaints is not just about solving individual problems; it is about continuously improving our overall products and services. By taking immediate action upon receiving negative feedback, we demonstrate our dedication to providing exceptional experiences for every customer.
We remain committed to resolving any issues promptly while striving to exceed expectations in delivering high-quality products and top-notch service.
The transformation of the customer's perception and improved reputation
Now that the steps have been taken to address the customer's concerns, let's discuss the transformation of their perception and the improved reputation of your business.
By promptly addressing the customer's issues and providing a satisfactory resolution, you've demonstrated your commitment to customer satisfaction. This level of responsiveness not only resolves the immediate problem but also leaves a lasting impression on the customer.
As a result, their perception of your brand is likely to improve significantly. They'll appreciate your willingness to listen, understand, and take action to rectify any issues they may have faced. This positive experience can lead to increased brand loyalty as customers recognize that you value their feedback and are committed to delivering exceptional service.
To further enhance customer satisfaction and foster brand loyalty, consider implementing these strategies:
Personalized follow-up: Reach out to customers after resolving their concerns with personalized messages or phone calls. This gesture shows that you genuinely care about their experience and want to ensure their ongoing satisfaction.
Proactive communication: Keep customers informed about any changes or improvements related to the issue they encountered. Sharing updates showcases transparency and builds trust in your ability to continuously improve.
Loyalty rewards program: Offer incentives or exclusive benefits for loyal customers who continue choosing your brand despite any initial challenges they may have faced. Rewarding their loyalty encourages repeat business and strengthens long-term relationships.
By investing in improving customer satisfaction and building brand loyalty, you can create a positive reputation for your business while fostering long-term success in an increasingly competitive market.
Frequently Asked Questions
What are the key elements of effective customer service.
Effective customer service requires several key elements.
One interesting statistic is that 86% of customers are willing to pay more for a better customer experience. This highlights the importance of providing exceptional service.
Effective communication plays a crucial role in customer service as it allows you to understand the needs and concerns of your customers, while also conveying information clearly and concisely.
Empathy and understanding are equally important, as they enable you to connect with customers on an emotional level, showing them that their satisfaction is your top priority.
By incorporating these elements into your customer service approach, you can create positive experiences that leave a lasting impression on your customers.
How can companies measure the success of their customer service efforts?
To measure the success of your customer service efforts, you can utilize various customer satisfaction metrics and conduct thorough customer feedback analysis.
Customer satisfaction metrics, such as Net Promoter Score (NPS) or Customer Effort Score (CES), provide valuable insights into how satisfied your customers are with the service they received. These metrics allow you to quantify customer sentiment and identify areas for improvement.
Additionally, analyzing customer feedback through surveys or social media monitoring enables you to understand specific pain points and address them proactively.
By consistently measuring these indicators and taking action based on the results, you can continuously enhance your customer service performance and ensure a positive experience for your customers.
What are some common challenges faced by customer service representatives?
Handling difficult customers and managing high call volumes can be incredibly challenging for customer service representatives. Dealing with irate customers can feel like trying to calm a hurricane with a feather, as their frustrations can reach astronomical levels. It requires an extraordinary level of patience and empathy to navigate through their anger and find a resolution that satisfies both parties.
Additionally, managing high call volumes can feel like juggling flaming swords while walking on a tightrope. The constant influx of calls puts immense pressure on representatives to provide quick and efficient assistance without compromising the quality of service.
However, despite these Herculean tasks, customer service representatives rise above the challenges by employing exceptional communication skills, problem-solving abilities, and an unwavering commitment to customer satisfaction.
How can companies improve their customer service skills and knowledge?
To improve their customer service skills and knowledge, companies should invest in comprehensive training programs that provide employees with the necessary tools and techniques to handle different scenarios. These programs can include modules on effective communication, problem-solving, and empathy to ensure that representatives are equipped to handle any customer interactions.
Additionally, implementing feedback systems that allow customers to provide their input and suggestions can also be beneficial. This feedback can help identify areas for improvement and enable companies to make necessary adjustments in their processes or training programs.
By prioritizing ongoing training initiatives and actively seeking customer feedback, companies can continually enhance their customer service skills and knowledge, leading to improved overall customer satisfaction levels.
What are some best practices for handling customer complaints and resolving issues?
When it comes to handling customer complaints and resolving issues, think of yourself as a skilled navigator guiding a ship through stormy waters. Customer feedback is like the wind, sometimes gentle and other times fierce, but always pushing you towards improvement.
Conflict resolution is your compass, helping you find the right path to address concerns and turn unhappy customers into satisfied ones. Actively listen to their grievances, empathize with their frustrations, and offer swift solutions that demonstrate your commitment to their satisfaction.
By taking ownership of the problem and going above and beyond to resolve it, you can transform a dissatisfied customer into a loyal advocate for your brand.
In conclusion, effective customer service is crucial for businesses to thrive in today's competitive market. As demonstrated by the case studies discussed, handling product quality issues, difficult customers, and negative reviews with empathy and proactive solutions can turn potentially negative experiences into positive ones.
One interesting statistic that highlights the impact of great customer service is that 86% of consumers are willing to pay more for a better customer experience (Source: PwC). This statistic evokes an emotional response as it emphasizes the value customers place on exceptional service. By investing in providing top-notch customer service, businesses not only create loyal customers but also have the potential to increase their revenue.
To ensure success in customer service scenarios, it is essential for businesses to empower their employees with proper training and resources. By equipping them with problem-solving skills, effective communication techniques, and a genuine desire to help customers, companies can build strong relationships and foster trust. Additionally, embracing technology solutions such as AI-powered chatbots or self-service options can streamline processes and provide faster resolutions.
In summary, delivering exceptional customer service requires a proactive approach that focuses on resolving issues promptly while exceeding expectations. By prioritizing the needs of customers and going above and beyond to provide personalized solutions, businesses can create memorable experiences that result in increased customer satisfaction and loyalty. Remember, investing in superior customer service is not just about satisfying your current customers; it's about attracting new ones who're willing to pay more for an outstanding experience.
The eSoft Editorial Team, a blend of experienced professionals, leaders, and academics, specializes in soft skills, leadership, management, and personal and professional development. Committed to delivering thoroughly researched, high-quality, and reliable content, they abide by strict editorial guidelines ensuring accuracy and currency. Each article crafted is not merely informative but serves as a catalyst for growth, empowering individuals and organizations. As enablers, their trusted insights shape the leaders and organizations of tomorrow.
View all posts
Post category: Customer Service
Keeping now integrates directly with HubSpot's Sales Hub. Learn More
4 Customer Service Case Studies to Inspire You
Customer service case studies help attract new customers to your business by showing them how your company can help them. Instead of simply telling customers what you can do for them, you demonstrate it with storytelling and draw them in.
November 24, 2022
6 mins read
If you've researched any brand it's more than likely you've come across a customer service case study. Real-life customer experiences are a powerful way to advertise a brand and showcase the real interactions customers have when approaching a company's customer service department.
Instead of simply telling a customer what it's like to benefit from a company's customer service, they demonstrate genuine examples of customers who have submitted tickets to their customer service team.
On the surface of it, one company can appear much like another without powerful customer service case studies to demonstrate its impact. Customers will be required to actually sign up to your service before they can experience your customer support for themselves.
What is a customer service case study?
A customer service case study is a strategy to show the experiences of customers that have actually signed up to use your product or service and have actually witnessed your customer service for themselves.
Potential customers who are researching what your company has to offer will benefit from the case studies of customers that have already passed through the buying decision. Instead of a company simply telling prospective customers what they have to offer, they will be able to demonstrate their service in reality.
See for yourself
Keeping is the fastest, simplest way to manage a shared inbox right inside Gmail.
A customer service case study goes beyond being a simple testimonial, however. It's factual evidence of customers who have implemented your company's product or service and a demonstration of its ability to actually deliver results.
Why are customer service case studies important?
Without customer service case studies, your business will struggle to show how it is helping its customers. A case study shows your prospective customers how the business has performed in a real-life example of customer service, and helps them imagine what it would be like to do business with your company.
Customer service case studies show potential customers how your business has helped customers to solve their problems and further their business goals. Although there are other ways to market your business, customer service case studies are a solid way to reach out to new prospects and convert them into customers.
Successful customer case studies showcase successful examples of customer service that persuade your prospects to actually buy. They show prospects how well your customer service actually works and highlights your product's value.
How do you write a customer service case study?
There are a few strategies you need to follow when writing a customer service case study. Having a variety of different case studies will enable you to reach more potential customers which cover a range of situations and needs.
1. Focus on your personas
You need to consider the type of the customer that you want to attract with your customer service case study. Mapping out your personas is an important part of your marketing strategy because it helps you identify prospects with unique wants and needs. Your customer service may appeal to different types of individuals and it's crucial to target each one specifically.
2. Tell a story
At their core, customer service case studies are stories about particular customers. Simply raving about how great your company is wil be boring for your readers, and you need to take them on a journey. Stories need to have obstacles to overcome, and your case study should show how your product or service is the hero of the narrative.
3. Emphasize benefits
The benefits of your customer service will help to appeal to customers that have a specific pain point to solve. Instead of focusing on products or features it's important to show how your service will help them. Your customer service case study is likely to be a representative example of a customer that has similar problems to other prospects, and it's important to help prospective customers visualize using your service.
4. Highlight the results
Highlighting the results that your customer service will help your customers achieve means focusing on the before and after of using your service. Genuine improvements to your customer's business will help to convince them that your product or service is the answer. Showing the results of your customer service helps customers see how they can save or make more money after choosing your business.
4 interesting customer service case studies
Quick heal and kayako.
Here's the first interesting customer service case study from Kayako. There was a company called Quick Heal Technologies which was a provider of internet security tools and anti-virus software. They had millions of global users, but they were struggling to deliver outstanding customer service due to a high volume of customer service requests.
One of their main issues was the absence of a system to track requests from different sources. Agents were checking many different platforms for customer service requests, and lacked a vital overview of the customer experience. They were losing tickets and suffering from incomplete information. There were delays in the customer support experience and the existing system couldn't manage its workflow.
Enter Kayako, help desk software. Their Shared Inbox Solution brought together the different customer service platforms such as email, Facebook, Twitter, and live chat. Quick Heal agents were able to support customers seamlessly and minimize the number of tickets that were dropped. They could significantly reduce their ticket response times and accelerate the time to resolution. Agents were able to much more effectively collaborate and reduce duplication of effort.
Springboard and Help Scout
The next customer service case study is about Springboard, a platform which provides online resources and personalized mentors to help students build their dream careers. Their aim is to make a great education accessible to anyone in the world.
So far, they have worked with 250 mentors to train more than 5,000 students over 6 continents. Their success has depended on their ability to create an open environment where students feel comfortable requesting feedback and discovering course information on their own.
Springboard needed a solution that could help them build relationships with their students, even if it's over email, and they decided that Help Scout was the answer. They chose Help Scout because it means they can have human conversations rather than treating their students like a ticket number.
They make use of Help Scout's help desk features to find key insights into students' conversations, as well as their Docs knowledge base which provides answers to common questions. As a result, students are able to more effectively learn and overcome problems when they arise.
We've got another customer service case study from an airline – in this case, JetBlue. They really know how to make their customers smile with small gestures and ensure they can win customers for life.
One customer called Paul Brown was flying with JetBlue from the smaller terminal at Boston's Logan airport. He realized that he couldn't grab his usual Starbucks coffee because there was no Starbucks at the terminal. On a whim, he sent a tweet to JetBlue asking them to deliver his venti mocha, and to his surprise they obliged! Within minutes JetBlue customer service representatives had delivered the coffee to Paul's seat on the plane.
This example of customer service shows that JetBlue is willing to go the extra mile for customers and will ensure that the company can continue to attract more customers.
Gympass and Slack
Gympass is an international platform that gives companies and their employees 50% to 70% off a global network of fitness studios, digital workouts, and mental health and nutrition services. It was founded in 2012 and has experienced steady growth, now worth more than USD $1 billion. Users of Gympass have access to 50,000 gyms and studios in more than 7,000 cities, so they can work out while they are on the move.
The problem with this growing company was communication across the globe. The company was overly reliant on emails which led to silos and employees missing out on vital information. The solution to this problem was Slack, a communications platform which is made accessible to all new employees so they have everything they need right from the start.
Now, teams at Gympass work across a range of 2,000 Slack channels which are open to 1,000 employees. They can share documents, messages and information, keeping connected across locations and facilitating new projects like event planning. It's enabled Gympass to build a strong culture of collaboration and ensure that every employee can find the information they need.
Wrapping up
Customer service case studies help attract new customers to your business by showing them how your company can help them. Instead of simply telling customers what you can do for them, you demonstrate it with storytelling and draw them in. Showing your customers benefits and outcomes support them to make the decision to purchase.
Before they actually have a trial of using your product or service, it's hard for customers to know what it would be like. Case studies can give a valuable preview into what it would be like to work with your company and highlight customers that have already achieved success.
Catherine is a content writer and community builder for creative and ethical companies. She often writes case studies, help documentation and articles about customer support. Her writing has helped businesses to attract curious audiences and transform them into loyal advocates. You can find more of her work at https://awaywithwords.co.
Join 150+ teams that are sharing inboxes with us
The easiest way to upgrade your shared Gmail account. There's no credit card is required.
The Missing Shared Inbox for Google Workspace
Continue reading.
27 Hilarious Customer Service Jokes
Sorry for the Late Response: How to Apologize in Email
The Golden Rules of Communication with Customers
Customer Experience
5 Case Studies to Improve Your Customer Service
As more and more customer transactions occur virtually, the quality of online help desks and customer service support is becoming an essential differentiator for companies. An estimated  73% of consumers say a good experience is critical in influencing their brand loyalties.
Customer satisfaction directly impacts the bottom line, too, as 84% of companies that work to improve their customer experience report an increase in their revenue.
Apart from the stats, it is important to look for examples of company success stories improving customer service and productivity. Having high-performance customer service is essential for any company, regardless of industry. Check out these five case studies that will help you improve this process in your business.
How Quick Heal optimized their customer service, extending support hours and responding to inquiries faster
Quick Heal Technologies is a leading provider of internet security tools and anti-virus software, serving millions of users worldwide. Like many fast-growing companies, they experienced bottlenecks in their customer service process due to the high volume of requests.
No system to track requests from different sources. 
Agents could not maintain a global view of the customer request, negatively impacting customer service.  
High incidence of lost tickets and incomplete information.
Customers were not happy with the support delays.  
The existing system did not manage its workflow.
Quick Heal researched several options yet didn't find a solution with the right blend of factors. That's when the team signed up for a free trial of Kayako. Before the free trial even ended, Quick Heal decided that Kayako was the right solution.
Kayako's Shared Inbox Solution creates a frictionless experience by unifying interactions from different sources like email, Facebook, Twitter, and live chat. The Shared Inbox Solution means QuickHeal agents can serve customers more efficiently while preventing dropped tickets and lost conversations.
Kayako Benefits for Quick Heal:
Reduced ticket response and resolution times
Improved collaboration and reduced duplication of effort
Extended support hours
Consolidated conversations from multiple sources
"Without Kayako, we would not be able to manage all of the incoming ticket requests in an organized manner nor provide the quality of support we stand for. Kayako is far more efficient than our previous help desk system." Sushant Dashputre, Assistant Manager of Technical Support at Quick Heal
Are you ready to deliver Friction-Free Customer Service? Capture your customer's entire journey in a way a support ticket or traditional help desk never could. Discover Kayako Single View
Increasing NameCheap's agent productivity through a self-service knowledge base
Namecheap is a leading domain registrar and technology company that offers domain registration, hosting packages, and related services. Customer support is vital to Namecheap, especially because they serve many repeat customers. Scaling personalization in support is imperative to avoid customer churn.
No optimized workflow for the high volume of requests led to customer complaints.
Due to a complicated and overwhelming process when responding to customer tickets, Agents became stressed. 
Low productivity for service agents.
Namecheap began to look for a reliable, unified customer service software solution. They had difficulty finding an option that fit all their needs. The Namecheap team then learned about Kayako and decided to try it.
After Namecheap integrated Kayako into their website, they saw an immediate improvement in agent productivity. They implemented a Self-Service Portal with tools like macro-libraries of responses, automated replies, and a self-help knowledge base to help customers get helpful answers anytime they need help.
Kayako's SingleView gives agents a complete visualization of the entire customer journey, from initial purchase to most recent customer service inquiry for individualized customer questions needing personalized support. Kayako enables Namecheap to scale personalized customer service, the holy grail for companies with a high volume of repeat customers.
Kayako Benefits for Namecheap:
Improved self-service knowledge base.
Streamlined ticket management.
Boosted productivity.
Increased customer satisfaction.
"One of the things we most value about Kayako is how carefully they have thought about real-life support processes. In all aspects, Kayako provides us with value in buckets." Nata Trusova, Director of Customer Support at Namecheap
How Envato manages multiple customer bases in one place and resolves tickets faster
Envato is a world-leading online community for creatives. The company's steady growth since 2006 outpaced its existing resources for support requests. Envato tried building their own help desk and quickly saw that a DIY solution would be prohibitively expensive in terms of time and money.
They began to search for an existing customer service software solution that could meet their needs and fit their budget.
Existing support system not keeping up with the volume of requests. 
Support requests were hard to track, sometimes going to individual emails. 
Envato managed multiple customer databases and needed a way to coordinate them.
Using Kayako's SingleView dashboard, Envato could access multiple customer databases in just one place. SingleView provides a complete view of the customer journey so that customer service agents can provide personalized support to every customer.
Using features like Kayako's ticket parsing rules, Smart Routing and internal collaboration tools helps Envato efficiently give customers accurate answers every time. With Kayako, the Envato team handles more requests in less time while increasing the quality of customer service. Best of all, Kayako is a scalable solution that can grow with Envato.
Kayako Benefits for Envato:
Resolved tickets faster.
Managed all customer databases in a single system.
"Kayako has allowed us to extensively customize our help desk. This really meant that we can just make our help desk work in the way we want, rather than coming up with an elaborate system to fit into the technical requirements of other help desks. It has functionality that other support providers have not been able to match." Jordan McNamara, Community Manager, Envato
Increasing Texas Tech´s customer satisfaction with a communication and collaboration platform
Texas Tech University is a top institution focused on advancing higher education, research, and health care. With more than 10,000 employees and over 36,000 students, their support team was overwhelmed with the volume of service requests.
Support staff, students, faculty, and many other stakeholders were frustrated because the system couldn't handle the high volume of support requests. 
The situation reflected poorly on their brand as a top higher education institution. 
Staff was trying to manage support requests using a shared Outlook account.
They had no way to collaborate internally on support requests.
After comparing different options, Texas Tech chose Kayako because it offered  Kayako Collaborators Feature they needed to coordinate internal communications and to serve customers with faster responses.
Their team quickly implemented Kayako's out-of-the-box features and immediately saw improvement.
"Once we implemented Kayako, we immediately noticed an increase in the quality of communication and collaboration, especially between our support and development team. Our customers also praised the improved communication." Kevin Eyck, Enterprise Server Administrator, Texas Tech University
Kayako's integrated self-service feature helped Texas Tech reduce the number of live-agent.
tickets by assisting customers in helping themselves. Texas Tech also leveraged Kayako's customization options, using a custom LoginShare and integrating it with the intranet and applications used on their campus.
Kayako didn't just help Texas Tech improve the support experience for the customer; it also enhanced their internal team's productivity.
With Kayako, Texas Tech University handles all of its support requests quickly and easily resolves customer problems. Customers also benefit from the improved processes for ticket management and communication.
Kayako Benefits for Texas Tech University:
Reduced the number of support tickets.
Improved internal collaboration.
Gained self-service capability.
How Kayako helped CoinStop reduce average response time and implement omnichannel customer support
Coinstop is a trusted provider of cold storage cryptocurrency hardware wallets. After launching in 2016, Coinstop experienced extremely rapid growth.
They soon struggled to manage and respond to all of the support inquiries and questions from potential customers. The Coinstop team began searching for a customer service software solution that was easy to use and implement.
Rapid growth was putting a strain on the existing bare-bones support process.
Coinstop must spend time educating customers as well as selling to them.
Customer service practices did not scale with the company.
Coinstop was providing customer support using a single email account. 
Manually responding to hundreds of emails per day wasn't a productive use of time. 
There was no way to track the progress of support requests, they couldn't standardize responses across the various agents, and they found themselves asking repetitive questions that frustrated their customers. 
Coinstop needed a help desk and live chat software to organize and optimize their support. They chose Kayako customer support software because it offers the best experience for both support agents and customers.
Using the Kayako dashboard, agents can interact with customers across multiple social platforms, email, and live chat. Agents can see the customer's history from all channels, not just chat or email.
Everyone on the Coinstop team has immediate access to all the information they need to provide quick, personalized support to customers with Kayako's SingleView.
Kayako Benefits for Coinstop:
Reduced average response time.
Managed a higher volume of tickets with the same number of agents.
Improved collaboration between departments.
Implemented omnichannel support.
"You need one place to browse every single conversation you have had with each customer. Kayako is very well organized. You can tie everything into it, including emails, social media, and team members." Christopher Pavlesic, Co-Founder of Coinstop
Are you ready to increase your team's efficiency? Provide a better employee experience and speed up internal support with Kayako HelpDesk. Discover Kayako Self Service
Common Challenges, Custom Solutions for Customer Service Help Desk
As you can see, companies across a spectrum of industries often share similar challenges with customer service. Do you have questions about improving your customer service process? Join world-class customer support teams like the companies in these case studies using Kayako to deliver exceptional customer experiences. Book a Demo today.
What you should do now
Start your free trial or take the tour to learn more about Kayako
Increase your knowledge on everything related to customer support with our free eBooks , Webinars and Case Studies
If you know anyone who'd enjoy this content, share it with them via email, LinkedIn, Twitter or Facebook.
Deliver Excellent Customer Support Experiences With Ease
Business Cycle
Business Environment
Consumer Protection
Corporate Responsibility
External Influences
Globalisation
Government Influence
International Business
Financial Risk
Investment Appraisal
Sources of Finance
Competitive Advantage
Customer Focus
International Marketing
Market Research
Marketing Planning
Marketing Strategies
Product Launch
Product Life Cycle
Product Portfolio
Segmentation
The Marketing Mix
Continuous Improvement
Customer Service
Health and Safety
Lean Production
Location of Business
Management of Change
Merger and Acquisition
New Product Development
New Technology
Product Development
Production Process
Research and Development
Supply Chain
Communications
Developing People
Equal Opportunities
Managing Change
Organising People
Protecting People
Recruitment and Selection
Roles and Responsibilities
Skills and Competencies
Aims and Objectives
Business Expansion
Business Organisation
Business Planning
Business Start-Up
Business Strategy
Decision Making
Sectors of Industry
Stakeholders
Strategic Planning
Types of Organisation
External environment
External Environment
eBook Collections
Audio Case Studies
Printed Books By Edition
Employee Retention
HR Software
Hybrid Working
Managing People
Motivating People
Performance Management
Recruitment
Time Management
Training and Development
Business Aquisition
Business Growth
Business Plan
Business Startup
Entrepreneurship
Small Business
Strategic management
Types of Business
Accountants
Bookkeeping
Budgeting and Cash Flow
Business Debt
Business Financing
Business Funding
Business Insurance
Business Investment
Business Loans
Business Payments
Business Taxation
Market Trading
Advertising
Affiliate Marketing
Business Branding
Business Events
Content Marketing
Conversion Rate Optimisation
Customer Experience
Digital Marketing
Email Marketing
Lead Generation
Link Building
Marketing Agencies
Marketing Strategy
Pay Per Click Advertising
Public Relations
Social Media
Business Efficiency
Business Innovation
Business Location
Business Management
Business Security
Manufacturing
Outsourcing
Project Management
Quality Management
The Supply Chain
Business Law
Coronavirus
Sustainable Business
The Economy
Stakeholder
Ethical Business
Business of Gambling
Casino Bonuses
Casino Games
Casino Guides
Mobile Gambling
Online Casino
Sports Betting
Tips and Tricks
Online Learning
Schools and Colleges
Students and Teachers
Studying Internationally
Universities
Writing Services
Cosmetic Procedures
Cannabidiol (CBD)
Cannabis/Marijuana
Dental Care
Mental Health
Office Wellbeing
Relationships
Supplements
Banking and Savings
Credit Cards
Credit Score and Report
Debt Management
International Money Transfers
Investments
Payday Loans
Personal Insurance
Personal Law
Motor Accidents
Motor Finance
Motor Insurance
Motoring Accessories
Virtual Reality
Gaming Accessories
Mobile Gaming
Online Gaming
Video Games
Buying and Selling Property
Construction
Property Cleaning
Property Investments
Property Renovation
Business Travel
Camping Activities
Travel Guides
Travel Safety
Visas and Citizenship
Antiques and Art
TV, Film & Music
Mobile Apps
Mobile Phone
Photography
Digital Transformation
Crypto Exchange
Crypto in Business
Crypto Mining
Crypto Regulation
Crypto Trading
Accessories
Artificial Intelligence
Programming
Security & Privacy
Software Development
Web Analytics
Website Design
Website Development
Website guides
Website Hosting
Write For Us
Membership Billing
Membership Cancel
Membership Invoice
membership levels
Your Profile
No products in the basket.

Centre for Assessment helps Swishfund achieve the Customer Service Excellence standard to deliver market-leading customer experiences in the financial services sector.
What do CSE Clients Think of Remote Assessments?
Assessment Services Ltd's customers gave their feedback regarding their recent remote assessments due to Covid-19. 
Oadby & Wigston Borough Council
Pre-Assessment is an opportunity for organisations who wish to know whether they are ready for an assessment. This is a gap analysis activity and gives our customers a better understanding of their position. 
Trish Hatton, Corporate Project Lead tells us of her experience of utilising this service with Assessment Services Ltd. 
Department for International Development - Overseas Pensions Department
This is a short testimonial about the Department for International Development - Overseas Pensions Department's experience on remote assessment due to Covid-19. 
University of Huddersfield - Financial Services
Financial services is one of the key operations at the University of Huddersfield, covering areas such as managing accounts, budgets, planning and student finance. The department's customers range from staff members, to suppliers and students, and Customer Service Excellence (CSE) accreditation has played an important role in developing their reputation.
November 2020
August 2020, february 2019, january 2019, december 2018, november 2018, october 2018, september 2018.
Customer service employees are the face of the organisation
Case studies.
Here are some examples of case studies to give an idea of the sort of SERVICEBRAND projects that can be delivered. These can be discussed in more detail where there is specific interest because projects are all tailor-made and can vary enormously eg from a comprehensive SERVICEBRAND scope with 14 workstreams globally for a major automotive company to a standalone 31Practices values initiative for a UK financial services business to an EMEA supply chain service excellence culture programme. The objective is always to drive measurable success through inspiring positive employee behaviour to deliver outstanding customer experience, aligned to the organisation brand and values.
Transformation of a five star hotel – three consecutive all green balanced scorecards and Hotel of the Year award.
"When I arrived last night, I explained to the young night porter that I had forgotten my business suit. I was amazed when he offered to collect his own suit from home to lend to me"
One Team service excellence programme for the FM supply chain of a FTSE 100 company – 10% cost reduction, 10% customer satisfaction improvement, Corenet Global Innovation award.
"The receptionist asked me to lift my terrier up in front of the camera, asked his name and printed off a name badge. The best welcome I have had in any corporate office in the world."
Creation and implementation of a consistent, global service brand and values-based One Team culture in key locations for an investment bank.
"I had lost my wallet and returned to the office because I had no means of getting home. The security officer drove me there and made sure I was safe."
One Team and 31Practices implementation in the London portfolio of a property company – record 95% customer satisfaction rating.
"My engagement ring went down the washroom plughole and the cleaner rescued it for me"
31Practices values project helping to achieve Sunday Times mid-size company ranking number 3 and Association of Business Psychology Employee Engagement Award
"Making LifeSearch a values driven company is the best decision I have ever made"
Award-winning One Team Service Excellence programme for EMEA region Real Estate and Facilities Management function
"This is ground breaking work in our sector"
Award winning EMEA supply chain One Team project
ENDORSEMENTS
Alan's commitment, willingness to engage and sharp insight characterise the tremendous value he has added as a Non Exec on the Board of BQF.
With the simple and practical 31Practices approach he has created, Alan has found a refreshingly different way to make values as inseparable from the modern mission-based business as the double helices of DNA. Both his speaking style and work style have been a pleasure to experience.
31Practices is an excellent method and has played a big part in LifeSearch's whole company, long term focus on our culture and values. The bespoke nature means the LifeSearch practices we carefully created remind all 'Searchers every day of what we are about and why, and the behaviours we need to display to protect more families than anyone ever thought possible.
I describe Alan as the most HR savvy operator I have ever met! What's more he is great fun to work with.
Alan's support has been instrumental in improving levels of engagement and overall performance, personally and with my team. He is a very good listener, gaining a deep understanding before cocreating an improvement plan. He is also very engaging and easy to work with.
Vision, challenge and strategy allowing individuals to stretch their potential. An inspirational leader.
Truly progressive thinking. The pragmatic approach to providing a customer experience achieves measurable return on investment.
An absolute pleasure to work with. Focussed on ambitious results but does what is right and leads in a truly inspiring way.
Rarely do I come across a book which is as complete as this one. Alan and Alison have left me nothing to say. They have put together an encyclopaedia of understanding about what it takes to build the neural pathways of an organisation.
The best thing about the 31Practices approach is how it energises front line employees and gives them confidence to bring the organisational values to life every day. One of the team in New York said "Our 31Practices is like my bible at work. I read it every day and it makes me a better person". Priceless!
The blend of emotional intelligence and commercial acumen is rare! The dedication to customer service is an example to follow.
Alan used the Servicebrand approach and his almost uncanny ability to engage programme stakeholders to provide Dell EMC with accelerated business impact and sustainable performance - at scale.
In the employee engagement survey, we dramatically outperformed the High Performance Norm.
Our Investors in People accreditation review hit our highest score to date and our bottom line profit rose by 25% over two years as well.
Alan spoke about the Values Economy at the 2nd Global Conference on Creating Value . His brilliant talk was convincing and energised the audience.